Find Reviews for a Haunt near You! Find Reviews for a Haunt near You!
Find Reviews for a Haunt near You!
The 7th Street Haunt
2900 S 7th Street, Louisville, KY 40216View All Details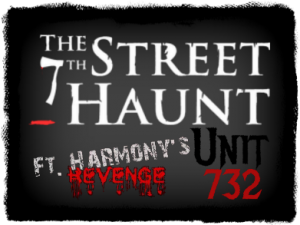 Features:
Free Parking, Restrooms On-Site, Handicap Accessible, Food/Concessions, Gift Shop/Souvenirs, Optional Games/Midway, Special Events, You will NOT be touched, Original Characters, Covered Outdoor Waiting Line, Indoor/Outdoor Waiting Line, All-Indoor Attraction
Team Zombillies reviewed this attraction on September 22, 2013.
Final Score:

8.83
Summary:
This year is 7th Street Haunt's 2nd season of terrorizing Louisville, KY. 7th Street has made DRASTIC improvements this year and they are well on their way to becoming one of the area's top attractions! They have also brought you the story of a small town called 'Fort Harmony,' which is the haunt's theme. The story behind Ft. Harmony involves a troubled young woman who was plagued by the loss of her husband. After experimenting with the occult in an attempt to bring her late husband back to life, well, you'll just have to see for yourself what has become of this once peaceful 13,000 square-foot community!
---
Cast:

8.7
Around 30 professionally trained, paid actors and a couple of volunteers inhabit Ft. Harmony, with the majority of them being veterans. Each of them have embraced their roles and provide convincing, interactive performances with believable dialogue that can be coarse at times. You'll find a variety of original characters in Ft. Harmony, from the war-torn army guy laying down the law before entering 'Ward 7' and the haunting nurses within, to a druggy, a satanic priest, the mayor of Ft. Harmony himself, clowns, a voodoo gypsy and a perverted guy with an ornery obsession (a.k.a. "Underwear Gary") among other residents! While most of the actors were very energetic and interacted with our group very well, there were a few that could use some fine-tuning with their dialogue to help increase the score in this category. However, most of the other actors did very well with their lines and actions, which helped make them powerfully convincing, especially the Spanish-speaking voodoo lady!
---
Costuming:

8.8
Costumes are modified from articles similar to what each character needs and modified to make them match the respective scenes they are used in. Makeup is applied in-house and detail levels range from simple to extravagant. Masks are rarely used, but found sporadically throughout the attraction with a few them being more realistic. A good deal of attention was paid to detail, which was evident because of how well each of the costumes matched their respective scenes; some of them were even able to pull off the use of very lightly-modified, modern street clothes! Some of the most memorable costumes were the decapitated person, the voodoo witch doctor, the priest, 'Monstero' the gorilla, and the pig-masked character named 'Hate.'
---
Customer Service:

9.3
We noticed a billboard on our way to Louisville and immediately knew we had arrived at 7th Street Haunt when we noticed the large, illuminated sign by the entrance to the attraction. There was also a semi trailer at the entrance that was adorned with the haunt's banner. As we pulled into the well-lit, gravel parking lot and passed through the gate, we also noticed a sign on the side of the path proclaiming 'Welcome to Fort Harmony.' A small ticket booth resides in the parking lot at the beginning of the line, which is marked by a rope that leads you to the entrance of the attraction. But beware, there may be a couple of chainsaw slingers roaming about to keep you 'entertained' while waiting in line as well as an informative recording you can listen to! The mayor of Ft. Harmony welcomes you to his town and explains that your picture must be taken before you can enter. After our photo shoot, we entered the main attraction. Inside, we noticed mass quantities of exit signs and arrows pointing in the directions we needed to follow. Ft. Harmony has mostly concrete floors, so trip hazards are all but non-existent, except for a few small sets of stairs. Also, rest assured that the attraction is in compliance with all applicable fire and safety codes. After exiting the haunt, you'll arrive at the concessions stand/souvenir shop, where you can purchase your pictures, snacks, hot and cold drinks and, of course, souvenirs and T-shirts to remember your trip to 7th Street Haunt!
---
Atmosphere:

8.83
This year, 7th Street Haunt welcomes you to Ft. Harmony by announcing the theme behind the attraction, explaining the rules, and playing eerie, haunt-themed music for customers while they wait in line and again as they enter the haunt. The two chainsaw maniacs working the parking lot and queue line definitely let you know you have arrived at a dark attraction and they don't plan on letting you forget! But watch out for 'Charlie,' he was hungry for neck bones during our visit… who knows if he ever got them? As we walked through the main door, we could start to hear the screams of other groups who had entered Ft. Harmony before us, which helped get us in the mood for what we were about to experience. Many types of sound tracks were heard throughout the attraction, which added more 'depth' to each of the scenes they were used in, especially when combined with some of the other effects that were used. We would like to note, however, that even though this seemingly dilapidated warehouse can be creepy enough by itself, and the signs welcoming customers to the haunt help get you prepared for what's inside, adding more haunt/theme-related d
---
Special Effects:

8.6
Many new special effects have been added over the last year to also aid in bringing Ft. Harmony to life. A vortex tunnel compliments one of the scenes nicely and other classic effects, like strobe lights and fog, are used effectively in certain scenes. We noticed that some of the scenes we walked through needed some minor finishing touches and the first few areas weren't as original as the ones found later in the tour, but most of the details left us with no questions about where we were walking into! Very few animatronics are used at 7th Street, so that's good for the haunters that like 'old-school' scares. Some of the more original scenes that populate Ft. Harmony include the primitive chapel, mine shaft, and the multiple residences.
---
Theme:

8.5
The theme for 2013 at 7th Street Haunt is made obvious as soon as you pull in the entrance to the parking lot. Multiple signs, sound tracks, and queue actors let you know you have arrived at Ft. Harmony and it's NOT a nice place to be! The town mayor was there to greet us, presumably at the city limits (entrance to the building), and made sure we had our pictures taken before our tour of Ft. Harmony. After we entered, military personnel warned us of the rules and the consequences that would be faced if we broke them. Many of the scenes seemed authentic for being located in a small town, such as Ft. Harmony. However, a couple of them, such as the clown/carnival scenes and the military guy, seemed a bit odd given that they were mostly normal-looking and acting compared to most of the other characters, which were much more sinister and demented. A video explaining the haunt's theme in depth can be found on their website.
---
Fright Effect:

8.8
All of the preceding elements have combined to make Ft. Harmony a quite scary place to be. Some excellent hiding spots were used, actors implemented their surroundings to authenticate their dialogue, and their acting skills in general made each character very believable and some were quite intimidating! However, some scares were easier to predict than others, which affected the element of surprise for some. But, on the other hand, there were many actors that were very skilled at interacting with our group and keeping us entertained, regardless of if a scare was provided or not, which is partially why this score is higher than last year. Something else that helped elevate this score was the fact that a handful of the actors delayed their actions until everyone in our group was in the area which really helped in providing unsuspected startles to the entire group.
---
Value:

9.07
7th Street Haunt is one of the most valuable haunts (calculated in minutes of entertainment per dollar spent) in the Louisville area. Tickets are $2 cheaper this year at $18 and we clocked our tour through Ft. Harmony at 24 minutes, putting 7th Street Haunt at almost 1.5 minutes of entertainment per dollar. Now factor in $5-off for a printable coupon on the haunt's website or bring in a work, school, or military I.D. and now we're talking about $13, which is about 1.8 minutes per dollar spent, and groups of 10 or more get tickets for $10 each which is almost 2.5 minutes per dollar! For a great, cost-effective haunt in the Louisville area, head on down to the award winning 7th Street Haunt, where you can find a 'one of a kind experience for the Halloween season!'
---
Promo Images:
Click to Enlarge
Have you visited this attraction?
---
2016 Awards
Most Unnerving Sound Effects - Ft. Harmony (Given by: Team Zombillies)
Most Unique Costume - The Demon of Knowledge (Given by: Team Zombillies)
Actor Shout Out Award - "Azrael" A.K.A Justin Sinkler (Given by: Team Zombillies)
Actor Shout Out Award - "Lilith" A.K.A Tasha Dunca (Given by: Team Zombillies)
Actor Shout Out Award - "Molly the Mayor" A.K.A Stacey Drake (Given by: Team Zombillies)
Actor Shout Out Award - "Night Watchman" A.K.A Michael "NoFro" Dickerson (Given by: Team Zombillies)
Actor Shout Out Award - "Quarantined Quinn" A.K.A Emily Moss (Given by: Team Zombillies)
---
2015 Awards
Most Creative Old-School Effects - "Ft. Harmony's Revenge" (Given by: Team Zombillies)
Most Unique Costume - "The Spider" (Given by: Team Zombillies)
Actor Shout Out Award - Gary Reeser, A.K.A. "The Dirty Old Man" (Given by: Team Zombillies)
Actor Shout Out Award - Justin Sinkler, A.K.A. "Azrael" (Given by: Team Zombillies)
Actor Shout Out Award - Matt Clayton, A.K.A. "Thunder Feels" (Given by: Team Zombillies)
Actor Shout Out Award - Rick Hall, A.K.A. "Nemesis" (Given by: Team Zombillies)
Actor Shout Out Award - Tabitha Gray, A.K.A. "Betty Sawz" (Given by: Team Zombillies)
---
2014 Awards
Most Creative Old-School Effects (Given by: Team Zombillies)
Memorable Moment (Given by: Team Zombillies)
Actor Shout Out Award - Grandma Helen (Given by: Team Zombillies)
Actor Shout Out Award - Ricky Mann (Given by: Team Zombillies)
Actor Shout Out Award - Torture Queen (Given by: Team Zombillies)
---