Find Reviews for a Haunt near You! Find Reviews for a Haunt near You!
Find Reviews for a Haunt near You!
Nightmare Forest Haunt Park
850 Otter Creek Park Road, Brandenburg, KY 40108View All Details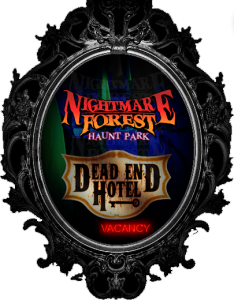 Features:
Free Parking, Restrooms On-Site, Food/Concessions, Optional Games/Midway, You will NOT be touched, Movie Characters, Uncovered Outdoor Waiting Line, Indoor/Outdoor Attraction
Team Zombillies reviewed this attraction on September 27, 2013.
Final Score:

8.67
Summary:
Returning for it's 31st season in 2013, this legendary haunt is now known as Nightmare Forest Haunt Park, bringing you 5 attractions at one location for one ticket price! New this season you can experience Hawthorne's Circus Bizarre, a creepily entertaining sideshow where you may witness some very painful and awing stunts! During your adventure through Nightmare Forest, you will once again get the opportunity to step into some of your favorite horror movie scenes and come face to face with the villains within them! A few of these are Hellraiser, Nightmare on Elm Street, Sinister, and Texas Chainsaw Massacre where Leatherface has no mercy for those trudging through his home! There is no turning back once you have entered the cities within Trail of Terror where the zombie apocalypse is rising and they don't seem to take human presence too lightly! The Drive-In is a movie-viewing environment that 'engulfs you into the horror.' Dueling banjos can be heard from various areas of the park, leaving you guessing just where they are coming from… later to find out that they are echoing from within the corn rows of Nightmare Harvest, where a madman is patiently waiting for you to take the wrong turn into his workshop! Have you got what it takes to make it out of these 5 attractions alive? You will have to pay them a visit and find out!
---
Cast:

8.33
On an average evening there are around 40 actors at the park who audition in their scenes for paid spots before and during the season, which gives them the incentive to play their roles well. Though this was a descent number of actors to have, there was still quite a bit of dead space where additional actors could've delivered entertainment and startles. The majority of the characters used dialogue that matched their scenes very well which made them believable, but there were some that didn't say much at all where needed. Some of the impressive characters that stood out to us and really brought their scenes to life were Pinhead, the bloody, chainsaw-wielding backwoodsman, and the energetic bell hop because of their verbal interaction, and Leatherface, Jason, Michael, and the Creeper because of their noticeable physical interaction with us. The zombies were also doing a great job of bringing their scenes to life by providing realistic sounds and following our every move until we managed to escape the apocalypse!
---
Costuming:

8.68
Costuming used throughout the attractions is mostly purchased from thrift stores and vendors to later be modified to fit the characters' scenes including masks, while a few of them are made by the haunt's staff. There are 4 makeup artists who work at the attraction applying realistic touches to the characters with a new technique they started using this season. Despite it being so dark in several areas, from what we could tell, all of the costuming matched the scenes they were used in and went along with their individual themes. Some of them were very realistic while others could use more attention to detail. Masks were used throughout all the attractions except Trail of Terror, but most of them were needed and reinforced the characters wearing them. However a few of them weren't as realistic as the rest and we did notice that several of them were left untucked. Costumes that stood out to us the most were worn by Leatherface, a zombie nun, a mummy, the Creeper, and the zombies because of their realistic appearances from being distressed and accented with blood, dirt, and rips.
---
Customer Service:

8.8
Four large, white signs were lined down the highway near the entrance to Otter Creek Park making it easy to find. Once you pull in, continue down the spooky lane of cedars trees until a flagger can be spotted directing traffic into the parking lot. There is plenty of free, grassy and some paved parking, but this area is not lit until you get to the ticket booth area so be careful. Portable restrooms can be found conveniently located in the parking area and behind the ticket booth. If you have any questions or concerns, helpful staff can be found inside the ticket booth to help you with your needs. A concession tent can be found as you make your way to get in line as well as the Hawthorne's Circus Bizarre area where they entertain the queue area by performing plausible stunts and offering very unthinkable oddities to be observed. Last season, The extra sideshow required separate admission prices. However, it is included this season with your admission to the haunt park! The attraction consists of paths through the dark woods and corn so be very careful as you navigate these areas. During our trek, we noticed that there were no signs, arrows, or actors (like the ones we saw in Nightmare Forest) pointing us in the direction to Nightmare Harvest, which had us very confused on which way to go to enter the corn. Make sure you visit their online store where you can purchase their haunt memorabilia!
---
Atmosphere:

8.25
When we first arrived and started our way towards the ticket booth, the sounds of banjos, chainsaws, loud blasts, screams, and yelling escaping from within the haunt park helped in letting us know we had arrived at a haunted attraction! The sideshow provided plenty of entertainment before we entered, but some roaming characters could help provide unsuspected startles and interaction with the line in-between shows along with some haunt themed music to get them prepared for what they may experience inside the attractions. Dueling banjos could be heard the entire time we were in the corn, but were also heard throughout most of the park and didn't fit in with the other attractions' themes. During our visit, a few sound effects were used throughout and were realistic when used, but the majority of the scenes were left quiet with no music or sound effects other than the noises that the actors were making.
---
Special Effects:

8.67
Special effects are both purchased items and items designed by the haunt's crew. Until this season, we weren't aware that the folks who bring the horror to Otter Creek Park every year only have 3 weeks to set everything up before their opening night! There is a variety of special effects used including some that we've never seen anywhere else. In Nightmare Forest, scenes were decorated realistically and helped us to distinguish what movies they were from. Trail of Terror had the most attention to detail, making us feel as if we were in a real city as a result of speed limit and road signs, buildings, and welcome signs letting us know where we were. Special effects range from rolling pipes and bodies hanging from trees to a vortex tunnel, objects coming towards your head, a very realistic cemetery, Pinhead's intriguing puzzle box and strategically placed lighting. To help raise this score, sound effects or actors providing distractions could work directly with the effects in many scenes to make them much more effective and unpredictable, even though some of them were effective on their own.
---
Theme:

9
Each attraction at the haunt park has its own diverse theme. Nightmare Forest starts you off in its lobby before unleashing you into the home of many familiar horror movie villains who want YOU as their next victim! In Trail of Terror you will get to experience what happens when the living turn into the flesh-craving, living dead that have overrun Hazelwood and Woodbury. In Nightmare Harvest, recognizing the sound of dueling banjos is not the only thing you need to worry about! The twists and turns within the corn and those who reside there may never let you out! Unfortunately, we did not get to experience the Drive-in during our visit but it is a unique attraction and 'it's a scare zone unlike anything you've experienced.' Most of the characters and scenes made sense with their respective theme since only a few of them left us wondering how they fit in.
---
Fright Effect:

8.7
Scares are delivered on different levels from stalking whispers and threatening dialogue to creepy timbers, startles, unsuspected surprises, all-out chainsaw attacks and a zombie violently munching on a corpse! They seemed to target the middle of our small group, so everyone got to experience the scares. A great deal of the characters in Nightmare Forest followed behind us through their scenes and into the forest away from their scenes, which had us constantly turning around and looking behind us! Some of the movie characters we came across were much more intimidating and authentic than they were last season which helped make them scarier. The scenes also didn't seem quite as predictable as they have been in the past, but adding startles to the dead space in between scenes would help to raise the score in this category, along with the use of more distractions. If you're afraid of the dark woods, than you just may be terrified out here regardless of the haunts!
---
Value:

8.92
On-site general admission to all 5 attractions will cost you $20.00 per person . However if purchased in advance online, they are just $18.00 per person! Speed pass tickets can be purchased for $30.00 at the hautn or $26.00 online, which allows a shorter wait time on very busy nights. It took our group around 30 minutes to escape from the haunted attractions and an additional 15 minutes to witness the stunts performed by Circus Bizarre, making this a very competitive price! Single-night, unlimited-entry tickets are also available at the haunt for $35.00 per person or $30.00 online, which grants you access to the attractions as many times as you can handle in one night, as well as speed pass entry! New for 2013, the creators of Nightmare Forest have opened a separate attraction located in Shepherdsville, Kentucky… 'Dead End Hotel.' If you think you are interested in visiting both of these locations, combo tickets can be purchased for $32.50 online or $35.00 at the haunt. So if heading to one location to experience 5 different attractions out in the middle of the woods sounds like something you'd like to do this Halloween season, then check out Nightmare Forest Haunt park, where 'your nightmare begins!'
---
Promo Images:
Click to Enlarge