Find Reviews for a Haunt near You! Find Reviews for a Haunt near You!
Find Reviews for a Haunt near You!
Hill of Terror
3666 Priceville Road, Bonnieville, KY 42713View All Details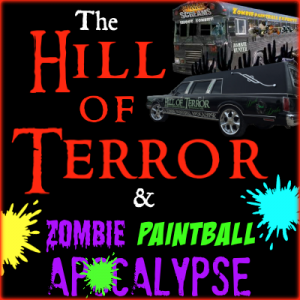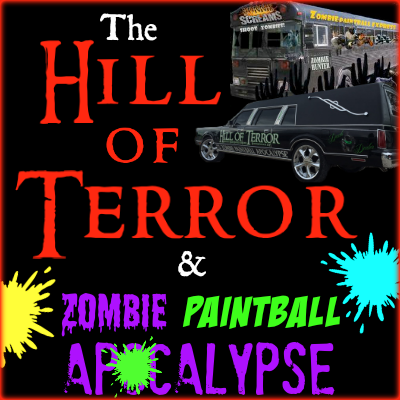 Features:
Free Parking, Restrooms On-Site, Food/Concessions, Gift Shop/Souvenirs, Optional Games/Midway, You will NOT be touched, Uncovered Outdoor Waiting Line, Indoor/Outdoor Attraction
Team Zombillies reviewed this attraction on September 28, 2013.
Final Score:

9.4
Summary:
Hill of Terror is going on their 4th year of instilling fear into the souls that are daring enough to climb aboard their hayride to the top of the hill. New this season, they have paired up with Rootin' Tootin' paintball, to bring you an experience that involves shooting LIVE zombies with paintball guns! Another new addition this season is Shivers Lodge, a very mind-boggling cabin that you must try to escape! This is by far one of the longest single attractions we have visited to date and offers many unsuspected startles and alarming special effects the whole way! Make sure you wear your walking shoes! This adventure can last anywhere from 45 minutes to over an hour and will take you through the dark woods, in and out of the corn, and through additional scare zones where you may get your clothes dirty or even wet! The crew's motto is 'if we don't scare them, entertain them', which they do, very well! If your looking for an attraction that more than doubles it's ticket price in length, then you should check out Hill of Terror, where no matter what scares you, they've probably got it covered!
---
Cast:

9.2
On an average night, there are 65 volunteers eagerly awaiting your arrival on the hill. These actors are placed in their scenes before the season begins giving them a chance to 'feel out' the scenes and decide whether or not they can successfully carry out that role. This crew was very energetic! They would either be lurking behind us, jumping off of and over things to provide startles, or running ahead of us to provide additional scares. Many characters were believable, but some of their dialogue wasn't in context with their scenes and several didn't say anything at all when it could've helped their believability. We also didn't notice as much threatening dialogue as we have in the past, but don't let that fool you. They still threatened us enough to keep us on our toes! Many of them were also very interactive with our group by getting us to dance, splitting up our group in a creative way, and one wouldn't let us continue through his scene until we tried to solve his riddle! Some memorable characters were the clown with the monkey in the trailer park, Mr. Corn Cob, the clown with the ball cap, and the guy with the 'shock' stick.
---
Costuming:

8.6
Costuming used is mostly bought at thrift stores and modified to fit each character's needs. There are two artists who apply the realistic makeup to characters in the haunt's costume trailer each night. Many masks were used throughout the attraction with some of them being much more realistic than others. We also noticed a few actors who were wearing only masks with street clothes including shorts, as well as some with costumes that didn't match their scenes as well as others. On the other hand, there were a few costumes we didn't see at all because they blended in with their scenes so well! There were also some that were very well detailed which enhanced the believability of those wearing them, such as the actors on stilts, the ghille suits, and Marty the butcher. It is very dark in some areas which made it hard to see some of the actor's costumes.
---
Customer Service:

9.7
Hill of Terror wasn't too hard for us to find since the first sign we noticed was at the intersection we came across after getting off the exit and they were conveniently located every so often all the way to the attraction. Keep your eye out for the haunt's spookily decorated bus parked by the entrance to the parking area, which is a free, large, but dimly-lit field that can be difficult to park in when the haunt is very busy. Portable restrooms are located by the ticket booth at the first barn as well as on the hill at the hayride drop-off/pick-up for your convenience. Concessions can be purchased in the first barn or at 'Rick's Grill on Wheels,' which is located on the hill and offers some great, smoked meats! Be sure to stop in and check out the fortune teller in the first barn and the 'Last Ride' coffin ride simulator located by the second barn. Rootin' Tootin' paintball has a tent set up entertaining the first waiting area where you can have your chance at shooting LIVE zombies with paintball guns. 20 paintballs can be purchased for $5.00 and these zombies WILL get close to you! Several roaming actors were spotted outside the second barn doing a very fine job at entertaining the crowd. While navigating this attraction, take extra precaution when going up stairs, down ramps, and through the woods, even though it is marked pretty well and we could always tell where we were supposed to go. T-shirts can be purchased in the first barn for $12.00 and don't forget to get your group photo taken for $5.00!
---
Atmosphere:

9.63
As soon as you arrive, the custom, well-decorated bus parked by the road helps in setting the mood for the attraction as well as a large banner on the first barn that you can see from the parking area. There are also roaming actors entertaining the crowd to let you know you're at a haunted attraction along with loud, attraction-themed music playing at the bottom of the hill. Parked by the second barn was the haunt's well-decorated van with multi-colored flashing strobes underneath it as well as a mixture of hard rock music that helped keep us pumped up for what we were about to experience. Sound effects and music were accompanying various scenes, but some areas were quiet… TOO quiet. Adding sounds to these areas could help in providing more camouflage for the actors and props accompanying them. All of the realistic sound effects that were heard were effective and some of them even knocked us off our feet! You will hear a variety of sounds from alarms, sirens, loud blasts, gun shots, and music so loud you can hardly hear yourself think!
---
Special Effects:

9.7
The masterminds behind H.O.T. try to mostly make their own special effects, but some are purchased from vendors to later be modified as well. Since a lot of them are custom made, there are many things used that you won't see at other attractions. Some of these include a very original vortex tunnel, cleverly placed pneumatic props, a unique take on getting run over by a car, a ramp you can't walk down, a score board, and a tunnel you must feel your way out of! The effects were very impressive and placed in areas which made them effective. Most of them were unpredictable by our group, however a few of the scenes could use a little more detail, such as parts of the new cabin. Other impressive effects were intense strobes, a real machine gun, a shock stick, a man burning alive, and a toilet with a nasty surprise!
---
Theme:

9
The theme used throughout Hill of Terror is,'if you can't scare them, entertain them!' Since this theme allows for universal characters and scenes, you will come across many differently-themed areas, from psycho clowns, cabins and a barn to a house you must walk through, a dog kennel, what is known as the 'panic attack', a trailer park, and even a zombie danger zone! Since this theme allows for universal characters and scenes, we couldn't tell what it was until we asked. There is nothing wrong with using all these universal characters and scenes, however some of them could match their respective scenes better to improve this score. One thing we did notice was how a few of the scenes started off with loud, up-beat music, like they were throwing a party, with characters who were dancing along with it, which reminded us of the 'entertain them' portion of the theme.
---
Fright Effect:

9.47
Scares come from many various strategies, from vibrating floors, shocking walls, and claustrophobic passageways to intense blasts of fire, air, and sounds, threatening dialogue, and even splitting our group up! Minimal scares were predictable which helps explain why this score is so high! Distractions were also noted in several areas which helped in providing scares to everyone in our group. Dead space that we've noticed at other attractions in between scenes isn't as prominent here since they use it to their advantage, supplying additional unsuspected startles! If there had been as many unsuspected startles in the corn as we encountered in the woods, along with the usage of distractions on more occasions, it would have resulted in an increase in score for this category. We found ourselves looking at things on different occasions only to find that they surprisingly weren't as they seemed! One of our group members even left with pretty wet clothes!
---
Value:

9.9
General admission remains at $20.00 per person and your adventure could be anywhere from 45 minutes to an hour or longer, making this deal a hard one to beat! Remember, even when you board the wagon that takes you back to the bottom of the hill, the scares still aren't over! There is an additional section past the waiting line that you need to be sure to hit before you leave. There's not much room left to improve in this category, but this score will continue to rise with the scores in the other categories. Hill of Terror is only located an hour from Louisville so if you think you are interested in visiting an attraction that supplies many startles in many different ways, then make sure you add them to your list where you will 'pay to get in, but pray to get out!'
---
Promo Images:
Click to Enlarge