Find Reviews for a Haunt near You! Find Reviews for a Haunt near You!
Find Reviews for a Haunt near You!
Sandyland Acres
4172 Belleview Road, Petersburg, KY 41080View All Details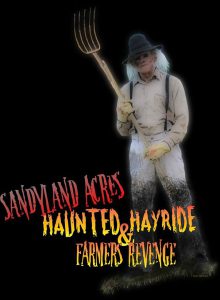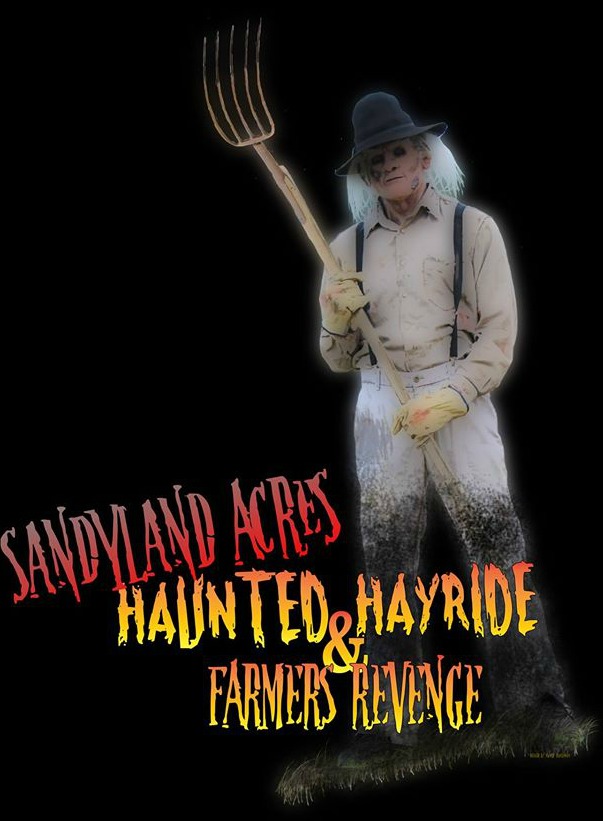 Features:
Free Parking, Restrooms On-Site, Food/Concessions, Gift Shop/Souvenirs, You will NOT be touched, Movie Characters, Original Characters, Uncovered Outdoor Waiting Line, Indoor/Outdoor Attraction, Family Friendly
Team Zombillies reviewed this attraction on October 4, 2013.
Final Score:

8.7
Summary:
2013 is Sandyland Acres' 8th season of providing customers with a family-friendly haunted hayride and the scarier barn known as 'Farmer's Revenge.' The owners and staff began renovating for this season back in March and didn't stop until the day they opened to the public. This year, Sandyland has replaced some of their movie characters with some originals of their own and villains from other horror flicks like Jeepers Creepers, Silence of the Lambs and Friday the 13th. But others like Leatherface, Pinhead and the aliens can still be found in one of the two attractions that Sandyland has to offer. For a haunted house and hayride that the whole family can enjoy, be sure to visit Sandyland Acres in Petersburg, KY.
---
Cast:

8
Over 50 paid actors can be found across Sandyland Acres. Training begins well before the season starts and includes drive-throughs for the hayride and walk-throughs for the barn to make sure the actors are saying and doing what they're supposed to. The actors' dialogue matched their respective characters and themes however a few of them didn't have much to say at all. The most interactive characters were debatably the clowns because they stuck with the wagon for quite some time and namely 'Zippy' for his verbal interactions with some of the kids on the hayride. Some of the most believable were Pinhead, Leatherface, Hannibal Lecter and particularly Jason and his mother because of their authenticity and believability. And finally, the most intimidating were Dollface and the character called 'The Hills Have Eyes.'
---
Costuming:

8.74
One of the haunt owners applies the actors' makeup and helps with their costuming, however a few of them help by taking care of themselves before each night begins. Most of the masks are purchased from haunt vendors and some of them are silicone, which makes them more realistic and believable. Some of the actual costumes are made in-house, but most of them have been purchased from thrift stores and modified and/or distressed for each character as needed. Some of the characters, like the aliens and Dollface, were seen wearing simple coveralls and others were wearing blue jeans as part of their costumes which drops the score for this category, while others like Dr. Lobotomy were more thorough and elaborate. The most accurate were the Creeper, Leatherface, Hannibal Lecter and Jason. While the Hannibal costume was authentic with the prison jump-suit, skull and cannibal mask like from the movie, Jason was particularly memorable because he didn't look like the modern 'Jason' people think of with his hockey mask and machete. Instead, he was wearing a potato sack with a single eye-hole and a pair of bib overalls and carried a pick-axe just as he did in the earliest movies, so kudos to Sandyland for having an old-school Jason that you won't see very often!
---
Customer Service:

9.63
As we neared Sandyland Acres, a sign at the last intersection let us know we were close and pointed us in the right direction to reach the attraction. There was a lit 'Sandyland Acres' sign by the road, several bright lights and flaggers directing vehicles to parking spots in an organized fashion. The lot itself is a mowed, grassy field that's dimly-lit, but easily traversed. A neon 'OPEN' sign on one of the buildings lets customers know where they can purchase tickets and another sign will direct you to 'Auntie Suzie's Haunted Kitchen' in case you want some snacks, food or drinks during your visit. Portable restrooms can be found near the hayride's queue area and there are also a few benches and picnic tables where you can sit and enjoy your concessions while watching the roaming actors entertain the crowd. Some other concession and souvenir stands are located around the waiting area, one being the 'Spooky Gift Shop' that has 'Gifts with Personality' and a guillotine scene set up for customers to take pictures of their group in. Some of the souvenirs available for purchase are t-shirts and blankets that are adorned with the haunt's logo, which can be nice to have on the hayride during the cold, October nights. Usually 2-3 actors can be found entertaining the crowd and helping board the wagons. One of the most memorable was General Silas Bones, an authentic-looking Civil War soldier complete with sword and hat. A screen was added to the side of the barn that you can watch as you wait in line this season that shows past videos of groups touring the attraction!There are usually 3-4 tractors with wagons touring guests through the Hayride, so the lines move as quickly as possible without catching up to previous groups and giving away all the surprises!
---
Atmosphere:

9.05
It's apparent that Sandyland Acres isn't your typical farm as soon as you pull in the parking lot and see flames shooting upward from one of the farm's silos. The ticket booth, concession stands and waiting area are also decorated with haunted-farm-type d
---
Special Effects:

8.6
Some of the more extravagant special effects at Sandyland Acres are purchased from haunt vendors, but most of the more simple effects are made in-house by the haunt's owners and staff. Possibly the most detailed scene at the attraction would be the dining room inside Farmer's Revenge, which one of the haunt's owners takes credit for. Several impressive effects can be found on the Haunted Hayride, such as a tractor, a real horse, loud bangs, lots of dolls, music from Friday the 13th, a spooky cemetery, a giant jack-in-the-box, and a truck emanating 'Jeepers Creepers' music. The scenes in the barn, however, seemed to be more detailed and grotesque and include effects like a vortex tunnel, air cannons, and some original effects that might leave you a little more wet than when you entered!
---
Theme:

8.76
There are two different attractions at Sandyland Acres. One is the Haunted Hayride which is slightly less-scary and more appropriate for younger kids. In the past, the Hayride included several movie characters as well as a few original scenes of the haunt's own creation. This year, Sandyland has replaced a few of these villains with more original characters and also some from movies that you may not have seen here before! Farmer's Revenge is a scarier haunt that some kids and young children may have a tough time with, so use your own discretion about whether or not to take your kids through this one. It's based on the deranged farmer that lurks around the property and includes scenes from his house and others places like his chicken coop and cellar. With so many seemingly random scenes throughout Sandyland Acres, it was difficult for us to tell if there was any single theme that was attempted to be followed in either attraction, which decreases the score for this category, but each individual scene was generally easy to identify.
---
Fright Effect:

8.2
Once again, the hayride is a family-friendly attraction where many families bring their kids so they can enjoy the Halloween season together and the barn is where more startles and scares were delivered. This is great for families since there aren't many attractions with two different levels of fright in one location. Most of the actors on the Hayride as well as in Farmer's Revenge either had good hiding spots or were disguised. Several different types of scares are also delivered throughout the attraction, such as shotgun blasts, vehicle chases, blasts of fire, a chainsaw attack, startling air effects, frantic pleas for help and intimidating stare-downs. Several of the actors even used multiple scare tactics within their own scenes. A few characters used distractions in both attractions but if they were used more often with both special effects and the characters it would help to raise this score. If find yourself lost in the darkness within Farmer's Revenge, you probably don't want them to hear someone say your name!
---
Value:

8.65
General admission tickets for the Haunted Hayride are $12 which can be upgraded to VIP for $3 more for those busy nights. Farmer's Revenge is $10 or you can purchase a combo ticket for both the Hayride and Farmer's Revenge for $20. We timed our hayride at 22 minutes and our tour through the barn at 8 minutes for a total of 30. That means you get almost 1.5 minutes of entertainment per dollar on the Hayride and just under 1 minute in Farmer's Revenge. The score in this category isn't as high as other attractions in the area, but for an attraction where you can take your whole family to spend a fun evening of quality time together, the value for this haunt is hard to beat!
---
Promo Images:
Click to Enlarge
Have you visited this attraction?
---
2014 Awards
Actor Shout Out Award - Chuckles the Clown (Given by: Team Zombillies)
Actor Shout Out Award - Michael Myers (Given by: Team Zombillies)
Actor Shout Out Award - Mortimer Sneed (Given by: Team Zombillies)
---
2012 Awards
Actor Shout Out Award - Leatherface (Given by: Team Zombillies)
Actor Shout Out Award - Mortimer Sneed (Given by: Team Zombillies)
---