Find Reviews for a Haunt near You! Find Reviews for a Haunt near You!
Find Reviews for a Haunt near You!
The Dungeon Haunted Attraction
202 Felicia Drive, Cincinnati, OH 45238View All Details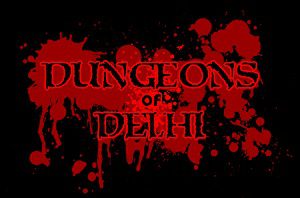 Team Zombillies reviewed this attraction on October 4, 2013.
Final Score:

8.8
Summary:
In 2013, the crazies return for Dungeons of Delhi's 20th season and they are crazier than ever! This is a charity haunt that uses more of an original approach to scare and entertain their customers, so you never really know what they may come up with next! You will experience a wide variety of characters and scenes in the Dungeons from moving hallways to a gun waving looney, a creature that cannot be explained, chainsaw attacks, and zombie crossing zones, to voodoo, the QUEEN of Hell and many more! Bring in a canned good to donate and you will receive $2.00 off general admission making this 20 minute attraction only $8.00! If you're in the Cincinnati area and enjoy variety along with energetic acting, you need to check these guys out, and watch out for those hillbillies, they just may 'turn you into homo sapien soup!'
---
Cast:

8.8
On an average night, there are around 55 volunteer actors bringing the scenes to life within these dungeon walls. It seemed like there were quite a few more actors this season than in the past! Before the season begins,these actors go through 'Scare School' training that is put on by the haunt to teach them how to deal with different types of situations, what to say, what not to say, etc. This cast is very energetic and they don't let up until you are out of their scenes, if they let up at all! The majority of them were believable, but some only screamed on multiple occasions and similar lines were used between some of the characters. Stronger dialogue in these areas would help make these characters and their scenes more believable. However we still encountered a lot of impressive and interactive dialogue, even from some of the youngest actors in the haunt! All of the actors stayed in character throughout the entire attraction which also enhanced their believability. A few of them were very interactive with our group, such as the crazy guy moving the desks, Madd Matt, and Warlox, who was also the most impressive character we encountered in the Dungeons. The zombies also stood out to us in this attraction because of their energy and intensity in the role of attacking a real human! Other memorable characters to us were New Blood, the hillbillies, the four-legged creature, the guy in the skin room, and the characters crawling on the floor due to their energetic aggression towards our group.
---
Costuming:

8.79
The majority of costuming is purchased at thrift shops and later modified to fit each of the characters' needs. The haunt has a crew of 5 makeup artists that do a great job at adding realistic airbrush work, blood, wounds and prosthetics to the actors. Some of this work was done so well, we had to give it a second glance!! You won't come across many masks in this attraction, and the ones that are used compliment the characters wearing them. We also noticed that some of the characters were wearing colored contacts which significantly helped in adding realism. The costumes seemed to match their surrounds but a few of them could use more detail. A few costumes that stood out to us the most were the Grim zombie, the four-legged creature, Warlox, and the air-brushed zombie due to their detail and originality.
---
Customer Service:

9.01
Dungeons of Delhi is a pretty easy attraction to find. A cemetery and their black hearse was sitting out front this year with a yellow flashing light on top and a coffin falling out of the back of it making it pretty hard for us to miss! The building also has several paintings on it to let you know you have arrived. Free parking is located next door in a very large, well-lit parking lot where you will see a large banner hanging on the building pointing you in the correct direction of the haunt. A separate ticket booth is near the queue line and a concession trailer is available for customers to visit this season in case you get hungry or thirsty! An intimidating, large, four-legged creature was roaming about outside entertaining customers as they wait in line and, every once in a while, victims escape from within the Dungeons and Madd Matt will come out to catch them again! Friendly staff members can be found inside the ticket booth or near the entrance of the haunt in case any questions or concerns arise. Pictures can be taken at the RIP photo booth located behind the Haunt's hearse. Inside the attraction, we noticed exit signs as well as fire extinguishers, but be careful as you navigate the attraction. There are stairs, ramps, and a few uneven places, and though most of them are marked, a couple of actors did follow us up the part of the stairs.
---
Atmosphere:

9.3
As soon as we got out of the vehicle, the sound of a chainsaw echoed through the night! Upon approaching the front of the building, we noticed thick fog coming out of a coffin, tombstones, fresh graves, and the haunt's hearse letting us know we were at a haunted house! A few roaming actors along and the intense, creepy music playing outside the attraction in the waiting area aided in getting us prepared for the Dungeons we were about to walk into! The building is also decorated with a few paintings letting you know this isn't your ordinary day-time business. Your group will know when it's your turn since an announcer comes over the intercom with a chilling voice saying, 'Send them in,' which also helps to get you psyched about entering! Many of the areas within the dungeons had creepy and realistic sound effects that seemed to be at a good volume with a few of them becoming suddenly loud enough to provide startles!
---
Special Effects:

8.36
Special effects are mostly made by the haunt but a few of them have been purchased or were donated as well. Since they build a lot of these effects on their own, you will see a lot of things in here you won't see very often (if at all) anywhere else. Some of these original effects include a shifting hallway, a 'skin' room, torn pages flying through the air, and some unique uses of barrels, desks and mannequins. The scenes are detailed pretty well for the most part, but several of them are similar to each other with a lot of writing on the walls and UV d
---
Theme:

8.78
The theme for 2013 is 'Return of the crazy!', and that's how most of these characters act! The theme is introduced in the first section of the attraction so all customers are aware of what it is before navigating the attraction. All of the characters did their parts in convincing us that they were indeed crazy, and although this is a universal theme, some characters and scenes made more sense than others. This was the case with the Saw scene, where no one or nothing was 'crazy' in this area when our group went through. On the other hand, two characters seemed to work perfectly with this theme. They were the 'Physco' woman who killed her husband and the guy in the room with the desks because they really helped in not letting us forget what the theme was!
---
Fright Effect:

8.01
Scares are delivered on various levels from creepy singing to startling air effects, actors coming from all directions, to shot guns being pointed at you, and actors throwing things in various scenes including a 50 gallon metal barrel to a possible chainsaw entrapment! We noticed that some of the actors waited to reveal themselves or their wicked stunts until the middle of the group which helped them target everyone in our group better this year. There were a few effective distractions, but they could stand to be used a lot more often to provide additional, unsuspected startles. For the most part scares were not as predictable as they have been in the past. Every night the last group to go through gets a special treatment they like to call the 'Zombie Horde'. A long hallway inside the attraction has been designated just for this, but you will have to be the last group of the night to experience this!!
---
Value:

9.34
It will cost you $10.00 per person for admittance into the Dungeons. If you bring a canned food item for donation, you will receive $2.00 off making general admission only $8.00 per person! Same night re-entry tickets can be purchased for $5.00. It took our group 20 minutes to break away from the crazies, giving you OVER two minutes of entertainment per dollar spent when using their discount, making this one of the best deals we have seen! Dungeons of Delhi is a charity haunt, where proceeds go to the Delhi Police Explorers and the Anderson Ferry Food Bank. If you're looking for a haunt that won't break the bank that uses original scare techniques, then be sure to pay Dungeons of Delhi haunted house a visit, where 'you're all gonna die!'
---
Promo Images:
Click to Enlarge
Guest ReviewsGuest Average: 10 out of 10
Riley – 10/10This place is crazy,with myself serving in the United States Marines I am a very rough and tough guy …show more and I got scared a lot through out this haunt there was a lot of jump scares and animations through it I loved it 10/10
---
2014 Awards
Actor Shout Out Award - Mad Hatter (Given by: Team Zombillies)
Actor Shout Out Award - Madd Matt (Given by: Team Zombillies)
Actor Shout Out Award - Mrs. Killburn (Given by: Team Zombillies)
---
2013 Awards
Memorable Moment - Zendar (Given by: Team Zombillies)
Best Zombies (Given by: Team Zombillies)
Actor Shout Out Award - NewBlood (Given by: Team Zombillies)
Actor Shout Out Award - Psycho (Given by: Team Zombillies)
Actor Shout Out Award - Warlox (Given by: Team Zombillies)
---
2012 Awards
Actor Shout Out Award - Igor (Given by: Team Zombillies)
Actor Shout Out Award - Newblood (Given by: Team Zombillies)
Actor Shout Out Award - The Dark Lord (Given by: Team Zombillies)
---