Find Reviews for a Haunt near You! Find Reviews for a Haunt near You!
Find Reviews for a Haunt near You!
The Mayhem Mansion
13966 Decoursey Pike, Morning View, KY 41063View All Details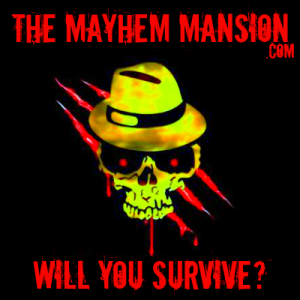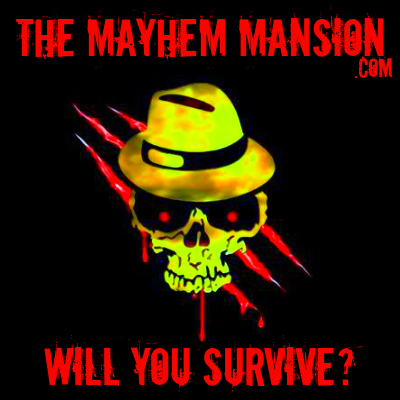 Features:
Free Parking, Restrooms On-Site, Gift Shop/Souvenirs, "Old-School" (Low Tech), You may be touched, Original Characters, Covered Outdoor Waiting Line, Indoor/Outdoor Attraction
Team Zombillies reviewed this attraction on October 5, 2013.
Final Score:

9.05
Summary:
Mayhem Mansion is going on it's 8th season in 2013. This is a charity haunt where proceeds support the Boone County FOP 'Shop with Cop' program. This is also an old school haunt, which means you won't find any animatronics here. But what you will find is a lot of energetic and interactive acting combined with many original ideas! Once you enter this house through the only window that isn't boarded up, you will feel like you just took at huge step back in time because this theme takes place in the 1930s during prohibition! Read on to find out the whole theme behind Mayhem Mansion… where we were told 'It is their job to scare the sh!t out of you, and they will deliver!'
---
Cast:

9.15
This was one of the most energetic crews we have come across so far this season! On an average night there are up to 72 volunteer actors working hard to haunt Morning View, KY because of their untimely deaths, which you can read about in our 'Theme' category. It seemed as though this number of actors was adequate for both the Mansion and the Trail because there were very few dead spots and the ones we did experience on the Trail were short-lived. The actors in the Mansion undergo walk-throughs every night because most of them can choose which scenes they want to work in. But if the owner thinks they could be better used in another location, then those moves are made before they open their doors, err… window, to the public. These actors are also extremely interactive as it seemed like they almost always had a comeback to however we responded to their dialogue! They had us looking for doors on the floor, called us out by name, tried to get us to drink a mystery Bloody Mary drink, and used several lines we'd never heard before! One said we smelled weird, another said one of us smelled like fish, and several of them spoke of things that were period-correct for the theme, which helps their originality. One of the victims in the Mansion was especially original, because not only was she asking us to let her out of an iron-barred room, she was threatening us if we didn't! Another interesting aspect of this attraction is that several of the actors use dialogue that plays off of other actors, which increases the believability of the entire attraction. However, a couple of the younger actors had similar dialogue and there was a fair bit of ear-piercing screams that could be heard which made them slightly more difficult to understand, but their ability to touch us combined with their believability and authenticity did help increase the energy and tension levels in many of the scenes. Out on the trail, the same can be expected as far as originality and believability. These actors are some of the finest examples of home-grown hillbillies that Kentucky has to offer, but don't let them catch you on their land! Some of the most memorable characters were Lineus (the butcher), Bloody Betty, Remus (Trail), the Mad Maid, and Mr. Haverford himself.
---
Costuming:

8.7
Mayhem Mansion has a full-sized trailer designated just for costuming and applying makeup to the cast before each night begins. Makeup is generally authentic-looking, but some characters' faces and costumes were more elaborate than others. However, we'd say that 90% of the characters' costumes is what really nails down the era of the theme and lets you know that the theme takes place in the early 1900's, which is very good for originality and authenticating the theme. But, on the other hand, some of them weren't wearing any makeup at all and masks are… non-existent, leaving these actors very normal-looking. While these characters moreso rely on their dialogue and actions for their roles, finishing them off with some kind of makeup would increase their intimidation factor and make the time frame of the theme more believable, if executed correctly.
---
Customer Service:

8.7
Morning View is a rather small town nestled in the hills of Kentucky, so when you approach the haunt and see a strobe light flashing on the Mansion with red lights on the porch, a lit sign and two other signs by the road, it's safe to say you're at the right place. Plenty of free parking is available behind the Mansion and portable restrooms are located on your way back to the ticket booth, which is on the front porch. A short film is projected on a screen at the front of the queue line, which thoroughly and theatrically explains the theme behind the Mansion and the Trail. However, it was somewhat difficult for us to understand everything we were being told because of the low volume. We climbed up and down two sets of stairs at Mayhem; one going up to the window to enter the attraction and one coming back down once inside. Safety is obviously a concern for the staff here because someone escorted us as we navigated each set of stairs in an attempt to prevent any scares from being delivered. Also, because the haunt works closely with the local Fraternity of Police, several of the actors are members of the FOP and double as haunt security. However, before our group was completely off of the second set of stairs, some of the actors from adjacent rooms started banging on the walls, which could provide a scare to someone who is pretty jumpy, which lowers the score for this category. As we exited the Mansion and re-joined the rest of our group (wink, wink: see 'Fright Effect'), we made our way back through the parking lot to tour the Haverford Haunted Trail, where we found several signs and arrows directing us past the building by the baseball field to the head of the queue line. The trail shuts down under adverse weather conditions, but normally the paths are covered with gravel or mulch, which makes for smooth walking and sure footing. Lighting was pretty dark in several areas, but the paths are cut fairly wide so we were still able to see where we needed to go and the darkness provided good hiding spots for the actors. If you escape 'Pa's land' without getting shot, you can make your way back up to the Mansion for some sodas and candy bars available at the ticket booth and maybe a souvenir to remember your trip back in time. Lastly, the Mansion has radio stations on site randomly throughout the season for queue entertainment.
---
Atmosphere:

8.93
The strobe light, lit signs, the creepy exterior of the building and red lights on the porch let us know we had arrived at a haunted house. Even from the parking lot, we were able to hear spooky music coming from the Mansion and the screams of both actors and visitors coming from inside the house! Once you arrive at the queue line, a small scene with props is set up for you to look at and the short movie explains the theme as you wait, which we recommend watching all the way through even if there isn't a wait so you understand the theme. A second look around the queue area authenticates what you're told in the movie because (almost) all of the windows are boarded up and the mansion itself is truly period-correct. As you make your way around to the entrance, another speaker playing spooky music helps psych you up before you enter and a head rolling down the stairs will give those of the faint-of-heart a second chance to think about weather or not they really want to enter. The sound tracks heard throughout both attractions help increase the intensity of the scenes they're used in, but there were some areas where little to no sounds or music could be heard, which lowers the score for this category.
---
Special Effects:

8.6
Mayhem Mansion calls themselves an 'old-school' haunt, which means you won't find any 'fancy animatronics' here. However, several original takes at some simple special effects proved to be rather effective at this attraction. Multiple passageways in some areas make you feel like you're going in circles, intense strobe lights aid in disorientation, the use of foul scents turn typical scenes into atrocious areas, and the use of real (or at least seemingly-real) weapons increases actor intimidation. Due to being a charity haunt, funding is somewhat low, so the staff are forced to come up with most of the special effects themselves. Some others that you'll see include a lifelike train, a moonshine still, a rather 'shocking' scare, and a wall that can be… difficult to see.
---
Theme:

9.57
The theme behind Mayhem Mansion is one of the most original we've seen. The story dates back to the 1930's during prohibition when the owner of the property, Mr. Haverford, was ironically a very successful bootlegger. The secret to his success was that he had figured out how to make and sell moonshine in such a fashion that didn't break the law. But one fateful day, Mr. Haverford's daughter's life was cut short. The entire town was invited to the Mansion so they could pay their respects to her (because funerals were conducted at their own residences during this time period). Because of the occasion, Mr. Haverford opened up one of his 'special casks' of brew for the town to enjoy, which in a twisted turn of events, killed everyone (including Mr. Haverford) within a day or two of drinking it. The police tried to keep the whole incident quiet, so they decided to deposit all of the bodies inside the Mansion and boarded up all of the windows in an attempt to keep their spirits from escaping… but they forgot one. Now, anyone brave enough to enter the open window will experience just what happened to all of the lost souls entombed inside the Mansion's walls! The Haverford Haunted Trail plays off of this same theme and takes you on a tour through Mr. Haverford's land, where all of the bootlegging actually took/takes place. Because of the originality of the theme, the fact that it's explained to all customers before entering the Mansion and how well it is executed throughout BOTH attractions, Mayhem Mansion gets an excellent score in this category.
---
Fright Effect:

9.33
Several great hiding spots were used throughout both attractions and scare levels ranged from creepy whispers of invitation to all-out demanding screams! Our review group originally consisted of 5 members when we entered the Mansion and was split somewhere along the way. Now, some other attractions may split your group up for a scene or two, but we never saw the other members of our group until we escaped the Mansion! It was our own fault though, because we were warned that if we wanted to stay together, we'd better stick CLOSE together, which obviously didn't happen. Scares came from all directions and some were achieved with a distraction. These actors CAN touch you, they don't always 'get fed like they should' so you may get nibbled on, and some customers have even reported a 'code yellow' to the haunt's staff! A very intense butcher room can be found in the Mansion, some of the actors throughout figured out our names and used them against us, and multiple entrapments and misdirection were experienced inside the Mansion. Everyone in our group got a scare at some point or another, but some of the characters were hiding behind walls where the person in the front of our line was able to spot them before they scared the middle of our group; which is fine because our leader didn't tip them off to us, but those instances made for one less scare for whoever leads the group. Also, several startles were delivered on the Trail, but most of the dialogue exchanged between us and the actors was more entertaining than scary, which lowers the score for this category by default.
---
Value:

9.4
General admission to the Mayhem Mansion is $12.00 per person and $8.00 for the Haverford's Hollow Trail. Fast pass ticket upgrades are available at $5.00 for a single attraction and $8.00 for both attractions. Same night re-entry admission is also offered at $5.00 for one attraction and $8.00 for both. General admission combo tickets can be purchased for $18.00 and fast pass combo admission is $26.00. General admission for children 10 and under is $6.00. Our group spent 20 minutes trying to find our way out of the mansion and another 20 minutes to escape the crazed hillbillies in the holler, which varies depending on how chatty they feel when you step into their territory. Looking at the combo ticket price of $18.00 and the 40 minutes our group spent inside the attractions, this gives you OVER two minutes of entertainment per dollar spent! Combine that with the scares, startles, and height of entertainment received and you've got yourself one screaming deal!!! Make sure you check out their website for group discounts and 'join them if you dare' this Halloween season!
---
Promo Images:
Click to Enlarge
Have you visited this attraction?
---
2016 Awards
Most Interactive Character - Bartender (Given by: Team Zombillies)
Most Interactive Haunt (Given by: Team Zombillies)
Actor Shout Out Award - "Preacher" A.K.A Alex Yersky (Given by: Team Zombillies)
Actor Shout Out Award - "The Clown/Puppet Master" A.K.A Chris King (Given by: Team Zombillies)
---
2015 Awards
Most Intended Misdirection - "The Funeral Scene" (Given by: Team Zombillies)
Actor Shout Out Award - Ashley Martz Reinhardt, A.K.A. "The Mistress" (Given by: Team Zombillies)
Actor Shout Out Award - Kaleb Lyons, A.K.A. "The Librarian" (Given by: Team Zombillies)
Actor Shout Out Award - Tom Gripshover, A.K.A. "Remus" (Given by: Team Zombillies)
---
2014 Awards
Most Realistic Hillbillies (Given by: Team Zombillies)
Memorable Moment (Given by: Team Zombillies)
Actor Shout Out Award - Haverford's Hollow Trail: Preacher (Given by: Team Zombillies)
Actor Shout Out Award - Haverford's Hollow Trail: Remus (Given by: Team Zombillies)
Actor Shout Out Award - Piano Player (Given by: Team Zombillies)
---