Find Reviews for a Haunt near You! Find Reviews for a Haunt near You!
Find Reviews for a Haunt near You!
Fright Manor
2909 South Meridian Street, Indianapolis, IN 46225View All Details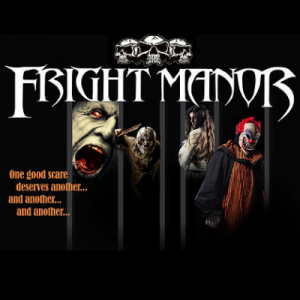 Team Zombillies reviewed this attraction on October 12, 2013.
Final Score:

8.89
Summary:
Fright Manor has been in the business of scaring Indianapolis for over 30 years and this year, they're bringing you 5 differently-themed attractions at one location for one VERY low price! Start off in Zombie Alley, where one of your friends can try to keep your group safe during the apocalypse with a realistic weapon system! Then, come face to face with some of your worst fears, including Michael Myers, Jason Voorhees, clowns and more in 13 Nightmares… if you survive. Also included with your ticket price are the Butcher Shop and Southside Sanitarium, which includes the haunt's own take at blood, guts, gore, and of course, some crazy patients, doctors and staff (respectively). Last, but not least, just try to escape the deranged hillbillies in Cousin Jed's Revenge. Who says you won't find hillbillies in the city? If you're looking for a budget-friendly attraction that gives you over 30 minutes of scares in the Indianapolis area, then be sure to check out Fright Manor, 'Indy's scariest haunted house!'
---
Cast:

8.9
The cast of Fright Manor consists of a combined 50 paid actors in the five attractions available. This number seemed to fill out the attraction quite nicely, but the Southside Sanitarium and Cousin Jed's Revenge seemed to need a few more because of the dead spots we encountered. The best hiding spots that we experienced were in Zombie Alley, where it seemed as though the undead were ambushing us from every direction, not to mention how well they acted! Chuckles the Clown and the Gravekeeper in 13 Nightmares were highly memorable because of their interaction with our group, outstanding dialogue and enthusiasm. From the Butcher Shop and Southside Sanitarium, we recall the guy hiding in the cooler and the nurse in the same room because of their interactivity and dialogue (respectively), Dr. Thor Massacre due to his intimidating demeanor, and Dr. Tony, the Chief Surgeon who was also interactive with our group. Finally and possibly the most interactive attraction at Fright Manor, we couldn't make up our minds on whether or not we needed to run from a seemingly-unstoppable chainsaw assailant or roll on the floor laughing because of Stinky PU and Cousin Jed's interactive conversations with us! In fact, the characters in this section acted so realistically and were so believable that we couldn't tell if they were acting or if this was how they behave all the time!
---
Costuming:

8.72
Three to four makeup artists make sure that each of the actors look their best before each night begins. Masks are used that were purchased from vendors, but primarily on characters that needed them to obtain a signature look. The characters that used makeup, however, looked good, but more elaboration and detail would help improve the score for this category. Costumes are typically purchased from vendors as well, but some are put together from normal clothes that have been distressed and/or otherwise modified to fit each character's needs. Another thing we found that brought this score down is that one of the actors was seen wearing street clothing instead of a costume. On the other hand, this actor was in a dark location and had a VERY evil laugh, but when she was illuminated by the strobe lights in that area, she lost some believability because of her attire.
---
Customer Service:

9
Fright Manor was very easy to find because of the multiple signs by the entrance to the (free) parking lot as well as the presence of multiple flaggers with lighted wands escorting people to the best spots to park. Lighting is dim, but adequate, and the flaggers also help stop traffic for customers that are crossing the lot during busy times. Tickets are purchased at the end of the building nearest the road and the queue area is located at the back of the building. A concession stand and roaming actors are located near the queue area for keeping the crowd fed and entertained. Several areas had arrows pointing which way to go, but a few more in select areas may have helped with some of the confusion we experienced in Southside Sanitarium… perhaps this was intended… doh! Plenty of exit signs were noted and we encountered several areas with ramps and uneven thresholds, even a place where we had to crawl! But be warned and watch your step as you exit the building and make your way to Cousin Jed's Revenge… there's a curb with a nice drop that was disguised with straw on the ground as you go around the building's air conditioner units that nearly twisted a couple of ankles in our group. This probably wouldn't have been an issue if we could've seen it, but the straw covering it made for quite a surprise for our group.
---
Atmosphere:

8.7
The first glance at the Fright Manor building doesn't exactly scream 'haunted house.' But further investigation will reveal several banners along the side of the building depicting the haunt's logo as well as some monsters. As we made our way to the ticket booth, we could hear creepy, haunt-themed sounds and the occasional zombie news report or siren letting us know we weren't at home anymore! Cousin Jed and some other actors roaming about solidified the fact that we had, indeed, arrived at the Fright Manor Haunted House! Once we entered the haunt, more sound effects could be heard throughout many parts of all of the attractions… except for Southside Sanitarium and Cousin Jed's Revenge. There were multiple areas in these two attractions where some well-chosen sound effects could help keep customers on their toes when no actors are around.
---
Special Effects:

8.75
While original special effects were few and far between at Fright Manor, there were several effective props and animatronics providing scares for customers throughout each of the attractions. Realistic (but fake, for safety reasons) guns were used for hunting zombies in Zombie Alley and we were also vibrated and had sparks in the air while navigating this wasteland. Some of the other special effects include a room lined with glow-in-the-dark masks (is one of them real?), animatronic props, power tools, realistic graveyards and tombstones, a gutted corpse draining into a tub, a narrowing hallway and the serial killer wall of fame. The puker in the meat market was more effective than any of the others that we experienced at Fright Manor because of its timing and the way that the actor used her dialogue with it. Many of the other animatronics we saw could've been equally as impressive if they had been used as or with distractions to help provide scares. The original effects that we saw include the serial killer wall of fame in Southside Sanitarium and the redneck security system in Cousin Jed's Revenge.
---
Theme:

8.9
Fright Manor sends customers through 5 back-to-back attractions. In Zombie Alley, one person in your group is given a gun that will be the only weapon that you can use to defend the group from the impending zombie apocalypse, so choose your group's shooter wisely! 13 Nightmares is next and includes some of your worst fears, like clowns, dentists, and of course, death! The Butcher Shop is chocked full of packaged body parts, blood, guts and gore and the inmates have clearly taken over Southside Sanitarium, so don't poke fun at the receptionist. Finally, these hillbillies want nothing more than for you to 'Get off [their] land' in Cousin Jed's Revenge, where all kinds of backwoods behavior takes place. Could this include the possible consumption of moonshine? Guess you'll have to find out for yourself! If you enjoy old-school-haunt themes, then Fright Manor should be right up your alley. But because many of the scenes we found in these attractions lacked a bit of originality, the score in this category suffers.
---
Fright Effect:

8.81
Some great hiding spots were made evident throughout Fright Manor which made many of the scares difficult to predict. However, it seemed as though most of the actors went for the middle/back of the group, leaving the leader of our group with not as many scares as the rest. Scares ranged from happy-sounding laughter to very EVIL laughter and casual conversations to a very unique chainsaw entrapment! Better usage of distractions could prove to be beneficial. However, most of the distractions that were used were timed so that the entire group could experience them, which helped the score in this category.
---
Value:

9.35
General admission tickets for Fright Manor are $20 and, for $10 more, you can get a speed pass upgrade for faster entry when the line starts getting long. Our group spent 40 minutes touring all 5 attractions. This comes out to 2 minutes of entertainment per dollar spent, which is one of the best deals you'll find anywhere! $2-off, printable coupons are available on the haunt's website, military and other discounts apply, and they're part of the 'Indy Haunts' special. All that being said, check out their website for all applicable discounts before you visit 'Indy's scariest haunted house!'
---
Promo Images:
Click to Enlarge
Have you visited this attraction?
---
2016 Awards
Scariest Old-School Effects (Given by: Team Zombillies)
Actor Shout Out Award - "Damien the Clown" A.K.A Aaron Mason (Given by: Team Zombillies)
Actor Shout Out Award - "Freddy Krueger" A.K.A Justin Danz (Given by: Team Zombillies)
Actor Shout Out Award - "Grinder" A.K.A Jason Baker (Given by: Team Zombillies)
Actor Shout Out Award - "Lust Lady" A.K.A Charity Brewer (Given by: Team Zombillies)
Actor Shout Out Award - "Torture Girl" A.K.A Kayelynn Woodlock (Given by: Team Zombillies)
---
2015 Awards
Most Realistic Costume - "The Stuffed Dog" (Given by: Team Zombillies)
Actor Shout Out Award - "The Gas Masked Sparky Guy" (Given by: Team Zombillies)
Actor Shout Out Award - Cris Shortt, A.K.A. "The Grave Digger" (Given by: Team Zombillies)
---
2014 Awards
Actor Shout Out Award - Chuckles the Clown (Given by: Team Zombillies)
Actor Shout Out Award - Dr. Butcher (Given by: Team Zombillies)
Actor Shout Out Award - The Grave Digger (Given by: Team Zombillies)
---