Find Reviews for a Haunt near You! Find Reviews for a Haunt near You!
Find Reviews for a Haunt near You!
The Asylum House
7300 E Troy Avenue, Indianapolis, IN 46239View All Details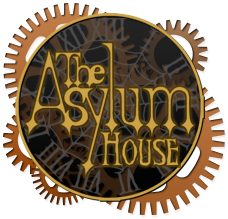 Features:
Food/Concessions
Team Zombillies reviewed this attraction on October 12, 2013.
Final Score:

8.77
Summary:
The Asylum House has moved and now takes place at the Historic Hanna House for 2013! Here you will find a variety of frights including blood thirsty vampires, an experimental Dr. Frankenstein, chaotic clowns, Camp Crystal Lake, angry ghosts, and you will even get a unique tour of the Hanna House! Indy Zombie Paintball returns this season, offering you a chance at an immersible experience on foot with LIVE zombies that you get to shoot, and only head shots count! If you enjoy a wide variety of Halloween entertainment, you should check out Asylum at Hanna House, where the first thing that was heard before entering the attraction was, 'Welcome my friends, to the show that never ends!'
---
Cast:

9.25
On average there are between 62 and 65 paid actors bringing these attractions to life this season. For the most part they seemed to fill in the house fairly well, but the trail and paintball areas seemed shorter on characters due to the added dead space that was encountered. This cast goes through 'proximity' training before the seasons begins, where they work on appropriate 'touch' techniques and other training. The majority of this crew was acutely interactive with us and had impressive dialogue, which helped make these characters believable! One familiar killer we encountered didn't seem to match the theme as well as the rest, considering he was wielding a weapon we don't remember him using before. A few of them stood out above the rest due to their increased interactivity and forcible dialogue. Included was Dr. Frankenstein, the two dominatrix, the banister lady in the Hanna House, the clown with a hammer, and Jack the Ripper who immediately had us on our knees, signing our souls away to him, and he even split our group up in an unimaginable way!
---
Costuming:

9.19
The cast is generally responsible for their own costuming but a few things are supplied by the haunt here and there. There are 4 makeup artists who work on adding final realistic touches to the characters. Masks used throughout the attractions are both purchased and bought and complimented those wearing them. We noticed a lot of great costumes and they all seemed to match their respective scenes very well, especially in the house! Though they all matched, we still noticed some that could use more attention to detail, such as those wearing the pajamas and other street clothes we came across. Some of the more impressive costumes to us were the vampires, both dominatrices, and those within the first portion of the house.
---
Customer Service:

9.28
A couple of signs could be spotted sitting in front of the Hanna Mansion's iron fence. A small, well-lit parking area was available across the road, and once that was full, we noticed people parking alongside the road. Portable restrooms are conveniently located near the ticket trailer area. Helpful staff can be found within the ticket stand to address any questions or concerns that you may have. T-shirts and snacks are available for purchase in the concession area. Get your group photo taken at the photo booth that has several different props set up for you to choose from. Pictures are one for $5.00 and double for $2.00. A large screen plays movies in the queue area to keep the crowd entertained and there's also a very well-decorated stage set up that actors were dancing to Thriller on during our visit. We also noticed a few roaming queue actors, including the haunts own version of Pyramid Head, who were also working with the crowd. Before entering the attraction, a greeter will go through the house rules and warnings with your group which includes informing you that you will be touched inside the attraction, 'So make peace with that!' Once inside, it was pretty easy to see where we were going but a portion of the attraction is outside so watch your step! Exit signs were noticeable inside the attraction, however we did receive a few scares on stairs, so once again, be careful while visiting this attraction.
---
Atmosphere:

9.3
The historic Hanna Mansion itself makes for an authentic, creepy atmosphere. When considering the Halloween-appropriate music playing outside the attraction, along with several queue actors in costume, lights accenting the mansion, and ghosts appearing in the windows, you've got yourself an atmosphere that will help prepare you for what you're about to experience! Sound effects heard throughout the majority of the attraction were very realistic and enhanced the scenes they were used in, especially where the vampires were found! There were still a few quiet areas where additional sound effects could escalate the intensity of the atmosphere, particularly in the outside portion of the attraction where it was easy for our group to hear what was going on in previous scenes.
---
Special Effects:

8.8
Most of the special effects that you will see have been created and actually filmed by the haunt's staff, including what you will see in the house! We came across many original effects such as a life-sized guillotine, hovering 'friends', transparent encounters, an experimental lab, roadside zoo d
---
Theme:

8.91
Since Halloween consists of a wide variety of tastes, Asylum House tries to offer something for everybody! With that being said, they really don't follow any other particular theme this season, other than the fact that everything you will see in this attraction is related to Halloween in some fashion. However we had to give them props for originality due to some of the unique characters we came across that we don't typically see at other attractions! The Hanna House itself does have a background story that you can read on their website at: http://www.thehannahmansion.org/ . Indy Zombie Paintball in a unique attraction that allows two people at a time to be equipped with working paintball guns in an attempt to shoot all the zombies and make it to the 'Safe Zone' with your flags still attached around your waist! If you are successful, you will win a free T-shirt!
---
Fright Effect:

8.06
Scares are delivered on various levels from the creepy atmosphere of the Hanna Mansion to authentic, creaky wooden floors to intimidating dialogue, ear-piercing screams, unexpected scenes, and chainsaw assaults! Everyone in our group was targeted at least once, but it seemed as if they went for the females more often. A couple distractions were effectively used, but if they were used more often they would provide a lot more unsuspected startles. The clown used a distraction against us that was extremely effective and had us embarrassed that we fell for it! There are a lot of entertaining scenes and strong acting to be witnessed at the Asylum House, but they didn't try to offer scares as often as they could to help raise the score in this category. However the scares that our group did receive were not predictable, and Jack the Ripper had one of our group members ready to come running out of there!
---
Value:

7.38
General admission for the haunt is $20.00 per person and an additional $15.00 per person for Indy Zombie Paintball. $2.00 printable coupons are available on their website making general admission only $18.00! VIP admission is $27.00 per person allowing you to skip the long waits on busy nights. It took our group 28 minutes to tour the house and trail making this attraction's value over one minute per dollar spent, making it a great deal! On the other hand, this was not the case with Zombie Paintball during our visit. Since the Asylum House has a new location this season, it seemed that they had less space to deal with, which only allowed the Zombie Paintball to last 5 minutes or less per group of two people, making this price about 3 dollars per minute. This ratio plus the fact that we received very little entertainment for the short amount of time we were in the paintball area results in a drop in score for this category. Additional chances at shooting zombies throughout the holding area are available for $10.00 but keep in mind the short duration of the attraction when considering this option. Group discounts are also available, so be sure to visit their website for more information. There will be a special, free event going on at the Asylum House during the 2013 haunt season! This is the 'Thrill the World' event, which takes place at the Hanna House on October 26th at 4pm sharp, where anyone has the opportunity to join in on a world record attempt for the most people dancing to Thriller at the same time! Doors open for the event at 11am so don't be late!
---
Promo Images:
Click to Enlarge
Have you visited this attraction?
---
2013 Awards
Actor Shout Out Award - Dr. Frankenstein (Given by: Team Zombillies)
Actor Shout Out Award - Jack The Ripper (Given by: Team Zombillies)
---
2012 Awards
Actor Shout Out Award - Hatter (Given by: Team Zombillies)
Actor Shout Out Award - The Queen (Given by: Team Zombillies)
---