Find Reviews for a Haunt near You! Find Reviews for a Haunt near You!
Find Reviews for a Haunt near You!
Wicked World Scare Grounds
5817 Tates Creek Road, Nicholasville, KY 40356View All Details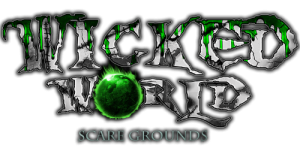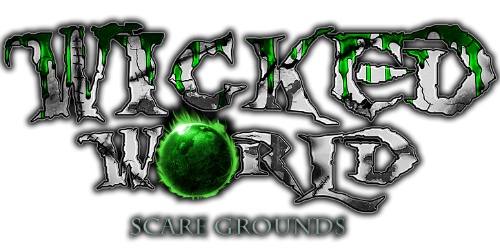 Features:
Free Parking, Restrooms On-Site, Food/Concessions, Original Characters, Indoor/Outdoor Waiting Line, Indoor/Outdoor Attraction
Team Zombillies reviewed this attraction on October 13, 2013.
Final Score:

9.09
Summary:
This year is Wicked World's 4th season at their new location. We missed the opportunity to visit them in 2012, but we could tell that the staff have been working wonders since the last time we reviewed them in 2011. Wicked World Scaregrounds offers two differently-themed attractions at one competitive price! The highlight of the Scaregrounds was Nightmare Haunted House, which has the theme of Mercy Hospital. It has held this theme for several years and brings to life the story of how this old hospital and the people inside have succumbed to 'The Darkness.' Only this year, Nightmare has introduced the notion as one very sinister character that you won't want to miss! The second attraction at Wicked World is the Darkwood Carnival, where you'll find many different carnival- and clown-themed scenes and monsters as well as a few familiar and original characters. Together, these two attractions make for a horrific night that you and your friends won't soon forget!
---
Cast:

8.38
Both attractions at Wicked World have about 75 combined paid actors and a few volunteers that bring the haunts to life each night. The majority of them are return actors, but they still got together before the season began to watch training videos and do a few walk-throughs to knock the dust off of their skills. While several of the actors had interactive dialogue, played their parts well and helped increase the realism of their themes, we came across quite a few actors who stopped acting before we exited their scenes, which in turn decreased their believability and intimidation. Mercy Hospital seemed to have the most interactive characters and enough of them to keep dead spaces minimal. But the Carnival, on the other hand, had more dead spaces and the actors weren't quite as believable or interactive. Not all of the characters on the trail matched the theme of Darkwood Carnival either, but increased theme-related dialogue and interactivity would help increase the score for this category. The actors in the Hospital made 'The Darkness' theme apparent and their respective characters believable, such as with the eyeless victim in the bathroom crying, 'Uggghhh… I can't see!' Dr. Drizz and 'the welder' also had very good dialogue and the live victims throughout the Hospital were quite convincing too! Debatably, the most intimidating creature inside Mercy Hospital was 'Carnage,' a very original character that makes unbelievably creepy sounds and has some wild knife-scare skills. Dr. Drizz, 'the welder' and Nurse Lilly Ann Patterson (complete with her Mercy Hospital I.D. tag) were among the most interactive in Nightmare Haunted House, as was 'the Candyman' in the Darkwood Carnival haunt.
---
Costuming:

8.91
About 2/3 of the costumes are made in-house by the haunt and the rest are made by the actors themselves. On an average night, around 40 paid actors are usually sporting makeup that is applied by themselves with quite a bit of help from the haunt's artists. One technique that Wicked World uses to create original characters is, ironically, creating their own original masks. We were told that about 1/3 of their masks are made in-house from silicone to enhance their realism and believability, while the rest are purchased from haunt vendors like CFX and Immortal Masks to be modified later. Some of the actors even used colored contacts which also aids in making them sinister-looking and believable. In Mercy Hospital, the costumes were key in bringing the characters and theme to life and they succeeded without fault! The most believable and realistic costumes that we encountered were the eyeless victim, Dr. Drizz, Nurse Lilly Ann Patterson, 'the welder,' Carnage, and of course, 'The Darkness.' Pretty much all of the costumes in the Hospital made sense with their respective scenes and the haunt's theme. One character in Mercy that stuck out to us as not fitting so well was the actor with the fluorescent green and orange mask in the cafeteria/dining area. This was simply because he didn't seem to match his surroundings as well as the others characters, which made us wonder what he was supposed to be and why he was in that particular scene. In Darkwood Carnival, some of the clowns needed a little more attention to detail with their costumes to take their realism and believability to the next level. However, several of the characters had very original costumes, such as Bigfoot and the actor in one of the booths with the stuffed animal mask.
---
Customer Service:

9.25
Finding Wicked World proved to be much easier this season than in the past due to their very large, well-lit haunt banner and sign at the entrance of the attraction. A flagger on a four wheeler escorted us to the proper place to park… which is free, but dark except for moonlight, so be careful when making your way to the ticket booth. Plenty of portable restrooms are located on-site for your convenience as well as a concession booth stand that can be found near the entrance of Nightmare Haunted House. T-shirts are available for purchase at the ticket booth where helpful staff members can also be found in case you have any questions. They also offer a coffin ride with Dr. Death for $3.00 per person. During our visit, there was a very enthusiastic actor keeping the crowd entertained and, on busy nights, there will be more doing the same including the haunt's iconic character 'Rage,' who towers around 8 feet tall! Additional queue entertainment is offered before entering the Mercy Hospital in a movie theater-type area where you will watch a video that explains the gruesome history of this attraction! We encountered a lot of ramps, uneven flooring, and rough spots on the trail so please be careful as you navigate these attractions, although plenty of exits were noticed.
---
Atmosphere:

9.15
As soon as we pulled into Wicked World, we noticed the large coaster that accents the entrance to the Dark Carnival. We could also hear the echoes of carnival rides from the parking area, which had us wondering just what they had going on! As we approached the ticket area, a very energetic 'Noodles the Clown' greeted us, which helped in letting us know we had arrived at a haunted attraction. Loud, hard rock music was playing in the queue area of Nightmare Haunted House while sinister carnival music was heard in the waiting area of Terror on Tate's Creek. The music really helped the feel of the haunts along with the roaming actor who was doing an excellent job at entertaining the entire crowd! The entrance to the carnival is decorated quite well and also helps increase the anticipation of your group's turn, but the outside of Mercy Hospital is quite plain. Once inside though, that quickly changes and the additional waiting area inside the building is decorated very well and helps prepare you to enter the hospital. Plenty of very realistic and immersive sound effects were heard within all the passageways and rooms of the hospital which aided in intensifying this attraction. There was also theme appropriate music and sounds playing in various areas throughout the trail, but there were also a few quiet areas where additional music/sounds would strengthen the fervency in these areas.
---
Special Effects:

9.3
The majority of the special effects used at Wicked World have been made in-house by the haunt, meaning you will see many things here that you won't see anywhere else. One thing that stood out to us was the extensive detail used in the hospital. As you are walking through, the tattered and torn wall paper, exam table surprise, patients' exposed innards, signs, Mercy Hospital floor plans, elevator shaft, the elevator itself, restroom shock, and x-rays will definitely remind you of where you are! Terror on Tate's Creek offers some attractive 3D art, carnival rides, a clown falling out of the ceiling, low hanging fog, and slanted rooms to remind you this isn't your ordinary trail, but it lacks the detail that really helps make the hospital stand out. However, it is a haunted trail, which makes this a more difficult task to achieve. Many of the effects we came across were very effective and complimented the actors working with them. Other impressive effects to us were the indistinguishable drop panels, air tools, expanded-metal and plank flooring, the theater, glowing syringe, CGI, and some of the more violent mechanical props.
---
Theme:

9.25
Each attraction at Wicked World Scaregrounds has its own evident theme. Nightmare Haunted House continues to carry the theme of the 1950's Mercy Hospital, where the back story of the attraction is effectively introduced to each group before you enter! Within Mercy Hospital you will come across some majorly deranged doctors, unexplained creatures, typical hospital staff that you would never want taking care of you in a hospital and you will even come face to face with the 'Darkness' that this hospital has referred to for several years! Terror on Tate's Creek brings you to a mysterious Dark Carnival possibly run by an evil mad man by the name of Ivan Darkwood. The entire story can be found on their website, but to make a long story short, this dark carnival appears every October and the entertainers of the show will do anything to try and keep their show alive! Deep within this exposition you will come across carnival rides, an 8-foot towering beast that is on the loose, unsteady rooms, and carnival style games that may not be what they seem! All of the characters and scenes we encountered inside Mercy Hospital matched the theme very well except for the one area that was accented with luminescent d
---
Fright Effect:

9.05
Many different levels of scare techniques are used at Wicked World, from casual conversation, innocent grins, evil laughs, unsuspected startles, surprise attacks from all angles, and intimidating creatures to some great hiding spots including under the floors! Everyone in our group was targeted throughout Mercy Hospital but we noticed the middle to back of the group was targeted the most throughout the trail. Distractions used were extremely effective, but they were used more often inside than on the trail which helped in keeping our group off guard as we rounded each corner within the hospital. The frequent unexpected startles combined with several good hiding spots and intensely detailed characters held our group in suspense through the majority of the attractions! Additional hiding spots mainly on the trail would help to keep the suspense and scares more consistent at full length. Another thing that would help to increase this score would be to intensify the encounter with the actual 'Darkness' character himself, rather than the other characters in the room that actually ended up being more responsible for the intensity in the finale of the attraction during our visit.
---
Value:

9.39
General admission for Terror on Tates Creek is $12.00 per person and general admission for Nightmare Haunted House is also $12.00 per person. Combo tickets for both attractions can be purchased for $20.00, which is automatically a $4.00 discount! Terror on Tates Creek entertained our group for 25 minutes and it took us another 20 minutes to escape Nightmare Haunted House! Combined this is 45 minutes of entertainment giving you OVER 2 minutes per dollar when taking advantage of their combo tickets. This is one of the best deals we have come across all season! Upgrading your tickets to Speed Passes on those busy nights will cost you an additional $8.00 per attraction or an additional $10.00 if you visit both! Given that each of these haunts provided so much unique entertainment from one another, we suggest that you take advantage of the combo admission while you're there! Don't forget to check out their custom coffin ride with Dr. Death as well for an additional $3.00. If you're looking for a haunted house of this caliber at an affordable price in the Lexington, KY area, with some good bang-for-your-buck factor, then be sure to check out Wicked World Scaregrounds!
---
Promo Images:
Click to Enlarge
---
2016 Awards
Scariest Actor - Cujo (Given by: Team Zombillies)
Most Realistic Costume - Roadie (Given by: Team Zombillies)
Best Clowning Around (Given by: Team Zombillies)
Most Interactive Queue Entertainers (Given by: Team Zombillies)
Most Evident Character Backgrounds (Given by: Team Zombillies)
Actor Shout Out Award - "The Barker" A.K.A Evan Lawson (Given by: Team Zombillies)
Actor Shout Out Award - Darkwood, "Ivan Darkwood" A.K.A Shorty Smith (Given by: Team Zombillies)
Actor Shout Out Award - Mercy, "Lucious" A.K.A Randy Wayne Smith (Given by: Team Zombillies)
Actor Shout Out Award - Mercy, "Milosha" A.K.A Sara Sakowich (Given by: Team Zombillies)
Actor Shout Out Award - Mercy, "Nurse Lilly Ann Patterson" A.K.A Belinda Smith (Given by: Team Zombillies)
---
2015 Awards
Most Interactive Queue Entertainers (Given by: Team Zombillies)
Actor Shout Out Award - Ashton Lester, A.K.A. "Slashton" (Given by: Team Zombillies)
Actor Shout Out Award - Evan Lawson, A.K.A. "Irish, the Scottish Clown" (Given by: Team Zombillies)
Actor Shout Out Award - Jarmen Wadkins, A.K.A. "Carnage" (Given by: Team Zombillies)
Actor Shout Out Award - Lisa Saunders, A.K.A. "Victoria Meelwurhm" (Given by: Team Zombillies)
Actor Shout Out Award - Randy Wayne Smith, A.K.A. "Silas" (Given by: Team Zombillies)
Actor Shout Out Award - Skylar Cannon, A.K.A. "Roadie Fisher" (Given by: Team Zombillies)
---
2014 Awards
Creepiest Vocals (Given by: Team Zombillies)
Best Introduction of the Theme (Given by: Team Zombillies)
Actor Shout Out Award - Fish Boy (Given by: Team Zombillies)
Actor Shout Out Award - Schizo Clown (Given by: Team Zombillies)
Actor Shout Out Award - Spider Sprinkles (Given by: Team Zombillies)
Actor Shout Out Award - Train Engineer (Given by: Team Zombillies)
---