Find Reviews for a Haunt near You! Find Reviews for a Haunt near You!
Find Reviews for a Haunt near You!
Asylum Haunted Scream Park
3101 Pond Station Road, Louisville, KY 40272View All Details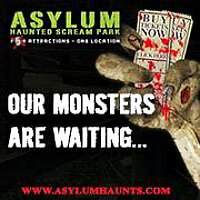 Features:
Free Parking, Restrooms/Porta Potties On-Site, Food/Concessions, Gift Shop/Souvenirs, Optional Games/Midway, Special Events, You will NOT be touched, Original Characters, Uncovered Outdoor Waiting Line, Indoor/Outdoor Attraction
Team Zombillies reviewed this attraction on October 18, 2013.
Final Score:

9.33
Summary:
Asylum Haunted Screampark (AHS) is now in their 3rd year of operation. Since joining forces with Darkness Falls on Asylum (now in its 6th year), which continues to terrorize South-Eastern Louisville, Kentucky, AHS introduced three new attractions back in 2011: Zombie City, Zombie Hunting (now 'Xterminate') and the Carnivale of Lost Souls. Zombie City's new tag line is 'Mutations.' Much like a movie series, such as 'Resident Evil' or 'Underworld,' Zombie City: Mutations is the 3rd installment of this very theatrical haunt that's more of an interactive performance, rather than your typical dark attraction, which makes it one of the most unique haunts in our review area! While new customers will completely understand its theme, returning haunters will fully appreciate the changes that have been made to get customers more involved with the story. Darkness Falls on Asylum is a collection of your worst fears brought to life and residing on this 3/4-mile-long trail that also has many new, elaborate scenes and characters for you to scream at! Xterminate: Zalien Attack is a one-of-a-kind, walk-through haunt that arms you with weapons and sends you on a mission to exterminate the zombie-alien invasion that has infiltrated this abandoned warehouse! Lastly, the Carnivale of Lost Souls is the family-friendly midway with carnival style games, a zombie-shooting gallery, freak shows and roaming actors to entertain those that may not be quite ready for the scarier stuff. This way, the brave ones in the bunch can go see the scary stuff while the youngsters (and scaredy-cats) can be entertained by the shows and games offered on the midway! If a unique attraction in the Louisville area with excellent, theatrical characters, bone-chilling scares, and all-night entertainment for the whole family is what you're looking for, then be sure to visit Asylum Haunted Screampark!
---
Cast:

9.53
The cast and crew of AHS consists of around 125 paid and volunteer actors and staff that make sure you get your money's worth before you leave! Training consists of extensive, theatrical lessons, character development (Zombie City), walk-throughs and scare tactics (Darkness Falls and Xterminate). Darkness Falls is an interactive haunt by itself, but Zombie City is the poster child of an interactive, theatrical attraction! No words are wasted by any of the actors as they explain the theme, bring it to life and suck you into the middle of it as they escort you through the City. There seemed to be a good number of actors throughout the city and references were made to other actors and details that we noticed in later scenes, which made them very believable. Darkness Falls has many different kinds of characters, all of whom seemed to fit their respective scene themes with matching and interactive dialogue, but a couple of the actors made references to characters that we never encountered, which had us confused for a short while. However, other actors mentioned playing games, had threatening dialogue, offered for us to take a bite of the severed hand they had in their mouth, amongst other things, all of which made them unpredictable and provided a good variety of characters throughout the trail. Very little actual dialogue was heard in Xterminate because the characters consist of some aggressive zombie-aliens and, quite frankly, zaliens don't talk, but they do yell and growl quite ferociously! The researchers that outfitted us with our 'weapons' and protective gear were also believable as they explained the theme, our mission, and showed us how to use the guns. The shout-outs go to Maybel Prechett, Dr. Ryker, The Cajun, Commander Mossberg, the zombies and Dr. Barkley in Zombie City due to their believability and enthusiastic, theme-relevant dialogue. Also the junkyard 'dog,' Dolly, the butcher from Hell, the characters in the church, and Cyclone and Pogo the clowns in Darkness Falls because of their performances and interactive dialogue. Finally, the zaliens and researchers in Xterminate are worthy of mention due to their roles in explaining the theme and aggressive attacks at our group.
---
Costuming:

9.28
AHS purchased several of their costumes new this year to help increase their detail and believability, but their more simple outfits are custom-made from distressed clothing that has been made to fit each character's unique needs. Makeup is applied by a crew of 5 artists from Embodiment FX, a local and professional special effects company with movie-quality skills. If any of the actors apply their own makeup, the finished product must pass Embodiment's stringent standards before they are permitted to enter their scenes. Masks are purchased from haunt vendors like Gore Galore and CFX to help speed up the makeup process each night and to create distinct character looks that makeup just can't achieve. Masks are typically only found in Darkness Falls and the two that stood out to us the most were used by the demon and Pogo the Clown. No masks were used in Zombie City and all of the costumes and makeup were authentic and realistic, which helped make the actors more believable. Characters in Darkness Falls were 1st runner-up with also-realistic costumes, makeup and masks that fit each of the scenes and themes, but the costumes in Xtermination is what reduces the score in this category. By using the term 'Zaliens' to describe the characters in this attraction, we figured the actors should've had a more extra-terrestrial look to them. But after 'shooting' several of them and investigating their remains, we realized that the makeup and costumes were simple at best and more zombie-based with very little 'alien' element incorporated. Making these characters look more obviously like zombie aliens to increase believability and keep them more in context with their theme would also increase the score in this category.
---
Customer Service:

9.4
We noticed an electronic billboard and 3 AHS signs on our way to the attraction, with the billboard being before we crossed into Kentucky on I-65 and the first sign was at the intersection of Stonestreet Road and Pond Station Road. Parking attendants told us where we could park, which was still free and in a well-lit paved lot this year, but we're assuming that overflow parking could still be in the un-lit, grassy area when the crowd gets big. Roaming actors, Carnivale characters and performers and security personnel inhabit the midway to keep the crowd family-friendly and entertained. Concessions are available on the Carnivale midway, as are many carnival-style games, pre-carved jack-o-lanterns that you can purchase, an occasional freak show (every 1/2-hour or so), and a zombie-shooting gallery where you can shoot a live zombie with live paintball guns! Portable restrooms are located at the far end of the midway near the queue area for Zombie City and Darkness Falls. Most of the walking throughout all 4 attractions is pretty easy, but there are several steps, ramps and uneven thresholds while going in and out of the various buildings, so be sure to watch your step in these areas!
---
Atmosphere:

9.3
We could already hear the sounds of chainsaws and screams as soon as we got out of our vehicle and approached the entrance to AHS. The decorated entrance, roaming actors, freak show and carnival music let us know that we were going to have a great experience! After we got our tickets and got in line for Zombie City, Maybel Prechett (ZC's queue actor) kept everybody in line laughing while introducing tid-bits about the theme while we waited. There was also a TV at the entrance with a video diary-style introduction to the theme from Dr. Ryker, who we later met inside the City. There were a few very short quiet spots in Zombie City, but the sounds we DID hear included real and taped zombie growls and an occasional siren that made us wonder if we really wanted to continue, but we knew what we had to do! Right off the bat, Darkness Falls greeted us with two beat-up coffins at the entrance, a castle-looking facade guarded by a reaper-looking skeleton and a gargoyle, and the sounds of gunshots and screams emanating from within… all before we entered the attraction! We could also hear ghoulish sound effects and those of a church bell, crickets, clown music, creepy church music, as well as the song 'This is Halloween' as we toured Darkness. However, there were more quiet spots in this haunt than in Zombie City and we could also hear some sounds coming from other scenes, which is a difficult problem to overcome on a trail, but they tipped us off to some of the scares we hadn't encountered yet. While in the queue line for Xterminate, the sounds of 'gunshots' and screams from both customers and zaliens were plentiful as we anticipated our turn to go through. There is also a TV that plays a short film which helps explain the theme along with the researchers at the front of the line.
---
Special Effects:

9.31
This year, you'll find many new scenes and effects in Zombie City and Darkness Falls and Xterminate has been lengthened quite a bit! The scenes have been designed and built in-house as well as a few of the animatronics and props that you'll see throughout the attractions, such as the concrete stones and mausoleums in the cemetery and the 2-1/2-story church in Darkness Falls. Some of the effects we experienced in Zombie City are a falling floor, a guard dog, fog, multiple zombie corpses, a life-sized nuclear bomb complete with green radioactive waste leaking from it, and even a pyrotechnical effect! All of the effects in the City were effective in making the theme very apparent to our group and we even got a few good startles along the way! In Darkness Falls, power tools, blood and writing on the walls, the realistic graveyard(s), animal carcasses, a unique vortex tunnel, moonshine still, lasers, fog, claustrophobic tunnel and strobe lights are just a few of the effects that you'll experience along the trail. With such a wide variety as this, we had no way to predict what we would experience around the next bend or in the next building! Xterminate is a little simpler when it comes to special effects, but making our way through the zalien-infested warehouse was far from boring to our review group. Inside, we armed ourselves with semi-automatic (paintball) guns, without ammo for safety reasons, and navigated the dim lighting, barrels, pallets and makeshift walls as we attempted to complete our mission without becoming part of the problem we were trying to put an end to!
---
Theme:

9.57
Asylum Haunted Screampark offers 4 differently-themed attractions. The first one you'll experience is the Carnivale of Lost Souls, a carnival-themed, midway attraction that provides entertainment for the whole family with carnival games, a zombie-shooting gallery, live freak shows and souvenirs. We decided to go through Zombie City first, which is much more interactive and theatrical than any other attraction that our review team visits! The new tag line for Zombie City is 'Mutations,' which is the 3rd installment in the Zombie City series that began in 2011. Haven't been to Zombie City yet? No worries! The plot is designed so that everyone has a chance to understand the theme, but returning haunters will still appreciate the changes that have been made. This year, the City has been quarantined for 2 years and Pandora's Rage, despite military intervention, has been spreading! We won't reveal the whole theme, but the interactivity and customer-involvement levels have been upped this year, so be sure to check it out! Darkness Falls on Asylum has also been revamped this year and offers many new scenes and characters in an effort to bring your worst fears to life… whatever they may be! From a cross-dresser with a chainsaw to cults and clowns and more, you never know what's going to be waiting for you next! Xterminate: Zalien Attack is what happens when researchers start testing drugs on people that are made from fluids collected from extraterrestrial beings. Now you must arm yourselves and your friends, activate the buttons inside the warehouse and escape with your lives to eradicate the zaliens and put a stop to the apocalypse before it's too late! The themes in Zombie City and Xterminate were made clear to everyone in our group, but the theme of Darkness Falls is left unsaid, so you're intentionally sent in without knowing what's exactly going to happen. Each of the scenes we encountered went along with either the actors' dialogue and/or their costumes which helped make them even more believable to us. However, a few of the characters throughout the complex are of the haunts own creation, so not all of them will look like something you've seen before or their stereotypical counterparts, like the butcher from Hell, the demon and the guard dog in the junkyard.
---
Fright Effect:

8.97
The different attractions at AHS provide different levels of scares, generally speaking. The Carnivale of Lost Souls, for example, offers freak shows and games, which usually aren't very scary. But there are some roaming actors in this area that will attempt to scare a few people, so you're probably not going to be completely safe from scares, even if you don't go through one of the haunts. Next up is a toss-up between Xterminate and Zombie City. Xterminate will hit your group with a barrage of zalien attacks, but everyone in the group is armed with weapons and you're sent in on a mission, which gives you some sense of control and helps take your mind off of being attacked while looking for the buttons. Zombie City is a theatrical and interactive performance, where you also have a task to accomplish on your journey through the City. But there are some good hiding spots and, thus, several startles are provided in various areas. Zombie City also has some of the best zombie-acting actors we've seen to date, so don't expect all of them to just stumble around and grumble as you walk by! Finally, if you want the most scares at Asylum Haunted Screampark, Darkness Falls is the place you'll find them. Scare levels range from intense screaming and chainsaw attacks to pleas for help and creepy laughter, so (try) to be ready for anything! However, there were several 'dead spots' along the trail where there were no actors or scares delivered on longer sections of the trail between scenes. Lastly, even when some of the actors didn't get a scare out of our group, they continued to verbally interact with us to make sure we were at least entertained before we left their scenes.
---
Value:

9.3
No VIP is offered at Asylum Haunted Screampark and this haunt is rapidly becoming a fan-favorite in the Louisville area. So if you want short lines, your best bet is to get there as soon as you can! Tickets for single haunts are $20/each for Zombie City and Darkness Falls and $15 for Xterminate. You can get an all-access pass for $35 (a $55 value), which will grant you access to all 3 haunts for one heavily-discounted price! You CAN get $2-off coupons if you go 'Like' their Facebook page or purchase tickets online, which are good towards individual haunt tickets, making them $18, $18, and $13, but that's still $49 compared to $35 for the combo ticket. However, if you only have time for one or two attractions, then the $2-off deal would be beneficial. Our review group spent 18 minutes in Zombie City, 28 minutes in Darkness Falls and 12 minutes inside Xterminate (beginning when we started getting geared up and briefed for our mission). Combined you'll get around an hour of entertainment, and that's not counting the freak shows and games in the midway! That means you get almost 2 minutes of entertainment for every dollar spent if you purchase the $35 combo ticket for all 3 haunts, which is one of the best deals we've seen with the caliber of haunts at AHS! Group discounts and special combo tickets are available too, so check out their website and FB page for details on that as well. Carnival games are $1/each and the pre-carved jack-o-lanterns were $40 and up depending on the pattern. For an amazing haunt with 4 unique attractions at one location in the Louisville area at an excellent price, be sure to visit Asylum Haunted Screampark!
---
Promo Images:
Click to Enlarge
Guest ReviewsGuest Average: 10 out of 10
Brandi – 10/10This is by far my favorite haunted attraction! The interaction between actors and guest is by far …show more the best. They really make you feel like its real life!! A+++++
---
2016 Awards
Best Haunted Trail - Zombie City (Given by: Team Zombillies)
Highest Dead Body Count (Given by: Team Zombillies)
Actor Shout Out Award - "Annette Jenkins" A.K.A Nurse Ratchet (Given by: Team Zombillies)
Actor Shout Out Award - "Dr. Piper Arden" A.K.A Lluvia (Given by: Team Zombillies)
Actor Shout Out Award - "Isaak Oleander" A.K.A Jake Wheat (Given by: Team Zombillies)
Actor Shout Out Award - "Uncle Rig" A.K.A John Cowgell (Given by: Team Zombillies)
Actor Shout Out Award - "Will James" A.K.A Dr Mimnom (Given by: Team Zombillies)
---
2015 Awards
Best Usage of Fog - "The Gas Leak" in "Zombie City" (Given by: Team Zombillies)
Most Creative Finale - "The Turnstile" in "Zombie City" (Given by: Team Zombillies)
Most Realistic Scare - "The Zombie Uprising Scene" in "Zombie City" (Given by: Team Zombillies)
Highest Rated Theme - "Zombie City" (Given by: Team Zombillies)
Actor Shout Out Award - Annette Jenkins, A.K.A. "Nurse Ratchet" (Given by: Team Zombillies)
Actor Shout Out Award - George Flarsheim, A.K.A. "The Pump Jockey" (Given by: Team Zombillies)
Actor Shout Out Award - J.P. Perry, A.K.A. "Hepatitis Hogslaughter" (Given by: Team Zombillies)
Actor Shout Out Award - Paul Cecil, A.K.A. "The Evil Executive" (Given by: Team Zombillies)
Actor Shout Out Award - Riker Hill, A.K.A. "Dr. Riker" (Given by: Team Zombillies)
Actor Shout Out Award - Thomas Herchenrader, A.K.A. "The Butcher" (Given by: Team Zombillies)
Actor Shout Out Award - Will James, A.K.A. "Dr. Mimnom" (Given by: Team Zombillies)
---
2014 Awards
Most Interactive Character (Given by: Team Zombillies)
Memorable Moment (Given by: Team Zombillies)
Actor Shout Out Award - Darkness Falls: Hepatitis Hogslaughter (Given by: Team Zombillies)
Actor Shout Out Award - Darkness Falls: Voodoo Woman (Given by: Team Zombillies)
Actor Shout Out Award - Zombie City: Dr. Yuri (Given by: Team Zombillies)
Actor Shout Out Award - Zombie City: Jumping on Car Zombie (Given by: Team Zombillies)
Actor Shout Out Award - Zombie City: Lt. Commander Barnes (Given by: Team Zombillies)
---