Find Reviews for a Haunt near You! Find Reviews for a Haunt near You!
Find Reviews for a Haunt near You!
Wells Township Haunted House
101 Market Street, Brilliant, OH 43913View All Details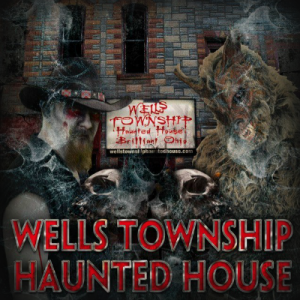 Features:
Free Parking, Restrooms On-Site, Food/Concessions, Gift Shop/Souvenirs, "Hi-Tech" Attraction, You may be touched, Original Characters, Uncovered Outdoor Waiting Line, All-Indoor Attraction
Team Mysterious Misery reviewed this attraction on October 19, 2013.
Final Score:

9.7
Summary:
In its 5th year we figured Wells Township could not live up to the standards that we put on this haunt. Well, we guessed wrong. They freaking blew our minds again this year! With new innovated technology, new ideas from cast members and many other exciting things, this haunt is worth the drive and money. Wells Township upped the game for yet another year. This has been a must see haunt for a couple years and this year is no different. So get your little behinds out there and enjoy this haunt. This haunt produced new innovations, incorporated new technologies, used new inspiring ideas and have expanded what you thought wasn't possible. They have done new things that will hold their spot in the industry for a while. While you may not know what to expect remember you will NEVER know what to expect because Wells does an amazing job at keeping you guessing. When your group has a total wicked dance party, a slide ride from hell, someone's head gets smashed (no, really) or people come up missing, you will be lost for words and the panic will set in. Wells uses all the elements from a dedicated cast and allows them to be innovative at costuming, special effects and amazing hospitality you will quickly see why they are becoming the most talked about haunted house. Their passion and dedication is what helps this haunt to be as good as it has gotten over the years. With alternate endings this year it won't matter because you will be delighted either way.
---
Cast:

9.6
Wells Township is amazing when it comes to cast. Most of the volunteers are under 22 years of age and with their young age still comes experience and fresh new ideas. They not only take part in acting but some design their own scenes and props. From all the haunts we have reviewed Wells has one of the largest non-paid volunteer cast. The cast volunteers' because they have passion and love for this haunt. To them it is not just a haunt but something they want to show off because they are proud of it. They have approximately 150 volunteers who put in their blood and tears for free to make this haunt one of best. Wells Township can run an effective haunted attraction with 50 volunteers but usually have 80-85 every night, giving you a performance of a lifetime. This year we were amazed with the talented Jimmy Talkington. He plays the role of one of our favorite characters and does it well. He also has a lot to do with art work and has used major production skills in a movie that was made and can be seen at the haunt. His talents make him an asset to this haunt. The cast become their characters which helps make the scenes more believable. Each year we wait for the cast to disappoint and they never do, they always deliver!
---
Costuming:

9.5
Wells Township is a great haunt in the costuming category. They have amazing makeup artist that are not afraid to push the barrier and create new monsters and morphed creatures. Each cast member along with these makeup artists work together to create the full effect. Each scene is left with no detail unturned. The black widow and the opening scenes are wonderful examples of how the costuming is important. They made each of their scenes so believable that it became storytelling and you promptly forgot you were in a haunted attraction, which is good. Most creatures are unique to Wells and the rubber Walmart-like masks are nonexistent here. Make sure you meet Pappy!
---
Customer Service:

10
Again this year Wells Township was able to maintain their level of customer service. They never disappoint in this area and show us why people like us drive hours and hours to get to this haunt. Mr. Sean Norman and his large group of passionate volunteers know what it takes to keep a haunted attraction running at great levels. On record setting nights you will not see a flaw in the customer service. You will have no trouble finding this attraction and if you do just stop at a local business and they will know exactly how to get you there. When you arrive the outside feels very party-like and is exciting. They usually have awesome bands or DJs on stage spinning music. They have a lot of yummys to eat including the ice cream brothers. There are bon fires, photo ops and more while you wait around in an open area with no line. You have a number and it will show up on the board giving you the chance to roam around and Instagram or Facebook pictures, eat, get warm, hang with friends and much more. This year they even have a movie and interactive ways to scare people in the house while you wait. They have a gift shop so you can pick up an awesome t-shirt or hat. They are always up to code with safety plans in place, always have police present and utilize headsets to make sure things are quickly taken care of and calls are answered. They encourage other haunts to come and visit and their passion for their 'home' shows in customer service. Make sure to bring plenty of cash and quarters and be patient while finding a place to park.
---
Atmosphere:

9.5
We like to refer to the atmosphere of Wells Township as Jackal and Hyde. This haunt has two distinct personalities and you get engulfed in both. When you first pull up you feel like it is an average party night by the bon fire. Not having a queue line gives you the opportunity to engage in the many other activities. You will be given a number and the numbers are on a new digital board so you will always know how much longer you will need to wait. You can dance to the music, take pictures, watch the movie or take part in the new interactive things. As soon as you walk through the doors and the story about sacrifices begins and the opening scenes opens up, you are awe stuck and the terrifying, heart pounding begins. You are amazed but at the same time scared for your life. Each room will create its own distinct atmosphere and you will quickly fall into the emotions. The ups, downs and holy shits. The adrenaline will rush when you are laid into the Dinkus 5000.
---
Special Effects:

9.9
We thought no way in hell can Wells come up with new special effects again this year. Yeah and they proved us wrong again this year. They have some amazing new innovations this year that will leave you speechless. They have amazing technology in the haunt that makes each scene more believable and terrifying. They also like taking pride that some of their effects are built by hand and get the same fears as the big dollar ones. Not only in the haunt are the special effects being used but outside as well with a new movie, digital group board and of course the new way to interact with people in the haunt, which is wickedly cool. Each year they come up with these great special effects because they are not afraid to use cast members ideas and create them. You will party until the rooms drops, you will be trapped by moving walls, your head will spin in the largest man made vortex tunnel and much more. This year the ending has two ways to get out and both consist of amazing special effects that we haven't seen at any other haunted house. We know that Wells has already started planning for even more ideas they will bring to the table next year.
---
Theme:

0
N/A
There really is no overall theme other than to scare the shit out of you! It seems each room talks about
what sacrifices you will make or people make to live or die.
---
Fright Effect:

9.6
Wells Township is a haunt who consistently delivers each and every year. They do not just frighten but they can entertain and leave you speechless all in one night. This haunt offers a unique scare for everyone in your group. They create scares on many levels from intense in your face to ones that get in your head and creep you out. The cast does an amazing job and they stay energized by feeding from you and even on record setting nights they give it their hundred percent until it's time to close so that group 1 or group 201 all get the same horrifying experience. Wells is a leader in fright effect. Don't believe me? Then go experience it for yourself. I dare you but be prepared and know what you are willing to sacrifice to survive!
---
Value:

9.8
Wells Township has one of the lowest general admissions we have seen at $13, which is an absolute steal. It is amazing that they can offer general admission for $13. General admission is available on-site only. Internet tickets online are $18. You MUST PRINT OUT YOUR TICKET. Bring your ticket to the Internet Ticket Reception Window located at the attraction. Purchasing an Internet Ticket provides you with a separate ticket line dedicated for VIP and Internet Ticket holders ONLY. Pre-assigned group numbers await you at these windows that are separate from General Admission. Internet Ticket groups will be assigned on a first come first served basis. VIP tickets are $25.00 and available on-site only. Pre-Assigned entry times have been set aside for those wishing to upgrade to VIP status. Once you purchase a VIP, you pick a time you want to enter the haunt, based on availability. This guarantees your entry time in the attraction. General Admission and Internet tickets can be upgraded to VIP if you pay the difference. VIP and Internet tickets are great options on record setting nights or when you have somewhere to be. Parking is free. Cash is a must to have on hand.
---
Guest ReviewsGuest Average: 9.88 out of 10
Jenn Harris – 10/10The best haunted house I have ever been too. Everything is so realistic. From the props to the …show more characters. If you're looking for a great time & a great scare, make sure to visit WTHH!!
---
2015 Awards
Most Interactive Queue Entertainers (Given by: Team Mysterious Misery)
Most Interactive Haunt (Given by: Team Mysterious Misery)
Actor Shout Out Award - Mark Miller, A.K.A. "Mr. Tickles" (Given by: Team Mysterious Misery)
---
2013 Awards
Highest Rated Haunt (Given by: Team Mysterious Misery)
---
2012 Awards
Highest Rated Haunt (Given by: Team Mysterious Misery)
---