Find Reviews for a Haunt near You! Find Reviews for a Haunt near You!
Find Reviews for a Haunt near You!
Literally A Haunted House at Culbertson Mansion
914 East Main Street, New Albany, IN 47150View All Details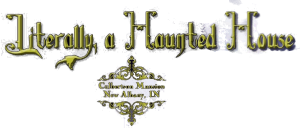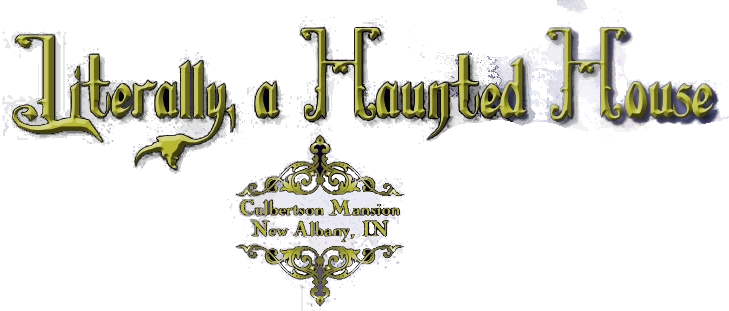 Features:
Free Parking, Restrooms On-Site, Gift Shop/Souvenirs, "Old-School" (Low Tech), You may be touched, Original Characters, Covered Outdoor Waiting Line, Indoor/Outdoor Attraction, Family Friendly
Team Zombillies reviewed this attraction on October 25, 2013.
Final Score:

9.05
Summary:
Culbertson Mansion is returning for their 29th season in 2013! Their theme and haunt layout changes from year to year and this season they have been focusing on classic monsters and horrors! They have put their own spin on some classic horror films including Dracula, The Creature from the Black Lagoon, The Mummy, Frankenstein, and more! These characters will get up close and personal with you like you've never seen before, and they may even touch you! This haunt boasts an awesome ticket price for the entertainment you will receive inside and shouldn't be skipped by anyone near the New Albany/Louisville area. So be sure to add Culbertson Mansion, Literally, a Haunted House to your list of attractions to visit during the haunt season!
---
Cast:

9.12
There are between 30 and 40 volunteer monsters waiting for victims on an average night. During our visit this number seemed to fill the house pretty well considering several scenes had multiple characters and dead space was scarce. The haunt has seasoned veteran actors that assist in coaching the crew each season so they understand how to handle different situations. Nearly all of the characters were believable and in context with their respective scenes. We noticed one character, however, that seemed to 'give up' after his initial appearance by folding his arms and staring at us, and another wielding a chainsaw that didn't quite fit the theme as well as others. This cast was also verbally and physically interactive with our group! They split us up, had us looking for experiments, and at one point one of them even tried to wipe his 'poopies' on us! Some of them that stood out to us more than others were Giltine the Hostess, the doctor's assistant, and the old man due to their believable dialogue. We also must say that the vampires were the most convincing we have seen to date! They appeared out of nowhere, were all over everyone in our group, and made some creepy sounds that made us feel like we were going to live with them at Culbertson Mansion bloodless, forever!
---
Costuming:

9
Some of the cast members create their own costumes and the haunt has their own seamstress, but some things have been purchased such as all of their masks but one that they custom made and air brushed! Some of the characters also do their own makeup but if they are unable to, there are 2 makeup artists on board who add the finishing touches to these characters by using airbrush and traditional techniques. Most of the masks when and where used were effective as well as their makeup. All of the costumes seemed to match their surroundings but some of them were more elaborate than others such as those worn by the Vampires, the Mummies, the Creature and the Doctor. On the other hand, there were also some that matched so well it was almost impossible to spot them before it was too late! Another thing that sets these characters apart from others was their unique usage of razor sharp teeth and colored contacts that provided additional realism. Costumes used here are very original since they have modified the majority of them so you won't see ones quite like them anywhere else!
---
Customer Service:

9
If you haven't already been to the mansion it may be a little tricky for you to find since there aren't any signs along the road directing you the way there. Free parking is available in a large area located behind the building past the railroad tracks. Portable restrooms are located between the carriage house and the ticket booth for your convenience. Tickets can be purchased near the concession stand where they offer snacks and Halloween related keepsakes. Friendly staff can be found in the ticket stand, and before entering the attraction in case any questions or concerns were to arise. New Albany PD was on-location during our visit as well making sure everybody behaves. Spot the haunt's pet zombie was wandering around entertaining the crowd during our visit. However there are signs asking you to please not feed Spot anything! In the queue area a video projected on the wall explains the rules of the house and how this season's theme began! There is also a TV in the queue area that shows live footage of one of the scenes inside the haunt! Inside the house we noticed plenty of well-marked exits and lit stairs, however several scares on stares and other uneven flooring were encountered so please be careful!
---
Atmosphere:

8.68
As we neared the mansion we could hear screams and other peculiar sounds escaping from the cemetery that gave us the impression we were at the right place! We also noticed the haunt's pet zombie, 'Spot' roaming around, which helped get us in the mood to go through. As we stood in line, there were a few other things that helped prepare us to enter, including the TV showing live footage from inside the attraction and a large scorecard hanging on the wall where they keep count of a variety of things all season such as personal dampenings, barfers, pass outs, etc. Very creepy noises were heard throughout the entire cemetery which really helped in bringing it to life! Although, throughout the rest of the attraction, the majority of sounds heard are those actually coming from the actors and props. Additional spooky music in some of the quieter areas would help facilitate their realism. The mansion itself is a site to behold, so be sure to get a good look at it during your visit!
---
Special Effects:

8.93
Effects used during the course of the attraction are mostly built in-house, but a few of them have been purchased from venders as well. We came across a variety of original effects such as a rotating room, a coffin ride, electrifying machines, strobe-lit TV's, and a haunted movie screen! Many of the scenes were decorated well and the d
---
Theme:

9.55
This season, the haunt brought classic monsters and horrors to life that seemingly are forgotten more often than not. We thought this was a very unique approach and they were quite successful at carrying it out! Movies portrayed are old time favorites that were of black and white color, including Dracula, The Creature from the Black Lagoon, The Mummy, and Frankenstein. For the most part, this theme was carried very well throughout the entire attraction, but there were a few scenes that didn't seem to fit as well as others. The scenes and actors reiterated the theme in many areas which helped bring this score to where it is. This theme also matched the haunt's location splendidly considering the mansion is a Victorian historic.
---
Fright Effect:

8.89
Frights were delivered on a variety of levels from ear-piercing screams, abrupt blasts, unpredictable hiding spots, synchronized chanting, a chainsaw pursuit, to actually getting touched on numerous occasions! Threatening and intimidating dialogue was also used which brought the intensity level higher than we've experienced at this attraction before! They also did a great job at targeting everyone in our group at some point or another, and at one point they even split us up! Distractions were used just a few times, but had some of us off our feet when we encountered them! Many of the scares were unpredictable, moreso this season than in the past!
---
Value:

9.24
General admission tickets are $13.00 per person. It took our group almost 16 minutes to experience these classic horrors putting them at over a minute of entertainment per dollar spent! This is a great value especially when combined with the horrors and original ideas that can be experienced within. If you haven't been able to visit their attraction yet, we encourage you to do so. All proceeds go into continuing the restoration of the historic Culbertson Mansion, so you're supporting a good cause by purchasing tickets! Also, be sure to check out their Facebook page, where they may offer discounts. If originality and a unique theme in a haunted house sound fun to you, then make sure they are on your list of attractions to visit for the Halloween season, for there are unforeseeable beings that lurk in the dark at Culbertson Mansion, and the shadows just might reach out and touch you!
---
Promo Images:
Click to Enlarge