Find Reviews for a Haunt near You! Find Reviews for a Haunt near You!
Find Reviews for a Haunt near You!
USS Nightmare
101 Riverboat row, Newport, KY 41071View All Details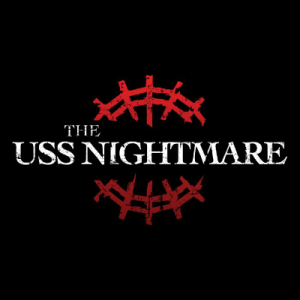 Features:
Free Parking, Restrooms On-Site, Food/Concessions, Gift Shop/Souvenirs, Optional Games/Midway, Special Events, "Hi-Tech" Attraction, Original Characters, Covered Outdoor Waiting Line, All-Indoor Attraction
Team Zombillies reviewed this attraction on October 27, 2013.
Final Score:

9.56
Summary:
2013 is USS Nightmare's 22nd year in operation as one of the most unique haunted attractions in the Cincinnati area. Located aboard the real, wrecked steamboat that was originally christened as the 'William S. Mitchell,' USS Nightmare also has one of the most original and authentic settings and themes in our review territory! So far, they have never failed to impress our review group with their excellent actors, exquisitely-detailed scenes and their real props and machines that once operated the old dredge, but are now used to terrorize Newport, KY. If some high-quality acting and scenes and an original theme are in your search criteria for a haunted house in the Cincinnati area, then make sure USS Nightmare is at the top of your must-see list for the Halloween season!
---
Cast:

9.71
Around 40 paid actors run 'The Mitchell' and scare the 'ship' out of customers each night that USS Nightmare is open. Each year, the haunt hosts a job fair so they can always be sure they're getting the highest-quality actors they can get and each actor, in turn, is matched with the scenes they fit most appropriately. For the length of the haunt, this number seemed to keep 'dead spots' few and far between, but not completely absent. Most of the actors seem to fit the haunt's 'reanimated crew' theme, but some of them fit more obviously than others, which we will explain in our 'Theme' category. Regardless, each of the characters were extremely interactive with our review group and able to reply to our inquiries while remaining in context with their characters and scenes. Some of the most memorable characters aboard USS Nightmare include the drunken sailor, the butcher, the actor in the bathroom, the clowns, Anna, the Captain and his mother, the scientists and 'Ed Gein Jr.'
---
Costuming:

9.59
Due to the originality of most of the characters in USS Nightmare, the costuming and makeup behind this haunt is handled by the attraction's in-house crew of talented artists. While trade secrets were not shared with our review group, we were informed that makeup supply costs have nearly doubled compared to previous years and they now have a '…larger pool of people doing more intense work.' This becomes quite apparent after touring this haunted, old steamer because there were very few masks used and the makeup applications that we noticed were finely-detailed and very realistic! The masks that are used appeared custom-made and suited the characters wearing them and helped increase their intimidation elements. Even though each of the characters are original in their own ways, some of the characters, such as the clowns and the chainsaw assailant, could use more theme-related elements in their costumes to make them stand out from similar characters at other attractions and help tie them into their scenes.
---
Customer Service:

9.55
Our review team didn't notice any 'USS Nightmare' signs directing us to where the attraction was located once we started getting close and simply plugging their address into our GPS led us astray due to the way it took us to 'Riverboat Row.' However, USS Nightmare has conveniently placed a picture of the nearby roads on their website with directions to the closest parking locations, so be sure to follow them! Parking is lit and available for free with several portable restrooms nearby before you reach the ticket booth. After we got our tickets from the friendly staff members, we had a quick photo session onboard the Mitchell before making our way to the covered queue line, which also has plenty of entertainment for guests while they wait their turn to enter. Some of this entertainment includes a scare console where customers can scare other customers inside the attraction and TV's explaining the wretched but true history behind the steamboat itself. Lighting inside the attraction is adequate when needed but there are a few dark spots where ramps are present. Otherwise, there are some clearly-marked stairs throughout the attraction and some uneven thresholds to be aware of, and plenty of exit signs were noticed for use in emergency situations. Afterwards, the path leads you to a nice building where you can purchase your group's picture from before the queue line as well as other haunt souvenirs and concessions. Also in this area are several arcade games as well as a laser-tag arena for guests who just haven't had enough fun for one night!
---
Atmosphere:

9.95
We knew we had arrived at the right place before we even got parked! The authentic dredger with a 'USS Nightmare' logo on the side and an illuminated skull on top screams 'haunted steamboat.' As we made our way to the ticket booth, we could hear some original sound effects coming from the boat, but they were barely audible compared to previous seasons, which slightly decreased the surrealism of the steamer's presence compared to previous seasons. Inside the attraction, there were original, realistic and scene-appropriate sound effects, which worked well for creating more depth for the actors' performances and the experience of the tour in general.
---
Special Effects:

9.62
The Mitchell herself is debatably the most impressive special effect that USS Nightmare possesses! Nearly all of the scenes include passageways, rooms and equipment that are authentic to the steamer, which makes them as real and original as they can get. However, some of the props are created by the staff and crew of the haunt or purchased from haunt vendors, such as the vortex tunnel, 'the impaler,' and various other animatronics that can be found. Most of them fit their scenes very well and looked like they belong on a haunted steamboat, but some of them seemed to stand out as not being part of the original vessel and/or not as theme-appropriate as some of the others. We were informed, however, that they're implemented as a means of delivering a wider variety of scares. On that note, it also seemed that several of the props and special effects, while highly-detailed and spooky looking, weren't as effective at delivering scares or providing distractions as others were, which also lowers the score for this category.
---
Theme:

9.64
The theme behind USS Nightmare is the concept that the boat has crashed (which is true) and killed the majority of the crew. The few that lived were scientists that were so dedicated to serving the Mitchell that they vowed to find a way to reanimate the crew! The result is what you will find during your tour of the vessel. Most of the actors genuinely appear to be decayed and deformed crew members from the deckhands and the Captain himself to the butcher and the scientists. However, many customers have reported that they don't understand why there are clown scenes and a hallway filled with jungle-type vegetation inside USS Nightmare (as did we, initially). In relation to the theme, the clowns actually represent reanimated 'toys' that belong to the Captain's daughter, Anna, which is why you also see scenes with sewing machines and other dolls and toys preceding the clowns. The vegetation-covered scene represents what would typically happen when a boat crashes and is left broken and abandoned for years; Mother Nature starts taking over! Hopefully this clears up some confusion for customers who wondered about this as well. Since these scenes were explained to us and make sense with the theme, the main downfall to the score in this category is that the actual theme isn't explained to customers before they enter the attraction so they know what they're experiencing as they tour the Mitchell, except for on the haunt's website.
---
Fright Effect:

8.84
The preceding elements combine to make USS Nightmare one spooky, haunted steamboat! The amazing actors, their realistic costumes and the special effects and sounds create an immersive experience that few haunts in the area can rival. However, it seemed that the actors didn't have or use as many hiding spots as they have in the past, which took away the element of surprise for many of them, thus reducing the score in this category. But don't let your guard down… the interactive and believable dialogue used throughout the attraction makes each of the characters very believable and some were quite intimidating! The special effects and sounds used throughout the Nightmare further increase the realism of the scenes, which helps take customers further out of their 'comfort zones.'
---
Value:

9.57
General admission tickets are $13 on Wednesdays and $18 Thursday through Sunday. RIP Express tickets that will allow you to skip the line are $22 and very beneficial on busy nights. Tickets to the un-rated 'eXtreme Captain's Tour' shows are also $22, but only available during certain hours on one night only! The length of our tour was the same as last year, lasting about 30 minutes, but the $2 increase in ticket prices reduces the score for this category. However, you can offset this by checking their website and subscribing to their mailing and texting lists for group rates, coupons and other discounts. The 30 minute tour length with $18 ticket prices gives customers a little over 1.5 minutes of entertainment per dollar spent, depending on when you visit and which tickets you purchase. While not the scariest haunted house in our review area, USS Nightmare continues to be a force to be reckoned with, given their interactive characters, highly-detailed props and scenes, and original setting, theme and atmosphere! Whether you've been there or not, make sure USS Nightmare, 'America's premier haunted steamboat,' is on your list of attractions to visit!
---
Promo Images:
Click to Enlarge