Find Reviews for a Haunt near You! Find Reviews for a Haunt near You!
Find Reviews for a Haunt near You!
Frightmares IN
688 NW A Street, Linton, IN 47441View All Details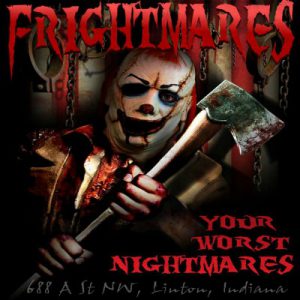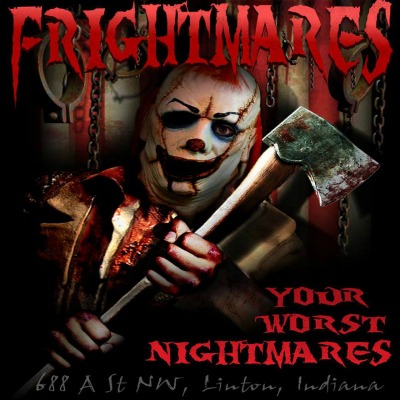 Features:
Free Parking, Restrooms On-Site, Food/Concessions, "Old-School" (Low Tech), You will NOT be touched, Original Characters, Indoor/Outdoor Waiting Line, Indoor/Outdoor Attraction, Family Friendly
Team Zombillies reviewed this attraction on October 31, 2013.
Final Score:

8.16
Summary:
Frightmares Haunted House is in their 3rd season for 2013! Things have taken a bit of a crazy turn this year as you sign in and look for a room that suits your needs at this insane asylum! These patients were very energetic and made the reason why we encountered them in such a place very obvious! We encountered several different things at this attraction that we've never seen before! If you are near the Linton area during the Halloween season and would like to visit an entertaining and more of an old-school haunt that won't break the bank, then be sure to sign yourself in at Frightmares Haunted House, where it seems as though they are nuts, but in fact, 'you may be crazy!'
---
Cast:

8.35
On an average night there are around 30 volunteer actors residing within this mad house! The actors get together before the season begins to attend seminars and watch videos to better understand what is expected of them. We didn't encounter much dead space throughout the haunt, so this number of actors seemed to fill the haunt quite well! All of the characters were acting very crazy and energetic which enhanced the theme, however if the repeated screaming was substituted with more interactive and/or theme related dialogue, it may help increase their believability. Some of the cast members were very interactive with our group by having us sign ourselves into the hospital, sit in an electric chair, play games, and choose which way our group was going to go! Some of the characters that stood out to our group were the receptionist, the doctor in the shock therapy room, Jeffy, and George who didn't loose an ounce of energy throughout practically the whole inside of the attraction!
---
Costuming:

7.9
The costumes used at Frightmares have been purchased at thrift stores and later modified to better match the characters wearing them. Many of the costumes matched their respective scenes such as pajamas and scrubs, but haunt shirts and other street clothes didn't match the characters that were wearing them as well. Makeup is applied by a cosmetologist and a few of the other actors who use traditional techniques to add finishing touches to the actors. Masks used throughout the attraction are mostly purchased with the exception of a few of them that have been made in-house. We could tell that the majority of the masks were purchased, but most of them were ones we haven't seen before. Some of the more elaborate costumes were those worn by straight-jacked Jeffy, George, and several of the clowns.
---
Customer Service:

8.48
This season Frightmares was hard to miss due to the larger signs out front and the two hearses with a strobe-lit, eye-catching decoration parked in front of the building! Free parking is available around the side of the attraction, but spots can be tricky to find once the haunt gets busy. A portable restroom is conveniently located next to the attraction near the ticket booth. A concession trailer was also set up next to the haunt this season in case you get hungry or thirsty during your visit! T-shirts are available for purchase this season and can be obtained from the ticket booth which is also where you will find helpful staff in case any questions or concerns were to arise. Once inside the attraction, plenty of well-lit exit signs were visible in case of an emergency. There are a few uneven areas inside the building, and our group did receive a 'scare on stares' so please watch your step while making your way through the crazed hospital! Lastly, there was an actor entertaining us while we waited in line to enter the attraction.
---
Atmosphere:

7.1
The two well-decorated hearses parked directly in front of the attraction immediately let us know we were at the right place along with one roaming actor and two 'skull men' guarding the entrance. The d
---
Special Effects:

8.35
The special effects in Frightmares are mostly made in-house. The building gets emptied out and used for other purposes throughout the year, so they are only able to start building around August. However, the exterior portion of the attraction will be left assembled and receive modifications throughout the year. Some of the special effects we found include air cannons, sliding floors, falling shelves, intense strobe lights, hanging bodies, a horn, various medical equipment, lasers, a claustrophobic tunnel, and the fog room that has become the highlight of the attraction! Some of these effects were better able to provide scares than others, but all of them helped in letting us know which part of the theme we were experiencing.
---
Theme:

8.2
The theme at Frightmares for the 2013 haunt season revolves around an insane asylum and the idea is to make customers wonder if the actors are the crazy ones, or if THEY are the crazy ones! Customers are welcomed by the asylum's receptionist and sent inside. They must then experience the crazy and horrible staff and patients of the establishment and try to find a way out! If they do make it out, they must then navigate the foggy woods surrounding the asylum until they reach the circus, where they must then ask the clowns how to escape to safety! This twist differs from other asylum-themed attractions and, thus, gets points for originality. But because many other haunts use asylum and clown themes, we, thus, have to dock points as well. Explaining the theme to customers before they enter and having the actors reiterate the theme throughout the attraction will also help raise the score for this category.
---
Fright Effect:

8.1
Frightmares is one crazy haunt! Most of the actors and special effects in the asylum section of the attraction made it quite obvious where we were and made for an entertaining visit. Different types of scares were found throughout Frightmares, from casual conversation and varying degrees of laughter to drop panels, banging on walls and a chainsaw attack! The conversations we had made for most of the entertainment we received, but also took away from the scariness of some the actors. Liberal amounts of screams were also heard during our walkthrough of Frightmares, which fit their asylum theme. However, after the first few uses of screams, they started becoming less-effective. On the other hand, some good hiding spots were also found throughout the haunt! It seemed as though some of them weren't used to their fullest extent during our visit, but others were used quite well as some of the actors were able to hide in plain sight! Using these hiding spots and their scenes more to their advantage and working with the actors' dialogue will help provide more scares and help increase the score in this category.
---
Value:

8.8
Tickets for Frightmares cost $8 for adults and $6 for kids 11 years of age and younger, which is some of the lowest prices we've come across in the 2013 season! For 20 minutes of length, this provides customers with about 21/2 minutes of entertainment per dollar spent, which is one of the best deals in the area. And for Frightmares' 3rd year in operation and the signs of improvement they're showing, a respectable score is earned! We look for the score in this category to improve as the scores in other categories increase in the years to come. Before you leave, be sure to visit the concessions stand and ticket booth for some grub and one of the haunts t-shirts! For a budget-friendly haunt that's not too far from Terre Haute with enthusiastic actors and a unique twist on some classic themes, then be sure to visit Frightmares Haunted House in Linton, Indiana!
---
Have you visited this attraction?
---
2016 Awards
Actor Shout Out Award - Eyeless Lady (Given by: Team Zombillies)
---
2015 Awards
Actor Shout Out Award - "The Gorilla" (Given by: Team Zombillies)
Actor Shout Out Award - Madam Rue (Given by: Team Zombillies)
---
2014 Awards
Actor Shout Out Award - Dot Guy (Given by: Team Zombillies)
Actor Shout Out Award - Madam Rue (Given by: Team Zombillies)
---