Find Reviews for a Haunt near You! Find Reviews for a Haunt near You!
Find Reviews for a Haunt near You!
Shattered Nightmares
1609 Lafayette Avenue, Terre Haute, IN 47804View All Details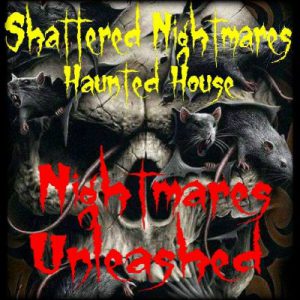 Features:
Free Parking, Restrooms On-Site, "Old-School" (Low Tech), You will NOT be touched, Movie Characters, Original Characters, Indoor Waiting Line, All-Indoor Attraction
Team Zombillies reviewed this attraction on October 31, 2013.
Final Score:

8.98
Summary:
2013 marks Shattered Nightmares' 4th season of providing scares to those brave to enter this creepy-looking building. Their focus for this season is 'night terrors,' where you may encounter some of your worst nightmares while you're awake! This attraction has an unpredictable environment where you just never know what you will encounter next! There's a little something for everyone at this haunt including startling and original effects, exceptional hiding spots, horror movie characters, and various creatures that inhabit the darkness within this twisted dream. One of the main characteristics of this haunt that makes it stand out is the tour guide that each group must follow, ensuring your group keeps a perfect pace throughout the attraction so nothing is missed! If unpredictable startles, an affordable ticket price, and original scenes are on your list of preferred haunt qualities this season, then be sure to pay them a visit where they continue to 'Put the 'Shat' in Shattered Nightmares!'
---
Cast:

8.8
On an average night there can be anywhere from 20 to 30 paid cast members populating this attraction. It seemed as though we encountered plenty of characters but a lot of them were behind walls, making it harder for them to interact with our group as well as they did during our previous visit. The crew goes through spot training before the season begins and received more training this season than in the past. Once again, our tour guide stayed in context with the theme throughout the entire attraction and even aided in enhancing some of the scenes and characters! For the most part the dialogue our group experienced was effective. However, certain phrases were repetitive between some of the characters when more diverse and theme-appropriate dialogue could enhance their believability and originality. The characters hiding in the shadows of the hide-and-seek area remained very enthusiastic and in-our-faces until we found our way out! Other memorable characters include the mad cat, the escaped werewolf, and the butcher due to their energized acting while we were in their scenes.
---
Costuming:

8.59
The haunt uses a mixture of costumes that they have either purchased or designed themselves. Many of the costumes are worn by those 'behind the walls', making it hard to see their full attire. A makeup crew consisting of a few ladies apply the finishing touches to some of the characters each night. An abundance of masks are used that have been purchased at various places. Although the masks helped intensify the characters wearing them due to their locations throughout the attraction, some of them weren't as elaborate as others. We also noticed that one of the actors wearing a costume with a mask was a little too small for the character they were attempting to portray, which decreased their intimidation and overall believability, but several of the other younger actors that were wearing makeup were also quite successful in fulfilling their characters' roles.
---
Customer Service:

8.68
A flashing arrow sign by the road and the multiple green-colored lanterns hanging from the side of the building lets you know you have arrived and make the place easy to spot from a distance, given its location. Keep your eyes peeled for open parking spots along the street and portable restrooms can be found near the exit of the attraction. The ticket booth is located inside the entrance at the top of the stairs, which is also where friendly staff can be located if you need any assistance. Each group enters the attraction and follows a tour guide, who will warn you of uneven flooring, when you need to duck, etc. These tour guides are also readily available, trained and prepared in case of an emergency and several emergency exits were noticed inside the building. During our visit we noticed one roaming actor who was entertaining guests as they made their way to the ticket booth. If you are interested in purchasing a t-shirt, they are available upon request.
---
Atmosphere:

8.53
Shattered Nightmares is located in an old, creepy building, accented with antique green lights that helps set the mood upon arrival. As soon as we got out of our car we could hear eerie music echoing through the streets! The actor roaming about the exterior of the attraction also helped in letting us know we were at a haunted house, but additional roaming actors and/or d
---
Special Effects:

9.25
A few of the special effects have been purchased while others were donated, but the majority of them have been built in-house. Many original effects were used including a unique, 7-foot coffin, haunted shelves, an Egyptian sarcophagus, the hide-and-seek area, a unique barrel surprise, a floating clown, an original vortex tunnel, and a church scene that looks like it's been hanging around for a while! Many of these areas and props were effective due to their perfect timing provided by the tour guide! Several animatronics even managed to deliver scares to our group during our visit, and other effects were carried out so well that they had our group members jumping and screaming! Many of the scenes were detailed well, but some of the transition areas seemed to be a little more plain than others. Some of the more elaborately-decorated scenes include Jeepers Creepers, JAFO's Funhouse, the butcher room, the freezer, and the Egyptian area.
---
Theme:

9.23
The scenes within the haunt are based on night terrors this season, immersing you deep into some of your worst nightmares! Since this is a universal theme, you never know what type of twisted frights you will experience, just 'be prepared to be scared!' Some of the terrors you will experience include horror movie villains, seeing what it's like to be buried 6 foot under, a serial killer, and you may even lose some body parts to the butcher's expanding collection! All of the characters and scenes fit under this theme, however if the characters were to use theme-reiterating dialogue, it would help in reminding the customers what they are experiencing. The only time this was noticed was before we entered the attraction when our tour guide welcomed us to these nightmares.
---
Fright Effect:

9.2
Scares are delivered on many different levels, from pure darkness, frantic pleas for help, disorientation, and power tool threats to almost getting crushed on several occasions! Many good hiding spots were used, along with effective distractions, which aided in keeping the unpredictable scares flowing throughout the entire attraction! An impressive distraction was used with a gagged victim that we want to make note of, but we don't want to tell you exactly how they did it since it would ruin the surprise! The tour guide also worked with the scenes and effects to ensure our group's timing was perfect so we would experience everything! This was evident because everyone in the group was targeted multiple times and everyone received a scare. Once inside, be sure you have your sins ready for confession, for they are rather impatient if you don't!
---
Value:

9.55
General admission tickets to enter Shattered Nightmares are priced at only $8.00 per person! It took our group 20 minutes to wake up from this nightmare this season, making this value 2.5 minutes of entertainment per dollar spent! When you combine this low ticket price with the entertainment received and the length inside the attraction, you've got yourself an awesome value! Also be sure to watch their Facebook page for special deals they may offer throughout the season. If you are looking for some fun, creepy entertainment and fright that won't scare your wallet stiff, then make sure you stop in and contribute some screams at Shattered Nightmares Haunted House during the Halloween season!
---
Promo Images:
Click to Enlarge