Find Reviews for a Haunt near You! Find Reviews for a Haunt near You!
Find Reviews for a Haunt near You!
Nightmares Gate
4179 Vansant Road, Douglasville, GA 30135View All Details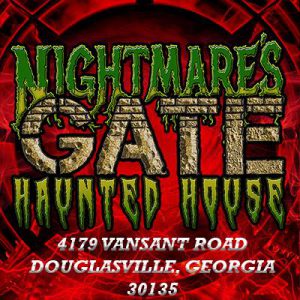 Features:
Free Parking, Restrooms On-Site, Original Characters, Uncovered Outdoor Waiting Line, Indoor/Outdoor Attraction, Family Friendly
Team Zombillies reviewed this attraction on November 2, 2013.
Final Score:

8.74
Summary:
2013 marks Nightmare's Gates' 4th season of torturing Douglasville's innocent souls from behind the bars of the Brasky State Prison! It also marks the first year that any Scare Factor team has reviewed a haunt in Georgia! Within the depths of this prison, you will come face-to-face with many original creatures and ideas that we are sure will have you thinking twice about breaking the law! From many psychotic inmates and medical staff to armed guards, a very hungry beast, escaped convicts, and caged hostages, you just never know who or what you may encounter next! General Arsh from BSP has been tasked with coming up with a solution for stopping the madness that has been erupting here for years…. 'His Solution is simple…. Kill them… kill them all!'
---
Cast:

8.7
There were around 35 volunteer actors residing within these iron bars on the night we visited Brasky State Prison, although this number has been known to nearly double on some nights! This season, they went through a month-long training session consisting of 'charades', scare tactics, and the concept of how to entertain customers if you can't scare them. Many of the actors were believable and fit the haunt's theme, but some of the chosen dialogue, such as the repeated 'want to play?' with no response, naturally reduced their authenticity and believability. However, some of them were notably interactive with our group, such as the prisoner in the first room, the guy wearing a unique gas mask who had us singing 'Happy Birthday' to 'Granny', and Danny the schizo who showed us his impersonations of Elvis, Davy Jones, and Jack Sparrow! Colonel Sanz and the other queue actors were also very interactive with us as well as between themselves, serving as some of the most believable characters we came across at Nightmare's Gate! Another aspect of these characters that we feel we should mention was the continued inter-character interaction that we noticed throughout that we don't see at many other haunts; although some of it seemed out-of-character and would help raise the score in this category as well as 'Theme' if they could find a way to relate it to the back-story.
---
Costuming:

8.67
Nightmare's Gate strives to be as original as possible, so when it comes to costumes, you will see many here that you haven't quite seen anywhere else! Some of the masks, prosthetics, and clothing have been created and modified by the haunt, but some things had to be purchased such as CFX masks and a few prosthetics. A costume department has been created so the actors can dress appropriately with the scene they will be working in on a given night. If you visit their website, you can see a picture of the horrific Dr. Detroit (who was not present during our visit), which will give you a taste of what they are capable of creating! Their makeup team consists of 4 artists who apply realistic finishing touches to some of the characters. The roaming actors in the queue area had extremely believable and theme-appropriate costumes on, and one of them peeled his scalp open to show us his brain! Other masks that we came across were realistically detailed and enhanced the appearance of the characters wearing them. Most of the characters throughout the inside of the attraction, however, didn't seem to have quite as much time put into their costumes, which ended up being a setback for the score in this category after seeing the queue actors before we entered. But fear not! Nightmare's Gate has big plans of creating lots of new, unique characters that they're hoping to unveil for the 2014 haunt season, so stay tuned!
---
Customer Service:

8.84
Four searchlights shining high in the sky make this a very easy attraction to find! A bus accented with a flashing 'Open' sign and spider on top also lets you know you are at the right place when you pull into the free, grassy parking lot and it also doubles as the ticket booth. As we waited in line, several energetic queue actors made sure we were entertained until it was our group's turn to enter. One of them even took a ticket from one of our group members and ate part of it! Once inside the attraction we didn't notice many exit signs, however we were informed that in the case of an emergency, the actors know how to quickly get everyone to safety. We did encounter several dimly-lit steps and ramps, and the exit of the attraction was also a little dark so be sure to watch your step as you're running out to safety! Portable restrooms were conveniently located in the parking area, and friendly staff members can be found inside the ticket booth if you have any questions or concerns. We didn't notice any concessions or souvenirs during our visit.
---
Atmosphere:

8.91
The exterior of the attraction resembles a prison and is decorated accordingly with fog coming out of pipes, strategic lighting, concrete walls, guard towers and a hearse that has crashed through the prison wall! Intensifying dub-step music was heard outside the attraction which aided in preparing us to enter. The roaming actors in the queue area were the main aspect that prepared us to enter since they started providing startles to our group from the moment we got in line! Actors were also crawling out from under the hearse and jumping on top of it which definitely let us know we were at a haunted house with some enthusiastic actors! Inside the attraction, there were many scenes that we could hear eerie and realistic sound effects in, but we encountered just as many if not more that were pretty quiet. Additional sound effects throughout the entire attraction would help exaggerate the scene dramatics and raise the score for this category.
---
Special Effects:

8.51
You will come across many different effects inside this attraction as their endeavor to remain as original as possible continues by making the majority of their effects in-house. We believe the crawl-through-hearse at the entrance and the tunnel with running water under it were very impressive and original effects! We also noticed some effects that we have seen before that turned out to be more effective during our encounters with them at this attraction. However, there were still a few effects that could be enhanced by using distractions with them or otherwise having actors work with them to help make the scares less predictable. The majority of the scenes were detailed well, even in the outside portion of the attraction, as they made us aware of what type of area we were in. Although we did notice that scene detail and prop usage seemed to improve when we were in the inside areas that are sealed off from the elements. The majority of the props and effects complimented the actors and helped to enhance the realism of the prison theme. Some of the other effects we came across include tile paneling, laser lights, fog, a claustrophobic tunnel, some VERY tight passageways, dangling chains, medical equipment, multiple weapons, intense strobes, cell blocks, a bottomless pit, moving walls, a large creature (made by Gore Galore), and a very dark, curtain-containing area. We could go on listing more effects that we found within this attraction, but you will need to pay them a visit to experience them all!
---
Theme:

9.15
Nightmare's Gate is the name of the attraction, but they engulf you into the hellish depths of The Brasky State Prison! Last season, upon entering the prison you would be gassed by Warden Brasky with CBC4179, a hallucinogenic gas that would result in you 'seeing' of some of your worst nightmares! This season, Warden Brasky seems to have lost control of the inmates within the prison and his guards have taken a turn for the worse and should now debatably be feared more than the actual prisoners! Now, everything that moves within the prison is turning the guests into hostages no matter what the Warden threatens! The government decided that their only choice is to condemn this prison, and General Arsh has been sent to fulfill this task. His solution? Simple. 'Kill them…kill them all!' The majority of the characters and scenes that we came across inside the prison matched for the most part, but some of them didn't make as much sense as others. If the scenes and characters reiterated the theme more often throughout the haunt, it would help in keeping it more apparent.
---
Fright Effect:

8.35
Scares were delivered on many different levels. From your mind wandering in the pitch black area, eerie sounds, screams and growls to cannibalistic encounters, startles and weapons being pointed at us! If the thought of being inside a hearse bothers you, then the fun has only just begun when you enter BSP! Many great hiding spots were utilized in all directions, which kept our group on high alert. Some of the scares were predictable, including a few not-so-hidden hiding spots and sounds of things before we encountered them, but we believe this will improve as the attraction gains additional experience. We came across some intense actors that also had us on-edge, including a guy who broke out of his straight-jacket! At several times, we were also convinced that we were about to fall to our fate, get stuck between walls, or get crushed before we could escape!
---
Value:

8.75
General admission tickets to witness the horrid beings and creatures that reside behind these iron bars will cost you $20.00 per person. Our group managed to find our way out in 25 minutes, which gives you over one minute of entertainment per dollar spent! We can't exactly compare that to other prices in their area considering we haven't exactly visited very many attractions in Georgia, but that is an average price when compared to all the haunts that we were able to visit this season. Furthermore, the score in this category is also expected to increase along with those in other categories as the haunt improves. Be sure to visit their Facebook page and website for possible discounts.
---
Promo Images:
Click to Enlarge
Have you visited this attraction?