Find Reviews for a Haunt near You! Find Reviews for a Haunt near You!
Find Reviews for a Haunt near You!
Grim Trails
12009 Rehl Road, Louisville, KY 40299View All Details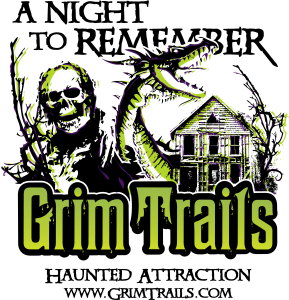 Features:
Free Parking, Restrooms On-Site, Gift Shop/Souvenirs, You will NOT be touched, Uncovered Outdoor Waiting Line, Indoor/Outdoor Attraction
Team Zombillies reviewed this attraction on October 18, 2014.
Final Score:

8.78
Summary:
Grim Trails is only in their 2nd season at their location on Rehl Road. However, it was quite apparent to us that this father/son haunt has many, many years of experience under their belts! Grim Trails is unlike any other attraction in the Louisville area, as you won't find things like zombies, horror movie villains, bloody butchers, or chainsaw-slinging maniacs. Instead, this attraction combines the world of horror and Halloween with that of a familiar past time, fairy tales. Here, you'll find characters and scenes like the three little pigs, Hansel and Gretel, Alice in Wonderland, and even Maleficent, all brought to you with more of a theatrical, yet still scary approach. To find out more, keep reading and make sure Grim Trails is on your list of must-see attractions for the 2014 haunt season!
---
Cast:

8.28
Grim Trails has a cast of 23-25 volunteer actors that bring these magical, yet malicious characters to life! Many of them used their scenes to provide startles and scares in ways that we've yet to see at other attractions. Some would hid in clever spots in their buildings, while others would dart after us across tables, walls, and anything else they could to get to us! Some of the actors verbally interacted with our group when the opportunity presented itself, and others worded with other actors and props in predetermined skits that proved to be very effective to our review group! Miss Muffet was among the most believable, while several other characters like the Skin Collector, the "creature reacher," and the goat were very intimidating and timed their surprises very well. We also suggest that you don't ask the Mad Hatter for any tea, you may just receive more than you asked for!
---
Costuming:

9
Many of Grim Trails' characters were sporting some very detailed costumes. While some of them weren't as elaborate as others, almost all of them were easy for us to identify. Some of these more-iconic characters included the goat, the mad hatter, the pig, Hansel and Gretel, Maleficent, and the live stuffed animal. The folks at Grim Trails mixed in some of their own original characters as well, including the creature reacher, the skull bride, the Skin Collector, and the spider girl, each of whom wore very detailed costumes that enhanced their overall appearance and scenes. As we made our way through the trail, we noticed several masks that were used and each of them looked very authentic. Makeup applications were used equally as much and were also well-executed and enhanced the believability of the characters wearing them.
---
Customer Service:

9
Multiple signs on each side of the road and a large, inflatable Grim Reaper let us know we had arrived at the right place! Additional signs and staff members directed us to their free parking lot, which was accented with a large façade complete with lit eyes and large pictures of some of the haunt's actors/actresses. A convenient concession trailer is usually on premises in case anyone gets hungry or thirsty during their visit. When you're ready to take your place in line, just follow the decorations and you'll run into the ticket tent, where haunt t-shirts are also available for purchase. The waiting line and the entire trail were accented with tiny, glowing tea-lights that offered just the right amount of light to see where you're going. The trail was also covered in what seemed to be mulch for easy walking, however it is an outdoor trail, so still be sure watch your step and dress accordingly. During our wait in line, one actor did come out and mingle with the crowd some. If any questions or concerns are to arise, helpful staff members can be located at the ticket tent or at the entrance of the attraction.
---
Atmosphere:

8.85
As we neared the ticket tent, it was evident that we were at a haunted trail due to the ominously-lit pumpkins, signs, columns, and other Halloween décor. Unnerving and natural sound effects could be heard from the ticket booth area all the way to the entrance of the attraction and gave us something creepy to listen to before we entered! The screams of innocent groups who had already entered the attraction could also be heard, and had us and others in line wondering if we should enter or not! The waiting line stretches down a wooded path, and the brightest lights in the area are the small jars along the line. Even though lights from neighboring areas leaked into the queue area, the natural ambience of the wooded area really helped set the mood to enter a haunted house!
---
Special Effects:

8.66
The special effects used at Grim Trails consisted of a mixture of items that have been both made in-house and purchased to be later modified. All of the structures were built by the staff and showcased their creative talents! Realistic sound effects accompanied many of the scenes and transition areas and assisted in generating suspenseful atmospheres! The sound effects were also some of the best we've encountered in an outdoor trail! Creepy noises could even be heard coming from several of the costumes as well! Strategic lighting was used to illuminate some of the props and doubled as dim lighting for the winding paths through the trees. This really helped the mood sink in even deeper while navigating the trail! Although these lights helped in many areas, it was difficult to see some of the characters and what they were doing. Some of the effects our group came across include a quick spider, clever usage of fog, real bodies of water, a gingerbread house (that even smelled like gingerbread), a laser tunnel, and a castle complete with a drawbridge and a fire-breathing protector that you need to see for yourself!
---
Theme:

8.7
Grim Trails strives to provide their customers with more of a theatrical haunted production. They do this while following a theme that involves a demented twist on fairy tales! You'll come face-to-face with some familiar childhood characters and some original ones as well, but the tales you've been told through the years won't prepare you for how you'll face them here! It didn't take long at all for our group to find this out after entering, either! From the wolf-killing pig and houses of sticks and bricks, to a Mad Hatter and his twisted tea party, to a gingerbread house and a helpless Miss Muffet, this theme remained quite evident throughout the majority of the attraction! Being located out in the middle of the woods authenticated the scenes and had our group wondering if we were ever going to find our way out of the craziness we were encountering in the wilderness!
---
Fright Effect:

8.73
Different levels of scares were encountered during our trek through Grim Trails! Some of them included towering, intimidating characters, dreadful stares, very suspenseful transitions, camouflaged costumes, and multiple creature attacks that left our group springing into the air! 2014 was our first visit to Grim Trails, and we really didn't know what to expect, but we must say that we were impressed with the amount of startles this haunt delivered to our group! Several distractions and really good hiding spots aided in keeping us on our toes the entire way through. They also did a great job at keeping the majority of their scares disguised and unexpected for a haunted trail, especially where we least expected…in-between scenes! One moment, you'd be on the wooded path, discussing amongst your group what you just experienced in the last structure when suddenly something, or someone, would reveal itself!
---
Value:

9.05
General admission to take your chance at venturing through the varmints and beasts that dwell in the thick of this maniacal forest will cost you $15.00 per person. It took our group roughly 20 minutes to flee the demented creatures within these timbers, putting this value at 1.3 minutes of entertainment per dollar spent! However, we believe that tour time may vary per group, especially if you get so scared you take off running! That puts them above the average value this season and, when united with the diverse entertainment that this attraction has to offer, this deal sure does pack a punch! We will tell you one thing. If you are looking for blood, gore, or a hands-on experience, Grim Trails is not the attraction for you. This haunt offers more of a theatrical and captivating experience, all while supplying frights at the same time! It's definitely a unique haunting experience to the Louisville area. If you enjoy more of a frightful and theatrical approach to a haunt, and meeting familiar fairy tales in a way you've never seen before sounds like a great night of entertainment, then we suggest you mark Grim Trails down on your list of haunts to visit in 2014!
---
Promo Images:
Click to Enlarge
Have you visited this attraction?
---
2016 Awards
Most Unique Haunt (Given by: Team Zombillies)
Actor Shout Out Award - "Hansel" A.K.A John Probus (Given by: Team Zombillies)
Actor Shout Out Award - "Rabbit" A.K.A Shane White (Given by: Team Zombillies)
Actor Shout Out Award - "Tituba" A.K.A Max Glidewell (Given by: Team Zombillies)
---
2015 Awards
Memorable Scare - "The Maleficent Dragon" (Given by: Team Zombillies)
Actor Shout Out Award - "Pappi," A.K.A. "The Goat" (Given by: Team Zombillies)
Actor Shout Out Award - Matthew Moneypenny, A.K.A. "The Skin Collector" (Given by: Team Zombillies)
---
2014 Awards
Most Intimidating Character (Given by: Team Zombillies)
Most Realistic Costume (Given by: Team Zombillies)
Actor Shout Out Award - Mad Hatter (Given by: Team Zombillies)
Actor Shout Out Award - Miss Muffet (Given by: Team Zombillies)
---