Find Reviews for a Haunt near You! Find Reviews for a Haunt near You!
Find Reviews for a Haunt near You!
Land of Illusion
8762 Thomas Road, Middletown, OH 45042View All Details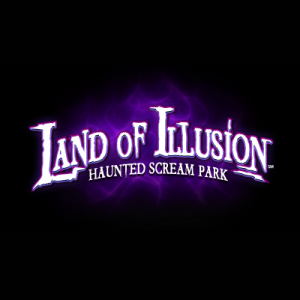 Features:
Paid Parking, Restrooms On-Site, Food/Concessions, Gift Shop/Souvenirs, Optional Games/Midway, Special Events, "Hi-Tech" Attraction, Original Characters, Celebrity Appearances, Indoor/Outdoor Waiting Line, Indoor/Outdoor Attraction
Team Zombillies reviewed this attraction on September 6, 2014.
Final Score:

9.3
Summary:
Land of Illusion is in their 17th year this season and several noticeable changes were found during our visit! There are still 6 separate attractions at LOI, 5 of which are bundled into your general admission or VIP ticket price. The other is Zombie Sniper Patrol where you can load up with your friends into a real military transport vehicle and 'mow down' some LIVE zombies with REAL paintball markers and ammo! The Middletown haunted trail is where we noticed the most significant improvements in special effects, scenes, and actors, but you definitely won't want to miss any of the other attractions, either. The Voodoo Bayou Shanty is where you'll meet LOI's own brand of WAY down south 'bayou-billies' with a hankerin' for blood. Killer Klowns is full of crazy, demented clowns and carnival characters where your prize will be your life… IF you can escape! Dr. Psycho's Haunted Estate is where you'll meet the maniacal mastermind himself as well as the poor souls that were subjected to his twisted experiments. The Temple of Terror is an Egyptian-themed attraction that's filled with all sorts of mythical creatures, including mummies, huge rock monsters, and other demonic creatures! Whether you're going through the haunted attractions or not, you can still spend plenty of time in LOI's midway. There, you'll find several concessions stands, inflatables from the Cincinnati Circus, live music on the Stage of Rage, some cold ones in the Voodoo Lounge, and much, much more! For a haunted theme park with multiple attractions/themes that everyone can enjoy, then be sure to visit Land of Illusion in Middletown, Ohio!
---
Cast:

8.68
Cast numbers have risen this year to around 175 actors at Land of Illusion. This and actor enthusiasm are debatably the most obvious changes that we noticed this year. Many of the 'dead spaces' that were noticed last year were lessened, especially on the trail; it seemed as if there were actors lurking around every corner! Another strong suit of the trail is how well the characters verbally interacted with our group and worked with their scenes to make themselves and their dialogue more believable. During our Zombie Sniper Patrol ride, we also saw more of the un-dead and they were more aggressive and harder to kill this year. This made for a much more enjoyable experience! The characters in the Shanty had us feeling like family one minute and then running blindly (through fog) from a chainsaw the next! Despite having more actors, we felt that the Shanty, Killer Klowns, and Dr. Psycho's could all handle some higher staffing numbers to help eliminate some of the 'dead space'. Killer Klowns' actors were quite enthusiastic with lots of off-the-wall dialogue, strategic hiding spots and scare techniques that kept us on edge! The cast in Dr. Psycho's seemed to be appropriately 'psychotic' for the most part, but we heard similar dialogue used by 2 or 3 different characters throughout the haunt, which made things seem a little repetitive. On the other hand, most of them said things directly related to their scenes, which helped authenticate their roles. Finally, in the Temple of Terror, the actors worked exceptionally well with their scenes and props to create scares, which also made the haunt's theme and the characters themselves more believable. Some memorable characters to our group were "Jakie," Michael Myers, "the flesh eater," the hillbillies, "Pa," the voodooist, the girl with the syringe (the Shanty), "Gutta da Klown," the redneck with the shotgun (Dr. Psycho's), the preacher (Dr. Psycho's), and the ghille suit guy (Temple of Terror) due to their interactive and believable performances!
Middletown Haunted Trail: 9.66
Voodoo Bayou Shanty: 8.08
Killer Klowns: 8.69
Temple of Terror: 8.92
Dr. Psycho's Haunted Estate: 8.07
---
Costuming:

9.44
Land of Illusion's exceptional score in this category shows their dedication and commitment to excellence, even with the increased number of actors this year! Lots of originality points go to the Middletown Haunted Trail for coming up with so many original characters and making them all fit in with their respective scenes so well. But don't get us wrong… nearly every costume, makeup and mask at LOI seemed to fit in with each of their themes and helped make them more believable! Several areas were dimly lit, so we were unable to easily see the fine details on some characters, but the ones we COULD see had plenty to look at! Makeup throughout the park ranged from minimal to intricate, depending on the character; some of the most memorable including the priest (Dr. Psycho's), the female butcher/cook in the school (the Trail), and Gutta da Klown (Killer Klowns). Masks were also used sporadically throughout LOI and worn by characters like Michael Myers (Trail) and the mummy (Temple). Quality ranged from simple, hard plastic masks to high-quality silicone pieces, once again depending on the character. Most of them helped make the characters more complete and intimidating. However, we DID see two or three actors that looked like they'd just thrown on a mask at the last minute and ran into the haunts with their street clothes and no other costume work at all.
Middletown Haunted Trail: 9.73
Voodoo Bayou Shanty: 9.25
Killer Klowns: 9.44
Temple of Terror: 9.32
Dr. Psycho's Haunted Estate: 9.47
---
Customer Service:

9.75
We didn't notice any billboards or signs directing us to Land of Illusion on the route we took until we turned onto the road where they're located. At the intersection, there was a small sign with an arrow showing where to turn. The huge, gravel parking lot ensures that everyone will have a place to park without worrying about getting stuck or muddy. Although it does cost $5 to park, LOI's website claims that parking proceeds go towards the Boy Scouts of America and Ohio Hawks. Multiple ticket booths including a will-call window ensures that customers won't have to wait in line very long just to get their tickets. Tickets are electronically scanned and VIP customers get a UV ink stamp so there's no ticket or bracelet to lose once you get through the turnstile! The exceptions are the tickets for Zombie Sniper Patrol, which are paid for separately and must be scanned by the staff members before boarding the military vehicles. In Land of Illusion's midway, you'll find all sorts of things that you can enjoy if you don't want to go through the haunts! Among these include different types of inflatables provided by the Cincinnati Circus, including a bungee-cord run, a bounce house, and a mechanical bull (each is $5 extra). You can also enjoy live music on the Stage of Rage (select nights) while sitting next to a nice, warm bonfire when the temperature drops (or any time for that matter)! Stop in the Ghostly Gift Shop for LOI souvenirs, the Creepy Café for concessions, or the Voodoo Lounge for some adult beverages. LOI staff members and security could be found at the haunt entrances, the main ticket booth, the different shops and/or in the midway. All of them were friendly and eager to assist with any questions or concerns.
---
Atmosphere:

9.5
As soon as we got out of the car, we could hear some ominous, creepy music that let us know we were at a haunted house and not your typical amusement park! Despite the 'haunty' silhouette provided by the main entrance building, once we got inside, the vibe quickly changed to a more family-friendly, Halloween fun-type of feel! The Stage of Rage live music, bonfire, and multiple carnival-style inflatables let us know we had a fun night ahead of us. Zombie Sniper Patrol's military trucks and personnel easily clued us in to the theme before we boarded the trucks and the same can be said for Killer Klowns' and the Voodoo Bayou Shanty's facades. The Middletown Haunted Trail uses more natural décor before entering, which helped let us know that it's an outdoor attraction. But minimal décor/sound effects left the different themes a mystery until we got on the trail. Dr. Psycho's Haunted Estate entrance was guarded by a rather large 'watch dog' that would make the faint of heart think twice before entering! Perhaps the least-decorated entrance from view of the midway was that of the Temple of Terror. Except for the neon signs that showed where the entrance was, the plain concrete entryway left much to be desired in the way of decoration. We believe this is meant to make the Temple seem more 'hidden' so customers feel like they've 'discovered' this ancient tomb… but the same effect makes it less noticeable and potentially less appealing to some customers. Although, once you go INTO the entrance, the queue area is decorated nicely with rocky line dividers and faux flame lights that give off a dungeon-ish, underground vibe.
---
Special Effects:

9.15
Land of Illusion uses a wide variety of special effects from high-tech animatronics and real flames to moving rooms, loud noises, air cannons, tactical lighting, multiple chainsaws, and lots of fog! Howls, warning sirens, bubbling water, chirps, creepy carnival music, shot gun blasts, screams, pleas for help, rock music, and other sound effects (including REAL sounds) were heard throughout the park, which kept things from getting too quiet and aided in bringing the scenes to life! Although LOI does have a lot of "eye-candy" and large animatronics/props, they still have an ample amount of original ideas for you to see as well! Some of the original effects that we stumbled upon included buses sticking out of the ground, a haunted merry-go-round and swing set, an "invisible wall", a never-ending hallway, and a few deadly-ceiling surprises! The crew in a few of the attractions worked with the effects and referred to them more often than in other haunts which helped make them more effective. The attention paid to scene detail at LOI is remarkable throughout the park, especially in the Trail! A new underground (literally, underground!) scene was added this year and, even though it's brand new, it looks like it's been there for years through lots of aging and decay work. The Shanty sports several log and pallet walls and scenes with hillbilly decorations throughout, however the 'shakers' and aggressive chainsaw-slingers proved to be the most effective to our group. Killer Klowns continues to have lots of black-light fluorescent paint, but we felt that most of the effect was lost this year since they didn't give us 3D glasses like they've done before. Several other scenes in this attraction seemed to suffer from lack of detail as well, compared to other haunts at LOI. Dr. Psycho's is another well-detailed attraction and several of the props kept us distracted and looking over our shoulders for the next scare! Not to be excluded is the Temple of Terror… yet another haunt with extensive attention to detail, especially near the beginning with walls that seemingly 'crawl' with skeletons. Plenty of moving props and air-scares of all shapes and sizes are used throughout the Temple as well, most of which proved to be quite effective to our review group! Lastly, the Zombie Sniper Patrol ride is another attraction that utilizes black-light paint to highlight different parts of the actors and scenes, which helps add another dimension to the shooting experience. The black-light also adds a nice touch when the paintballs burst on the zombies! Most of the scenes in ZSP are appropriately-decorated 'zombie apocalypse' style, which fits well with the ride's theme. With all of the zombies, random bulls-eye targets and fake silhouettes, customers will have plenty of things to shoot at!
Middletown Haunted Trail: 9.5
Voodoo Bayou Shanty: 9.13
Killer Klowns: 8.66
Temple of Terror: 9.15
Dr. Psycho's Haunted Estate: 9.3
---
Theme:

9.38
Since LOI is a haunted scream park, each attraction follows its own distinct theme. During our visit, all of the characters and scenes we came across seemed to follow their respective themes very well. You never know what you may find on the Middletown Haunted Trail which consists of a wide assortment of themed areas including a mine shaft, an underground laboratory/asylum, werewolf-inhabited timbers, a slaughter house, scenes named "Area 49," "Witches Brew," "Pumpkin Master," "Cherry Hill," and more! The Voodoo Bayou Shanty is the residence of the bloody Dubois family, who were found and moved to Land of Illusion from the Louisiana Bayou! It is said that bloody Bill Dubois was killed back in 1890 for practicing dark magic, so he cursed the property and those who lived on it. It appears that some of this "dark magic" is still taking place here today and many other unspeakable things that you just need to see for yourself to believe! The Circus of Terror has been performing within Killer Klowns since their show was actually banned from the circus in 1872. Some say that their acts of violence and murder could be the cause of this… although we're not sure why. The malicious entertainers that can be found inside this carnival of horrors want to make you laugh until you die! If you dare to tour Dr. Psycho's Haunted Estate, you will find that this isn't your ordinary house. This house was once a cemetery for the criminally insane! Although now it seems to have become a cemetery for all of Dr. Psycho's experiments! Horrid creatures, prisoners, and death now lurk the corridors of this haunted estate that YOU can witness yourself, however if you happen to see the doctor… we suggest you stay away from him or you may join the rest of the dead that overflow his attic! Tombs, mummified corpses, ancient creatures, and dark secrets lay waiting for you to enter the Temple of Terror! We aren't sure what all was found when this tomb was un-covered, but we suggest that you don't take your sweet time trying to find out for yourself… that is, if you plan to escape alive!
Middletown Haunted Trail: 9.43
Voodoo Bayou Shanty: 9.45
Killer Klowns: 9.25
Temple of Terror: 9.45
Dr. Psycho's Haunted Estate: 9.3
---
Fright Effect:

8.79
When visiting LOI you just never know which direction the scares will come from! Frights were provided on numerous levels including unsettling paths, sudden blasts of air, threatening dialogue, unexpected noises, chainsaw chases, foggy vision, claustrophobic encounters, intimidating weapons, 'attempts' to set victims on fire, amongst other things! This crew was more intent on attacking everyone in our group instead of focusing on just a few. For the most part, scares remained unpredictable, mostly due to good hiding spots and some effective distractions (more frequent on the trail than in the other attractions). Startles were delivered from various unexpected objects, which also helped keep us on our toes throughout our visit! Clowns with chainsaws may freak some people out and if that doesn't work, how about some chainsaws in the fog? You can hear them but good luck seeing them! During our visit there were times where we were wondering if we were even going to make it back to our car! They tried to put us in a hanging torture cage, use us for bait, pull our teeth out to use as THEIR dentures, cut our heads off, drown us (they call it "baptizing"), bury us, eat us, shoot us, and use us as supports to keep their mine shaft walls from caving in! We were able to escape Land of Illusion alive, will YOU be as lucky as we were?
Middletown Haunted Trail: 9.25
Voodoo Bayou Shanty: 8.65
Killer Klowns: 8.35
Temple of Terror: 9.2
Dr. Psycho's Haunted Estate: 8.49
---
Value:

9.7
Ticket prices for the 2014 haunt season at LOI remain the same as they were last year. They offer unlimited access to 5 haunted attractions for $34.99 on Friday and Saturdays nights and only $24.99 for Sundays (October only). Tickets for Zombie Sniper Patrol must be purchased separately and are $12.99 per ride; for an extra $5.00, you can purchase 100 more rounds to kill off more zombies! Our review group spent around an hour and a half JUST INSIDE THE ATTRACTIONS… including Zombie Sniper Patrol. That's one heck of a deal at 1.8 minutes of entertainment per dollar spent! Add the unlimited re-entry and this is a value that's hard to beat! You can also purchase an optional fast pass so you don't have to spend as much time waiting in the lines for an additional $15.00 per ticket. Hurry and check out their FB page to see if they are still offering a $6.oo off park admission coupon valid until November 2nd! Taking a large group? Group rate packages can be found on LOI's website along with any other information you may need! Parking is $5.00 per car and proceeds are donated to local charities. If you and your friends/family are looking for food, live entertainment, and frightful fun to fill up your weekend adventure at one location, then Land of Illusion definitely has you covered!
---
Photos from Review Trip:
Click to Enlarge
Promo Images:
Click to Enlarge
Have you visited this attraction?
---
2016 Awards
Most Tormenting to Victims - Middletown Haunted Trail (Given by: Team Zombillies)
Most Suspenseful Scene - Middletown Haunted Trail, Myers Walkway (Given by: Team Zombillies)
Actor Shout Out Award - Klowns: Gutta (Given by: Team Zombillies)
Actor Shout Out Award - Shanty: Amos (Given by: Team Zombillies)
Actor Shout Out Award - Temple: Guys in Elevator (Given by: Team Zombillies)
Actor Shout Out Award - Trail: Dr. Beak (Given by: Team Zombillies)
Actor Shout Out Award - Trail: Lunch Lady (Given by: Team Zombillies)
---
2015 Awards
Most Entertaining Clown - "The Cage Maze Chainsaw Clown" in "Killer Klowns" (Given by: Team Zombillies)
Scariest Duo - "The Catacombs Couple" (Given by: Team Zombillies)
Memorable Scare - "The Shadow Spirit" in "Dr. Psycho's Haunted Estate" (Given by: Team Zombillies)
Most Twisted Haunt - "The Voodoo Bayou Shanty" (Given by: Team Zombillies)
Actor Shout Out Award - "Dr. Psycho" in "Dr. Psycho's Haunted Estate" (Given by: Team Zombillies)
Actor Shout Out Award - Andrew Rasnic, A.K.A. "Bubba" in "The Middletown Haunted Trail" (Given by: Team Zombillies)
Actor Shout Out Award - Arthur Gehring, A.K.A. "Snagz, the Clown" in "Killer Klowns" (Given by: Team Zombillies)
Actor Shout Out Award - Mike Carmichael, A.K.A. "Arlen Dubois the Butcher" (Given by: Team Zombillies)
Actor Shout Out Award - Tonya R. Murray, A.K.A. "The Widowmaker" in "The Middletown Haunted Trail" (Given by: Team Zombillies)
Actor Shout Out Award (Given by: Team Zombillies)
---
2014 Awards
Best Pyrotechnical Scare (Given by: Team Zombillies)
Most Entertaining Clown (Given by: Team Zombillies)
Memorable Moment (Given by: Team Zombillies)
Actor Shout Out Award - Dr. Psycho's Haunted Estate: Redneck with Shotgun (Given by: Team Zombillies)
Actor Shout Out Award - Middletown Haunted Trail: Flesh Eater (Given by: Team Zombillies)
Actor Shout Out Award - The Shanty: Voodoo Guy (Given by: Team Zombillies)
---