Find Reviews for a Haunt near You! Find Reviews for a Haunt near You!
Find Reviews for a Haunt near You!
USS Nightmare
101 Riverboat row, Newport, KY 41071View All Details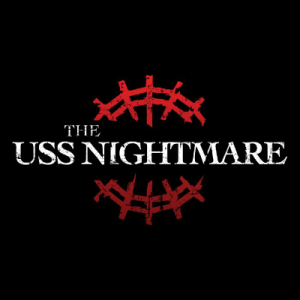 Features:
Free Parking, Restrooms On-Site, Food/Concessions, Gift Shop/Souvenirs, Optional Games/Midway, Special Events, "Hi-Tech" Attraction, Original Characters, Covered Outdoor Waiting Line, All-Indoor Attraction
Team Zombillies reviewed this attraction on September 18, 2014.
Final Score:

9.56
Summary:
2014 marks USS Nightmare's 23rd season of washing evil onto the riverbanks of Newport, Kentucky… as well as the innocent souls who are daring enough to explore the "Death Dredge!" This remains one of the most unique haunted attractions around, considering it takes place on-board a REAL boat ON the Ohio River! This haunted steamer has endured tragedy and death from its days of construction to the horrible crash that crippled the dredge and killed dozens of crew members. Now, the crew's spirits lurk among the decks of the William S. Mitchell for all to see this Halloween season. Ask yourself… are YOU brave enough to board Kentucky's ONLY haunted steamboat? Do you think you can outrun this ship's wicked wrath? Think again, and we hope you know how to swim!
---
Cast:

9.62
Around 40 actors haunt the hallways of the U.S.S. Nightmare during a 'typical' night. This number of actors seemed to keep the number of empty spaces to a minimum. Nearly all of the actors used excellent, theme-related dialogue and interacted with our review group without hesitation when prompted to do so. Several of them referred to "The Captain" before we even met him, which helped enhance the theme and build anticipation. Some of the more interactive actors that we came across were the Greeter, the two drunken sailors and the schizophrenic sailor. We also give credit to Captain Mitchell and his victim due to our multiple experiences with them and his show of force, the vampires because of their realistic vocals/dialogue, the skit where the patient poisoned the doctor, and the chef who worked with her props/scene to provide scares to our group!
---
Costuming:

9.76
U.S.S. Nightmare's talented costume designers and makeup artists continue their tradition of transforming their cast into the Mitchell's one-of-a-kind characters. Additional colored contacts were noticed this year, detail seemed to be more intricate, and some of the actors' teeth received special treatment. One of the re-animated crew members was even sporting a chest piece depicting a carved-out rib cage! Most of the costumes are directly related to U.S.S. Nightmare's nautical theme, although some of them seem to be out-of-place unless you fully understand their entire story. Different types of masks are used sporadically throughout the ship and work well to enhance the appearance of the characters wearing them. Some of the more memorable costumes include the vampires, Anna, the clowns, the well-hidden ghillie suit, and the half-skull mask in the cage area.
---
Customer Service:

9.6
Before arriving at U.S.S. Nightmare, be sure to check out their website for directions to the closest parking lot. Most GPS's including phones will lead you astray unless you know where it's located already. But don't let that stop you! On the night of our visit, fire-twirlers were entertaining those near the ticket booth and staff members directed us to the ramp to board the vessel. A green-screen photo booth is set up immediately after the ramp where a free photo will be taken. You have the opportunity to pick up a copy of the picture with your choice of background (after your tour) for an extra fee. While waiting in the covered queue line, there are a few haunt-related forms of entertainment, one of which being a TV that explains the background and theme of U.S.S. Nightmare. Friendly staff members, some in makeup and U.S.S. Nightmare attire, can be found at both ends of the line, the ticket booth, and in the building at the end of the haunt. In this building, you can also find concessions, souvenirs, and games while portable restrooms can be found near the parking lot closest to the haunt.
---
Atmosphere:

9.95
As soon as this steamer can be spotted, you'll know without a doubt that you're in the right place! The atmosphere around the boat is very creepy and it's largely due to the giant, inflatable skull on top of the boat, the ominous music and voices being broadcast onto the bank, and the dilapidated display of the damaged dredge itself! We showed up in the daylight and it was STILL scary looking! The staff members that were in costume, the cable winches in the queue area, and the story-telling TV's got us ready for what we experienced inside!
---
Special Effects:

9.72
This ship displays so much authentic décor on its own that, when it's combined with everything that is supplied for the seasonal haunt, it's one of those attractions where it's impossible to see everything in a single trip through! Multiple changes exist this year, including a well-placed CGI (Computer Generated Image) and a completely re-designed ending! The abundant sound effects heard throughout the ship were very realistic, and provided additional suspense and uneasiness to our experience. Many original effects were found at this attraction from the boat and all of its mechanical parts to a spinning "wheel of death," a skeleton rotisserie, and a balcony surprise! The cast worked with the effects and surroundings throughout the majority of the ship, which enhanced their effectiveness. Some of the other special effects that we came across were realistic sounds coming from props, REAL rats, weird smells, a dizzying vortex tunnel, random dead crewman, disorienting strobe lights, thick fog, air blasts, vibrating floors, a blaring horn, claustrophobic passageway, blinking clown heads, fluorescent artwork on the walls, and a ghostly writing on the wall that read "turn back now!"
---
Theme:

9.82
A thorough explanation of the theme and history can be found playing in the queue area to warn patrons of what they are getting themselves into! If you want to be informed before going, the boat's history and storyline can all be found on their website as well. Long story short, this vessel is demented, and cursed! The crew who worked on her many years ago nicknamed her "Death Dredge" because those who served on her often ended up dead! One evening, the boat broke loose from the bank and caused what's now known as the "Massacre on the Mitchell" and the death of all of the crew members. Now, everyone on the ship during the massacre still resides here, but something isn't quite right with them. Among them are Captain Mitchell and his daughter, Anna. The Captain wants to keep his daughter happy, so many of the deckhands and crew members slave day in and day out, building "toys" for Anna. You will come face-to-face with these "toys" and let's just say… they definitely aren't the kind you can buy at the store! During our tour, this theme was made very apparent to us and many of the inhabitants reinforced the storyline very well!
---
Fright Effect:

8.74
During our exploration of the William S. Mitchell, scares were served to our group in various forms. From unexpected loud noises, eerie surroundings, good hiding spots, and sinister stares to misdirection, hostile encounters, and even a decapitation attempt! Startles and surprises were delivered to everyone in our group, making most of the scares we received difficult to predict. A few effective distractions were used, which made it quite obvious to our group that nothing on this ship could be trusted! It wasn't long into our journey that we were paying attention to every move we made… trying our best to watch from all directions because things started appearing from nowhere rather quickly!
---
Value:

9.25
It will cost you $18.00 to board this vessel any Thursday through Sunday and only $15.00 on Wednesdays! RIP admission can be purchased online for $23.00 and allows you to skip the main line. It took our group around 21 minutes to flee the Captain and Anna's maniacal "toys", putting this at an average value of slightly over 1 minute of entertainment per dollar spent. Admission for the Unrated eXtreme Captain's Tour can be purchased for $23.00 online or $25.00 at the ticket window, but this special event is not recommended for anyone under the age of 17, so BUYER BEWARE! Be sure to check out their new site for other special event information, season passes, special combo packages, and group discounts! A printable coupon can also be found on their site and, if you join the Captain's Club, you can receive special updates and offers! Due to the naturally authentic and demented atmosphere of this attraction mixed with interactive characters, believable storyline, and exclusivity of "America's premier haunted steamboat," U.S.S. Nightmare is a must-see attraction for the 2014 haunt season, ESPECIALLY if you've never visited them before!
---
Photos from Review Trip:
Click to Enlarge
Promo Images:
Click to Enlarge