Find Reviews for a Haunt near You! Find Reviews for a Haunt near You!
Find Reviews for a Haunt near You!
House of Pain
868 Staunton Sugar Grove Road, Washington Court House, OH 43160View All Details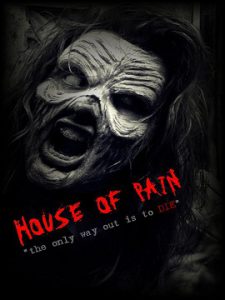 Features:
Free Parking, Restrooms On-Site, Food/Concessions, You may be touched, Original Characters, Uncovered Outdoor Waiting Line, All-Indoor Attraction
Team Mysterious Misery reviewed this attraction on September 20, 2014.
Final Score:

7.63
Summary:
If you are looking for high intensity, great actors, and a haunt to visit this year without costing you the price of your soul, you found it at the House of Pain! From the very moment you walk in to the moment you think you have walked out, you will experience fear in every way! This one of the few haunts that keeps up the energy all the way through. Your personal space will be ripped away and thrown in the trash the moment you walk into the door, so have fun on that one. Good luck trying to get out with your soul still in place because your pain is definitely their pleasure and they bathe in your screams.
---
Cast:

8
On an average night of terrifying fun there are around 50 actors that roam about to scare you to no end. Each one of these 50 actors are high energy and very intense throughout the haunt and for the entire night. You will never see them not at their best. These actors are very brave because at the House of Pain they don't mind invading your personal space and getting up close and personal with you. They do an amazing job at covering the 8 acres all the way to the end, and I mean the very end. Many of the actors are return actors so they have their character figured out and can practice on how to enhance them to make it better. Before the haunt opens many do an in-house training with character development so that they may portray the best character that they can. Each cast member does such a great job at becoming their character that sometimes you forget that they are just actors and actually believe the role they are playing. Among the most memorable was the "lady" in the red and white polka dot dress as she just wants to feel your hair. Also there are the wicked clowns who managed to stay hovering over me without falling on me, and we can't forget Achillies as he made me say his name over and over!
---
Costuming:

8
House of Pain has been lucky enough to have the twisted mind and talents of DJ. Each year he comes up with wicked new characters with some input from the actors. DJ applies the make up in-house and his talents really show on the characters that utilize his skills. We did come across some masks but they weren't overdone and they fit well into each scene that they were used in. The creatures created are not your every day movie monsters as they have been created to help tell a story.
---
Customer Service:

7
When driving to the House of Pain you may feel like you are out in the middle of no where which is about right. At the end of the street they have a huge sign with a blinking arrow pointing you the right way. Then you will see another sign to lead you to parking. Parking is FREE in the lawn of the haunt. Lighting is minimal in parking areas but as you get closer to the ticket booth there is more light. The admission booth has a friendly young lady that will help you with all your questions. They have burgers, pop, nachos, hot dogs, hot chocolate, soda and water for reasonable prices. They also sell T-shirts at $19.99 . Safety codes and emergency plans are all in place ready to go if needed. Music and bands are available to help you while you wait in line. Remember the waiting area is uncovered and outside so dress accordingly.
---
Atmosphere:

7
House of Pain may seem like a small haunt that a couple of locals threw together but never judge a book by its cover. The loud music and the light casting your shadows in the trees add for a spooky event. Being outside gives you that chilly air and the night sounds add to the creepiness. However, we wish they might have added queue actors or a fire pit or something because standing in the line for hours with just the music by itself was just not enough. When you reach the front of the line the atmosphere quickly changes and you know sh*t just got real!
---
Special Effects:

8
House of Pain may seem like a smaller haunt but they use special effects that some bigger haunts use and can pull them off just as well. House of Pain has the twisted mind of DJ who did not want an average back yard haunt with animatronics all over the place. He wanted his patrons to have an experience so he utilizes special effects in all the right scenes making this a haunt that you will remember. House of Pain pulls out some of the classics which I love seeing. If you are lucky enough to make it through the black out maze without a bloody nose or lost limb you are in store for much more. Strobes, loud music/sounds, special lighting, chainsaws, and even just the ability to touch you will all send screams from your lips and give you the creeps. The House of Pain is worth trying to make it out alive .
---
Theme:

8
The House of Pain is exactly that. 18 years in the business of making you cry has made them successful. Don't think of this as a small house but quite a large house that will cause you pain in one way or the other. All of the elements work well in making you suck your thumb and cry for your mommy!
---
Fright Effect:

8
Overall, The House of Pain is a great haunt for a creepy good time. They have some elements that are right up there with the big hitter haunts but put in this smaller haunt they have details that are even more gross. This haunt with only 50 actors does an amazing job at no dead spaces. They always have high energy and are always in your face. This is one of the very few haunts that still like to reach out and touch someone. Since they pet you like an animal or grab your arm it adds another creepy feeling that you do not get at other haunts. The black out maze will leave you scared, confused and maybe even frustrated if you can't get out. Rapid fire in your face scares, passionate actors who give it everything they have, intense atmospheres and many other effects bring the best out in this haunt. If you are as fortunate as we were the end is not the end…
---
Value:

7
The House of Pain admission is $14.00 and there are no other options just the general admission. You get a terrifyingly great night at this price and parking is FREE! Free parking is always a bonus. However, you can wait a long time in line and some people were a little discouraged with the wait time. So just come prepared to wait as it took us and others over an hour to get to the front of the line.
---
Photos from Review Trip:
Click to Enlarge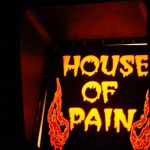 Promo Images:
Click to Enlarge
Have you visited this attraction?