Find Reviews for a Haunt near You! Find Reviews for a Haunt near You!
Find Reviews for a Haunt near You!
Sandyland Acres
4172 Belleview Road, Petersburg, KY 41080View All Details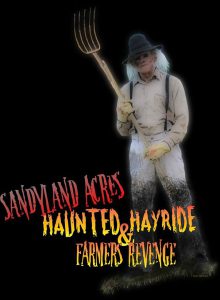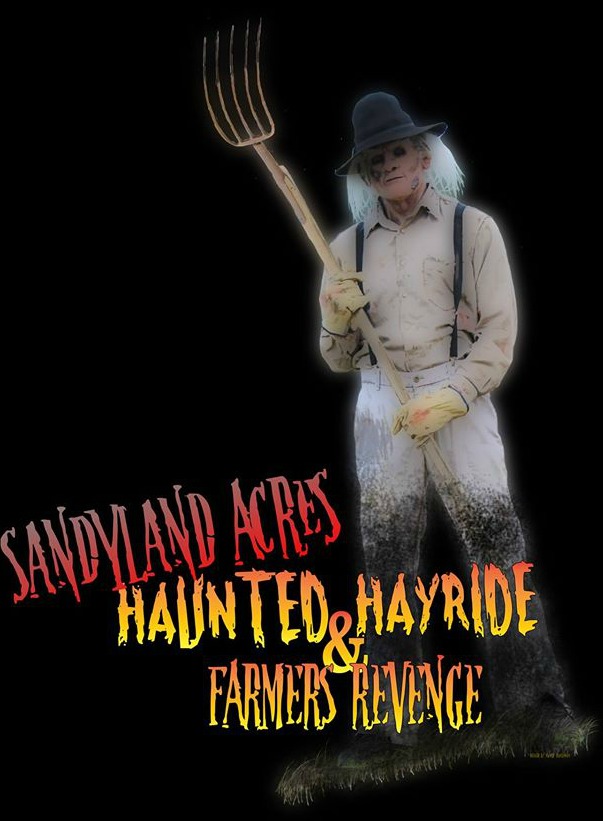 Features:
Free Parking, Restrooms On-Site, Food/Concessions, Gift Shop/Souvenirs, You will NOT be touched, Movie Characters, Original Characters, Uncovered Outdoor Waiting Line, Indoor/Outdoor Attraction, Family Friendly
Team Zombillies reviewed this attraction on September 19, 2014.
Final Score:

8.82
Summary:
This farm is going into their 9th season of providing Halloween fun to all of those who have been lucky enough to stop in! Sandyland Acres consists of two unique attractions. The first is their family-friendly, no-touch hayride that will take you deep into the darkest paths of this farm where horror movie villains and other creatures are waiting to give guests a show! Farmer's Revenge is Sandyland's scarier attraction with even darker and more sinister characters that are sure to give you a fright! If you're looking for a family-friendly atmosphere that has something that everyone can enjoy, then swing by Sandyland Acres this Halloween haunt season!
Haunt Scores:
Sandyland Haunted Hayride: 8.97
Farmer's Revenge: 8.67
---
Cast:

8.25
Many familiar faces can be found on the hayride at Sandyland Acres, including Michael Myers, Leatherface, the Creeper, the Headless Horseman, and even an older rendition of Jason Voorhees. You'll also come across some hillbillies, clowns, and others that are a bit more traditional or original, like Mortimer Sneed (the hayride introducer). As with most haunted hayrides that we visit, dialogue is relatively limited due to the short time span that customers are exposed to each character. However, when the characters were able to, the dialogue fit their respective scenes and characters. Some of the more memorable characters from the hayride were from the "Sandyland Cinema" area since they all seemed to flawlessly fit the build of the characters that were portrayed. Michael Myers was particularly memorable, mainly due to him hunkering his shoulders up, breathing heavily, and clenching his fists (knife in hand) as if he could 'snap' at any second! In the barn (Farmer's Revenge), we found "The Wolfman" and a few characters from the movie "You're Next," among several others. Good dialogue was used in the barn, but we heard "get out" multiple times, which is generally less-effective than other phrases. Perhaps the most memorable from the barn was Chuckles the Clown, due to his unique (and very effective) surprise entrance into one of the scenes.
Haunt Scores:
Sandyland Haunted Hayride: 8.5
Farmer's Revenge: 8
---
Costuming:

9.1
Costuming on the hayride at Sandyland made it easy for us to tell who most of the characters were throughout the ride. The characters in the corn were dressed in dark clothing to help stay hidden, which proved to be very effective. Others like the hillbillies and movie villains were dressed appropriately for each intended character, but be mindful that makeup effects like sunken eyes, blood, rot, and gore that would add more detail may be left out so as not to scar the minds of the youngsters that enjoy the ride too. Many masks, including some that were exclusively custom-made for Sandyland, were used throughout the property and each of them seemed to be very effective! Most of the same can be said for the characters in the barn, although some of the costumes didn't appear to be as intricate as those found on the hayride.
Haunt Scores:
Sandyland Haunted Hayride: 9.4
Farmer's Revenge: 8.8
---
Customer Service:

9.65
We found one or two small signs along our route to Sandyland and, along with our GPS, we were able to find the attraction quite easily! The whole farm is lit up very well and a bright, yellow sign by the road will show you where to turn into the large, grass parking lot. Parking is FREE and flaggers were there helping customers find the best spots. We noticed some confusion amongst customers in that the exit is actually on the opposite end of the lot, which is much darker and less-obvious, but the flaggers were redirecting cars as necessary. The ticket booth is easy to find and the numerous staff members were very friendly and helpful to us. During your stay at Sandyland, don't forget to swing by The Spooky Gift shop or Auntie Susie's Concession stand and feel free to check out "the glow cart" and other stands located around the queue area as well. If you choose to get a snack while you're there, there are plenty of places to rest your bones and munch on the good food! Mortimer Sneed gives folks aboard the hay wagon the rules before they embark on their journey and another friendly staff member is at the end making sure customers exit the wagon in a safe fashion.
---
Atmosphere:

9.05
Sandyland Acres has a very family-friendly and fun Halloween atmosphere. However, once you start watching the screen on the side of the barn that shows visitors going through the barn, you may think twice! The occasional roaming actor may sneak up behind you and remind you that you're at a haunted hayride as well. The bundled corn stalks, skeletons, and other décor provide a very Halloween-y feel and certainly depict the family-friendly approach that's intended by the owners. However, the random bursts of flames shooting up from the top of the silo filled the air with customers' screams that could be heard from the far reaches of the parking lot!
---
Special Effects:

8.72
Many original effects and props can be found at Sandyland Acres! It is usually more difficult to find effective props on a hayride than a walk-through haunt, but we think this farm does a pretty good job at overcoming this obstacle! A unique usage of lighting can be found within the barn and additional accent lighting was seen on the hayride as well. Appropriate sound effects were found in each scene on the hayride and some frightening sound effects were heard inside the barn! Small details and décor helped in bringing some of the scenes to life, and a few in the barn were so realistic that we wanted to stick around in there for a while looking at everything! Some of the effects that we came across along our ride include a custom-built shack with a large 'face' cut out of it, multiple blasts of large flames, a fire-spitting pickup, a real horse, and a unique clown tunnel! Several effects found in the barn include chirping chicks, a strobe-lit claustrophobic tunnel, well-hidden drop panels, and a mind-warping vortex tunnel!
Haunt Scores:
Sandyland Haunted Hayride: 8.84
Farmer's Revenge: 8.6
---
Theme:

9
The haunted hayride at Sandyland Acres will take you on a ride through past and present horror movie scenes as well as a few original ones too! Farmers Revenge also consists of horror movie villains and scenes, but uses the ones with a bit of a 'darker' side to them. New to the hayride this season is the Sandyland Cinema Triple Feature, where you will get to watch numerous acts of violence from some legendary horror movies! But watch out, they want to get up close and personal with you after killing their victims! Since this theme really consists of a mixture of traditional and well-known scenes, they followed it very well! Some of the movies you may recognize include "The Strangers," "Texas Chainsaw Massacre," "You're Next," "Jeepers Creepers," "Friday the 13th," and "I Know What You Did Last Summer!"
Haunt Scores:
Sandyland Haunted Hayride: 9.25
Farmer's Revenge: 8.75
---
Fright Effect:

8.3
The farm seemed to catch our review team off-guard a little more often this season than they have in the past! Different types of scares were encountered from pitch black passageways and sudden blasts of air to multiple chainsaw confrontations and a run-in with a crazed hillbilly driving a flame-throwing truck! Some really good hiding spots were used this season that were effective at startling us! On the wagon, the characters brought the intimidation factor to the ride by swinging around knives, a pick-axe, and dragging a shovel down the center of the wagon! Scares were targeted more towards the ones who were scared, but it made for great entertainment for those around them! Clever usage of some of the effects at the farm aided as distractions for our group by taking our attention away from where the real scares were going to come from! If you are bringing children to the attraction, the hayride was a bit milder than the barn simply because of the darkness, suspense, and more detailed scenes that were encountered in Farmers Revenge.
Haunt Scores:
Sandyland Haunted Hayride: 8
Farmer's Revenge: 8.6
---
Value:

8.5
General admission tickets for the Sandyland Haunted Hayride can be purchased for $12.00 and $10.00 for Farmers Revenge. Our group got to rest our legs and sit on the wagon's hay bales to receive scares for around 20 minutes, putting the Hayride's value at close to two minutes of entertainment per dollar spent! Farmers Revenge was quite a bit shorter at between 5 and 6 minutes, giving it a value of less than one minute of entertainment per dollar spent, but the length will also depend on how long it takes you to navigate through the darkness! Combo tickets for both attractions can be purchased for $20.00, and if you aren't too scared, we suggest visiting both haunts while you're there since the combo tickets make for a good value! VIP admission is available for the hayride, which allows you to skip the general admission line for $15.00. If you're looking for a family outing where there's a little something for everyone, then visit Sandyland Acres this Halloween season, where there may be a surprise waiting just for you in the corn!
Haunt Scores:
Sandyland Haunted Hayride: 9.1
Farmer's Revenge: 7.9
---
Photos from Review Trip:
Click to Enlarge
Promo Images:
Click to Enlarge
Have you visited this attraction?
---
2014 Awards
Actor Shout Out Award - Chuckles the Clown (Given by: Team Zombillies)
Actor Shout Out Award - Michael Myers (Given by: Team Zombillies)
Actor Shout Out Award - Mortimer Sneed (Given by: Team Zombillies)
---
2012 Awards
Actor Shout Out Award - Leatherface (Given by: Team Zombillies)
Actor Shout Out Award - Mortimer Sneed (Given by: Team Zombillies)
---