Find Reviews for a Haunt near You! Find Reviews for a Haunt near You!
Find Reviews for a Haunt near You!
The 7th Street Haunt
2900 S 7th Street, Louisville, KY 40216View All Details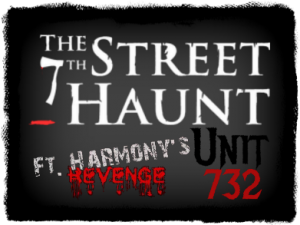 Features:
Free Parking, Restrooms On-Site, Handicap Accessible, Food/Concessions, Gift Shop/Souvenirs, Optional Games/Midway, Special Events, You will NOT be touched, Original Characters, Covered Outdoor Waiting Line, Indoor/Outdoor Waiting Line, All-Indoor Attraction
Team Zombillies reviewed this attraction on September 20, 2014.
Final Score:

9.09
Summary:
We've come to find out that Fort Harmony is one crazy town! Over the last 3 years, this once-quaint little community has transformed into one of Louisville's most psychotic haunts! For the 2014 season, 7th Street Haunt is bringing some brand new scares to this old-school attraction that you aren't going to want to miss. If you can make it to the city limits (entrance) past the protesting citizens and maniacal chansaw-slingers, then be prepared for the most demented 7th Street Haunt to date… and "Welcome to Fort Harmony!"
---
Cast:

9.15
Over 40 actors and actresses populate the town of Fort Harmony and "Grandma Helen" will be among the first you'll meet near the ticket booth outside the haunt. During our visit, she hilariously entertained the exterior queue line by waving signs and protesting the town and the rest of its insane inhabitants while the chainsaw attacker kept customers looking over their shoulders! The German-sounding 'gentleman' we encountered inside the town (named "Skweek") and the Ringleader were a couple more interesting characters with quite the personalities. Some of the characters interacted verbally with our group; one of whom tried to get us to help her out of a "hot" spot and another asked if they could have permission to rip one of our group members' flesh off! Talk about a scary character (not to mention they were about 6'-6")! Some scene-related dialogue was used in a few places throughout the haunt as well, which helped make both the actors and the scenes more realistic and believable.
---
Costuming:

8.85
As far as masks go, several were noticed during our trip through Ft. Harmony. Most of them appeared to be original (or at least lesser-used) pieces and effectively enhanced the characters wearing them. Some decent makeup work, colored contacts and prosthetics were found as well that matched the characters and helped in adding a "final touch" to them. A few of the more believable costumes that were found include the mineshaft worker with the light on his helmet, the puppet, the voodooist, the headless guy, and the librarian with the ripped-apart chest. While not the most elaborate outfits we've seen this year, each of them were by no means "off-the-shelf" costumes and each of them served their purposes quite well.
---
Customer Service:

9.75
7th Street Haunt proved to be much easier for us to find this year due to the extra décor they added to the exterior of the attraction and the signs out by the road. Upon arrival, the first things we ran into were the haunt's ticket booth and large concession stand that had plenty of warm food and cold beverages available for purchase! An outside waiting area has been roped off this season and several characters did a great job at working their way through the crowd to entertain their guests. Everything seemed easily navigable and we didn't come across any trip hazards or dangerous areas during our tour. You will be able to get your pictures taken while waiting to enter the haunt in their newly added theater, and they will be available for purchase at the end of the attraction. At the end of the attraction you will also find a gift shop area where they have many different things for sale including bracelets, popcorn, $10.00 haunt t-shirts, $1.00 children's masks, and much more! Their custom casket simulator is also located at the end of the attraction for those who want to try something different, and don't let its name fool you, it's rather humorous! Very friendly and helpful staff members can be located at the ticket booth, at the entrance of the attraction, and at the end in case any questions come up.
---
Atmosphere:

9.25
As soon as we got out of the car, we could hear creepy sounds filling the air, like the screams of a torturous chainsaw and creepy music that let us know we had indeed arrived at a haunted house! The exterior of Ft. Harmony has improved quite a bit this season! Notable changes include new décor at Expo 5's entrance, a re-designed waiting area complete with disorienting strobe and laser lights, a decorated concession stand, a hearse, and several other roaming actors including Grandma Helen with her comical warning signs! Just being outside and watching the actors torment those in the restrooms and lines helped in getting us prepared to enter! The newly added theater, exterior of the bar, and staff that greeted us at the door confirmed we were getting ready to endure the wrath of a sick and twisted town! We even noticed the haunt's coffin-shaped signs throughout the property which gave the atmosphere that extra Halloween feel!
---
Special Effects:

8.75
7th Street Haunt is an old school style attraction where a lot of creativity and original elements have been used to build the town of Ft. Harmony! Adequate sound effects were heard throughout the haunt and helped bring this city and its dark corridors to life! The attention to detail used in portions of the town let us know instantly where we were, and had our group's eyes roaming around every nook and cranny. Several well-disguised effects were encountered that the crew members worked with to enhance their effectiveness. Some of the special effects that we found while visiting Ft. Harmony include hanging body bags, poppers, guts hanging from the ceiling, a ghostly rocking chair, a vortex tunnel, surprising pictures, a large furnace, a mine shaft, a hanged townsman, and a very large, original puppet!
---
Theme:

9.35
Apparently Ft. Harmony used to consist of "normal" townsfolk until something went very wrong. Although, that is pretty hard to believe given their extreme insanity! It's been said that some voodoo rituals may be the leading cause for this town to take a sudden demonic turn… but whatever the reason may be, the storyline was made much more apparent to our group this season than in the past. A promotional video can be found on their site that will fill you in on some of this town's dark, dark secrets. The only way to truly see what they are, though, is of course to set foot inside the town of Ft. Harmony yourself! As we made our way through the town this year, the haunt's video was playing inside the attraction so you can get more of an idea of what to expect during your tour. Areas that we came across seemed to make more sense and made it more obvious that we were, in fact, in a town. Some of these areas and items included the sheriff's department, a hospital, a nursery, a graveyard, a house complete with a dining room, the circus, a church, and the voodoo area where all of this madness is said to have spawned!
---
Fright Effect:

8.5
Different types of frights were used at 7th Street Haunt from creepy stares, intense encounters, and sudden startles to fierce threats, chainsaw assaults, and unnerving growls. Some good hiding spots were used to target our group and a few other well-hidden, sly creations caught us off-guard! The mine shaft area was the most intense during our visit. It started off just right with a disorienting light on the top of an actor's head who was waiting for us at the end of a tunnel, and the intensity increased from there! Some demonic creatures and a few crazies also had us on high alert while we were around them because we never really knew what they were up to next. They threatened to do some pretty demented things to us like throw us in the furnace and rip our skin off; they warned us of this caged monster who was on the loose (and that was a BIG cage), and they even tried to get us to summon some evil spirits with their enormous Ouija board!
---
Value:

9.15
To enter the town of Ft. Harmony, you must pay them a fee of $18.00. They do offer coupons for $5.00 off can found on their site or you can show your work ID, school ID, or military ID to receive the same treatment. It took our group approximately 21 minutes to tour the crazy town that is Ft. Harmony. So even at the full ticket price, you get around 1.2 minutes of entertainment per dollar spent! If the lines are long and you would like a much shorter wait, upgrade to the fast pass option for an additional $5.00. Group rates are available, but you will need to contact them for more information on those. If you purchase your tickets online, they are $15.00 there as well, but this may only be for a limited time, so don't hesitate! You can take "The Ride of Your Life" simulated casket experience that was built by one of the staff members at the attraction for $5.00. Our team members did get the opportunity to test it out, and we must say it was pretty darned enjoyable! This attraction does promote other haunts and offer several combo packages with these attractions as well! On Sundays, you can try the "Institutionalized Challenge" which will cost you an extra $2.00. It consists of you being "properly institutionalized" and taken through the haunt in one of their "special" wheelchairs! If you are looking for more of an original, old-school haunt, then add 7th Street Haunt to your list of attractions to visit for the 2014 haunt season!
---
Promo Images:
Click to Enlarge
Have you visited this attraction?
---
2016 Awards
Most Unnerving Sound Effects - Ft. Harmony (Given by: Team Zombillies)
Most Unique Costume - The Demon of Knowledge (Given by: Team Zombillies)
Actor Shout Out Award - "Azrael" A.K.A Justin Sinkler (Given by: Team Zombillies)
Actor Shout Out Award - "Lilith" A.K.A Tasha Dunca (Given by: Team Zombillies)
Actor Shout Out Award - "Molly the Mayor" A.K.A Stacey Drake (Given by: Team Zombillies)
Actor Shout Out Award - "Night Watchman" A.K.A Michael "NoFro" Dickerson (Given by: Team Zombillies)
Actor Shout Out Award - "Quarantined Quinn" A.K.A Emily Moss (Given by: Team Zombillies)
---
2015 Awards
Most Creative Old-School Effects - "Ft. Harmony's Revenge" (Given by: Team Zombillies)
Most Unique Costume - "The Spider" (Given by: Team Zombillies)
Actor Shout Out Award - Gary Reeser, A.K.A. "The Dirty Old Man" (Given by: Team Zombillies)
Actor Shout Out Award - Justin Sinkler, A.K.A. "Azrael" (Given by: Team Zombillies)
Actor Shout Out Award - Matt Clayton, A.K.A. "Thunder Feels" (Given by: Team Zombillies)
Actor Shout Out Award - Rick Hall, A.K.A. "Nemesis" (Given by: Team Zombillies)
Actor Shout Out Award - Tabitha Gray, A.K.A. "Betty Sawz" (Given by: Team Zombillies)
---
2014 Awards
Most Creative Old-School Effects (Given by: Team Zombillies)
Memorable Moment (Given by: Team Zombillies)
Actor Shout Out Award - Grandma Helen (Given by: Team Zombillies)
Actor Shout Out Award - Ricky Mann (Given by: Team Zombillies)
Actor Shout Out Award - Torture Queen (Given by: Team Zombillies)
---