Find Reviews for a Haunt near You! Find Reviews for a Haunt near You!
Find Reviews for a Haunt near You!
The Haunted Hotel KY
3000 South 4th Street, Louisville, KY 40208View All Details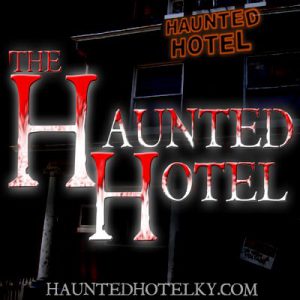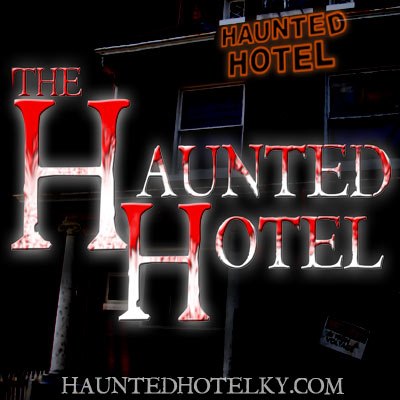 Features:
Free Parking, Restrooms On-Site, Gift Shop/Souvenirs, Special Events, "Hi-Tech" Attraction, You may be touched, Original Characters, Uncovered Outdoor Waiting Line, Indoor/Outdoor Attraction
Team Zombillies reviewed this attraction on September 20, 2014.
Final Score:

9.48
Summary:
The Haunted Hotel has the reputation of being the most intense haunted house in the Louisville area and that is no different for 2014! During our visit, they knocked their own reputation clean out of the water! Not only is the atmosphere inside this attraction intense, the lunatic residents of the Hotel will more than likely TOUCH you and continue to stay up-close and personal during the entirety of your stay! The crew inside the Hotel also use coarse language and violence, so if you get offended easily, this attraction just might be the one that sends you running home crying to your mother! Rest assured, there are plenty of original sights and special effects to enjoy during your stay! If you're prepared to be scared and looking to visit the most extreme haunt in Louisville that our review team has encountered, then you'd better add The Haunted Hotel to your must-see list for the 2014 haunt season! Oh yeah, and keep in mind… "They'll turn the light out for you!"
---
Cast:

9.45
The cast at The Haunted Hotel have kicked it up a notch this year! As of the time of our visit, they were undoubtedly the most "physically interactive" with our group of all of the haunts we'd reviewed in 2014… and by that, we mean we were pushed, shoved, picked up and held in the air… it's a wonder we made it out without any damage! Not only were they physical with our group, several of them conversed with us so well it seemed… natural, to them! Their dialogue referred directly to either themselves, their scenes, or other characters which helped make the whole experience just that much more realistic and intense. Some name-calling, evil plots, disgusting offers, and tyrannical threats were abundant throughout the Hotel as well, so once again, this probably isn't the place to be if you're easily offended. Some of the more memorable actors were "DK" (our friendly concierge), "Daphne" (the plumber), and "Dr. Vig" due to their demonic, yet interactive performances.
---
Costuming:

9.34
Masks were much more noticeable this season and are pieces that you won't find very often at other haunted attractions. They really seemed to help the characters wearing them with that extra bit of grunge and/or madness! Even the queue actor had a nice, creepy, razor-sharp, grinning mask, complete with gloves to round off the look. Good makeup work was noticed on a fair amount of the actors and was generally successful at making those without masks seem more "at home" in The Hotel. Some of the more memorable characters were the queue actor, "Gustav" (the elevator attendant), "Brutus" (the butcher), and "the grounds keepers" (the chainsaw assailants)!
---
Customer Service:

9.35
The Hotel's hearse was sporting a strobe light and parked in a nearby lot to help let customers know where to park. The ticket booth is still located around the side of the building and a concession stand was in this area as well, for those looking for some refreshments after running through the haunt! A very interactive queue actor was noticed during our visit that was keeping the crowd from getting too comfortable. Also, several friendly staff members could be seen in several areas around the building, so they should be easy to find if you have any questions or concerns for them. You'll need to climb up and down a couple of sets of stairs during your stay at the Hotel, but they're well lit and no scares were delivered in these areas for safety reasons.
---
Atmosphere:

9.75
The Haunted Hotel is located in quite a creepy-looking building in itself. The aged, brick exterior mixed with the accent lights, flickering "Haunted Hotel" sign, roaming queue actor, and ominous music blaring into the waiting area definitely let us know we were at a haunted house and got us pumped for our inevitable experience!
---
Special Effects:

9.4
A large variety of special effects were encountered during our stay that included original and purchased items. Intimidating sound effects heightened the effectiveness of the scenes, including the rock/metal music that signified stuff was about to get real! So, if you suddenly hear loud rock/metal music, we suggest that you be on the lookout! Some of the effects used this season seemed to be more effective due to their locations, strategically placed lighting, and excellent timing. Scene detail consisted of a lot of bloody, dirty, nasty features that added to their authenticity. Some of the effects that can be found here include a machine gun, moving floors, a shifting room, their "HELLevator," several CGI's (Computer Generated Image), chainsaws, fog/"smoke", loud horns, poppers, carnivorous plant life, a laser tunnel, and unique usage of nasty bathroom water!
---
Theme:

9.39
Past and present guests of the Hotel continue to reside here, and you never know just what or who that may consist of. This is mainly due to the deranged doctor who keeps performing experiments on anyone and anything he can. Military personnel and other trained professionals have tried to run the doctor off, but have also become guinea pigs to his experiments, as a result. Once we met the doctor, we instantly realized the harm he had done to the hotel's residents and that he too may have become a victim of his own experiments! Throughout our tour it was evident we were traveling through all of the amenities of a rustic hotel and some of the rooms with characters that reiterated the theme, thus making it more understandable to those who may not be familiar with it.
---
Fright Effect:

9.58
Frights were delivered to our group on many different levels when we checked in this year, and some made us want to check out rather quickly! Some of the different frights we received during our visit include getting shot at, being pushed out of rooms, getting grabbed, going for one "Hell" of an elevator ride, intense acting, threatening dialogue, sparks flying at us, creatures coming after us, and one of our group members was even picked up at least 5 foot into the air! It wasn't long after entering that we realized we might have made a mistake! These guys were on a roll the night of our visit and it seemed that their number one goal was to invade our "bubbles" and make us as uncomfortable as possible. Well, long story short, they succeeded! Things were happening so often around us that they kept our group on our toes the entire way through! They continued to touch our faces, run their hands through our hair, and get very close and personal until we finally escaped and exited the attraction. They only let up the intensity for a brief moment while we were climbing the stairs, then it was back to extremity again. Effective distractions were used throughout the hotel and just made it even easier for them to catch us off-guard. They also made sure they shared their love with everyone in our group, not just those in the front or back. To date, this is one of the most extreme haunts we've been able to visit.
---
Value:

9.56
A stay at the Haunted Hotel will cost you $20.00, but the cost to leave may be priced as high as your soul! VIP Fast Pass admission can be purchased for $29.00 which will allow you to skip the line. It took our group approximately 18 minutes to decide that we didn't want to stay at the Hotel anymore putting this value of general admission just below 1 minute of entertainment per dollar spent. This time can also vary per group, depending on how easily-frightened you are. The overall value of the attraction remains high though, due to everything else they have to offer inside! Keep in mind that this is an extreme haunt that is not recommended for those under the age of 13, but use your own judgment and read all signs before entering. On November 15th, they will be having a "Lights Off – Zombie Outbreak" special event that you can find more information about on their website.
---
Promo Images:
Click to Enlarge
Guest ReviewsGuest Average: 10 out of 10
Melissa Miles – 10/10We've been coming for several years and bring our marching band kids that date to come every year!! …show more This is my favorite by far!!!
---
2016 Awards
- Elevator (Given by: Team Zombillies)
Best Chainsaw Maniacs (Given by: Team Zombillies)
Best Original Characters (Given by: Team Zombillies)
Hardest Haunt to Escape Alive (Given by: Team Zombillies)
Most Intense Characters (Given by: Team Zombillies)
Scariest Haunt in Kentucky (Given by: Team Zombillies)
Highest Rated Fright Effect (Given by: Team Zombillies)
Actor Shout Out Award - "Cricket" A.K.A Kristen Warf (Given by: Team Zombillies)
Actor Shout Out Award - "Edna" A.K.A Bobby Castellano (Given by: Team Zombillies)
Actor Shout Out Award - "Thomas Gribbons" A.K.A Matt Perry (Given by: Team Zombillies)
---
2015 Awards
Scariest Actor - "Brutus" (Given by: Team Zombillies)
Grossest Scene - "The Bathroom" (Given by: Team Zombillies)
Best Single Scare Delivered to Entire Group - "The Elevator" (Given by: Team Zombillies)
Best Chainsaw Maniacs (Given by: Team Zombillies)
Hardest Haunt to Escape Alive (Given by: Team Zombillies)
Best Use of Sound (Given by: Team Zombillies)
Most Intense Characters (Given by: Team Zombillies)
Scariest Haunt in Kentucky (Given by: Team Zombillies)
Actor Shout Out Award - Joey Morbid, A.K.A. "Joe Morbid" (Given by: Team Zombillies)
Actor Shout Out Award - Matt Perry, A.K.A. "Thomas Gribbons" (Given by: Team Zombillies)
---
2014 Awards
Best Chainsaw Maniacs (Given by: Team Zombillies)
Best Single Scare Delivered to Entire Group (Given by: Team Zombillies)
Most Intense Characters (Given by: Team Zombillies)
Memorable Moment (Given by: Team Zombillies)
Actor Shout Out Award - Daphne the Plumber (Given by: Team Zombillies)
Actor Shout Out Award - DK (Given by: Team Zombillies)
Actor Shout Out Award - Dr. Vig (Given by: Team Zombillies)
---