Find Reviews for a Haunt near You! Find Reviews for a Haunt near You!
Find Reviews for a Haunt near You!
The Dent Schoolhouse
5963 Harrison Ave, Cincinnati, OH 45248View All Details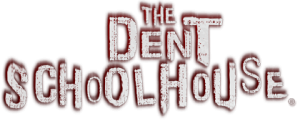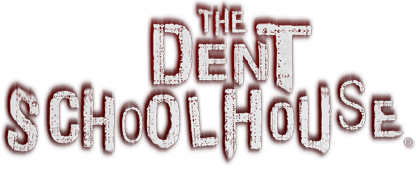 Features:
Free Parking, Restrooms On-Site, Food/Concessions, Gift Shop/Souvenirs, "Hi-Tech" Attraction, Original Characters, Uncovered Outdoor Waiting Line, Indoor/Outdoor Attraction
Team Zombillies reviewed this attraction on September 27, 2014.
Final Score:

9.67
Summary:
The Dent Schoolhouse is nationally recognized as one of America's top haunts… and for good reason. It's debatably one of the scariest haunts in Ohio! With some of the most detailed costuming, scenes and props in our review territory, it's also one of the most realistic. That's partially due to the fact that it's actually located in a creepy, old schoolhouse to boot! Dent's main theme is, of course, it's schoolhouse… which is based on the supposedly-true story about the school's janitor ("Charlie") who lives in the basement and abducts children that misbehave. Their other attraction, the Queen City Slaughter Yard, is a swine-based, slaughter house-themed haunt that might grind up the occasional human too! Think you can graduate with an "A" or, at least your life?! Then make sure the Dent Schoolhouse is on your list of must-see attractions for the 2014 haunt season… oh yeah, and "don't be late for class!"
---
Cast:

9.64
Around 45 to 50 actors fill the attractions at Dent pretty well for the most part. During our walk through the Schoolhouse, the cast were found using various types of theme-related dialogue such as "You're late for class" and "No students allowed," which increased their believability. Some of them even made references to their scenes that helped us understand their purposes in their relative locations. A few of them were verbally interactive with our group, especially those in the Slaughter Yard attraction. As if their chainsaws didn't get us going enough as it was, they made us oink, asked if we wanted to "become one with the earth," called us "piggies," and made several other threads to keep us "entertained" as we made our way through! Each of the actors in both attractions stayed in character and enhanced each of their themes with excellence.
---
Costuming:

9.88
This awesome score says it all, but we'll go ahead and elaborate anyway. One of the owners informed us that they went through their entire wardrobe this season and re-created every one of them (75 outfits total)! Several of them are very unique and original designs that we've never seen at any other attractions! Among these are "Charlie" (Dent's iconic janitor), the football player, and the Librarian. The guy in the shower room looked like he'd been in there so long, he actually started GETTING pimples! (We don't recommend drinking the water in this area… his sores were starting to ooze some pretty gnarly stuff!) Masks were used in each of the attractions, however a higher ratio of them were noticed in the Slaughter Yard than in the Schoolhouse. Their masks of choice all appeared to be of top-shelf quality and helped make the actors appear more genuine or intimidating, depending on the character. The occasional chest piece and gut pile was also incorporated into a few of the costumes for even more realism!
---
Customer Service:

9.86
The multiple hearses that surrounded the building just screamed one of two things to us: either this was one STRANGE funeral home, or we're at a haunted house! The signage confirmed that we were, in fact, at The Dent Schoolhouse. We can assure you… plenty of dead bodies were still found inside! A plethora of different shacks and tents are dotted around the main building. You can purchase glowing/lighted items to take through the haunts with you, photos, shirts and other articles of clothing, concessions and, of course, your tickets. Keep in mind that Fast Pass ticket buyers will need to go to a separate shack from the regular ticket booth. Plenty of friendly staff members and a few monsters roam the queue areas while local police officials stop traffic for customers who need to cross the busy road in front of the haunt. Furthermore, silver screens displaying various Schoolhouse and Slaughter Yard videos adorn the respective queue areas to help customers pass the time while they wait. Plenty of exit signs were noticed throughout each of our tours, gravel queue areas made for mess-free walking, and very few dangerous hazards were noticed in the attractions… except for the chainsaws, axes, etc. that almost added our team to their list of victims.
---
Atmosphere:

9.5
We picked off Dent's two-story, red brick building from quite a ways away, which gave off a pretty creepy feel even though there was still quite a bit of daylight left. The flashing lights from the school bus, multiple hearses near the road, boarded up windows, and strobe lights emitted from the upper story let us know that THIS school's faculty we're probably not teaching their "students" educational lessons. This feeling was reinforced by the Halloween-related music and roaming actors that were keeping customers on their toes while they waited to enroll! A giant pig head near the queue entrance for the Queen City Slaughter Yard and the sounds of chainsaws and squealing pigs gave us the impression that we would experience imminent danger if we entered… so, of course, we did!
---
Special Effects:

9.78
The Dent Schoolhouse sports phenomenal detail all throughout its demented halls and classrooms! With loads of dust and cobwebs coating many of the other props and decorations that we noticed, it's safe to say that Dent's detailing crew are some of the finest we've seen to date! An endless hallway, realistic furnace, tied-up children, missing person posters, vehicles, giant creatures and other evidence of Charlie's handiwork are just a few of the special effects that we noticed during our tour of the Schoolhouse! Some excellent lighting techniques, including strobes, projections, and flickering lights, further enhanced the realism and believability of the scenes. But their attention to detail doesn't just stop as far as the eye can see. Eerie sound effects flooded each of the scenes and, not only did they intensify the scenes, they were loud enough that we had a hard time telling what was going on in the other rooms around us (so we never knew what was coming)! The Queen City Slaughter Yard isn't detailed as thoroughly as the Schoolhouse. That's because it's intended for you to run through instead of slowly walking around and looking at everything. Don't get us wrong though; there are still quite a few good props hanging around that you're sure to run into and some creepy sound effects to be heard (besides the chainsaws). The lights in the Slaughter Yard periodically dim to make your experience just a bit more disorienting and even some rather pungent smells were noticed near the end of the attraction! All in all, both of the attractions at Dent exhibited exquisite usage of special effects in manners that enhanced their themes and increased their respective levels of realism… in other words, they were pretty darn good!
---
Theme:

9.86
If you aren't familiar with the story behind The Dent Schoolhouse, you can find it on their website. It's said that this grisly story is true! The folks at Dent sum it up pretty well, so here's an excerpt from their Facebook page:
The Dent Schoolhouse takes place in a schoolhouse that was built back in 1896 and contains a gruesome legend… The Janitor of the school, Charlie McFree is said to have killed a large number of the student body over a period of 10-20 years. Hiding their bodies within the basement, the smell became to much and alerted the town of Dent… discovery of the hellish scene has made a permanent residence in the basement. The building is said to be haunted by both the lost children… and The Janitor!
During your visit, you can expect to run into him, AT LEAST once! Both of the attractions followed their themes very well and our continued run-ins with Charlie kept the gruesome history of the building alive throughout our entire tour! The Queen City Slaughter Yard is based on the concept of a real slaughter house with pig corpses adorning some of the scenes and the sounds of squealing swine filling the air! Only THESE butchers use chainsaws and customer meat is in high demand these days! Don't say you weren't warned.
---
Fright Effect:

9.35
As soon as we entered the school's hellish playground, we became fair game! The first thing they did was instantly throw an effective distraction at us! Frights were delivered to our group on many different levels. Some of them included intimidating dialogue, displays of disfigurement, flaring tempers, numerous chainsaw confrontations, deafening surprises, and violent demonstrations of the end results of falling victim to the Schoolhouse's faculty! Effective distraction techniques were utilized multiple times, showing that these guys have plenty of experience under their belts! Several props and effects were even used as distractions for other props and effects, which we don't see very often! We went in as one group and, even though our group eventually turned into a "congo line," the staff and effects at Dent continued to target and deliver scares to everyone! Some very good hiding spots, unexpected encounters, and even scares drawn purely from the actors' expertise delivered startles to our group and kept us on our toes the entire way through! The Dent Schoolhouse is one of those haunts where they deliver frights from all different directions, making the scares a bit more difficult to predict. There's not much of a way to know what to expect next! Just when you think something isn't real… you're probably wrong! During your visit, be prepared to see some of the torturous things that take place within this school, such as caged victims and a very high "body count." You might even catch Charlie in the act!
---
Value:

9.5
Regular admission is $20.00 and includes both attractions*. Fast Pass admission tickets can be purchased for $30.00, which will allow you to enter the faster line, while front-of-the-line admission can be purchased for $40.00. If you plan on paying when you get there, they accept cash only (an ATM is located on-site). It took our group approximately 16 minutes to slip away from the Janitor's grasp and another 6 to escape from being butchered, giving us a combined total of 22 minutes. When evaluating the length and the price together, this value ends up at a little over 1 minute of entertainment per dollar spent, which is about average. However, this higher score is the result of the punches that Dent gives in the other categories. When considering the extreme detail, over-the-top animations, and powerful acting that can be found here, this value is one that is definitely hard to beat! Be sure to check out their site for other event prices, such as their "Lights Off" event, ghost tours, and group rates! If you are ready to see some top-notch acting, spectacular special effects, and witness the grisly past of this old building, then be sure to add The Dent Schoolhouse to your must-see haunt list for the 2014 Halloween season!
*These attractions have been scored together in each category, considering they are both included in the same price.
---
Promo Images:
Click to Enlarge