Find Reviews for a Haunt near You! Find Reviews for a Haunt near You!
Find Reviews for a Haunt near You!
The Dungeon Haunted Attraction
202 Felicia Drive, Cincinnati, OH 45238View All Details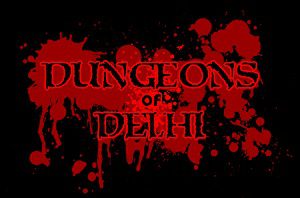 Team Zombillies reviewed this attraction on September 27, 2014.
Final Score:

8.73
Summary:
2014 is Dungeons of Delhi's "Year of the Unknown" as well as their 21st year in operation! You never know what will be waiting for you around the next corner, so "beware of the curse" as well while you make your way through these twisting, dark passageways. Dungeons of Delhi is an old-school haunt that uses creativity, distractions, and other classic techniques to keep customers running! If you're looking for a wallet-friendly attraction that supports a local charity and still gives some good scares, then head on down to Dungeons of Delhi for one of the best-valued attractions in Cincinnati!
---
Cast:

8.6
Around 45 to 50 volunteer actors fill the Dungeons' various scenes pretty nicely for the most part. A few small "dead spaces" were encountered, but the screams and threats from the actors normally carried through to fill the voids. The first actor (Madd Matt) clued us in to the theme, had excellent dialogue, and was both physically and verbally interactive with our group! Equally as believable was the teacher, Mrs. Killburn, who also used scene-related dialogue. Several of the other actors were believable as well, such as the Butcher, the clowns, many of the various victims, and the Queen from the Alice in Wonderland scene. Actor-to-actor interaction was noticed in a few a areas and each of them seemed to stay in character through most of our tour. However, some of their dialogue could use some tweaking to make the overall theme more apparent.
---
Costuming:

8.83
Some original costumes can be found at Dungeons of Delhi. From an eraser-impaled eye, a crow pecking on a victim, and playing cards stuck in a face, their costumes are just as unpredictable as their actors! While not all of Dungeons' costumes are as elaborate as others that we've seen, each of them match their scenes very well and seemed appropriate for the characters wearing them. The two fairies, the Queen of Hearts, and the scarecrow were interesting-looking, although the fairies weren't exactly the pretty kind. Several masks and prosthetics were noticed during our tour of the Dungeons as well and enhanced the looks of the characters nicely.
---
Customer Service:

8.9
Dungeons of Delhi is pretty simple to find. A large banner hanging on the side of the building let us know we had arrived! This sign is also where you can find plenty of well-lit and free parking! Helpful staff can be found inside the ticket booth, near the queue line of the attraction, or at the entrance of the attraction in case any questions are to arise. A very angry actor and a terrified escapee appeared from within the Dungeons to entertain the crowd during our wait. We're sure you'll see more characters roaming about as they start to get busier. Inside the attraction, most of the steps are lit and marked with fluorescent paint, but a few uneven floors were encountered (some were intentional) and stairs so just be sure to watch your step!
---
Atmosphere:

8.9
Several paintings on the exterior of the building let us know we were at a haunted house. After combining those with the eerie music and various Halloween décor in front of the building, we knew we were about to get ourselves into something fun! (We wanted to note that the haunt's hearse is normally out front as well, however it was recently vandalized and has been removed.) This atmosphere quickly changed from Halloween fun to "uh oh, what have we gotten ourselves into", when a crazed man appeared from within the building equipped with a screaming chainsaw! He came out chasing a female who he eventually captured, threw over his shoulder, and disappeared inside with! This increased our anticipation to enter, and we are pretty sure it got everyone else in line ready to go in as well! Except for those who are frightened by it and become too scared to enter!
---
Special Effects:

8.3
The crew at Dungeons of Delhi create a lot of their own special effects and even though they didn't have much of a budget to work with this season, they managed to make the best out of what they had! They also consider themselves an old-school attraction, so you won't see a lot of large, expensive props here, but what you will see is this crew's creativity. Sound effects were heard in the majority of the scenes and some of them were so suspenseful and strange that they left our skin crawling! Some of the walls were covered with bloody handprints, skin, and crazed words that we were told not to read! Some of the effects that can be found within these dungeons include flashing lights, a moving hallway, a mind-warping tunnel, a large cage, a giant throne, an electric chair, and much more!
---
Theme:

8.9
The theme at Dungeons of Delhi for 2014 is "the year of the unknown." As soon as we entered, we were interactively greeted by a lunatic who warned us of a plague that had taken over at least half of the attraction and was making the inhabitants crazier than they normally are! Boy was he right! Everyone and everything we came face-to-face with seemed like they needed to be locked up in a cage somewhere! Some of the characters reiterated this theme very well, along with some of the scenes, referring to a curse and the plague. It was obvious that something had overcome these residents considering how we came across rabid fairies, a demented cornfield, a twisted version of Alice in Wonderland, a medical nightmare, a berserk butcher, walls covered in senseless writing, and a girl who went into panic mode because we wouldn't give her any of our skin!
---
Fright Effect:

8.03
Various fright techniques were used at Dungeons of Delhi from sudden noises and gusts of air to intense characters, menacing dialogue, and a frightening chainsaw attack that also involved a confrontation with a burly werewolf at the same time! A few good hiding spots caught our group off-guard, and one dark entity in particular effectively did this more than once! A notable distraction was even used, sending our group jumping into the air! The crew also gave it their best attempt to target everyone in our group, and made us feel uneasy on several occasions while they continued to creepily stalk us! Another encounter that surprised us the most involved a dizzying vortex tunnel, but you will need to visit the Dungeons to see what we are talking about since we don't want to ruin the surprise! All we have to say is that whatever this "curse" is that has taken over half of those residing within the Dungeons has made them more sinister than ever! One of them even threatened to hang us from IV bags and cut our limbs off! So watch out!
---
Value:

9.4
General admission to explore the Dungeons is $10.00 per victim, but they may also try to con you out of your skin, body parts, or even some of your organs too while you're in there! We suggest you don't listen to them though, because you DO need these things to make it out alive! You can also receive $2.00 off for donating canned goods. If you just can't get enough of the curse inside, a $5.00 same night re-entry option is available! Our group spent around 20 minutes navigating the Dungeons, while trying our best to stay away from the plague! This puts this value at 2 minutes of entertainment per dollar spent WITHOUT any discounts, making this one the best deals we've come across this season! During our visit they kept us entertained throughout the entire building, while providing some scares, so we suggest that anyone who is looking for some good ol' Halloween fun to pay these guys a visit! Since this is a charity attraction, your money will go towards supporting the Anderson Ferry Food Bank and the Delhi Police Explorers! Remember to stay away from the curse during your visit… even though "you're all going to die" anyway!
---
Promo Images:
Click to Enlarge
Guest ReviewsGuest Average: 10 out of 10
Riley – 10/10This place is crazy,with myself serving in the United States Marines I am a very rough and tough guy …show more and I got scared a lot through out this haunt there was a lot of jump scares and animations through it I loved it 10/10
---
2014 Awards
Actor Shout Out Award - Mad Hatter (Given by: Team Zombillies)
Actor Shout Out Award - Madd Matt (Given by: Team Zombillies)
Actor Shout Out Award - Mrs. Killburn (Given by: Team Zombillies)
---
2013 Awards
Memorable Moment - Zendar (Given by: Team Zombillies)
Best Zombies (Given by: Team Zombillies)
Actor Shout Out Award - NewBlood (Given by: Team Zombillies)
Actor Shout Out Award - Psycho (Given by: Team Zombillies)
Actor Shout Out Award - Warlox (Given by: Team Zombillies)
---
2012 Awards
Actor Shout Out Award - Igor (Given by: Team Zombillies)
Actor Shout Out Award - Newblood (Given by: Team Zombillies)
Actor Shout Out Award - The Dark Lord (Given by: Team Zombillies)
---