Find Reviews for a Haunt near You! Find Reviews for a Haunt near You!
Find Reviews for a Haunt near You!
Dead Acres Haunted Hoochie
13861 E. Broad Street, Pataskala, OH 43062View All Details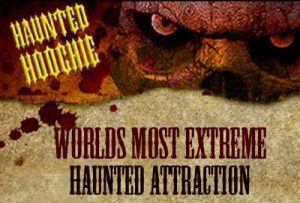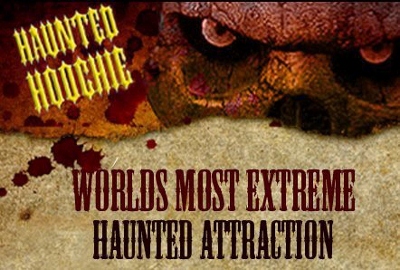 Features:
Restrooms On-Site, Food/Concessions, Gift Shop/Souvenirs, "Hi-Tech" Attraction, "Extreme" Attraction, You may be touched, Original Characters, Uncovered Outdoor Waiting Line, Indoor/Outdoor Attraction
Team Zombillies reviewed this attraction on October 2, 2014.
Final Score:

9.67
Summary:
After 24 years of terrorizing Pataskala, Ohio, The Haunted Hoochie is "even more obscene in 2014!" As a forewarning, Dead Acres is an extreme, vulgar, haunted attraction. Signs are displayed in multiple places that warn patrons that this haunt is not recommended for ANYONE. Their goal is to scare you and they do it very well by using nearly any means necessary, including touching you. If you are easily offended, then the Hoochie may not be the place to go. All of that being said, Dead Acres has been drawing customers from across the globe for many years… inflicting their "brutal horror" on each of them as they dare to walk the paths of the Haunted Hoochie and Bad Trip in 3D. Many go in, but few come out unscathed! Think you have what it takes to harness the Hoochie? We'd like to see you try!
---
Cast:

9.4
The actors at The Hoochie pride themselves with invading customers' personal "bubbles" from start to finish and showing off their brutal acts of torture and violence right before your eyes! Actor-on-actor violence was noted in multiple places throughout the Hoochie as they allowed us to witness a decapitation and other types of sinister slaughters with blatant disregard for our mental soundness! On that same note, many of the other actors worked directly with their scenes and props to make their characters and roles much more believable and realistic. Hoochie-related dialogue was heard throughout the haunt as well, just to make sure we didn't forget where we were and to keep us fired up about our experience! The actors in Bad Trip were more scarcely-seen than in the Hoochie, although they did still work with their scenes and other actors to make our 3D tour quite a bit more "trippy." A few of the most energetic and believable actors that we crossed paths with were the preacher, the grave keeper, the prisoners, the suicide victim, some of the many chainsaw assailants, and the demonic nuns.
---
Costuming:

9.65
While a plethora of different characters can be found at The Hoochie, they all still share the haunt's iconic "look." From the soldiers in the new "Armageddon" scene and the prisoners in the jail area to the preacher, his nuns, and the various hillbillies dotted throughout the haunt, each of them sport similar nasty, grungy, demonic, just-rolled-around-in-the-dirt details. A few more-elaborate creature suits were found during our tour that matched their appropriate scenes well and the occasional mask helped diversify the characters even further. Colored contacts gave the characters wearing them a crazier, satanic touch and ample amounts of blood made their victimizations much more realistic and believable! Most of the characters in the 3D haunt consisted of clowns due to the haunt's fluorescently-painted, 3D artwork and scenes. While clowns in general can be found in many attractions, Dead Acres definitely has their own brand of them in Bad Trip, so don't forget to check them out as well!
---
Customer Service:

9.6
On our way to Dead Acres, we noticed a sign at an intersection that let us know we were getting close and a smaller sign by the road showed us where to pull in once we got there. Plenty of parking was available in a large, well-lit, grassy area for $3 per vehicle, so keep some cash on hand. Bring extra so you can pick up some Haunted Hoochie souvenirs and apparel, including cups, stickers, t-shirts, hoodies, tank tops, etc. A glow-item booth was located in the queue area during our visit where you can pick up a source of light to bring through the haunts with you. Several roaming actors kept the crowd entertained, bands keep the Hoochie rockin' on select nights, and a movie was playing to help pass the time while waiting in line. Lastly, several picnic tables were located near the exits so you can take a break from running for your life… that is, IF you make it through!
---
Atmosphere:

9.86
Tons of warning signs with clues that this is NOT a family-friendly attraction are hanging everywhere and may leave you thinking twice about entering either of these attractions! While waiting in line, classic country was escaping from within the Hoochie, however once we actually entered, the music was not that easy-listening anymore! All of the décor outside including their signature fire-breathing demon, flames sky-rocketing out of their silos, giant creature that's hiding in the rafters of the barn, large demon statues near the stage, and the multiple roaming characters gave us plenty to look at and increased our anticipation to enter!
---
Special Effects:

9.88
Many original special effects can be encountered at Dead Acres as well as a lot of distinctive eye-candy! You could go through these attractions over and over again, and still not see everything due to the 'exquisite' detail in the majority of the scenes! Some of these scenes included a junkyard, a graveyard, a church, and their new warzone area complete with a helicopter, machine guns, and the sound of "War Pigs!" Sound effects and real sounds were heard everywhere along with extremely loud music which made it harder to hear the mechanical parts of some of the larger effects that commonly give them away! Some of the effects were used as distractions so the characters could provide startles to our group. Other special effects that can be found at Dead Acres include convulsing coffins, heaps of chainsaws, multiple actor-matronics (actor-driven effects), a burning hallway, dead bodies hanging from the ceilings, sparking weapons, effective strobe lights, spitting snakes, a resurrected T-Rex, a creaking tree house, a bellowing horse, a flying reaper, a very hot surprise, a ghostly demon, a ginormous eyeball, man-eating plants, dizzying tunnels, bubbles, and… we could just go on and on!
---
Theme:

9.8
Be ready to become a victimized bystander of the Hoochie's "brutal horror" as they are "even more obscene in 2014!" This theme was apparent due to the vulgarity and acts of violence that our group witnessed during our visit. So far, we have only been to one attraction that really aims to "make you sick" and these guys pull it off without prejudice! Just in case we forgot where we were because of all of the traumatizing scenes, they interactively reminded us that we were at the Haunted Hoochie several times! In Bad Trip in 3D you will feast your eyes on some of the most intoxicating and vibrant three-dimensional effects we have seen to date! It seemed like we'd entered a fun house on acid! Dead Acres' location also helps make this theme more sinister since it's isolated on a farm just outside of town and nothing else is very close by… no one will hear you plead for help after you step foot inside!
---
Fright Effect:

9.7
Deafening sound effects, tons of great hiding spots, stacks of chainsaw ambushes, sparking chainsaws, secret passages, and getting touched or even grabbed in some of the scenes were just some of the things that made for an overall intense and demanding environment inside the Haunted Hoochie! The cast at Dead Acres literally came out of the woodwork quite often, which made it impossible for us to predict many of the predicaments they threw at us! They also delivered scares from all directions and multiple onslaughts at the same time, which had us wanting to walk around in circles not knowing whether to sh!t or go blind! Great distractions were encountered which added to the madness, including a few from the special effects. On one particular occasion, we noticed an effect that provided a distraction for another effect! Everyone in our group was targeted the entire way through, which made for an even more entertaining experience! It doesn't get much better than watching a group member in front of you jump to then have the same thing target and startle you too! This group also threw many other types of frights at us by whispering in our ears, trying to knock cars on top of us, trying to run us over, decapitating their victims, cutting their victims in half, and by trying to feed us to several of their giant pets. One clown even took on our group members by surprise by pushing them into another's grasp so they could tickle them! Sounds cheesy, but it worked because it was different and we didn't expect it. Don't let your guard down because THAT'S when they will strike!
---
Value:

9.5
General admission including both Bad Trip in 3D and the Haunted Hoochie will cost you $25.00 and possibly some or all of your sanity as well! VIP can be purchased for $40.00 and allows you to expose yourself to mentally disturbing situations much quicker than if you stand in the regular line! Our group faced 24 minutes of brutal treatment in the Hoochie and another 6 in Bad Trip for a combined 26 minutes of entertainment! That puts this value at right over 1 minute of entertainment per dollar spent, and when combined with the intense show that surrounds you, this is one SICK deal… literally! Parking is $3.00 dollars per carload so make sure you have cash on-hand. If you are looking for a heart-pounding, action-packed, extreme haunted house experience where you may even get man-handled, then The Haunted Hoochie is where you need to be! Even their website reads "Warning: may not be suitable for immature audiences OR for mature audiences!"
---
Promo Images:
Click to Enlarge