Find Reviews for a Haunt near You! Find Reviews for a Haunt near You!
Find Reviews for a Haunt near You!
Haunted Hills Hospital
4700 Central Ave, Lake Station, IN 46405View All Details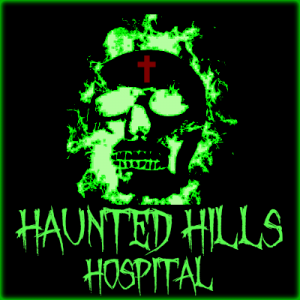 Features:
Free Parking, Paid Parking, Food/Concessions, Gift Shop/Souvenirs, Special Events, You will NOT be touched, Original Characters, All-Indoor Attraction
Team Zombillies reviewed this attraction on October 11, 2014.
Final Score:

8.42
Summary:
Our team had the pleasure of visiting Haunted Hills Hospital this season and, we must say, we were quite surprised to see the level of enthusiasm that we did for a haunt of this caliber! What looks like a cool yard haunt at first glance is actually a small town and an insane asylum! Make your way through the businesses and residences to the hospital, where you must then "stick together and try not to die!" Think you can do it? Then give Haunted Hills Hospital a visit. Just remember… don't touch the patients!
---
Cast:

8.02
Between 40 and 50 volunteer crazy cast members helped make Haunted Hills' theme of psychotic asylum patients quite obvious to our review group! This cast goes through several actor trainings prior to opening night to make sure they are familiar with their roles. Although many of them had very similar dialogue, their distressed cries of anger and pleas for help made their characters very believable. Debatably, the creepiest of them all that we saw during our visit was the one with crutches that were attached to their arms. The doctor, however, gave us an incredibly violent and high-energy performance with barbaric procedures that we won't soon forget! But don't be alarmed. He told us that he does ALL of these procedures free of charge for ANYONE… including walk-ins!
---
Costuming:

9.15
A few of the costumes that we saw at Haunted Hills Hospital were quite original. Nearly all of them matched their respective scenes, and some of them were so realistic that they had us questioning if they were truly just costumes! Many masks were noticed and consisted of ones that appeared to be custom, silicone pieces; one even peeled away, exposing the victim's facial muscles! Those and the makeup applications seemed to be of good quality and each of them enhanced the originality and/or believability of the characters wearing them. Makeup is applied by three to four artists a night who use traditional techniques as well as some prosthetics and air brushing to add finishing touches to these characters. Some of the most memorable costumes that we noticed during our visit were worn by the doctor, the queue actors, the stuffed animals, the butchers, and some of the patients in the rec room.
---
Customer Service:

9.53
10 to 15 volunteer staff members run the concessions, sell tickets, and provide maintenance for Haunted Hills Hospital. A small sign, a banner, and multiple flaggers let us know we had arrived and directed us to the free parking area that was available across the street from the attraction. The ticket booth was extremely easy for us to find due to the flashing amber lights on top of it and the TV displaying information about the attraction! A concession stand was located on site that also offered haunt t-shirts, so be sure to check those out! Plenty of actors were roaming about entertaining the crowd during our visit to help pass the time as we waited in line. A tent can be found at the end of the attraction offering multiple carnival-style games where you can win multiple prizes for an extra fee. This attraction contains uneven terrain so be sure to watch your step as you navigate the town! Friendly staff members were located in the areas mentioned above, and will happily assist you if any questions or concerns are to arise.
---
Atmosphere:

8.5
Hard rock music echoing down the street and multiple, colored lights let us know that we were probably in the right place. As we walked under a large sign displaying: The Haunted Hills Hospital, we were shot at from a watch tower as the gunmen welcomed us to "Hell!" The attraction does appear to be located at someone's home in a suburban neighborhood. However, spooky décor, a covered portion of the queue line, and tiki torch flames helped set the mood of a haunted house. As we waited our turn to enter, several eager-to-entertain, roaming characters held our attention as well as a chainsaw assailant that was attacking unsuspecting victims! These highly-energized characters did their best to entertain everyone while we waited, and really aided in preparing us to enter the Haunted Hills Hospital!
---
Special Effects:

7.75
The staff at Haunted Hills attempt to build as many of the effects that they can themselves, but some of the harder-to-find items have been purchased and modified to better suit their needs! With that being said, there were some one-of-a-kind pieces that we noticed here that you probably won't see anywhere else! Skin-crawling sound effects added extra creepiness to some of the scenes, such as the eerie hymns and sounds that were accompanying the toy area. An array of the characters worked very well with the special effects in their corresponding scenes and increased their overall effectiveness! Some of the special effects that we observed during our journey include a coffin-shaped doorway, poppers, sparks, a spinning Ferris wheel, a laser tunnel, freshly-cut body parts, power tools, and solitary confinement cells.
---
Theme:

8.7
As soon as we stepped foot in the first room of the attraction, a unique combination of the haunt's theme and rules were introduced to us by a ghostly voice! The concept of Haunted Hills Hospital is that you are traveling through the town of Hills Hallow, which was created just for the insane asylum. The patients broke out of the asylum, and have now taken over the town! You will travel through this insanely-infested community, as well as the actual asylum too! The recording explained not to touch the patients, for as long as we didn't, they would think we were simply part of their psychosis and not believe we were actually there. However, if we DID touch them, it would make them realize that we were REAL and cause them to act uncontrollably violent and angry towards us! Multiple times throughout the attraction the patients reiterated this, warning us of what would happen if we touched them, and by showing their additional abnormal behaviors!
---
Fright Effect:

7.67
Numerous fright techniques were used towards our group, from menacing stares, misdirection, and sneaky followers to threatening dialogue, and even acts of violence and torture! These patients proved to us rather quickly that they were, in fact, crazy; we suggest you keep your distance, and definitely don't touch them under any circumstances! The loonies we encountered during our visit focused their attention on everyone in our group, and they even caught us off-guard on several occasions by using sly distractions! They also chased us with a chainsaw, threatened us with a bloody 2×4, and the doctor offered to perform his special acne-removal treatment on us! The hospital itself was so intense and hectic that we were relieved when only a few of the patients acknowledged our presence!
---
Value:

8.07
General admission to visit the crazy town and patients that make up the Haunted Hills Hospital will only cost you a donation of $5.00! Fast Pass admission is also available, allowing you to skip the main waiting line for $10.00. It took our group around 13 minutes to safely make our way through the turmoil, giving the average customer 2.6 minutes of entertainment per dollar spent! This is the cheapest admission price we've come across all season! The time you spend trying to break away from these crazies may vary, depending on if they catch you or how fast you might run! A portion of the proceeds will go to St. Jude and Gabriel's Horn Women's Shelter! If you are looking for some energetic and spooky Halloween entertainment for a low price, then be sure check out Haunted Hills Hospital, but watch out, they might just admit you while you're there!
---
Promo Images:
Click to Enlarge
Guest ReviewsGuest Average: 9.75 out of 10
Corey Gensimore – 10/10This is probably the most craziest and scariest haunt I have EVER been to.
---
2016 Awards
Actor Shout Out Award - Dr. Cropsey (Given by: Team Zombillies)
Actor Shout Out Award - Dr. Faust (Given by: Team Zombillies)
Actor Shout Out Award - Rabbit (Given by: Team Zombillies)
---
2015 Awards
Most Improved Attraction (Given by: Team Zombillies)
Actor Shout Out Award - Dr. Cropsey (Given by: Team Zombillies)
Actor Shout Out Award - Jinx (Given by: Team Zombillies)
---
2014 Awards
Memorable Moment (Given by: Team Zombillies)
Actor Shout Out Award - Doctor Cropsey (Given by: Team Zombillies)
---