Find Reviews for a Haunt near You! Find Reviews for a Haunt near You!
Find Reviews for a Haunt near You!
Frightmares IN
688 NW A Street, Linton, IN 47441View All Details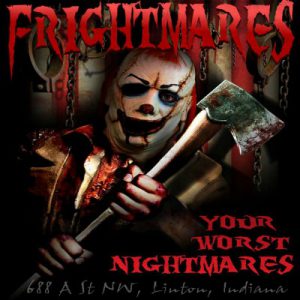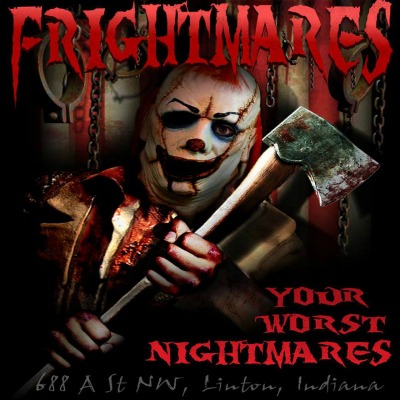 Features:
Free Parking, Restrooms On-Site, Food/Concessions, "Old-School" (Low Tech), You will NOT be touched, Original Characters, Indoor/Outdoor Waiting Line, Indoor/Outdoor Attraction, Family Friendly
Team Zombillies reviewed this attraction on October 3, 2014.
Final Score:

7.98
Summary:
Frightmares Haunted House brings you "Manchester Manor" for their 4th year running this 2014 haunt season! Wander the property in search of Marvin Manchester after his strange disappearance… will YOU be successful in finding him? Or will you become yet another victim of the mysterious happenings at the Manor? Find out for yourself at Frightmares Haunted House in Linton, Indiana!
---
Cast:

7.8
Around 45 actors filled the hallways of Manchester Manor during our visit, which seemed to keep the action spaced out pretty evenly for the most part. A few of the actors were clearly seasoned veterans due to their energetic, believable performances and interactive dialogue! From an intimidating chainsaw attacker to a paranormal psychic, you never know what's going to be waiting for you around the next corner! The undertaker, Madam Rue, the cook, the girl in the bathroom, and the guy in the dot room were among the most believable due to their dialogue and interaction with our group.
---
Costuming:

7.9
Lots of unique costumes and characters can be found at Frightmares this year! Many of the costumes varied by level of detail and elaboration and mixture of masks and makeup were found throughout the haunt. Some of the characters that we crossed paths with included a HAZMAT technician, a well-camouflaged creature, "Gramps," a clown, a mourning mother, a cook, the librarian, and many more! Most of the characters fit their scenes well, although a few of them left us scratching our heads, wondering "why was that in there?" We found out later that this was intentional due to the theme for this year.
---
Customer Service:

8.7
When traveling from East to West, slow down once you see signs for Southern Indiana Workwear. In fact, you can even park there if spaces are limited at Frightmares. Look for the hearses parked next to the main road, the Frightmares sign lined with color-changing lights, and several Halloween-themed inflatables near the building! This haunt now offers an indoor queue area with a TV and the occasional queue actor to help keep customers entertained while they wait. You'll find concessions and souvenirs in this area as well. Portions of this attraction are outdoors and you'll have to negotiate a few sets of stairs and ramps throughout your tour. However, each of them were adequately-lit and we had no issues with slipping or mud even though it had just been raining before our arrival!
---
Atmosphere:

7.5
Multiple hearses by the road instantly let us know we'd reached our destination! The Halloween-related inflatables and the new graveyard scene by the ticket booth reinforced the fact that we were at a haunted house. The occasional chainsaw and screams from other groups could be heard echoing from the depths of the property and a roaming queue actor helped get us ready to start our tour! However, no other sounds or building decorations were noticed from the ticket booth area that would've otherwise prepared us for what we were about to experience.
---
Special Effects:

8.37
Several original and unique special effects were noticed during our tour of Frightmares! A few sound tracks were heard in places, although most of the sounds were real ones, like screams, banging objects, a loud horn and a chainsaw! A unique usage of sparks, a shifting hall and a possessed table were among the most effective. Other effects include gallows, extremely-thick fog, strobe lights, scented, toxic gas, a creepy, talking puppet, a claustrophobic passageway, a 3D area, and more that you'll just have to see for yourself!
---
Theme:

7
The 2014 season brings an entirely-new theme to Frightmares… and that is "Manchester Manor!" So the story goes, Marvin Manchester owned the house in 1924 until he suddenly disappeared. When his staff and neighbors were questioned, all that was reportedly seen was a bunch of bright colors. As mysterious as it all sounds, you've been charged with aiding in the search for Marvin! Examine the exterior, hunt through the hallways and bust through the basement to help find Marvin! During our tour of the haunt, we found several areas that would typically be associated with an old Manor, including a library, living room, dining room/kitchen, bathroom, and even a funeral visitation scene! The gallows and the funeral scene definitely helped authenticate the time period that's intended for the theme. After our search concluded, we felt as if there were some loose ends that needed to be tied up, but this is intentional. That being said, we will definitely be returning next year to see how the plot thickens!
---
Fright Effect:

7.8
Different types of scare techniques were used at Frightmares from misdirection, sudden startles, and a chainsaw chase to a run-in with toxic gases, good hiding spots, and an unexpected encounter in the gallows! Several notable distractions were used to catch our group off-guard, as well as sudden blasts of air and things that moved or fell that shouldn't! They also split our group up right off the bat, which gave several of us an overall feeling of uneasiness. Everyone in our group was targeted at least once, but it seemed that they went for the front of our group more often than the rest. We also summoned some spirits with Madam Rue, but according to her, "they [weren't] the welcome kind!"
---
Value:

8.8
Frightmares continues to have one of the cheapest general admission prices out of all of the attractions we visit at $8.00 per adult and $6.00 for kids! It took our group roughly 20 minutes to escape the demons that had been summoned up inside the Manor putting this value at 2.5 minutes of entertainment per dollar spent! The amount of time you spend inside the attraction will depend on how fast you run or on how long it takes you to find your way out of several areas… that is IF you do at all! If you are looking for a fun, haunted house experience that won't break your bank, then be sure to visit Frightmares this season and try your luck at solving the mystery to Marvin Manchester's disappearance. But beware, it's not as easy as it sounds!
---
Have you visited this attraction?
---
2016 Awards
Actor Shout Out Award - Eyeless Lady (Given by: Team Zombillies)
---
2015 Awards
Actor Shout Out Award - "The Gorilla" (Given by: Team Zombillies)
Actor Shout Out Award - Madam Rue (Given by: Team Zombillies)
---
2014 Awards
Actor Shout Out Award - Dot Guy (Given by: Team Zombillies)
Actor Shout Out Award - Madam Rue (Given by: Team Zombillies)
---