Find Reviews for a Haunt near You! Find Reviews for a Haunt near You!
Find Reviews for a Haunt near You!
Shadow Asylum
949 N 10th Street, Terre Haute, IN 47807View All Details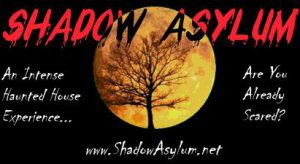 Features:
Free Parking, Gift Shop/Souvenirs, You will NOT be touched, Original Characters, Indoor Waiting Line, All-Indoor Attraction
Team Zombillies reviewed this attraction on October 3, 2014.
Final Score:

8.98
Summary:
Shadow Asylum is located in Terre Haute, Indiana and now in their 9th season of operation! There are several different activities to choose from at this attraction. The main haunt is "Shadow Asylum," which is based on a town that's been overrun with zombie-like monsters and other wicked characters that you must try to escape from! Their secondary attraction, "The Catacombs," is now in its second season and involves a pitch-black maze with evil beings that lurk around seemingly every corner! The haunt's staff reports that some groups have been lost within the darkness for over an hour and a half! Finally, face your fears in a realistic, yet fun, coffin simulator that's rightfully dubbed "The Last Ride!" Think you can escape this town alive? Think you can successfully navigate the creepy Catacombs? Then make sure Shadow Asylum is on your list of must-see haunts in the Terre Haute/Indianapolis area! To quote some of the actors, "Don't pee yourself," and "…stay alive!"
Haunt Scores:
Shadow Asylum: 8.97
The Catacombs: 8.98
---
Cast:

8.91
Quite a cast of over 85 volunteers fill the streets and buildings inside Shadow Asylum! For the length of the attractions, this number leaves monsters crawling around every corner! Very few dead spots were noticed and the ones that were there were short-lived. Most of the actors were very believable in their performances during our visit, particularly the mortician and "Imp" due to their scene-related dialogue and interactions with our group! The clowns were very energetic as well, which helped authenticate their roles and added an extra level of realism to their scene. The actors in The Catacombs used the darkness to their advantage and remained unseen and unheard… until they WANTED to be seen and heard! This was excellent usage of their surroundings and their dialogue enhanced the suspense factor of trying to navigate the pitch-black passageways.
Haunt Scores:
Shadow Asylum: 8.52
The Catacombs: 9.3
---
Costuming:

9
Lots of original costumes, as well as a few classic characters, can be found at Shadow Asylum! A mixture of masks and detailed makeup help with enhancing the actors' appearance also. Some high-quality, silicone masks and a gas mask are just some of what you're likely to see on these characters! Overall, Shadow Asylum's monsters sport some pretty good costuming throughout, although levels of elaboration varied during our tour. Among the most believable-looking were the mortician, the clowns, the ghillie suit actor, and the girl in the white dress. We ran into the characters that work inside The Catacombs before we entered since they weren't very busy, so we were able to notice that they had good costumes as well, particularly "Imp." Otherwise, it would've been difficult to tell what they looked like due to the pitch-black nature of the attraction. For that reason, we give them props because they didn't just stick poorly-dressed actors in there and rely on the dark to hide them entirely.
---
Customer Service:

9.3
We spotted a large billboard advertising Shadow Asylum and, as we got closer, we could see a large searchlight beaming into the sky! The signs, hearse, and undertaker in front of the attraction let us know we had arrived! The attraction was very easy to navigate, inside and out! The Last Ride coffin ride simulator is located in a small building in front of the attraction where you can experience being buried alive! If you decide to purchase tickets to The Catacombs, you can do so at that attraction (located at the normal exit for Shadow Asylum). Multiple queue actors wove in and out of the crowd, never passing up the chance to deliver a startle! This included a man in a dress with hair rollers in his beard who had us wondering what exactly we'd gotten ourselves into! These actors, along with several TVs helped in passing the time during our wait in line! Staff can be located at the ticket booth, in the gift shop, and at the entrance of each attraction in case any questions are to arise. Speaking of gift shop, if you love Halloween, you should bring some extra cash to this attraction if you can! They have all kinds of goodies for sale including $10.00 haunt t-shirts!
---
Atmosphere:

8.5
An originally-decorated hearse parked in front of the building instantly let us know we were at a haunted house! The haunt is located in a building that resembles an old, discarded warehouse that gives off a bit of a creepy vibe all by itself! As we approached the ticket booth, an undertaker dragging a shovel helped increase our readiness to enter! The indoor queue area contained additional characters and décor that also helped in preparing us to begin this human-eating invasion!
---
Special Effects:

8.79
Numerous creative special effects can be found at Shadow Asylum! The sound effects that we heard were realistic and matched the scenes they were used in. Scene detail was very elaborate in some areas and easily let us know what part of town we had just entered! Some of the scenes and effects that we came across include what seemed like a never-ending claustrophobic passageway, a viciously-chomping clown, tight corridors, a frightening forest, a malicious mortuary, hidden doors, and a dizzying vortex tunnel!
Haunt Scores:
Shadow Asylum: 9.02
The Catacombs: 8.55
---
Theme:

9.17
Just before entering the attraction, we noticed a news broadcasting on a television with breaking news about a city that was being overrun by man-eating creatures! Shadow Asylum has become that town and includes many things that you would expect to see in a typical town including Dave's Kitchen, Cor's Diner, a beauty shop, a bathroom, a bar, a mortuary, a control room, and more! The Catacombs represents the terror and darkness of Shadow Asylum that has created a crack in the town that seems to be a special escape route, but if you decide to venture into this crack, be prepared to feel your way out of the blackness within it while staying away from the creatures lurking inside! Some of the characters inside Shadow Asylum helped in making the theme more apparent by explaining how they didn't want to turn into "one of them", by offering us human remains, and also by victimizing other humans!
---
Fright Effect:

8.57
Each of the attractions at Shadow Asylum offered different types of frights. In Shadow Asylum the majority of the scares were targeted at the group behind us, but they still succeeded in nailing us a few times with effective distractions and some really good hiding spots! The Catacombs were very dark and eerie, and the majority of the time we couldn't see our own hands in front of our faces, which made it hard to predict what was coming at us! Other scare techniques that were used at this attraction include hopeless warnings, misdirection, creepy sound effects, tense facial expressions, threatening dialogue, claustrophobic encounters, and scenes with current victims that displayed what would happen to us if they ended up catching us too!
Haunt Scores:
Shadow Asylum: 8.64
The Catacombs: 8.5
---
Value:

9.57
General admission to enter the main attraction, Shadow Asylum is $10.00 per person. VIP tickets for this attraction are also available and grants you access to the shorter wait in line for $17.00. VIP ticket holders also get to experience an exclusive portion of the haunt! You can try your luck at escaping the Catacombs for an additional $5.00, or experience the Last Ride for $3.00. Our group spent 17 minutes trying to keep away from the human-consuming beasts in the main house, putting this attraction at 1.7 minutes of entertainment per dollar spent! It took us another 7 ½ minutes to find our way out of the Catacombs putting it at 1.5 minutes of entertainment per dollar spent, but you could literally spend hours trying to find your way out of this attraction! Both of these values are above average when compared to the other attractions we visit, making this a great deal! Their site states that discount coupons can be found at area merchants so you may want to look into that. If you are looking for a haunt that offers multiple levels of spooky entertainment, then be sure to visit Shadow Asylum this year where they warn you to "Be afraid, be very afraid! You may not survive to tell the tale…but we always welcome fresh victims. They taste like chicken!"
Haunt Scores:
Shadow Asylum: 9.6
The Catacombs: 9.54
---
Have you visited this attraction?
---
2014 Awards
Actor Shout Out Award - Imp (Given by: Team Zombillies)
---
2012 Awards
Most Atrocious Scent - Meat Locker (Given by: Team Zombillies)
Actor Shout Out Award - Queue Patient (Given by: Team Zombillies)
---