Find Reviews for a Haunt near You! Find Reviews for a Haunt near You!
Find Reviews for a Haunt near You!
Shattered Nightmares
1609 Lafayette Avenue, Terre Haute, IN 47804View All Details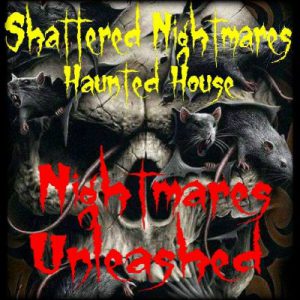 Features:
Free Parking, Restrooms On-Site, "Old-School" (Low Tech), You will NOT be touched, Movie Characters, Original Characters, Indoor Waiting Line, All-Indoor Attraction
Team Zombillies reviewed this attraction on October 3, 2014.
Final Score:

8.96
Summary:
Shattered Nightmares is in their 5th season of terrorizing Terre Haute for the 2014 Halloween haunt season! This attraction utilizes tour guides to help pace their groups, but don't let that turn you away… these guides greatly enhance the scenes by adding theme-related dialogue and a bit of misdirection to make Shattered Nightmares a one-of-a-kind haunted house experience! This attraction also continues to utilize their nightmare-based theme and several changes have been made this year, so you never know what will be waiting for you around the next corner. Greet your worst nightmares face-to-face at Shattered Nightmares… "Fear awaits!"
---
Cast:

8.68
Around 25 actors bring your fears to life at Shattered Nightmares, which seemed to be plenty. When combined with the tour guide, dead spaces with no actors were virtually eliminated! Several of the actors interacted with our group, particularly Freddy Krueger and the priest in the confessional. A few of them towered above our group, which naturally made for some intimidating characters; one of whom included Michael Myers (talk about scary)! However, the majority of the actors seemed to be behind drop-panels, which didn't seem to give them much of a chance to "shine" or use dialogue very much, except for during their pop scares. Regardless, a wide range of characters can be found, from singing, dancing clowns and werewolves to classic horror movie villains and their dialogue (when used) was believable and theme-related!
---
Costuming:

8.5
Most of the characters that we encountered at Shattered Nightmares were either in dark areas or attacking us from drop-panels, so we didn't get to see very much of the full costumes that were being worn. However, we DID see a whole slew of different types of masks and several makeup applications! The masks generally tended to be well-detailed and appropriately used in the locations where we found them, while makeup was character-oriented and helped enhance the believability of the actors wearing it. Some of the costumes that we DID get to see include the clown, Michael Myers, and Freddy Krueger, all of whose costumes were seamless.
---
Customer Service:

8.75
We noticed two arrow signs during our trip that directed us right to the front door of Shattered Nightmares, and another sign on the side of the building let us know that we'd arrived. Free parking is available on the sides of the street and a few street lights make sure you can see where you're going. The main haunt entrance is located right next to the sidewalk and friendly staff members could be found at the ticket booth once we got inside. The building used to be an old warehouse, so walking around inside is pretty smooth and easy going. However, you will have to go up and down a set of stairs when you enter and exit the attraction, so be sure to watch your step in these areas. The tour guide that led us through the attraction also warned us of anything we needed to avoid or when we needed to watch our heads.
---
Atmosphere:

8.66
As soon as we arrived at Shattered Nightmares, we saw several cues that let us know we were at a haunted house! The green accent lights gave the exterior an eerie touch, as did the dilapidated siding and peeling paint. Also, a small graveyard with spooky sounds echoing seemingly from the stones themselves instantly triggered our "haunt radar!" As a result, we zeroed in on our target! While no other sound effects were noticed outside the building, the new mausoleum inside near the ticket booth and multiple horror-related signs and posters gave us lots to look at as we waited in line!
---
Special Effects:

9.12
The majority of special effects at Shattered Nightmares have been built in-house, so you'll come across some innovative ideas here! Stimulating sounds echoing throughout the building, coming from the props and monsters had us wondering what was going to happen to us next! Scene detail made for a very spooky atmosphere and helped bring the scenes we encountered to life! Our tour guide worked with quite a few of the effects, making sure their timing and our group's placement made for an effective delivery. Part of this attraction's design includes many hidden openings, and the actors behind-the-scenes also worked with them very well, and made sure they went after their prey at the right time! Some of the things we came across in this bad dream include a rattling coffin, a walk-through coffin, a lively box, a shocking surprise, a flailing zombie, a spinning vortex tunnel, falling items, and a cabin built inside just for Michael, complete with Halloween décor! This haunt also houses a very unique funeral visitation scene that you'll have to see to believe! All we can say is… don't look down!
---
Theme:

9.43
The theme is exactly what this haunt's name implies! Their goal is to bring some of your worst nightmares to life! Since everyone has different fears and nightmares, you just never know what you may come across at this attraction! Some of the different things our group came across include an interesting confessional, Pinhead, a werewolf, upside-down funeral procession, and scenes from Halloween, Nightmare on Elm Street, the Conjuring, and much more! Most of the characters that we could see seemed to make sense with their respective scenes and themes. Our group guide also worked with the scenes, which aided in letting us know what we were experiencing throughout the duration of our visit.
---
Fright Effect:

8.97
Each time our group has had the opportunity to visit Shattered Nightmares; they've kept us on our toes! It's always hard to predict what is going to happen next at this attraction! Several different types of scares were encountered from intimidating characters, plenty of darkness, falling items and many unexpected appearances! Great hiding spots were utilized all throughout this attraction, so be prepared to pay attention to all directions! Everyone in our group was also targeted at least once during our visit! They used several effective distractions and one of them remains very unique and extremely hard to predict!
---
Value:

9.55
General admission to face some of your worst nightmares while you are awake will only cost you $9.00! If you are a college student and bring a valid school ID, you can receive $1.00 off! It took our group around 20 minutes to escape these demented dreams putting this value at 2.2 minutes of entertainment per dollar spent, making this a VERY competitive price! Add the length of the haunt with the frights and fun to be had inside and this is a value that's hard to miss out on! If you are in the Terre Haute area and looking for some fun and startling Halloween entertainment, then be sure to visit Shattered Nightmares, were they "put the SHAT in Shattered Nightmares!"
---
Promo Images:
Click to Enlarge