Find Reviews for a Haunt near You! Find Reviews for a Haunt near You!
Find Reviews for a Haunt near You!
Terror in the Trees Haunted Attraction
444 Jacobs Cemetery Road, Lucasville, OH 45648View All Details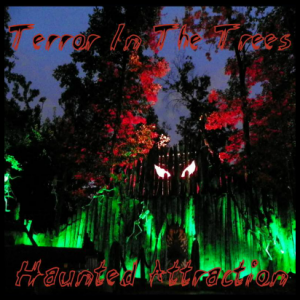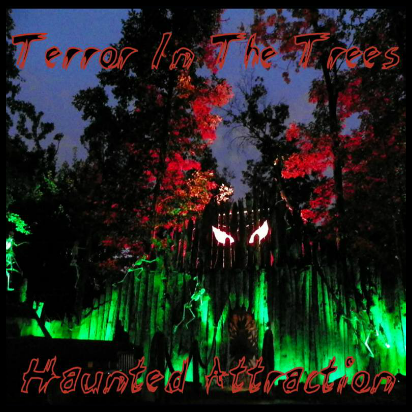 Features:
Free Parking, Restrooms On-Site, Food/Concessions, Gift Shop/Souvenirs, Special Events, You will NOT be touched, Movie Characters, Uncovered Outdoor Waiting Line, Indoor/Outdoor Attraction
Team Zombillies reviewed this attraction on October 4, 2014.
Final Score:

8.36
Summary:
Terror in the Trees is in their 3rd year for the 2014 haunt season. Each year, this 40-acre stretch of timbers comes to life and out from within them arises some of your favorite, classic, Halloween frights! This haunted trail is such a fun, family-friendly attraction that people of all ages couldn't wait to enter during our visit! If you are looking for an outdoor, Halloween haunt that has a little something for everyone, then "face your NYCTOHYLOPHOBIA at Terror in the Trees" Haunted Trail this haunt season!
---
Cast:

7.62
On a typical night, 50 to 60 volunteer actors fill the forest at Terror in the Trees and several of them were exceptional performers during our visit! Leatherface looked the part and Freddy Krueger was one of the most believable due to his dialogue… he even SOUNDED right! We were screamed at several times and the zombie growls really made us not want to stick around. One of the clowns in the fun-house area looked like he sawed part of his face off and another character unnaturally climbed a tree… very quickly! On a final note, be aware of your surroundings in the UFO area. You never know where one of those things might be hiding!
---
Costuming:

7.58
The costumes at Terror in the Trees are mainly purchased from local thrift stores and altered to meet each character's needs. Some of the actors utilize personal accent lights to make their faces easier to see and spookier in the dark and several of them matched their scenes very well. Some of them, in fact, couldn't even be seen until it was too late! A mixture of masks and makeup applications are used at this attraction and most of the masks were appropriately-placed, especially in the clown area! The makeup used on the zombie characters and their tattered clothing was also realistic and made them much more believable! Some other memorable costumes include those worn by Freddy Krueger, the ghostly bride, and Michael Myers.
---
Customer Service:

9.3
We noticed several white signs along the road that helped lead us to Terror in the Trees. Free parking is available and flaggers help direct vehicles to the best spots. However, we do recommend showing up not long after dark because spaces become scarce on busy nights. Bright lights shine up the parking lot for easy navigation and a nice fire pit helps keep customers warm in the cold, October air. Friendly staff members can be found in the ticket and concession tents as well as at the front of the line, while a roaming actor or two and a silver screen showing movie clips help keep the crowd entertained as they wait in line.
---
Atmosphere:

8.83
Just driving to the attraction helps set the mood to visit a haunted woods! It's far enough out there that there aren't any lines on the road, a large cemetery neighbors the entrance to the parking area and, ironically, its address is "Jacobs Cemetery Road!" There wasn't much in the way of decorations in the parking area during our visit. However, this is misleading because, once you get to the ticket tent, the mood quickly changes to a fun, Halloween atmosphere! The haunt's hearse and an old panel truck are parked near the queue area, a silver screen plays movie clips for entertainment, an inflatable tree guards the portable restrooms, and a realistic, forested façade watches over the whole entrance area, swallowing customers as they enter the woods! The sounds of chainsaws, screams and loud booms transmitted from the timbers aids in keeping tensions high as customers wait to enter.
---
Special Effects:

8.1
Special effects are both purchased and made in-house at Terror in the Trees, and we noticed many things here that we hadn't seen anywhere else! One of the first original effects we noticed was a giant, timbered face lining the woods with a mouth full of razor-sharp teeth! We then noticed that this was both the façade and entrance to the attraction! Realistic sound effects were encountered that helped in bringing some of the scenes to life! Some of the many special effects that we ran into include a spider infestation, a creepy swing, laser lights, a cave, swinging body parts, a crashed UFO, power tools, a spinning-head doll, psychedelic creations, a spinning carousel, an authentic, foggy pond, and a VERY dizzying vortex tunnel that the haunt built themselves!
---
Theme:

0
This attraction does not follow any specific theme, as they try to offer a little something for everyone. Some of the scenes you may encounter include a mausoleum, a 3D barn, a Freddy Krueger Nightmare, a cave, a zombie containment shelter, a ginger bread house and much, much more!
---
Fright Effect:

7.92
Some of the scare techniques used on our group included camouflaged hiding spots, eerie encounters, wicked stares, authentic growls, screaming, and distressed warnings! Sometimes just being out in the dark woods is enough to scare some! There is not a lot of blood and gore at this attraction or touching, which makes it more family-friendly. A notable distraction was encountered in the beginning of our venture that caught one of our group members off-guard, which started our journey off just right! One of the camouflaged hiding spots had an actor using a prop to hide in which was very effective! It seemed that different members of our group were targeted throughout, and sometimes we even had a follower or two lingering behind us! During our visit we also witnessed a few agonizing events, including a miner taking care of an escapee with his pick-axe, trapped children, and a clown with a chainsaw who looked like he was trying to saw half of his own face off!
---
Value:

9.17
Regular admission to enter these evil woodlands is priced at $10.00 per body. It took our group approximately 16 minutes to successfully depart these timbers! That puts this value at 1.6 minutes of entertainment per dollar spent, which is quite a bit above the average value! Their website offers 2014 season passes for $50.00 just in case you can't get enough and know you will be returning quite often. The season pass grants you unlimited re-entry and includes a "TERROR" t-shirt! Please be sure to visit their site for more information. They also have a FREE trick-or-treat night that will be on October 25th, 2014! Visit their social media pages for more information about that as well. If you and the family are looking to have some fun this Halloween season, then add Terror in the Trees to your list of activities, "Where your nightmares become reality!"
---
Promo Images:
Click to Enlarge
Guest ReviewsGuest Average: 10 out of 10
Angie – 10/10Was scared shitless!!
Karla – 10/10Terror in the Trees r a blast…we go several times each year n they have become a major part of our …show more Halloween tradition…we have a Haunted Roast n Ride every year n Terror in the Trees is the main attraction for our night ride!!! All our friends love them as well n can't wait till October!!! We Love Terror in the Trees!!!
---
2015 Awards
Best Usage of Fog (Given by: Team Mysterious Misery)
Most Creative Old-School Effects (Given by: Team Mysterious Misery)
Actor Shout Out Award - Dwight Holsopple Jr., A.K.A. "Granny" (Given by: Team Mysterious Misery)
---
2014 Awards
Actor Shout Out Award - Freddy Krueger (Given by: Team Zombillies)
---