Find Reviews for a Haunt near You! Find Reviews for a Haunt near You!
Find Reviews for a Haunt near You!
Amhurst Asylum
228 S 500 W, Valparaiso, IN 46385View All Details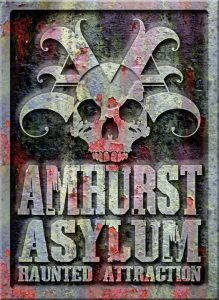 Features:
Free Parking, Gift Shop/Souvenirs, Special Events, You may be touched, Original Characters, Indoor Waiting Line, All-Indoor Attraction
Team Zombillies reviewed this attraction on October 9, 2014.
Final Score:

9.41
Summary:
While Amhurst's theme dates back decades ago, 2014 marks their 5th season as a Halloween haunted attraction! This exquisitely-detailed haunt has made several review groups exclaim that they make you feel like you're really stuck within the walls of an asylum. We agree. With Dr. Amhurst's experiments freely roaming the halls and interacting with everyone in our group during our tour of this mental institution, it's definitely safe to say that "someone let the crazies out!"
---
Cast:

9.43
We were told that, on any given night, you'll find between 60 and 80 volunteer actors roaming about Amhurst Asylum. It seemed that there were a good amount of patients and hospital workers encountered during our tour since any lengthy dead spaces were eliminated. This helped keep the action flowing steadily throughout the attraction, even though we were informed that they weren't fully-staffed while we were there. Usage of dialogue is one of Amhurst's strong suits, as several of them (including queue actors/actresses) were verbally and physically interactive with our group and almost always had something to say, when prompted. The things they said also reiterated the fact that we were in a realistic mental institution on several occasions, which tremendously enhanced their believability. Among the most memorable during our visit include Rufus, Sally, the poo patients, the grounds keeper, the mechanic, and the girl in the strobe-lit, cage area.
---
Costuming:

9.7
The costumes at Amhurst Asylum have been completely customized for each individual character in an effort to increase their realism and believability. It works. In several instances, we noticed airbrushed makeup applications and the detail extended all the way down to colored contacts and greasy, nappy hair on many occasions! Some of the costumes that we noticed utilized the art of camouflage, such as the ghillie suit actor in the courtyard and the actress that was wrapped in a white sheet in one of their many disorienting scenes. The occasional mask was spotted and, although sightings were few and far between, they seemed to match the characters wearing them well and made them seem more complete and intimidating! Amhurst Asylum has some of the most realistic costumes throughout the entire length of their attraction, and they rank among the most elaborate of all haunts that our team has had the privilege of reviewing.
---
Customer Service:

9.6
We literally spotted the entrance for Amhurst Asylum from a mile away! Super-bright, red and blue, police car lights pierced the night sky and, along with some signs by their driveway, helped let us know we'd arrived and where to pull into the parking lot. Multiple flaggers with lighted wands were helping direct cars to the best spots for hassle-free parking. Queue line entertainers were found inside and out of the covered waiting area and there was even a spooky scene to walk past to help get the haunted house excitement started! Several emergency exits were noticed during our jaunt through the Asylum, although we did find a few uneven spots and flooring can be a bit "bouncy" at times, so keep track of your footing on your way through. Also, don't forget to stop in and check out their loaded souvenir tent located near the exit of the haunt.
---
Atmosphere:

9.42
As soon as we got out of our car, the sounds of screams and a chainsaw chase echoed the massive cloud of fog that was creeping into the parking area. Also, the pre-wait scene and actors that we encountered on the way to the line certainly gave off a creepy vibe and let us know we were at a haunted house! Furthermore, the loud, rock music playing in the queue area, the roaming actors, the Amhurst logo sculpted into the façade above the entrance, and the flickering lights helped keep us "in the mood" and kept the energy level high as we waited to enter.
---
Special Effects:

9.59
Amhurst Asylum is one of the most elaborately-detailed asylum-themed attractions we've been through so far! The combined sights, sounds, and smells that we found here definitely made us feel like we were in one demented, creepy nut house! A large elevator, old, classic music, a padded room, and even a courtyard are just some of the special effects that we bore witness to during our tour. Each of the effects added detail to the scenes, created scares, or assisted in doing so quite well. Several of the actors worked with their effects and scenes seamlessly, which made both the actors and the effects even more believable… even the talking truck!
---
Theme:

9.67
Without a doubt, Amhurst Asylum is exactly what it sounds like, an asylum! When you step foot into this hospital, you are subjecting yourself to Dr. Amhurst's experimental atmosphere, including the psychotic beings within it! Nearly 4 decades ago, this once well-running hospital was shut down due to the horrific findings that authorities found inside the premises. When the facility was shut down, it and the land surrounding it was owned by Dr. John Amhurst. When his wife was taken over by deteriorating illness eating her from the inside out, he started conducted experiments on the patients in the hospital, replacing her body parts with theirs. It was only when a patient managed to escape and alert the authorities that the true terror within these hospital walls was revealed! Now these hospital doors are open again, although the building isn't empty, as one might suspect. Inside this hospital, all of the patients we came across fit in with this theme so well that we wondered if they were real victims of Dr. Amhurst instead of actors! The journey also takes you through all the typical rooms and areas you would expect to see in a hospital, which authenticates the theme and makes you feel like you truly are in a mental asylum gone wrong!
---
Fright Effect:

8.65
Some of the scare techniques used at Amhurst Asylum include unnerving sounds, hands-on contact, intimidating dialogue, disturbing stares, entrapment, and a psychopathic pursuit involving a rumbling chainsaw! This was one of those attractions where, if they noticed you weren't scared, they would try to at least keep you entertained during your visit. Several effective distractions were used by the actors, as well as multiple clever hiding spots! One area of the haunt got under our skin more than the others and, as we approached this area, the unsettling sound effects that were leaking out had us questioning whether we should enter or not! Once we were in there, we quickly wanted back out, but the bright, perplexing lights forced us into keeping the sadistic female company! The patients also made sure everyone in our group was considered for treatment, even in the beginning of the attraction when our group was rather large! It seemed that the majority of these characters were mostly trying to make us feel uncomfortable, and if they noticed you weren't scared, they would try to at least keep you entertained during your visit by shoving poo-paper in our faces, cutting off our fingers because we didn't wash our hands, repeatedly reminding us not to touch their plants, amongst many other things. There were also some patients chained to walls and one was caged outside the attraction that didn't look too happy, so we really didn't want to stick around waiting for them to break free!
---
Value:

9.2
General admission to enter this authentically-battered, once-abandoned hospital is priced at $20.00 per person. It took our group 30 minutes to break away from the Asylum's psychopathic production, bringing this value in at 1.5 minutes of entertainment per dollar spent. To us, it seemed like our tour took much longer, and we are sure that this length will vary per group, depending on how quickly you become a resident! The time spent inside the attraction, combined with the entertainment and elaborate scene detail we experienced inside, makes this one strong value! Have a large group? You may be eligible for a group discount, so be sure to visit their site for more information. If rabid patients, exquisite detail, and amusing encounters sound like a good time to you, then you need to make sure you visit Amhurst Asylum for the 2014 haunt season!
---
Promo Images:
Click to Enlarge