Find Reviews for a Haunt near You! Find Reviews for a Haunt near You!
Find Reviews for a Haunt near You!
Newburgh Civitan Zombie Farm
5466 S Vann Road, Newburgh, IN 47630View All Details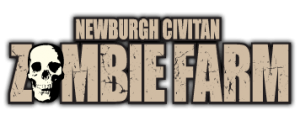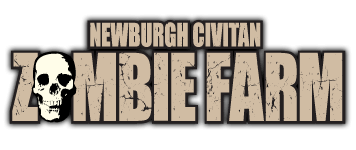 Features:
Free Parking, Restrooms On-Site, Food/Concessions, Gift Shop/Souvenirs, You will NOT be touched, Original Characters, Uncovered Outdoor Waiting Line, Indoor/Outdoor Attraction, Family Friendly
Team Zombillies reviewed this attraction on October 9, 2014.
Final Score:

7.86
Summary:
The Newburgh Civitan Zombie Farm has been in its current location since 1999, but has been an ongoing haunted house for 41 years! The Newburgh Civitan organization donates their proceeds to various charities and the haunt is one of their primary fund-raisers! Here, you'll find quite a variety of scenes and scare tactics, from an outdoor maze and welcoming, yet deranged hillbillies to multiple giant creatures that you'll wish you'd never crossed paths with! For a fun, yet frightening experience near Evansville, Indiana, be sure to visit the Newburgh Civitan Zombie Farm for the 2014 Halloween season for scares the whole family can enjoy!
---
Cast:

7.45
Around 60 volunteers made up the Zombie Farm's very energized and original cast! In the outdoor portion, some of them were climbing the walls to get at us while others would instantly appear from seemingly nowhere! An instance of victimization was even noticed as we stumbled upon a chainsaw chase… until they decided to come after us next! We didn't notice a lot of real dialogue being used during our tour, as a majority of the actors were screaming or growling at us. However, some of the actors did interact with us, which made for some well-executed distractions and even more believable characters! Once we made it inside the house, we continued to be attacked by a crazed doctor with a very believable victim and some more crazies, as well as towering creatures that made even the tallest of our group members look scrawny! Some of the most memorable actors, or actresses rather, were the boxed dolls due to their dialogue, overall originality, and how well they fit in with their scene.
---
Costuming:

8
Some of the characters at the Zombie Farm make their own costumes so they're more in-tune with their roles. Varying levels of detail and elaboration were noticed, from dark clothing and masks all the way to full-bodied mechanical outfits with glowing eyes! Several different masks were used and we noticed some were models that we've never seen before. A few of the costumes seemed to match their scenes better than others, particularly the ones that were more elaborate and finely-detailed. Makeup was noticed on some of the characters; some of them were airbrushed and one of the most detailed was the girl at the entrance who was drooling some pretty nasty-looking stuff! Some of the most memorable characters include the "creature reacher" that seemed to be everywhere, the sinister hillbillies in the first few scenes, the deranged doctor, and his hapless victim.
---
Customer Service:

8.6
The illuminated "Newburgh Civitan" sign by the road let us know we'd arrived at the "home of the Zombie Farm!" A few smaller haunt signs reinforced that fact, as did the roaming queue actors that were doubling as crowd entertainment. We noticed t-shirts available for sale for $10.00, so be sure to check those out before you leave. Halloween-related merchandise can also be found at the ticket window including a variety of items from zombie dog toys, bracelets, glow sticks, and even candy. Free parking is available in the well-lit, gravel lot that surrounds the building and it appeared that some overflow was available in the front lawn if necessary. Some of the farm's terrain is outside and uneven ground may be encountered, so be sure to watch your step! Friendly staff can be found inside the ticket window and possibly roaming the exterior of the attraction in haunt apparel in case any questions or concerns are to arise.
---
Atmosphere:

7.68
Upon exiting our vehicle, we immediately heard very strange and unexplainable sounds that were escaping from the rear of the building! Occasional chainsaw growls and screams were also apparent, as customers were quickly fleeing out the exit. Music was also heard outside the attraction including classic Halloween tunes such as the "Monster Mash" and horror movie themes that gave us something to listen to as we waited our turn to enter. The entrance to the attraction was adorned with a decorated façade complete with twin statues and two entertaining hillbillies that helped prepare us to enter the haunt! The Civitan building itself isn't creepy looking, however, but we assure you that the majority of the inside is much different.
---
Special Effects:

7.44
Special Effects 7.44:
The special effects spread throughout the farm are a mixture of modified and donated items. Some of the sound effects weren't working properly during our visit, but it certainly wasn't quiet due to the many sounds that the actors were making. Scene detail in a few areas made us feel like we were truly on a farm that's been overrun by crazies and appropriately-placed lighting also helped in bringing some of the scenes to life! We also noticed clever usage of common items such as plastic barrels, dead weeds, saplings, and other things that added detail to the scenes. Multiple characters worked very well with their props and surroundings, which increased their effectiveness, especially with the larger items. Some more special effects that our group came across included life-sized doll boxes, animal bones, multiple types of saws, large creatures, a convulsing bed, and the family's "pet" goat. However, this is no ordinary goat! It's a little bit bigger than your typical livestock.
---
Theme:

8.25
The Newburgh Civitan Zombie Farm is made up of a "family of freaks" who are just waiting for you and your group to invade their property! Don't worry, though… they will actually be very excited to meet you… even if your feelings aren't the same! This large bunch is known as the "Gein" family that consists of backwoods hillbillies with plenty of dirty habits that seem to run rampant through the entire family. The majority of outlandish folks we ran into on the farm helped authenticate this theme due to their rebellious and bizarre behaviors! The first character we came across instantly exposed the theme by asking us if we were ready to meet the rest of the family, which made us wonder if we really wanted to or not. Don't let this haunt's name fool you into thinking this is a haunt full of zombies, we assure you it is full of something else, although they may still crave human flesh.
---
Fright Effect:

7.57
The clan taking residence at the Zombie Farm used several different techniques to deliver scares to our group. Some of them included guilty giggles, timid stares, dire dialogue, intimidating creatures, effective disguises, and a run-in with a masked, chainsaw mutant! The majority of startles that our group received were supplied by the effective disguises, but there were also a few other very clever hiding spots that caught us off-guard! We could tell that this cast had worked on their timing since they always seemed to reveal themselves at the perfect spot to assure they targeted everyone! They also used several distractions with excellent timing, which aided in keeping our group on our toes throughout our visit!
---
Value:

7.85
General admission to enter this family's grisly freak show will cost you $12.00 per adult and $5.00 for children 10 and under. Our group was trying to find our way out of their stomping grounds without getting eaten by "pets" for about 15 minutes, which puts this value at 1.25 minutes of entertainment per dollar spent! This value is a little greater than the average going rate, however the amount of time that it takes your group to complete your tour can vary. "No scare" tour times are also available, so be sure to check out their website for more information. If you are looking to visit a haunt with energetic actors, a family of backwoods hillbillies, and Halloween season fun where the proceeds go towards a great cause as a bonus, then visit the Newburg Civitan Zombie Farm this haunt season!
---
Promo Images:
Click to Enlarge