Find Reviews for a Haunt near You! Find Reviews for a Haunt near You!
Find Reviews for a Haunt near You!
Fright Manor
2909 South Meridian Street, Indianapolis, IN 46225View All Details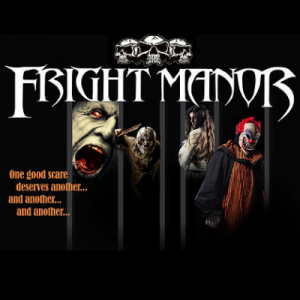 Team Zombillies reviewed this attraction on October 10, 2014.
Final Score:

8.89
Summary:
Fright Manor has been brewing up scares since 1982 and 2014 is no different… only THIS season, they've added a little more of the "intensity" ingredient to their proverbial stew! Once again, Fright Manor brings you 5 differently-themed haunts at one location for one low price! Slay some zombies in Zombie Alley, face some classic frights in 13 Nightmares, "conjure the dead" in Psychomanthium, crawl with the crazies in Southside Sanitarium, and see what Hell looks like when it overflows in Purgatory Prison! Many changes were noticed for the 2014 haunt season and, with over 30 minutes of combined entertainment, Fright Manor continues to be a must-see destination for "old-school" haunt enthusiasts in the Indianapolis area!
---
Cast:

8.61
55 staff members bring Fright Manor to life each year. 35 to 40 of them were clearly seasoned actors because of the ways that they worked with our group and other actors during our tour! Some occasional, yet VERY interactive dialogue helped keep our group entertained after the initial scares, with the grave digger and "Chuckles" being some of the most talkative. The actors fulfilled their roles well this season, with the zombies being tough to kill, the dentist trying to give us a root canal, and another doctor offering to give us a free amputation! This and relating their dialogue to their surroundings, such as the demonic preacher, really helped make the characters much more believable.
---
Costuming:

8.65
The costumes at Fright Manor are a combination of get-ups that are provided by the attraction and designs that the actors have put together themselves. Makeup is included in this notion and several, well-detailed applications were noticed throughout our tour of the haunt! The costumes in each of the various themes seemed to match pretty well, although we noticed a wide range of elaboration and detail that was put into them. A few different masks were also found during our visit and each of them helped enhance the believability and/or intimidation of the characters wearing them. Some of the most memorable costumes during our visit include the preacher in the Church of the Dead, Dr. Riley, the grave digger, the long-haired doctor in Southside Sanitarium, and those worn by Chuckles and his cohorts.
---
Customer Service:

9.56
A few signs by the road and on the building and flaggers with lighted wands aided in letting us know that we'd arrived at Fright Manor! Free parking is available in a well-lit lot next to the building and the ticket booth can be found on the side of the building, a bit closer to the road. Some music was noticed near the queue area and a brand new stage features bands on select weekends! Also near the queue area, a concession stand was on-site making sure customers' bellies were full, although we were told that they keep their zombies a bit on the hungry side so they're more "lively!" Several exit signs were noticed during our tour, however there were also a few places with uneven/loose flooring, so watch your step!
---
Atmosphere:

8.98
Creepy sounds filled the October air as we soon as we got out of our vehicle at Fright Manor! At first glance, the building itself isn't very creepy looking. But upon further inspection, this is an unmarked building other than the signs advertising the haunt, so anything could be taking place behind these brick walls! Several roaming characters, gun shots, and screams were heard while standing in the queue area behind the building that helped let us know we were at the right place to have some Halloween-related fun!
---
Special Effects:

8.65
A lot of the effects at Fright Manor have been purchased and later modified, but some original effects can be found here too! Loud, hard rock music was heard throughout the first section of the building, which made it harder for our group to hear things sneaking up on us. Some of the scenes were detailed extremely well, and made us feel like we were where they intended us to be! Some of these scenes included the graveyard, The Church of the Dead, Jason's living quarters, and the butcher shop. Some of the other effects we came across include a vibrating walkway, a spark-spitting grinder, a loud horn, a vicious wolf, blinding strobes, effective air cannons, a swampy area, and dead animals and humans on display!
---
Theme:

9
Fright Manor offers five differently-themed areas, all within their single location. Your adventure will start off in Zombie Alley, where one person in your group will be equipped with a tactical vest and electronic shot gun to help ward off zombies that… might… attack your group! Kill them fast though, because they may just take over the world if you don't! You better watch your back in this attraction, the flesh-eaters like to sneak up behind their prey! 13 Nightmares is as the name entails and consists of classic frights that you must fight your way through to stay alive! You even have to walk under a ladder just to enter this attraction! The beings lurking about in Pyschomanthium enjoy being around the dead, and will do everything they can to convince you to stay and join them! Some gory sights lie within this deranged section of the building and we suggest that you try to keep your distance! Southside Sanitarium is a portion of the building that has been taken over by psycho inmates! Good luck working your way through these crazed patients; they don't exactly think clearly anymore… they just want to inflict torment and suffering upon any unwanted visitors! If you make it to the last attraction, Purgatory Prison, you will soon find out what it's like to be around some convicts who need to be in Hell, but haven't quite made it there yet! Fright Manor's building is actually said to be actually haunted, so this creepy building does help in authenticating the themes. At the entrance to each attraction, we were welcomed by something… or someone… letting us know we were transitioning into a different theme. For the most part everything we came across seemed to make sense with the respective themes and scenes they were found in.
---
Fright Effect:

8.51
Fright Manor offered terrors on multiple tiers, including a zombie infestation, chainsaw confrontations, classic fears, flying sparks, superstitions, edgy stares, multiple power-tool altercations, and more! They also personalized the experience by using our names, once they figured them out! Distractions were used and kept our group off-guard, including three that were in succession with one other, which left our group confused about what just happened! Some of the scares were more predictable than others. However a few of them weren't at all and sent our group members flying into the air! Everyone in our group was targeted multiple times, spreading the scares out amongst our whole group, not to just the people in the front or back. We thought we were going to get crushed by barrels, have our teeth removed, and we even became witnesses of a suicide during our visit! Stay on guard at Fright Manor.
---
Value:

9.2
General admission to enter all 5 attractions will cost you $20.00 per person and possibly some of your time while testing out a few coffins! It took our group approximately 32 minutes to put all of the zombies out of their misery and navigate all of the attractions, putting this value at 1.6 minutes of entertainment per dollar spent! Combine that with the chilling fun that can be had inside to create a heck of a competitive value! A printable coupon can be found on their site so be sure visit their site for that and other possible discounts. Fright Manor is a part of IndyHaunts.com, so be on the lookout for other deals that these haunts have to offer! Please be advised that, due to graphic and coarse conditions, Fright Manor is not recommended for those under 13 years of age. If experiencing multiple themes as one location "where one good scare deserves another…and another…and another," then be sure to visit Fright Manor Haunted House!
---
Promo Images:
Click to Enlarge
Have you visited this attraction?
---
2016 Awards
Scariest Old-School Effects (Given by: Team Zombillies)
Actor Shout Out Award - "Damien the Clown" A.K.A Aaron Mason (Given by: Team Zombillies)
Actor Shout Out Award - "Freddy Krueger" A.K.A Justin Danz (Given by: Team Zombillies)
Actor Shout Out Award - "Grinder" A.K.A Jason Baker (Given by: Team Zombillies)
Actor Shout Out Award - "Lust Lady" A.K.A Charity Brewer (Given by: Team Zombillies)
Actor Shout Out Award - "Torture Girl" A.K.A Kayelynn Woodlock (Given by: Team Zombillies)
---
2015 Awards
Most Realistic Costume - "The Stuffed Dog" (Given by: Team Zombillies)
Actor Shout Out Award - "The Gas Masked Sparky Guy" (Given by: Team Zombillies)
Actor Shout Out Award - Cris Shortt, A.K.A. "The Grave Digger" (Given by: Team Zombillies)
---
2014 Awards
Actor Shout Out Award - Chuckles the Clown (Given by: Team Zombillies)
Actor Shout Out Award - Dr. Butcher (Given by: Team Zombillies)
Actor Shout Out Award - The Grave Digger (Given by: Team Zombillies)
---