Find Reviews for a Haunt near You! Find Reviews for a Haunt near You!
Find Reviews for a Haunt near You!
Literally A Haunted House at Culbertson Mansion
914 East Main Street, New Albany, IN 47150View All Details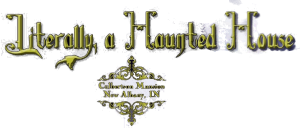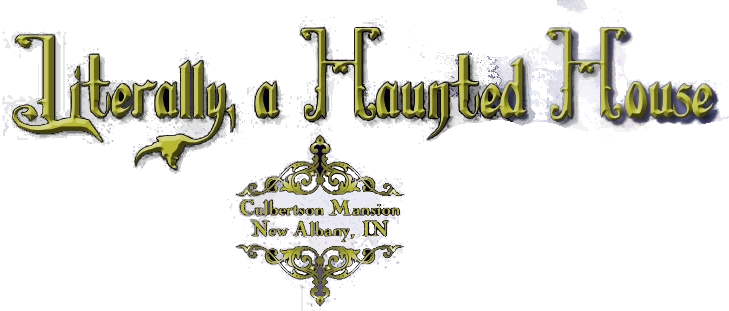 Features:
Free Parking, Restrooms On-Site, Gift Shop/Souvenirs, "Old-School" (Low Tech), You may be touched, Original Characters, Covered Outdoor Waiting Line, Indoor/Outdoor Attraction, Family Friendly
Team Zombillies reviewed this attraction on October 17, 2014.
Final Score:

8.84
Summary:
Culbertson Mansion has been in the industry for 30 years in 2014 and "30 is the new black!" This year, they'll trick you into summoning the demons from the Mansion's past so you can bear witness to all sorts of frightening fan favorites. From zombies and ghosts to dentists and chainsaws, you never know what will be waiting for you around the next corner! For an original take on classic-style scares in an old-school haunt, visit Culbertson Mansion in New Albany, Indiana… Literally, A Haunted House!
---
Cast:

8.62
Around 30 volunteer actors will come out to haunt you on a typical night at Culbertson Mansion. The clown and his buddies were some of the first we met and kept us thoroughly entertained as we waited in line. During our walkthrough, we noticed many believable performances! Among those were Giltine, the zombies, the "creature of the darkness," and the dentist, just to name a few. Giltine seemed nice as first and was very interactive with our group, but we soon found out she was quite the contrary. The zombies were also very realistic, so don't get too close if you can help it! Several of the actors were making some pretty darn creepy noises while we were in their scenes, with one of the most unsettling being the "creature of the darkness". We think it wanted to keep us, since it seemed to be pretty "clingy." That's right, they can touch! Several of the actors didn't use much dialogue as we traveled through their scenes, but the screaming and exceptionally creepy noises that these demonic characters produced definitely added to their believability.
---
Costuming:

8.7
This year, you'll find quite a variety of different characters at the Culbertson Mansion! Many of them seemed to be sporting airbrushed makeup and a few of them even had sharp teeth and colored contacts! Some of the characters that we came across during our tour include sacrificing cultists, a demented dentist and his aggressive assistant, a wall-poised, possessed girl, some overzealous zombies, and several different demons that definitely displayed diabolical demeanors! Several of the creatures and characters, such as the zombies, looked pretty believable with their worn, tattered, and bloody clothing, while others went for a more-authentic approach with period-correct designs. One of them was disguised so well that they were able to hide in plain sight! A few different types of masks were used throughout the haunt, from original, custom pieces to simple, yet spooky ones. We'd say the chainsaw assailant had one of the most interesting masks because, well… let's just say we couldn't tell which one of us he was planning on cutting up next.
---
Customer Service:

9.15
We knew we were at the right place when we saw the yellow "Literally, a Haunted House" banner flying above Main Street out in front of the Mansion! Free parking is available on each side and/or behind the building, across the railroad tracks. Snacks, spooky souvenirs, hoodies, and t-shirts are available near the ticket booth and there are places to sit if you grab a bite to eat. Friendly staff members could also be found near the ticket booth/concession areas, as well as at the front of the queue line. Two or three roaming actors kept the crowd entertained during our visit, with the clown providing lots of comic relief! Be mindful of your footing while touring the Culbertson Mansion. A small portion of the haunt is outside, we noticed a tiny bit of uneven flooring, and several sets of stairs will need to be traversed (one of which being right behind a curtain), so don't run too far without being able to see where you're going!
---
Atmosphere:

9
Before we even made it out of our vehicle, we could see fog escaping from the Mansion's back yard and rolling down the street! The closer we got, the more we wondered if we should enter! Just the Culbertson Mansion's Victorian-style exterior can be rather creepy looking at night! Exhaustive pleas for help and wicked chants were escaping from within the cemetery and other creepy music could be heard, which really helped set the mood to enter the attraction. Multiple roaming and very believable actors also interacted with us and prepared us to enter.
---
Special Effects:

8.53
The effects our crew came across during the hellacious awakening include a mixture of items that have been both purchased and created in-house. Ominous sounds, thick fog, and hypnotizing smells filled the air in some of the scenes, and increased their authenticity! Mood-setting scene detail and lighting existed, as well as other realistic, bloody, and creepy décor that helped in bringing the scenes and theme to life! Some of the unique effects our group came across include a ghastly spirit, Culbertson's infamous and unique coffin ride, a spinning room, a demon-summoning book, a misleading statue, a fireplace opening into "Hell", dental equipment, distorted body parts, and you may even get shocked, so watch out!
---
Theme:

9.6
Due to 2014 being the haunt's 30th frightening season, they are celebrating with the theme of "30 is the new black." This consists of their "greatest hits" from over the years, bringing back some very dark creatures that have been "set free." As soon as we stepped through the gates of the graveyard, we were on our own and could tell something very evil had taken over! Once inside the carriage house, we met a woman who assured us she wasn't crazy, and talked us into chanting a spell out of her book to make the cult practices and bad spirits go away. Let's just say things didn't go as we thought they would! The three special words she made us chant resurrected the dark spirits of the place after 30 years of dormancy, and they were eager to meet those who released them! Although you'd think they would've wanted to thank us, we assure you that was the last of their intentions. Some of the characters continued to reiterate their recent release throughout our tour, which helped make for a much more believable and cohesive experience!
---
Fright Effect:

8.2
Multiple types of frights were directed at us during our daring exploration, including powerful chanting, intimidating weapons, suspenseful surroundings, alarming sounds, aggressive characters, and an interruption of an intense sacrificial ceremony that we quickly scrambled away from before we were next! Several unexpected distractions were used and effectively caught our group off-guard. Canny hiding spots were also revealed, and several were even combined with unforeseen ankle grabbing, which really nailed us! Everyone in our group was targeted by all of the characters, so none of us were left out of the scares! A run-in with the dark creature and its razor-sharp teeth and claws kept us from leaving the area as quickly as we wanted, and his hair-raising vocals made for a much more uncomfortable experience!
---
Value:

8.9
Ticket prices to try your luck at escaping the horrors that have been set free inside this carriage house are priced at $14.00 per soul this season. Our group was stuck within these dark, spirit-infested walls for around 14 minutes, putting this value at 1 minute of entertainment per dollar spent. Although this is closer to an average value, this is still one of the lowest ticket prices in the area! Combine the lower ticket price and original, creepy fun that is to be had at Culbertson Mansion, and you have yourself a frightful deal! Have little ones that are too scared to go through? They offer story telling on select dates for children on the third floor of the mansion (or for anyone else interested), so be sure to visit their site for more information on that. If coming face-to-face with dark spirits, classic monsters, creepy sets, and original concepts sounds like a hauntingly-good experience to you, then be sure to visit the Culbertson Mansion, "where they've awakened some VERY dark things!"
---
Promo Images:
Click to Enlarge