Find Reviews for a Haunt near You! Find Reviews for a Haunt near You!
Find Reviews for a Haunt near You!
Nightmare Forest Haunt Park
850 Otter Creek Park Road, Brandenburg, KY 40108View All Details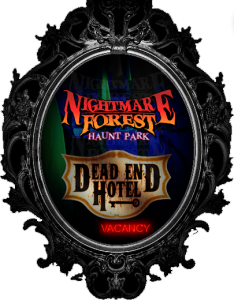 Features:
Free Parking, Restrooms On-Site, Food/Concessions, Optional Games/Midway, You will NOT be touched, Movie Characters, Uncovered Outdoor Waiting Line, Indoor/Outdoor Attraction
Team Zombillies reviewed this attraction on October 18, 2014.
Final Score:

8.6
Summary:
Nightmare Forest is now offering four different themes at one location for one less frightening price! Their newest addition is Dead End Hotel, which was a separately-located haunt last year that has now merged with the Forest's trail for the 2014 season. Returning attractions include the movie-themed Nightmare Forest section, the horrific Trail of Terror, and the wildly-entertaining Hawthorne's Circus Bizarre show! Some of the things you will find within the winding trails include zombies, crazy hotel staff, a clown town, Kiddie Park, Freddy's Nightmare, a life-sized Hellraiser box, a Purging encounter, and much more! For a variety of scares all in one place, be sure to visit Nightmare Forest at Otter Creek Park!
---
Cast:

8
On a typical night, you'll find between 40 and 50 actors and actresses along the trails of the Haunt Park. In the first half of the trail, we were at the back of a fairly large group and we noticed the actors didn't reset by the time we made it to their scenes. Some of them told us to hurry up and get out of their scenes, while others would simply walk past us with no attempt to scare us. However, some of the undead characters such as the zombies did get the chance to interact with our group. Despite all of this, there was actually a fair amount of characters in the rest of the trail that gave us great performances, even though we were bringing up the rear of the large group! Some examples include the cowboy in the ghost town, who wanted to show us how to play Russian roulette with his lever-action rifle, and Alice, who was equally interactive and believable in her tea party scene. Other interactive characters include Pinhead, Michael, Jason, and the clowns! One of the clowns even wanted to make a balloon animal out of one of our group members' facial skin! During our tour, we experienced a wide range of actors and each of them did seemed belong in their relative scenes and helped make their individual themes more apparent to us.
---
Costuming:

9
At the time of our visit, it seemed that the costuming at the Haunt Park had improved significantly from last year! Each of the characters were well-detailed and let us know exactly who was coming after us! The move characters were even authentic-looking, which increased their believability and intimidation factors significantly. A few masks were used here and there, particularly on characters like Freddy, Jason, Michael, Pinhead, and those from the Purge scene. The makeup that we noticed on the rest of the characters also appeared to be well-detailed and helped enhance the characters wearing it.
---
Customer Service:

8.8
Finding the Haunt Park proved to be rather easy due to the bright white signs on each side of the highway at the entrance to Otter Creek Park. Flaggers directed us to the appropriate free parking area, which was their overflow lot due to the large amount of customers that night! After you park, make your way to the lights, which should be the ticket booth. The waiting line is located inside Circus Bizarre area this season, which offered plenty of horrid entertainment while we waited in line! A large concession booth is also available on premises in case food or drinks sound good, although after watching some of the performances on stage, you may not be hungry anymore! All of the attractions run in succession with one another, so there is no need to go searching for them. During our trek, we encountered a lot of uneven ground and ramps so be sure to watch your step. Staff can be found inside the ticket booth and at the entrance to the attraction in case any questions or concerns are to arise.
---
Atmosphere:

8.36
Otter Creek Park itself can be spooky to some, so just imagine a haunt located in the middle of it! A sudden blast from a very large firework let us know that we are at the right location to have some fun! As we neared the entrance to the attraction, a large monster and the Hawthorne's Circus Bizarre façade confirmed that we were, in fact, at a haunted house. While waiting our turn in line, we were surrounded by oddities, signs, and a freak show that put us in the mood to experience something strange!
---
Special Effects:

8.68
Many different effects can be found within these attractions and consist of a mixture of items that have been made in-house and some that were also purchased. Although it was quiet in the beginning of our journey, scene-appropriate sound tracks were encountered later and most of the way through Nightmare Forest that heightened the authenticity in those areas. It was evident that the crew was allotted more time to build and work on the haunt before the season began, compared to last year, due to the improved detailing of the structures and scenes! Some of the effects our group ran into include squishy floors, hanging meat, a machine gun, real flames, many illuminated pumpkins, a vortex tunnel, a foggy cemetery, a disco-type light casting up into a large portion of trees, a quarantining fence that you must walk through, and a boiler room complete with steaming vents!
---
Theme:

8.7
Each attraction at Otter Creek has its own unique theme. Hawthorne's Circus Bizarre consists of an immersive freak show that takes place as you wait in line to enter the Forest. Here, you will witness gruesome and tense acts performed right in front of you! During our visit, one of the performers clamped a real mouse trap on his tongue, just to give you an idea! They also have multiple rare sights on display, so be sure to check those out as well! Next up will be Dead End Hotel, and even though it's the first attraction that you'll "check-in" at, believe us… you'll want to check out rather quickly! This attraction did not take place at Otter Creek Park in 2013, but the Haunt Park is now its new home! You'll get to explore several portions of this grisly hotel, but watch out for the Bellhop, he's not too friendly! Your journey will then lead you into Trail of Terror, which is made up of many creatures, living and not, that tried everything they could to keep us there! This trail has become the home to zombies, clowns, and other victims that weren't lucky enough to escape the Haunt Park in previous seasons! Last but not least is the legendary Nightmare Forest, where some of your favorite horror movies have been ripped from the silver screen and placed right here at Otter Creek Park for you to experience! Some of these include scenes from Sinister, Texas Chainsaw Massacre, Friday the 13th, A Nightmare on Elm Street, The Purge, Hellraiser, and more! All of the characters we came across fit in with their respective scenes, and helped in bringing these themes to life, as did the haunt's location.
---
Fright Effect:

8.45
Different scare techniques were used at Nightmare Forest Haunt Park during our visit from mad characters and intimidating weapons and guns being waved around to threatening dialogue, and several unnerving encounters! One of these unnerving encounters includes the final scene of Nightmare Forest and, although we don't want to ruin the surprise, we'll tell you it was one of the most unexpected finales we've seen all season! Several good hiding spots were used by the characters to supply startles to our group as well as several unexpected effects. Our group was very large, consisting of around 12 people, making it harder for them to target all of us. However, we could hear the people in front of us screaming and yelping quite often!
---
Value:

8.78
General admission that includes all four attractions is priced at $20.00 per person on-site or $19.00 when purchased in advance, online. Speed Pass admission is also available for $30.00 on-site or only $26.00 when purchased online! The attractions all run together, but traversing through Dead End Hotel took our group around 2 minutes, another 13 minutes through Trail of Terror, and 14 minutes through Nightmare forest, which combines to 29 minutes of entertainment. That puts this value at 1.45 minutes of entertainment per dollar spent, not including the Circus Bizarre that will keep you entertained upon arrival and while you are waiting in line! Tour time will also vary per group. We do suggest that you arrive earlier because the lines may get very long. If multiple themes and meeting some of your favorite horror movie villains mixed with many other characters in the dark, spooky woods sound like a frightful night to you, then you should make your way out to Nightmare Forest Haunt Park, and "prepare to be scared!"
---
Promo Images:
Click to Enlarge