Find Reviews for a Haunt near You! Find Reviews for a Haunt near You!
Find Reviews for a Haunt near You!
Hysterium Haunted Asylum
4410 Arden Drive, Fort Wayne, IN 46804View All Details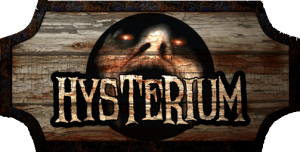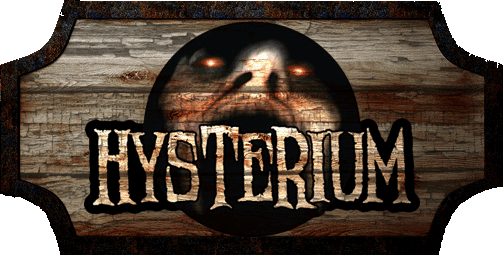 Features:
Free Parking, Restrooms On-Site, Food/Concessions, Gift Shop/Souvenirs, Special Events, You will NOT be touched, Original Characters, Indoor/Outdoor Waiting Line, Indoor/Outdoor Attraction
Team Zombillies reviewed this attraction on October 31, 2014.
Final Score:

8.8
Summary:
2014 is Hysterium Haunted Asylum's first year under their new name. Formerly known as The Haunted Cave for the last 8 years and now under new ownership, Hysterium offers lots of well-detailed scenes, ornery orderlies, and psychotic patients that you won't want to miss! Returning customers will notice that nearly the entire attraction has been "gutted" and renovated since the 2013 season. We also noticed that this haunt is much bigger on the inside than it appears on the outside! Stepping into the elevator from the lobby area will begin your treatment at Hysterium Haunted Asylum, but remember… "Don't eat the applesauce!"
---
Cast:

8.65
30 to 35 paid actors reside within this dark Asylum on an average night, which seemed to fill the hallways and rooms pretty evenly. Several of the scenes had multiple actors in them that were working together to provide scares (and even a few laughs) for their groups! During our tour, we never knew where the next actor would come from, as quite a few of them came at us from ground level, behind corners, and up above. This energetic bunch was very interactive with our review team as we made our way through the Asylum as well. We had to pet a spider, shake a set of bars to "wake someone up," and do all sorts of crazy stuff in the vortex tunnel! Many different types of dialogue was used, depending on the characters that we came across. However, each of them stuck with their respective scenes, which ultimately made for very believable and enthusiastic performances! The patient and doctor in the lobby area were among the most believable and interactive with our group, although they weren't the ONLY ones…. Blowout Bobby, the clowns, the Waldo-seeker, and others also interacted with our group and made us truly believe that we were in an insane asylum!
---
Costuming:

8.62
Most of the actors and actresses at Hysterium are actually encouraged to create the majority of their costumes themselves. Since this attraction follows an asylum theme, most of what you'll see includeds tattered patient gowns, the occasional straight jacket, lab coats with stethoscopes and things of that nature. However, you may also experience clowns, creatures, and other characters as a result of your psychosis! Very few masks were noticed during our tour, but the makeup that we saw matched the respective characters well and helped enhance their roles. Makeup designs consisted of dirty, grungy, bloody faces with dark eyes and some of them even looked sickly! Pretty much all of them matched the scenes they were found in or could at least be interpreted as belonging to some type of hallucination.
---
Customer Service:

9.46
Several signs were spotted on the side of the highway pointing customers in the correct direction of the side street to turn on that leads to Hysterium. Skeletal décor was spotted from down the road, letting us know we had arrived. Parking was free, and available along the sides of the road near the haunt. A covered ticket stand was easily spotted, which was also where haunt t-shirts were available for purchase for $15.00. A concession trailer was located on-site, conveniently offering various drinks and food. You will be wanded by a police officer before you are permitted to enter the attraction, so get rid of anything metal at the vehicle before you attempt to enter. Friendly and helpful staff were located in the ticket booth and at the entrance of the building in case any questions or concerns are to arise during your visit. Once we were inside the haunt we didn't come across anything truly dangerous, but be sure to watch your step when entering the vortex tunnel.
---
Atmosphere:

8.35
A carriage complete with two skeletal horses and their riders greeted us at the end of the facility's drive, instantly letting us know that we were at a haunted house! Halloween-themed music was heard echoing down the road, and helped build our eagerness to enter. Once in the lobby/waiting area, we were quickly introduced to a doctor and one of Hysterium's friendlier patients (they said he bites, but not often), who warned us of things to come. The lobby was very welcoming and aided in making us feel like we truly were at an insane asylum before we even entered!
---
Special Effects:

8.76
The special effects at Hysterium consist of a mixture of items that have been either purchased or built in-house by some of the attraction's talented crew. We came across some very unique things here that we hadn't seen before! Several of the rooms were detailed exquisitely well; including the sewer area which we were informed was completely constructed in-house! Realistic sound effects were heard throughout the attraction, which became rather creepy in some areas and left our group curious as to what kind of creature they were coming from at one point in time! The crew did a great job at working with the effects in their respective areas including the haunt's vortex tunnel where the actor had us put our hands in the air, stand on one foot, and other things to assure that the tunnel was effective on our group… and it worked! Some of the special effects that can be found here include exposed electrical boxes, running sewer water, disorienting poles, a loud barrel surprise, a large creature, hanging bodies, and an elevator that was among one of the most realistic that we have seen to date!
---
Theme:

8.83
As you make your way towards escaping Hysterium Haunted Asylum, they also want to be sure to give you nightmares on your way out! So be prepared to come across some dark fears here that you may not have been expecting in a haunted asylum! The theme is going to evolve into more and more detail as the haunt seasons progress, but right now the haunt introduces a mixture of a psychotic atmosphere and classic fears, so you never really know what you may come across! Some of the demented areas we experienced inside include a carnival, a cafeteria, a search for Waldo amongst many doors, a lobby, a sewer, several disorienting rooms, an interesting kitchen, and more! As soon as we entered Hysterium's lobby, we knew we were being submerged into a dwelling of many crazies! During our visit, some of the characters continued to reiterate the theme by showing us how crazy they were and by continuing to reference "applesauce!" If you pay them a visit, you too may find out what's up with this "fruity" food….
---
Fright Effect:

8.64
Hysterium was full of various fright techniques from threatening dialogue, ear-piercing sounds, shrill screams and stare downs to misdirection, complete darkness, and nearly getting our heads bitten off! Clever hiding spots were used, which kept us from knowing which direction the scares were going to come from, as well as some camouflaged costuming! A few effective distractions were used to catch our group off-guard, and one of our group members was unexpectedly tricked in to getting shocked! This crew did a good job at targeting everyone in our group during our visit, and expressed how much they wanted to eat or kill each one of us.
---
Value:

9.12
General admission to check yourself in for treatment at Hysterium will cost you $12.00 per person of any age. Our group spent approximately 24 minutes from the time we entered the lobby until we were able to free ourselves from the psychotic nightmares, putting this value at two minutes of entertainment per dollar spent! Each stay may vary per patient, err…"customer," depending on how long you can handle some of the craziness. Fast Pass admission is also available at $20.00 per person, which will allow you to skip the main waiting line. Hysterium and Huntington Haunted Hotel 13th Floor are now managed by the same people, and discounted tickets can be purchased for BOTH separately-located attractions at $18.00 per person, which is a savings of $6.00! Fast Pass admission to both attractions is also available for $35.00. Hysterium offered several special events throughout the season including a free Trunk-or-Treat and a lights-on tour, so be sure to visit their social media pages and website to find out more information on these events. Hysterium packed a punch in their first season, and we can't wait to see what they bring to the table for 2015! If you are looking for some spooky and crazy fun to have during the Halloween season, be sure to add this attraction to your list! However, if you do decide to pay them a visit, just remember not to eat the applesauce!
---
Promo Images:
Click to Enlarge