Find Reviews for a Haunt near You! Find Reviews for a Haunt near You!
Find Reviews for a Haunt near You!
Wicked World Scare Grounds
5817 Tates Creek Road, Nicholasville, KY 40356View All Details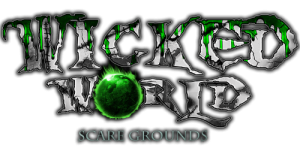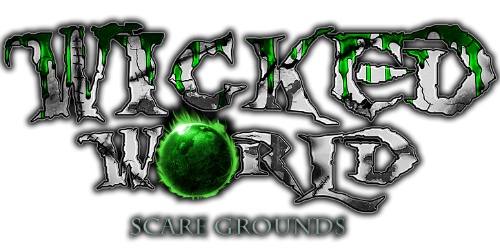 Features:
Free Parking, Restrooms On-Site, Food/Concessions, Original Characters, Indoor/Outdoor Waiting Line, Indoor/Outdoor Attraction
Team Zombillies reviewed this attraction on October 19, 2014.
Final Score:

9.06
Summary:
Wicked World Scaregrounds returns with revenge for the 2014 haunt season with a new, third attraction! Along with No Mercy Hospital and Darkwood Carnival, they're now introducing Quarantine; a 6,000 square foot military-based, zombie-style attraction with a few twists that you won't want to miss! The plot thickens in No Mercy Hospital this year as the residents have turned against "The Darkness" that was personified last year. Although you may get the idea that these demented souls have freed themselves from Darkness's wrath, we assure you they are still doomed to these hospital walls! The Darkwood Carnival has come back to town and continues to offer lots of frightening freaks and "games" that proved to be some real… "killers." For a haunt with 3 full-length attractions, each with its own unique theme and all at one location, be sure to visit Wicked World Scaregrounds near Lexington, Kentucky and celebrate "10 years of fear" with them!
Mercy Hospital: 9.24
Quarantine: 9.28
Darkwood Carnival: 8.65
---
Cast:

8.83
First, we would like to mention that the creative staff at WWS has created all of their own original characters! You won't find any movie characters running around here. Each attraction has its own unique creatures and characters that do their best at scaring or entertaining you. The characters in Darkwood Carnival were quite energized during our visit and some of their dialogue reiterated the theme and their respective scenes. Fishboy was one of the most believable and gave our group an awesome performance with a little bit of comedy. The schizo clown was also extremely believable and had us wondering if we should stick around and watch him argue with himself or take off running in fear! Pickles the Clown was verbally interactive with our group and it was quite evident that he spent quite a bit of time in his area! The ringleader was also interactive with our group, and his creepy whispers helped keep us on our toes in one of the dark areas. In the Hospital, the actors got a little more up-close-and-personal with us. Just about every single character we came across in these horrid halls was believable and verbally interactive with our group! One was even climbing the walls! The unfortunate crew that was confined to Quarantine gave us the most convincing performances. From the train engineer to the zombies and other personnel, they all did a great job at providing scares, entertaining us, and intimidating our group! All of the characters we came across on these premises stayed in character, and aided in building authenticity to the overall themes of each attraction.
Mercy Hospital: 9.06
Quarantine: 9.26
Darkwood Carnival: 8.18
---
Costuming:

9.61
The costumes at WWS consist of items that have been both made by the haunt and by the actors themselves. We must say, some of these were among the most authentic and detailed costumes our team has seen so far this season! All of the masks that we noticed were high quality silicone, and were actually made by some of the haunt's crew! They also fit all of the characters wearing them, and had us wondering if they were masks or actually what these characters truly looked like! The makeup used at the attractions this season seemed to have been improved upon a lot and consisted of prosthetics, airbrushing, and traditional techniques that helped these characters stand out due to their gruesomeness and fine details. Some of the characters were also complete with colored contacts, which helped set them apart from others and enhanced their believability. In Mercy Hospital, we came across grungy, authentic costumes and makeup, nasty nurses, a fanged, clawed, scary-looking creature, a nurse with a syringe protruding from her head, and a distressed straight jacket! Almost every single one of the costumes were as detailed as others, and really helped in making us feel as though we were truly in a deranged hospital! In Quarantine, we came across some very realistic-looking zombies, silicone masks, military attire, and a unique body part that doubled as a weapon! The Darkwood Carnival had several operators, well-detailed clowns, and a ringleader who seemed to be one part wicked and one part normal! A few of the most convincing characters we ran into include Vex, Carnage, Nurse Lilly Ann Patterson, Fishboy, Spider Sprinkles, and the train engineer.
Mercy Hospital: 9.58
Quarantine: 9.66
Darkwood Carnival: 9.58
---
Customer Service:

9.25
A huge banner placed by the road made it rather hard for our group to miss Wicked World Scaregrounds! Staff directed us to the appropriate parking lot which was located in a free, grassy area. If you have been to WWS in the past, you will notice that their ticket booth has moved this season, and conveniently displays all prices and packages. This property is easy to navigate since each haunt is distinctly labeled and easy to get to. Inside the attractions, you may encounter some uneven ground, ramps, and steps, so be cautious! The trail may also become slippery if it's wet, so be sure to dress accordingly. A concession booth can be found near the entrance of Mercy Hospital and offers all kinds of food and beverages. Helpful staff can be found inside the ticket booth and at the entrance to each haunt in case any questions or concerns are to arise. Multiple roaming actors were doing their best to entertain the crowd and all three lines on the night of our visit, but we were informed that there are typically even more than that!
---
Atmosphere:

9.05
The towering roller coaster, multiple signs displaying the haunt's iconic character "Rage," and other creepy carnival decor immediately confirmed we were either at WWS or a different kind of amusement park! The carnival facade was decorated well, and was the first thing, we'd say, that put us in the mood to visit a haunt. The hard rock music, carnival-style music, and roaming clown actor helped in building our groups anticipation to enter even more! Once we noticed the train car leading to Quarantine and realized it was the haunt's waiting line, we were very anxious to enter that attraction as well!
---
Special Effects:

8.67
The special effects that can be found within the three haunts at WWS consist of items that have been both purchased and made in-house, so you will see some original ideas here! A few things were similar in each attraction, but for the most part, each of them offered something entirely different from one another. In the Carnival, we came across poppers, a broken-down roller coaster, a mind-warping vortex tunnel, other carnival rides, a few mind-altering rooms, a clown falling from the ceiling, and unique 3D artwork. This attraction had quite a few areas where hardly any sound was heard, but when we did encounter some, it matched the scenes they were used in perfectly! The rooms and corridors within Mercy Hospital were very well-detailed and let us know without a doubt that we were, in fact, inside a hospital! Some of the other effects we came across within the tormenting hospital include an elevator, an open elevator shaft, animated patients, real medical equipment, air cannons, sparks, and a movie theater! The sound effects we encountered in this attraction were skin-curdling and increased the intensity throughout our entire tour! Even though 2014 is Quarantine's debut season, we were quite impressed with some of the effects we found inside! Some of these included a train crashed into the building, deadly missiles, very effective falling barrels, an electrical short, sparks, computer technology, and signs throughout the whole building displaying the names of the areas you were entering so you knew where you were at all times! The sounds that our group heard in this attraction also helped authenticate the scenes and theme, especially the sirens and broadcasting. Each haunt also had its fair share of appropriately-placed lighting, including some highly-disorienting strobes!
Mercy Hospital: 9.42
Quarantine: 9.08
Darkwood Carnival: 7.52
---
Theme:

9.53
All of the haunts located at WWS follow their own, diverse theme. The carnies and clowns are back in town, and you're invited to see the treacherous tricks they have up their sleeves in The Darkwood Carnival! Some of their freakish show includes a broken-down rollercoaster, abandoned games, true members of their freakshow, and a 3D clown house that is sure to send you walking sideways! Mercy Hospital, or "No" Mercy Hospital revolves around an evil entity known as "The Darkness." He has trapped many helpless and innocent souls within these hospital walls, and has no plans in letting them out! All this creature has done is torture these souls who now know nothing but the evil that has been created within them. We suggest that you don't get too close to some of the patients and beings trapped within this facility. They may seem normal, and they once were, but we assure you they no longer are! Quarantine is as the name implies and is a secret military base where they are conducting research, but while doing so, they must keep a deadly virus contained! It is so top-secret that you must board a train and break through the "green wall" to get there! You will have your chance to walk through this quarantined zone and witness the madness taking place here, but stay away from the infected ones… we'd hate to see you become Quarantined yourself! The staff has done a great job at making sure their patrons understand the story behind Quarantine and Mercy Hospital by introducing these themes in very unique ways! Just about everything we came across in all three attractions made sense with their respective scenes and theme, which brought the Scare Grounds to life!
Mercy Hospital: 9.69
Quarantine: 9.71
Darkwood Carnival: 9.2
---
Fright Effect:

8.33
Each attraction at WWS offers frights on multiple levels. In Darkwood Carnival fright levels included creepy whispers, sudden loud noises, a bit of disorientation, pitch-black areas, and even a run-in with a growling chainsaw! In Mercy Hospital a variety of scares were delivered from multiple levels including threatening dialogue, intimidating characters, unpredictable patients, sadistic stares, a chainsaw finale, and a cinematic surprise! Our group received the most scares from Quarantine, and some of the techniques that they used were uneasy effects, quick movement of cast members (keeping them unpredictable), rabid zombies, good hiding spots, pitch black areas, and a very surprising finale that also differed from those encountered in the other two! Quite a few of the scares throughout the park were directed towards the front of our group, but we were able to see what was frightening them and watched their reactions. Distractions, when used, were effective in catching our group off-guard and aided in keeping events undetected.
Mercy Hospital: 8.35
Quarantine: 8.76
Darkwood Carnival: 7.86
---
Value:

9.18
General admission for each attraction is priced at $12.00. You can choose any two of the attractions for $20.00, or go ahead and visit all three of them for $25.00. It took our group 22 minutes to make it through Darkwood Carnival, another 16 minutes to escape those doomed by the Darkness in Mercy Hospital, and 15 minutes to escape the infected ones in Quarantine! When looking at individual prices, Darkwood Carnival offers 1.8 minutes of entertainment per dollar spent, while Mercy Hospital offers 1.3 minutes of entertainment per dollar spent, and Quarantine offers 1.25 minutes of entertainment per dollar spent. Individually, these prices have good values. However, when looking at the 3 haunts combined together, totaling 53 minutes of entertainment, the 3-haunt ticket gives you 2.12 minutes of entertainment per dollar spent! That's one of the best values we've seen all season! If you are looking for a variety of frights all at one location, as well as multiple themes, or if you're looking for a cheaper haunt and can only purchase tickets to one, they can help you out there too! For haunting entertainment that won't break the bank, where you can see some highly-detailed costumes and unique special effects, make sure Wicked World Scaregrounds is on your list of haunts to visit!
Mercy Hospital: 9.55
Quarantine: 9.45
Darkwood Carnival: 8.53
---
Promo Images:
Click to Enlarge
---
2016 Awards
Scariest Actor - Cujo (Given by: Team Zombillies)
Most Realistic Costume - Roadie (Given by: Team Zombillies)
Best Clowning Around (Given by: Team Zombillies)
Most Interactive Queue Entertainers (Given by: Team Zombillies)
Most Evident Character Backgrounds (Given by: Team Zombillies)
Actor Shout Out Award - "The Barker" A.K.A Evan Lawson (Given by: Team Zombillies)
Actor Shout Out Award - Darkwood, "Ivan Darkwood" A.K.A Shorty Smith (Given by: Team Zombillies)
Actor Shout Out Award - Mercy, "Lucious" A.K.A Randy Wayne Smith (Given by: Team Zombillies)
Actor Shout Out Award - Mercy, "Milosha" A.K.A Sara Sakowich (Given by: Team Zombillies)
Actor Shout Out Award - Mercy, "Nurse Lilly Ann Patterson" A.K.A Belinda Smith (Given by: Team Zombillies)
---
2015 Awards
Most Interactive Queue Entertainers (Given by: Team Zombillies)
Actor Shout Out Award - Ashton Lester, A.K.A. "Slashton" (Given by: Team Zombillies)
Actor Shout Out Award - Evan Lawson, A.K.A. "Irish, the Scottish Clown" (Given by: Team Zombillies)
Actor Shout Out Award - Jarmen Wadkins, A.K.A. "Carnage" (Given by: Team Zombillies)
Actor Shout Out Award - Lisa Saunders, A.K.A. "Victoria Meelwurhm" (Given by: Team Zombillies)
Actor Shout Out Award - Randy Wayne Smith, A.K.A. "Silas" (Given by: Team Zombillies)
Actor Shout Out Award - Skylar Cannon, A.K.A. "Roadie Fisher" (Given by: Team Zombillies)
---
2014 Awards
Creepiest Vocals (Given by: Team Zombillies)
Best Introduction of the Theme (Given by: Team Zombillies)
Actor Shout Out Award - Fish Boy (Given by: Team Zombillies)
Actor Shout Out Award - Schizo Clown (Given by: Team Zombillies)
Actor Shout Out Award - Spider Sprinkles (Given by: Team Zombillies)
Actor Shout Out Award - Train Engineer (Given by: Team Zombillies)
---