Find Reviews for a Haunt near You! Find Reviews for a Haunt near You!
Find Reviews for a Haunt near You!
Wells Township Haunted House
101 Market Street, Brilliant, OH 43913View All Details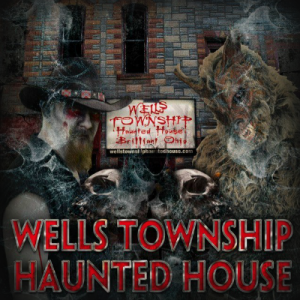 Features:
Free Parking, Restrooms On-Site, Food/Concessions, Gift Shop/Souvenirs, "Hi-Tech" Attraction, You may be touched, Original Characters, Uncovered Outdoor Waiting Line, All-Indoor Attraction
Team Mysterious Misery reviewed this attraction on October 24, 2014.
Final Score:

9.54
Summary:
In its 6th year of operation, Wells Township has declared its top position in the haunt industry and it stays there. They never disappoint. Year after year we walk away from our experience at Wells absolutely amazed. At the end of every haunt season they strip away everything and go to the table with new concepts and ideas. You can visit this haunt every year and it will never be the same. For a haunt of this size to turn around every year and be this amazing, it deserves recognition in my book. Mr. Norman and his amazing team of 180 volunteers have so much passion for this haunt that it bleeds out of every spot. They have an amazing man named Mark on the team who has created the opening scene for the last few years that I have been there. The opening scene sets the tone and his work is out of this world! I can tell you every opening scene since I have been going because they are amazing. This is a haunt you will remember for years to come. From dark shocking mazes, having your soul ripped out, flying backwards to avoid a nightmare, wicked slides, and amazing clowns you will have an entertaining night of fears, screams, laughs and one you won't ever forget. So get out and see what we are talking about but remember all things evil may be lurking around every corner.
---
Cast:

9.4
Wells Township manages to have an amazing cast year after year and this year was no different. It has one of the largest non-paid volunteer casts we've seen, which blows me way. There are at about 180 volunteers that help this haunt keep operating every year. They usually operate using 60-75 actors on any given night. This haunt also maintains young volunteers which helps keep the young ones out of trouble, and the haunt benefits from their fresh ideas and creativity. Many of the cast members become their characters and do an amazing job. They attend conventions and classes which helps some of them gain better skills. However, even with a young crowd they do amazing! We definitely have to give a shout out to Aunt B which made us feel right at home and did amazing throughout the whole night. Erica, the creepy clown, was on it all night and not only was she scary she got a few laughs in as well. We also wanted to mention Kim who was in the nursery scene, no matter what was said or done she stayed in character which can be hard to do at times. Oh and we can't forget Mark "the evil" who made us feel nostalgic before he released the horror.
---
Costuming:

9.3
Wells always impresses us with costuming and make up, and they did it again this year. You will not find Walmart items or every day movie characters at their haunt. You will find many original characters that the actors and the make up team work create together. The costuming always fits into the scene for amazing storytelling. A few that stood out this year was Aunt B, the guardian angels, and the clowns, all of them. They were all amazing and very different. Keep an eye out for Pappy !
---
Customer Service:

10
Wells Township was able to maintain their level of customer service again this year as they have in the years past. They never disappoint in this area and show us why people like us drive hours and hours to get to this haunt. Mr. Sean Norman and his group of 180 amazing volunteers know what it takes to keep a haunted attraction running at great levels. On record setting nights you will not see a flaw in the customer service. You will have no trouble finding this attraction and if you do just stop at a local business and they will know exactly how to get you there. When you arrive the outside feels very party-like and is exciting. They usually have awesome bands or DJs on stage spinning music. They have a lot of yummy's to indulge yourself in. There are bon fires, photo ops and more while you wait around in an open area with no line. You have a number and it will show up on the board giving you the chance to roam around and Instagram or take Facebook pictures, eat, get warm, hang with friends and much more. They have a gift shop so you can pick up an awesome t-shirt or hat. They are always up to code with safety plans in place, always have police present and utilize headsets to make sure things are quickly taken care of and calls are answered. They encourage other haunts to come and visit and their passion for their 'home' shows in customer service. Make sure to bring plenty of cash and quarters and pack your patience because finding a place to park can be tricky.
---
Atmosphere:

9
Wells Township does an amazing job at keeping its split personality together and enhancing and pulling you into both. The outside is very entertaining and party-like. As we mentioned before they do not have a queue line which gives you the opportunity to engage in the many other activities. You will be given a number and the numbers are on a new digital board so you will always know how much longer you will need to wait. You can dance to the music, take selfies with the creatures to update snapchat with, drink hot chocolate and sit around the bon fire in the group date and many other things. However once your number gets called out things get real and fast. You will be assigned a tour guide, ask for Aunt B you won't regret it. You will get your rules and then you are walked into the opening scene. Then let the scares, laughs and the great time that you will be talking about for weeks begin.
---
Special Effects:

9.9
During our trip to Wells we talked about how there was no way that in this category could they repeat last year's success and we ended up eating our words! They had special effects that blew our minds. They always seem to find the right balance between new technologies and old fashion scares. They always seem to be the trend setters in new technologies . The one thing that impresses me with special effects is that they don't always need to spend thousands of dollars or hire huge companies. Inside of their personal network they can create great technological scares using every day things such as a garage door opener. They have something unique and truly amazing in the Limbo room where they crush your soul. You will also get scares when you get buckled into seats because no honey you are not at an amusement park but you will quickly get those kinds of thrills. They also have scares that are just visually spectacular such as The Guardian Angels. The beauty in the room and with the cast caught me off guard enough to scare. All of the elements come together very nicely to create an amazing experience.
---
Theme:

0
Well's Township does not stick to an overall theme as they tear down and rebuild the haunt every year. However every year the opening scene tells the story of the haunt. This year its about a little girl who collected things to make her happy until evil creeps in
---
Fright Effect:

9.4
Wells Township never fails us because each and every year they deliver. Just when we doubt them they prove us wrong. This year is no different . They not only scared the hell out of each of us but they provided a very entertaining night all together. With the amazing cast, the unique costume and creators, the themes of the rooms and the special effects you can not ask for any better of a fright effect than you get at wells. Providing terror in many ways for gruesome to down right hilarious as you try to escape a black room and get shocked.
---
Value:

9.8
So once you buy your general admission ticket at Wells and go through the attraction you will realize that the price was a steal! At $13 that is one of the cheaper haunts we have seen around. If you do not like to wait, around $18 is still an amazing deal for all this has to offer and less of a wait!
General admission is $13.00 and available ON-SITE ONLY!
Internet tickets are $18.00 and available ON-LINE ONLY!You MUST PRINT OUT YOUR TICKET. Bring your ticket to the Internet Ticket Reception Window located at the attraction. Purchasing an Internet Ticket provides you with a separate ticket line dedicated for VIP and Internet Ticket holders ONLY. Pre-assigned group numbers await you at this window that are separate from General Admission. Internet Ticket groups will be assigned on a first come first served basis.
VIP tickets are $25.00 and available ON-SITE ONLY!Pre-Assigned entry times have been set aside for those wishing to upgrade to VIP status. Once you purchase a VIP, you pick a time you want to enter the haunt, based on availability. This guarantees your entry time in the attraction. General Admission and Internet tickets can be upgraded to VIP if you pay the difference.
REFUNDS:The show starts once you arrive at the attraction. General admission refunds will be made in the form of a pass for another day. Internet tickets, VIP tickets and passes ARE NOT REFUNDABLE!
---
Guest ReviewsGuest Average: 9.88 out of 10
Jenn Harris – 10/10The best haunted house I have ever been too. Everything is so realistic. From the props to the …show more characters. If you're looking for a great time & a great scare, make sure to visit WTHH!!
---
2015 Awards
Most Interactive Queue Entertainers (Given by: Team Mysterious Misery)
Most Interactive Haunt (Given by: Team Mysterious Misery)
Actor Shout Out Award - Mark Miller, A.K.A. "Mr. Tickles" (Given by: Team Mysterious Misery)
---
2013 Awards
Highest Rated Haunt (Given by: Team Mysterious Misery)
---
2012 Awards
Highest Rated Haunt (Given by: Team Mysterious Misery)
---