Find Reviews for a Haunt near You! Find Reviews for a Haunt near You!
Find Reviews for a Haunt near You!
Hill of Terror
3666 Priceville Road, Bonnieville, KY 42713View All Details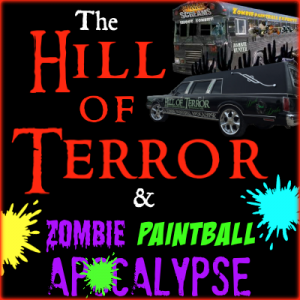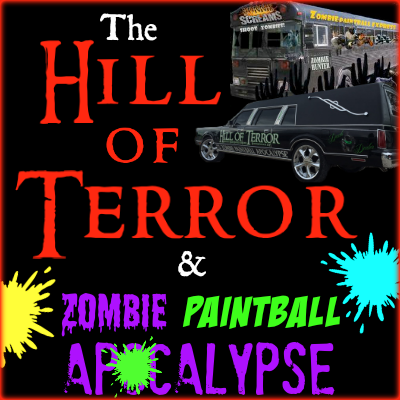 Features:
Free Parking, Restrooms On-Site, Food/Concessions, Gift Shop/Souvenirs, Optional Games/Midway, You will NOT be touched, Uncovered Outdoor Waiting Line, Indoor/Outdoor Attraction
Team Zombillies reviewed this attraction on October 25, 2014.
Final Score:

9.32
Summary:
Hill of Terror is now in their 4th season for 2014. With several changes and additions, they continue to be one of southern Kentucky's longest and best bang-for-your-buck haunted trails! It took our review group over 40 minutes to escape the wild woods and ferocious fields this attraction has to offer on their 300-acre property, so be prepared for some walking! New for the 2014 season, you can now shoot zombies with live paintball guns on your ride up the hill for an additional $5.00. If you're looking for a lengthy outdoor trail that inhabited by many different things including clowns, hillbillies, trailer trash, butchers, and more, then make sure the Hill of Terror is one of your go-to haunts in Bonnieville, Kentucky!
---
Cast:

8.89
On an average night, you'll find around 35-40 volunteer actors and actresses hidden along the Hill of Terror's trail. This number is a little less than last year and, as a result, we experienced a few more sections of trail where there were no actors to break the silence. However, the cast that WERE there seemed to be much more interactive with our group! Several of them were even able to carry on conversations with our group while others, like the hillbillies, physically interacted with us as we passed through their scenes. Each of them stayed in character and, for the most part, their dialogue made sense with their relative scenes and themes. This ultimately made for some very entertaining and believable characters during our visit.
---
Costuming:

8.62
Most of the costumes at this attraction served their purposes by transforming the cast members into believable characters. Some of them utilized stilts to increase their intimidation factors, ghillie suits to blend in with the woods, and others would be bloodied up for scariness. One was even dressed as a woman (which turned out to be a hilarious scene)! However, some of them weren't as elaborate as others and relied more on their masks to keep our attention. With that being said, the masks that we did see generally tended to be of good quality and seemed to improve the scariness and intimidation factors of the characters wearing them. The makeup that we noticed on the rest of them appeared to be well-detailed and also increased their realism and believability!
---
Customer Service:

9.7
Multiple signs at intersections and the haunt's wrapped van helped us find our destination. Free parking is available in a large, grassy area. The ticket booth is located at the first barn, which is also where you can have your fortune read, and we highly suggest that you do so! During our visit, free popcorn was available near the fortune teller and two food vendors, one at the bottom of the hill and one at the top for your convenience. The majority of the attraction is outside, so be sure to wear appropriate clothing and watch out for uneven ground. Friendly and helpful staff members were located at start of each queue line and at the first barn in case any questions or concerns were to arise. Be forewarned that this attraction gains a huge crowd as the season progresses and that they have TWO waiting lines. One is at the bottom of the hill and the other is at the top of the hill after the paintball trailer drops you off.
---
Atmosphere:

9.65
Hill of Terror seems to be located out in the middle of nowhere, so just the haunt's location can be creepy enough for some visitors! The haunt's hearse and the hillbilly on stilts scaring folks as they approach the ticket booth helped in letting us know we were at a haunted attraction. The fortune teller, the clown with his baby, and another surprise at the top of the hill in the barn queue line successfully heightened our group's anticipation to enter!
---
Special Effects:

9.74
The special effects that you may come across at Hill of Terror consist of a combination of items that have been built in-house or purchased from haunt vendors. Several large and effective additions were noticed this season that really helped set off the scenes they were used in! The crew worked very well with some of the effects which improved their overall effectiveness. When heard, sound effects were realistic, especially the ones coming from some of the props which helped in bringing these scenes to life! Effective lighting was used where needed and helped illuminate some of the wooded areas of the trail. However, some of the transition areas were rather dark, which made it hard for our group to pick out if anyone… or anyTHING… was sneaking up on us! One newly-remodeled area for this season consisted of a lot of poop, a large bed-ridden person, and a very, very bad smell that lingered among us and left our group members wanting to gag! We swore that when we made it back to our car that we could still smell that stench! Some of the other effects that we came across include a machine gun, several computer-generated images, many sudden blasts of air, a toilet surprise, a window zombie, a skyward-shooting flame, slides, poppers, a bed surprise, sparks, and some sort of creature protruding from a dead body!
---
Theme:

9
Hill of Terror doesn't involve a particular storyline. Instead, they continue to follow the idea of "if you can't scare them, entertain them!" They intentionally tried to include a little something for everyone in an attempt to at least entertain their customers. Since this theme is rather universal, you just never know what you may find along your route, or what may find you! Due to the completely random sets, transition areas mostly consisted of the natural woodlands and corn fields as we ventured from scene to scene. We ran into a wide variety of things and differently-themed areas including a barn, a cornfield, the "Panic Room," a cabin, zombies, a large snake, several bedrooms, a butcher trailer, and more! Some of the characters we came across matched their scenes very well, which helped in adding authenticity to them.
---
Fright Effect:

9.1
Frights were delivered to our group on multiple levels including alarming sounds, tight and uncomfortable spaces, taunting, aggressive characters, acts of violence, a persistent chainsaw chase, and many unexpected startles! We came across a pitch black tunnel that we had to crawl through, a room that had us guessing what was real, a flailing victim who had been cut in half, we were nearly run over, and we faced a very uncomfortable visit with a large person in a very, very nasty room! Good hiding spots were used by the characters and included a few that were in the areas between scenes where they were least expected. Due to all of the sudden reveals and noises, we had a hard time predicting where the scares were going to come from, which kept us on-guard the entire way through! A few effective distractions were used, but we recall experiencing more of them in previous seasons.
---
Value:

9.85
Ticket prices to take the journey at Hill of Terror remain the same for the 2014 haunt season at $20.00 per person. Our group endured 45 minutes of tormenting entertainment, putting this value at 2.25 minutes of entertainment per dollar spent! The length of the attraction combined with the creepy amusement that we received during our visit keeps H.O.T. as one of the best values we've come across! Keep in mind though; the time it takes your group to make it back to safety may vary per group. The zombie paintball has moved to the trailer that you will ride up the hill this season. If you would like to kill some zombies with paintballs during your ride, you can do so for an extra $5.00, which gives you 60 shots. If you don't want to shoot, you can stand in the middle of the wagon and ride up the hill at no extra charge. Lines get super long, so we suggest that you arrive earlier in the season or at least close to their opening hour. If you're looking to take on a 45 minute trail offering some impressive special effects and plenty of startles, then we suggest you pay Hill of Terror a visit!
---
Promo Images:
Click to Enlarge