Find Reviews for a Haunt near You! Find Reviews for a Haunt near You!
Find Reviews for a Haunt near You!
Haunted Hotel 13th Floor
511 N Jefferson Street, Huntington, IN 46750View All Details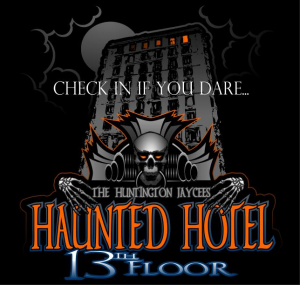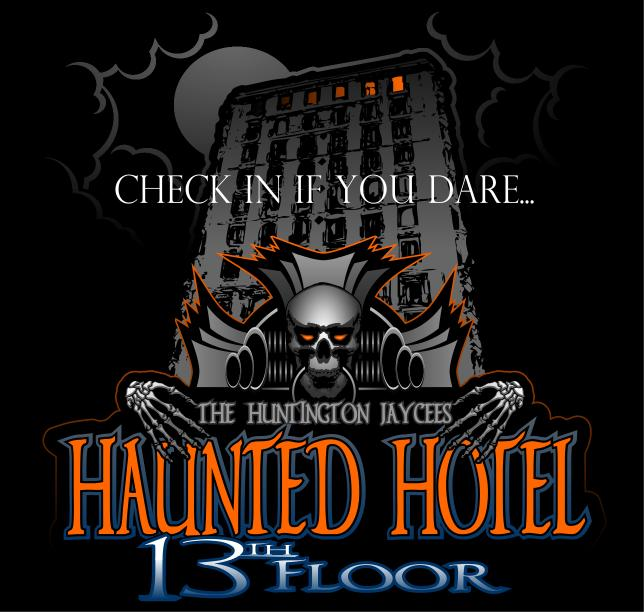 Features:
Free Parking, Restrooms On-Site, Food/Concessions, Gift Shop/Souvenirs, Special Events, You will NOT be touched, Original Characters, Covered Outdoor Waiting Line, All-Indoor Attraction
Team Zombillies reviewed this attraction on October 31, 2014.
Final Score:

8.75
Summary:
The Bellhop welcomes all and will assist you in booking your stay on the "13th floor" of the "Warwick Hotel," where you'll find a wide variety of psychedelic scenes and characters! Having been in business for over 47 years, HHH has collected several authentic props and decorations and incorporated some impressive artwork into this one-of-a-kind haunted house! Also this year, you can choose to enjoy the experience regularly, or you can purchase a set of 3D glasses for only $1 that help give the scenes an extra "pop!" Don't miss out on the dark secrets that lurk behind each corner at the Huntington Haunted Hotel: 13th Floor… "Check in… if you dare!"
---
Cast:

8.78
Around 20-25 paid actors and actresses roam the halls and rooms of HHH. This number is a fair amount lower than what we experienced in 2013, which was made apparent by quite a few empty spaces throughout the haunt. As a side note about their training, on nights that the Hotel isn't open, the cast members get together to visit other attractions in an effort to learn different types of scare techniques. As a result, several of the characters provided us with some pretty believable performances! Among the most memorable were Eldon (the Bellhop), the chef, the caged creature and its handler, and the actor in the organ scene. The girls in the doll room worked well with one another to make their scene one of the creepiest that we encountered during our visit. Many of the actors verbally interacted with our group, which made their characters much more believable and helped them fulfill their roles while we were in there scenes. The dialogue used by some of the actors also helped increase their realism, although a few of them seemed to show a bit less experience than others in this area.
---
Costuming:

8.67
The costuming at HHH generally consisted of worn and tattered clothing during our visit, which helped authenticate the attraction's early-1900's theme. However, there were a few iconic characters, such as the girls in the doll room, the clowns, the Bellhop, and the freak show demon, that seemed to stand out a bit more to us. Features of these characters included elaborate costumes, horns, detailed makeup, and costume designs that fit exceptionally well with their scenes! We didn't notice any masks being used during our tour of the Hotel. Most of the clothing articles that were used didn't really seem to "pop" as much as their makeup did, which actually gives kudos to the makeup artists that were able to create such a wide variety of characters using makeup alone! On top of that, nearly each of the characters' makeup also matched the theme and their scenes by utilizing fluorescent colors that worked well with the backlights being used throughout the attraction. The caged creatures horns and sharp-toothed makeup design made her one of the most intimidating characters that we experienced during our visit.
---
Customer Service:

9.03
This attraction is located right in downtown Huntington, so it was fairly easy to find, just look for the flashing "Hotel" sign on the building. Parking is along the street near the attraction when available, and is free. The ticket booth was closer to the road in a small trailer where souvenirs and refreshments are also offered for your convenience. This is also where you would purchase your 3D glasses if you decide to use them. After purchasing your tickets, one of the Hotel's staff will wand you before you are permitted to enter the waiting line. If you need to use the restroom, a portable one can be found near the exit of the attraction. During our visit, friendly staff members were located in the ticket booth and at the entrance of the haunt in case any questions or concerns were to arise. Flooring throughout the inside of the attraction was easily navigated, however the waiting line and exit of the attraction involves stairs, so be careful when negotiating these areas. We noticed on their Facebook page that they may offer group photos, so if you're interested in that, be sure to ask.
---
Atmosphere:

8.56
The Hotel is located in an old, creepy building and, when looking at the upper levels from the front, it makes the attraction a bit more creepy-looking. A vintage, flashing hotel sign also aided it enhancing the attraction's believability. As we waited our turn in the Hotel's stairwell, a loud bell and creepy sound effects were heard, welcoming us to the attraction! Several pictures were also noticed in the queue area, giving us a little insight on several of the characters that may be found inside!
---
Special Effects:

8.71
The special effects that can be found at the Hotel are a combination of items that have been both purchased and created in-house, including the interesting artwork displayed on many of the walls that was created by their greeter! Scene-appropriate and realistic sound effects filled the air throughout the hotel, including specialized tracks produced by Midnight Syndicate. Some of the characters worked very well with the effects in their respective scenes, making them much more effective towards our group than if they would have solely relied on the effects! Accent lighting appropriately adorned the scenes, making the 3D effects very noticeable and still interesting to look at… even without the glasses! Some of the effects our group came across were a unique entrance to the hotel, their custom elevator that takes you to "the 13th floor," a table surprise, a mutilated clock, a misdirecting organ, tons of fluorescent paintings, snakes, Illusions along the path, creature containers, and more!
---
Theme:

8.75
HHH does follow a storyline that is very significant to the 13th floor. The entire tale can be found on their website. Long story short, a possibly-mad man by the name of Damian Warwick, was the owner and architect that operated this hotel years and years ago. During these times, strange things were happening, including the death of his daughter and wife. Other strange occurrences were said to be taking place on the 13th floor of the Hotel. On the night of October 13, 1904, a fire broke out on the accident-prone 13th floor, consuming 302 innocent souls. It is said that these 302 souls may still be trapped between life and death to this day within these walls! Do you dare pay them a stay so you can find out for yourself? After the fire, Damian Warwick disappeared…and some believe that he may have set fire to the hotel himself in an attempt to cover some of his evil ways. We'll leave it up to you and your group to see what you discover! Some of the cast did a great job at reiterating this theme throughout the length of our stay, which convinced us that we really were at the Warwick Hotel!
---
Fright Effect:

8.48
Multiple types of frights were used toward our group during our visit. Some of them included aggressive dialogue, sinister stares, baffling areas, ear-piercing screams, unsuspected, mechanical reveals, and they even tried to split our group up on multiple occasions by singling us out one by one! Multiple distractions were noted that effectively caught our group off-guard as well as a few canny hiding spots. We never knew what we were going to face next at this attraction! They wanted to turn us into stew, feed us to some demon (who ended up being rather picky, thank goodness!), tried to get us to stay with them in the Hotel forever, and they even tricked us multiple times! They also tried their best at going after everyone in line, not just the front or the back of the group, and were rather skilled at sneaking up on the back of the group.
---
Value:

9
General admission remains at $12.00 per person for the 2014 season! If you decide you want to experience the attraction in 3D, special glasses can be purchased for $1.00 more. However they are included free of charge with Fast Pass admission, which is priced at $20.00 per person and allows you to skip the general admission line. It took our group around 16 minutes to find the exit of the 13th floor, putting this value at 1.33 minutes of entertainment per dollar spent. Although your tour time may vary per group, this is a competitive value considering the lower ticket price and entertainment that can be experienced inside! On Thursday nights, the haunt hosted their "Myctophobia Thursdays," which is their lights-out experience, so if this sounds like something of interest to you, be sure to visit their site for more information. The Haunted Hotel and Hysterium are now managed by the same people, and discounted tickets can be purchased for BOTH separately-located attractions at $18.00 per person, which is a savings of $6.00! Fast Pass admission to both attractions is also available for $35.00. If you are looking for a unique experience that offers the entire show in 3D, we suggest you check-in at The Haunted Hotel 13th Floor, but keep in mind "Your stay at THIS hotel will be ANYTHING but peaceful!"
---
Promo Images:
Click to Enlarge
Have you visited this attraction?
---
2014 Awards
Actor Shout Out Award - Caged Creature (Given by: Team Zombillies)
Actor Shout Out Award - Eldon Bellhop (Given by: Team Zombillies)
---
2012 Awards
Actor Shout Out Award - Disorienting clown (Given by: Team Zombillies)
Actor Shout Out Award - The Clerk (Given by: Team Zombillies)
Actor Shout Out Award - The Trainer (Given by: Team Zombillies)
---