Find Reviews for a Haunt near You! Find Reviews for a Haunt near You!
Find Reviews for a Haunt near You!
Hundred Acres Manor
1 100 Acres Drive, Bethel Park, PA 15102View All Details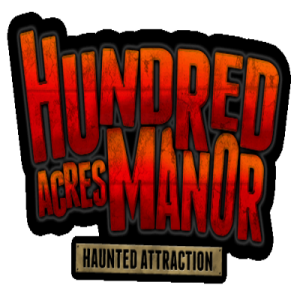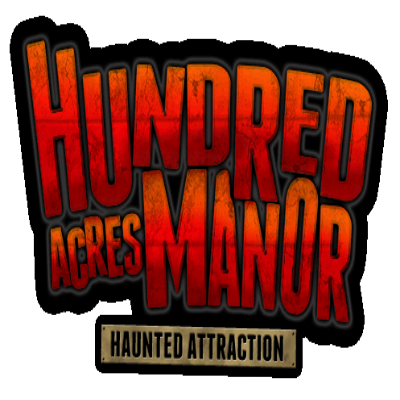 Features:
Free Parking, Restrooms On-Site, Food/Concessions, Gift Shop/Souvenirs, Special Events, "Hi-Tech" Attraction, You will NOT be touched, Original Characters, Indoor/Outdoor Attraction
Team Scary Potter and the Hauntwarts Express reviewed this attraction on September 12, 2015.
Final Score:

9.68
Summary:
One Hundred Acres Manor (1AM) is back for its 12th year of haunting. Boasting six attractions this season: Dead Lift, Damnation, Torture Tank, Vodou (new for 2015, and this scare team's favorite), The Maze, and The Brine Slaughterhouse, 1AM is poised for its best season ever. In addition to The Manor, the folks at 1AM have been furiously busy putting together two ADDITIONAL haunted experiences: Zombie Lazer Tag and The Enigma Project, a horror escape room unlike anything you've seen before! With so much entertainment available, it's easy to see why 1AM is quickly becoming one of the must-see Halloween Attractions in the Pittsburgh Area. If you've previously been out to Bethel Park to experience this macabre manor, you know that they bring a blend of hi-tech horror and old school sensibility that is uniquely terrifying. Like a challenge? 1AM's maze is LEGIT. It is easily the largest and most complex haunted maze in the region. Like scares? 1AM has stuffed its demented corridors and wretched hallways with over 100 maniacs, psychos, and monsters that wait behind every corner to rip the scream from your lungs. Like creepy scenery? The FX and set design at 1AM only keeps improving, including several new incredible sets that must be seen to be believed. Get in your car, hop on your broom, whatever; just get your butt to 1AM this year.
Note: Lazer tag and the escape room were not available the night that we visited so, while super cool, we cannot provide a legitimate review of them at this time. Instead, be a better person than I am friend and visit them for me and then tell me how they are. Please. ;)
---
Cast:

9.87
Wow. Even the nachos were in character. There were over 100 actors a-scarin' the night that we visited 1AM; approximately 40 of these being professionals, and the rest volunteers. If you've been around the haunted block before, you realize that that is a LOT of haunting going on. Further, we attended 1AM on its second night of operation; later into the season, that number can actually DOUBLE. Yes, 200 total actors during its peak. That is an absolute stampede of haunters. "Ok, so they're practically dropping monster-folk on your head like ballast, but are they actually any good; are they SCARY?" Absolutely. As will always be true, the volunteers do vary in ability to a degree, but the average scaritude? Very high; significantly above most other haunts. And I cannot state this strongly enough : NO ONE will tell you, "Get out!" or ask you "What are you doing?" or any of the other go-to, generic phrases that you experience ad-nauseum in the haunted attraction universe. Management strongly deters their employees from any of these expressions and it is WELL APPRECIATED. What you get instead are more fluid, interesting, scripted interactions that feel more significant and enjoyable than a random scream in the face or an illogical, random forebodance. So many of the actors interact with you directly, that you begin to feel like a member of the cast. Conversations with the actors were believable and thematically accurate. I was offered moonshine, given a post-mortem homicide slug, and, well, I think I may even have a date Friday. It's really a fantastic crew that they have this year.
---
Costuming:

9.85
Not a single pair of jeans; no instance of hastily-smeared grease paint. 1AM takes outfitting seriously, with a large percentage of their masks and costumes being created specifically for their attraction. I'll be harkening to the new "Vodou" portion of 1AM a few times in this review, and it's no difference here. The masks/outfits of the main scarers are frighteningly detailed and complex. The Vodou priest/priestess, and the stitchers… "beware the stichers", were our favorites of the bunch. VERY effective and high quality, and that holds up throughout the manor's other themed sections as well. One of the things that 1AM does better than most others is creating an unsettling, immersive environment. Much of the time, it's nearly impossible to differentiate actor from 'animate (see more in fright effect below), and the most important factor that makes that possible is professional, realistic costuming. You won't see the generic Freddy and Jason here, just swarms of unique, terrifying creations.
---
Customer Service:

9.75
We were very impressed with the 1AM's customer service. We spoke to many of the employees during our visit – the folks at the ticket and concession booths, security, ticket-swipers, etc. Everyone was friendly and helpful. There are always an ample number of spotters in front of the haunt to help you park (down to the inch, even!), so it would be nearly impossible to miss the attraction when you're near it. 1AM is located at the center of a park area that is very deserted at night, but there are road signs posted to point you in the correct direction, and even spotlights twirling through the sky to follow. The size of the line can get pretty long on busy nights, but there are a great deal of very proficient actors sneaking around the grounds at all times, so you'll never be able to truly relax, even outside of the attraction. On the night we were there, an additional troop of roving, professional actors had entered the fray and were very unique and entertaining. In fact, some haunted attractions have less actors in their entire haunted experience than 1AM had scaring up the line that night! Getting scared can really work up an appetite, so don't forget about the food stand that is conveniently placed next to the waiting line. Insider hint: fantastic chocolate chip cookies and soft pretzels. Just make sure not to share with any clumsy-handed friends… *cough* Don't worry, should you share my misfortune, there are plenty of delicious replacements. After you've finished your trip through the manor, a souvenir stand awaits with t-shirts and other swag to purchase and display proudly to invoke the jealousy of absent acquaintances.
---
Atmosphere:

9.2
Set amidst the tranquility of a deserted suburban park, 1AM is the raucous, unrelenting upstairs neighbor who refuses to turn the music down, literally and figuratively. 1AM's presentation is loud – in all manners (pun warning). As soon as you're out of your car and on your way to the manor's facade, you hear the music – loud metal welcoming you to the estate, accompanied by loud lights insisting, "Hey, get over here!" There's nothing terribly subtle about the approach, and it fit's the haunt's aesthetic – in your face. The music only gets louder as you proceed through the line, with the colorful line-scarers appearing seemingly out of nowhere to frighten, harass and amuse you. Leonard, the "gate keeper" sets the tone for the attraction as he prepares you to enter the Manor – brash, unpredictable, and sinister, just like the attraction itself.
---
Special Effects:

9.92
Let me be frank here for a moment: the special effects at 1AM are, without hyperbole, INCREDIBLE. I always hold strongly to the dictum that perfection is, fundamentally unattainable, an acceptable dream-goal for one to continuously aspire toward, but realistically beyond any actualized fulfillment. One Hundred Acres Manor is getting close. This year's experience was definitely within the top 3 or 4 haunted experiences that I have ever encountered in regards to special effects. I will spoil nothing herein, because the set designs, animatronics, and other various props must be seen to be properly appreciated. Top marks are earned by the newest addition to the Manor, "Vodou" – one specific section of that theme is worth the price of admission alone. Seriously. Combining all of the things that 1AM does best, this voodoo-ship scene will make you simultaneously giddy, nauseous and terror-stricken. Even when 1AM goes more traditional with their effects, they transcend the standards – for example: many haunts have some form of the "electrocution man" animatronic, including 1AM, but the one that we saw in the manor was so much more realistic and over-the-top than any I had seen before. This "take the traditional and turn the knob to 11" ethic is applied throughout the scenes and designs of the attraction. The set designs are also very well-crafted – very intricate, unique, and appropriate for their themes. There is no shortage of blood. If you scraped together all of the hemoglobin from The Brine Slaughterhouse alone, you could give the Eiffel Tower a new, cheery, crimson sheen.
One more thing, and I don't even know where to classify this because, really, 1AM are mostly in their own league on this. There are a lot of haunted houses in the world, with lots of beautiful and disgusting scenes, good actors, creative props, and the like. Your eyes, ears, and even your hands are routinely presented with an abundance of interesting sensations. But have you ever been to a haunted attraction that boasted nearly SIXTY DIFFERENT SMELLS? Most scenes at 1AM are gruesome and frightening of their own accord, but overlying all of this is the most unsettling variety of pungent, nose-assaulting odors that we had ever experienced – like a big box of odorous jelly beans ("Hurray, I got a skunk and a decomposing garbage!"). The addition of a specific scent (or scents) for each scene adds a layer to the immersion that works beautifully that you will not receive at other haunts. Additionally, 1AM will even use these smells to play mind games with you "!EEK, IT'S A CRAZED KILLER!… yet, I am strangely allured… what is happening?" Did your nose just subconsciously alert your brain to the sensation of "cotton candy" while simultaneously stomping onto the fight-or-flight response? That would be a devilish trick to play on an unsuspecting customer! No one would ever be so cruel… would they?
---
Theme:

9.3
There are six "themes" for this season (open to interpretation if you'd count "maze" and "elevator" as themes in the strictest sense). Instead of creating a separate attraction (and line) for each theme, you experience them fluidly, one-after-the-other, with no break from the carnage. 1AM sticks to task very well – the different thematic sections are distinct, and readily apparent. Vodou is filled with terrifying voodoo priests and priestesses; Brine's Slaughterhouse is as bloody and gruesome as you'd expect of its namesake, torture tank is… torturous, and the main section, Damnation, presents itself as the more traditional, haunted manor that it claims to be. The actors in each location are attired appropriately, and maintain the characterization of a denizen appropriate to their surroundings. These motifs may be familiar to you if you've been to a lot of haunts before, but 1AM does a great job of inserting its own unique flavor into each of them.
---
Fright Effect:

9.88
Two members of my team were startled by a bookcase. No, not a monster behind it, or under it, or inside of it, just the bookcase, the SAME bookcase; and on two separate occasions, as we had gotten temporarily separated. A haunted attraction that can create a legitimate scare with just a piece of furniture is deserving of high praise. Most people attend haunted attractions to be scared, so this is arguably the most important category. At One Hundred Acres Manor, you will NOT be disappointed. Do you like actor-induced, jump scares? Perhaps you prefer animatronic freak-outs or environmental-hazard trauma. Extreme assault or subtle creepiness? Don't worry, you're covered. Scares at 1AM are varied and frequent. The 100-200 actors come at you in every shape, from every angle, and with every frightening disposition that you can imagine and they hit every member of your group. In costuming, I mentioned 1AM's unique ability to obfuscate your differentiation between human actor and animatronic. That hugely impacts their ability to use "distraction scares" (force your attention onto one object or prop and then blindside you with a scare from another direction), and they execute them to perfection. But additionally, the two (humans and animatronics) often work together to achieve scares on a level that would be impossible separately. There are a handful of unbelievable hybrid scares of this nature that are inescapable and awe-inspiring. Just remember – nothing is ever as it seems at One Hundred Acres Manor.
---
Value:

9.69
We spent exactly 30 minutes traversing the haunted halls of One Hundred Acres Manor; standard entry is only $20 dollars, putting the going rate at 1.5 minutes of fear per dollars, which is a significantly above-average SCA-LUE (Scare Value). That doesn't factor in the interactions you'll be having on your way through the line, either. VIP and Super VIP tickets are also available (the latter includes a free shirt!) for 28 and 45 dollars, respectively. And don't forget that they also have two different horror escape rooms available on-site! If you have the extra time and money, make sure to check those out. We received a little sneak peak at the behind the scenes and they are SUPER COOL and unlike any other escape room you may have been to. That's all we are at liberty to say about that. You'll need to sign up (and do so in advance, because the time slots, even for later in the season, are filling up very fast) and see what we mean for yourselves. And coming soon, they're even having zombie lazer tag: team vs team vs zombies with power ups and all kinds of cool stuff! Honestly, it sounds like it's going to be incredible. Check out 1AM's website for more info and the starting date. Our group had a great time visiting and loved every minute of our experience. The crew at 1AM legitimately outdid themselves this year and we feel very spoiled. With all sincerity, a trip to the ol' manorhouse is worth the trip for anyone with a pulse… though you may not finish your trip with one!
---
Photos from Review Trip:
Click to Enlarge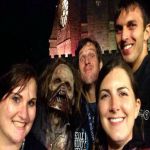 Promo Images:
Click to Enlarge