Find Reviews for a Haunt near You! Find Reviews for a Haunt near You!
Find Reviews for a Haunt near You!
Land of Illusion
8762 Thomas Road, Middletown, OH 45042View All Details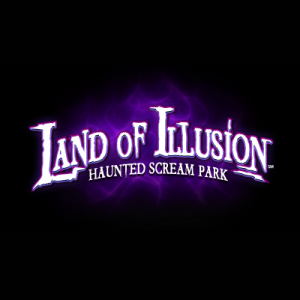 Features:
Paid Parking, Restrooms On-Site, Food/Concessions, Gift Shop/Souvenirs, Optional Games/Midway, Special Events, "Hi-Tech" Attraction, Original Characters, Celebrity Appearances, Indoor/Outdoor Waiting Line, Indoor/Outdoor Attraction
Team Zombillies reviewed this attraction on September 11, 2015.
Final Score:

9.08
Summary:
Land of Illusion is now in their 18th season of bringing fun and fear to Middletown, Ohio. LOI offers 5 haunted attractions at one location for one low price. Can't get enough? Your general admission ticket grants you UNLIMITED ACCESS to their 4 haunted houses and 1 haunted trail all night long! Still needing something else? Warm up by the bonfire and check out some live entertainment on the Stage of Rage (on select dates). Still need more? Grab some swag at the Ghostly Gifts souvenir shop, get some grub at the Creepy Café and order up a cold drink at the Voodoo Bayou Lounge (must be 21 for alcoholic beverages)! What's this 6th attraction all about? Well, if you like climbing aboard military trucks and slaying "the undead" with LIVE paintball guns, then Zombie Sniper Patrol is definitely something to sign up for! Our review group arrived at Land of Illusion at around 8:00 and didn't leave until well after midnight, so plan on spending the better part of the evening if you intend to hit all 6 attractions! Upgrade to VIP and gain access to the shorter, faster lines on busy nights. Check out their website and Facebook pages for special event dates and group rate information. Are you a big Land of Illusion fan? New for 2015, LOI is now offering season passes that will pay for themselves after only 3 visits! Also new for 2015 is the Demon Drop; a 40-foot tower that you (yes YOU) can climb up and JUMP OFF of! Various other activities can be experienced as well, including a mechanical bull and fortune telling. This attraction strives to have a little something for everyone, so if you're looking for a frighteningly-good time this haunt season with a little bit of everything, then make sure Land of Illusion is on your list of must-see attractions for the 2015 haunt season!
---
Cast:

8.64
160 paid actors and actresses transformed into the voracious monsters that brought Land of Illusion to life for the first night of their 2015 haunt season. LOI's owner told us that around half of them are newbies for this year, but WE sure couldn't tell… even on opening night! The cast of the Middletown Haunted Trail took on roles that were just as diverse as the trail itself and, because this was the first of the six attractions we visited at LOI, we quickly became aware that these talented creatures had already been preparing for us for quite some time. Our tour of the Trail led us to encounters with Michael Myers, a game of "ring around the cauldron," and even wilder things like a chance to be "…on the other side of the reel" from a fish-faced redneck! The Trail's cast members were arguably the most interactive with our group and didn't hesitate with their comebacks when we responded to their threats. Among the finest on the Trail were "Bubba" and his chainsaw's victim, "Jake" and "Percy," the Butchers, and "Tonya," The Widowmaker. The hillbillies in the Voodoo Bayou Shanty returned once again as the most hellishly hilarious bunch at the park and were kind enough to offer us some "face steak" before we stepped inside. However, the mood slowly turned as we met the darker, truer side of the family, eventually ending with being chased off the property with blood-thirsty threats and promises of dismemberment! In search of some lighter-hearted entertainment, we then decided to check out the Killer Klowns attraction. Our entrance into "Bo Bo's World" started peacefully enough, but quickly turned into a mind-bending disaster as we faced the demented taunting and ludicrous laughing of these "masters of macabre." Props go out to the clowns with chainsaws, as they continued to ad-lib and "entertain" our group after their initial routines and scare attempts. Now in search of something more "down-to-Earth," we decided to try our hand in the attraction LOI claims to have been "unearthed at the turn of the last century." Yet again our plot was foiled by the sinister spirits, gut-gouging giants, "corpse-stealing maniacs" and mortifying mummies that trek the tunnels of Temple of Terror! Most of these monsters used pop-scares, so we weren't able to interact with them very much. However, the creatures that were working the larger areas had appropriate dialogue that enhanced their scenes, which made their characters far more believable. Our final attempt in our search for solace landed us in Dr. Psycho's Haunted Estate. As if the walk through the dark woods and twisting trails leading up to the Estate wasn't creepy enough, we had to dodge a deranged redneck and escape the clutches of a variety of attackers just to get to the front door! Once inside, a minister conducting a funeral service warned us of our impending doom if we should decide to continue. In hind-sight, we advise heeding his word! Our poor decision led us to an encounter with the evil Dr. Psycho himself and his previous experiments that roam about the mansion. Among them were Psycho's assistants, a troubled child, a frantic lunatic, and an extremely-fast "shadow figure" that inhabited the sewers beneath the Estate! The characters in Dr. Psycho's gave us a good mix of pop-scares and one-on-one interaction. We did run into a few "dead spots" before entering the mansion, but the inside portion seemed to have more actors, which resulted in a more action-packed experience. All in all, the 160 cast members seemed to fill Land of Illusion's attractions fairly well and each of them knew their roles. However, there's still room for improvement and we're certain they'll do just that as the season progresses.
Middletown Haunted Trail: 9.07
Voodoo Bayou Shanty: 8.78
Killer Klowns: 8.41
Temple of Terror: 8.43
Dr. Psycho's Haunted Estate: 8.49
---
Costuming:

9.07
Quite a few upgrades were noticed in the costuming department at Land of Illusion for 2015. The owner informed us they have 8 makeup artists that work in 3 different areas throughout the park to help get the 160 cast members looking as terrifying as possible in the few hours leading up to opening time. We noticed several high-quality masks and well-detailed appliances on the characters in the Middletown Haunted Trail this year. Others seemed to have minimal makeup in general, although most of these were generally the victims of their more sinister counterparts. One of these victims was literally flopping around on the ground… IN the water and gravel… as she was being "ripped to shreds" by her attacker, so it's easily understandable if some of their makeup jobs didn't exactly stay put. This year, we noted the Voodoo Bayou Shanty's characters as having the most improved costumes, particularly their masks. Although most of the masks were half-faced or had leather straps holding them on, the realistic hair, detail work and the way they related to their respective scenes really took the hell-bent hillbillies wearing them to a whole new level! The rest of the actors also looked very much at home in their Shanty-style scenes, even though some of their costumes were fairly simple with some added blood. Let's not forget about the nurse in the Shanty that was caring for one of the family members. Her distressed hospital attire seemed to be very complete and detailed, and she obviously knew how to use a needle! Killer Klowns utilizes bright-colored face paint and similar clothing articles to get the "Klown" theme across. It works quite well, especially considering the "not-so-fun" circus/carnival theme that's used throughout the haunt. However, some of the costumes didn't seem to be as complete as others. Some of the costumes in Temple of Terror were extremely well-detailed from head to toe, especially so in the mummy's case. A detailed skull atop a full-body skeleton with realistic, shredded fabric hanging from it left us with no doubt as to what this creature was! If all of the costumes were as elaborate as this, Temple of Terror could easily achieve a higher score in this category. Not to be discounted were the ghillie-suit characters that blended seamlessly with their jungle-type surroundings. Dr. Psycho's Haunted Estate features many types of scenes and, thus, a variety of characters. A convincing shotgun-wielding madman and a few crazed and bloody rednecks dotted the cemetery and barn leading up to the Haunted Estate. Only once we'd entered Dr. Psycho's abode did we truly understand the brutality and mutilation that occurred as a result of his wretched experiments! Blood-splattered victims with traumatic wounds, cultist skin carvings and shadow-like spirits reinforced the Haunted Estate's horrific theme. Overall, Land of Illusion has a knack for portraying each of their different themes through their characters. With some extra attention paid to detailing and building up some of their less-iconic characters, they have the potential to be among the finest in our review territory in this category.
Middletown Haunted Trail: 9.42
Voodoo Bayou Shanty: 9.63
Killer Klowns: 9.27
Temple of Terror: 8
Dr. Psycho's Haunted Estate: 9.02
---
Customer Service:

9.78
Even though it was raining as we made our way to LOI, we were still able to spot their two bright searchlights beaming high into the sky! Our GPS had no issues leading us right to our destination, which was hard to miss due to the large signs and lights near the entrance. Parking is always convenient at this attraction due to their huge, gravel parking lot. Portable restrooms can be found in the parking area in case you can't wait until you get inside. It will cost you $5.00 per vehicle to park and we were told the proceeds go to local charities. Over the years, this park has worked on providing their customers with a faster, more convenient experience and, because of that, you will notice it's more like an actual amusement park rather than the "average" haunted house. You will notice multiple ATM's on location, TV monitors above the tickets windows displaying their prices, bar-coded tickets, Fast Pass stamps, turnstiles and barcode readers for the entrance to the park, the Ghostly Gifts souvenir shop, a full bar at the Voodoo Bayou Lounge, concessions at the Creepy Café, permanent restrooms, the Stage of Rage, a bonfire, bull riding, and more! Needless to say, they've pretty much got you covered for an entire night of entertainment. Navigating the park is pretty simple. You can find the name of each attraction before you enter and there are several signs showing you where to go to get to them. We saw plenty of staff members roaming around the park and at each of the attraction entrances who were happy to help us with any questions we had. Despite the rain, we had ZERO problems with slippery floors or mud on the trails, so kudos to LOI for their safety efforts! TV's or projector screens were also placed in the queue areas to help pass the time for those waiting in line, along with the occasional roaming actor.
---
Atmosphere:

9.2
As soon as we saw the towering façade that welcomes you to LOI, we knew we were probably not at your average amusement park! On the night of our visit, the park had a live band for entertainment; so instead of the ominous music that has greeted us in the past, the band's country music was echoing through the parking lot. Once we were inside the park, the atmosphere had a very "Halloween fun" type of feeling to it. The monster photo op, multiple roaming creatures, large inflatable skull and encompassing screams escaping from the nearby attractions helped in reinforcing the feeling that we were, in fact, at a haunted attraction. The exterior of each attraction is also decorated appropriately for their respective themes and aids in preparing you to enter the attractions. Music was also heard near the head of each line that helped set the mood before entering the haunts, especially outside of the Shanty. While we made our way to the Middletown Haunted Trail, the atmosphere quickly changed from "fun" to "frightening" as we headed down a dimly-lit path through the woods to get to the queue line. Before we even made it to the line, we were wondering if something was going to jump out and try to get us!
---
Special Effects:

8.75
LOI uses a multitude of special effects that have been both purchased and created in-house. With that being said, you may find a lot of eye-candy here along with some things you've never seen before. The Middletown Haunted Trail uses a wide variety of effects and is one of the most high-tech and well-detailed outdoor trails our review team has experienced! Some of those effects also had good timing and placement, which improved their overall effectiveness. Some of the effects our team observed include a shifting catwalk, a spider tunnel, a double vortex tunnel, a billowing horse and its ghostly rider, an interesting conveyer belt display, bubbling liquid, lingering fog, caged lab animals attempting to escape and multiple machine guns! As mentioned earlier, the trail showcases great detail! They had coffins actually down in holes, maggots and worms on lunch trays, stalactites in the Shaft, and white chicken feathers all over the place in the butcher area that stuck to our shoes on the way out! Each area was also accompanied with complementing music or realistic sounds including nature sounds, sirens, screaming children, and loud rock music. The Shanty also had great detail and used quite a few effects that conformed to their sick sense of humor. A few of the things we came across in the Shanty include taxidermy work, a very large and not-so-friendly pet, thick fog, disorienting strobes, slatted walls, voodoo paraphernalia, and a human facial chair! We could also hear plenty of captivating hillbilly music and other realistic sounds throughout the house. We likewise came across a mixture of effects in Killer Klowns. Some of those included suicidal clowns, a strobing claustrophic passageway, very dense fog, a never-ending hallway, a jack-in-the-box, and various scents (including cotton candy) throughout a large portion of the show! Engaging music was heard in a few of the scenes but, for the most part, it was quiet throughout the attraction. Dr. Psycho enjoys experimenting on just about anything he can get his hands on, so there are many different types of concoctions that occupy his estate. This attraction also showcases immense detail in many areas, but don't get caught staring at them too long; they don't like it when you stare! Some of the Doctor's effects that we crossed paths with include rotating body parts, a cold freezer, a large creature with sharp teeth, a wall of caskets, a falling surprise, air cannons, ghostly body vaults, and a chainsaw-splitting surprise! This estate also had plenty of realistic sounds such as the growls of a chainsaw, crickets, water dripping in the sewers, and other noises from the creatures residing within. The last haunt, Temple of Terror, also has some fascinating details in areas and an assortment of effects. This attraction houses two massive animatronics, but we don't want to give them away. It also houses a maniacal elevator that you need to ride to get the full experience! Other effects that we experienced within the catacombs of the temple include a rope bridge, a copious amount of caskets, a ceiling surprise, and flying creatures! Realistic sounds were also encountered in this attraction, which helped bring these scenes to life. The overall lighting within the attractions at LOI is done well and gives the haunts a dark, creepy vibe.
Middletown Haunted Trail: 9.37
Voodoo Bayou Shanty: 9.14
Killer Klowns: 7.75
Temple of Terror: 8.66
Dr. Psycho's Haunted Estate: 8.84
---
Theme:

9.23
We are sure that the combination of attractions found at LOI will have something to satisfy the taste buds of every haunted house enthusiast. If you enjoy roaming through a wide range of spooky scenes, then The Middletown Haunted Trail is the attraction for you! This trail doesn't stick to just one theme, but instead focuses on covering all of your greatest fears! Residing close to the end of the trail is the Voodoo Bayou Shanty, where black magic has cursed it's darkness onto those who dwell there! This family doesn't know right from wrong, so be on the lookout… you never know who (or what) you may find lurking around the next corner in their irrational homestead. If you or anyone in your group likes to have fun or is afraid of clowns, you can't miss Killer Klowns. This attraction features a slew of energetic freaks Hell-bent on making you laugh until you die! Those with a keen eye will discover the Temple of Terror, an ancient tomb where the most evil spirits prowl the dark and twisting catacombs within! Are you past due for a checkup? Dr. Psycho takes walk-ins all night long in his haunted estate. While you're there, beware of the wrath of his previous experiments, and there's no guarantee you'll walk out feeling better than you did upon arriving. For those seeking a thrill (and not so much a scare), there is Zombie Sniper Patrol; a zombie-themed paintball ride. On this excursion, you will board one of four Army trucks equipped for slaying the undead! All of the attractions stuck to their respective themes for the most part, although we do suggest that you read all of their stories online so you can understand and appreciate their intended experiences.
Middletown Haunted Trail: N/A
Voodoo Bayou Shanty: 9.53
Killer Klowns: 9.07
Temple of Terror: 9.18
Dr. Psycho's Haunted Estate: 9.15
---
Fright Effect:

8.29
By visiting the 5 haunted attractions at LOI, you are subjecting yourself to become a victim of multiple types of scare techniques! During our visit, some of those scares included unexpected blasts, puzzlement, eerie paths, vicious threats, invasion of our "privacy bubble," some great hiding spots, creepy stares, spider web encounters and multiple chainsaw assaults that continued no matter what our reactions were! The Trail and the Shanty seemed to be the attractions to deliver the most scares to our group. The Trail legitimately made us both actually shriek at least once and the intensity level in some areas had us on our toes wondering, "What are they going to do next?" The Shanty was very unpredictable and they used that to their full advantage. On multiple occasions, we would hear a noise or a character in the next room and question if we should continue that way or not! Regardless of what attraction you are in, be sure to expect things from all directions! Some of this crew likes to hide out where you would least expect them, and some offer other startling surprises. Several distractions were used that succeeded in catching our group off-guard, although we would like to see them utilize a few more, especially in the areas with multiple characters. Most of them also made sure they spread out their scares to everyone in our group and not just the front or back of the line. Our group paid this attraction a visit on their opening night and only a few hours after they started selling tickets. We are certain these talented monsters will only improve in this category as the season progresses!
Middletown Haunted Trail: 8.59
Voodoo Bayou Shanty: 8.62
Killer Klowns: 7.4
Temple of Terror: 8.44
Dr. Psycho's Haunted Estate: 8.39
---
Value:

9.67
LOI packs a very competitive value that remains very difficult to beat! General admission grants you unlimited access through 5 haunted attractions is only $34.99 per person! If you're in a hurry and want to get through the lines as fast as possible, you can purchase a Fast Pass ticket for $49.99. If you are interested in slaughtering "the undead," (Zombie Sniper Patrol) you can do just that for $23.00. If you would like to mow down some zombies (once) AND visit all of the haunts, you can do so for $44.99 or $57.99 if you want the Fast Pass for all attractions. They also offer other ticket packages and, if you are unsure of what you want to do, well figure it out! (Just kidding) If you really ARE unsure of what you would like to do, the staff members at the ticket booth will be happy to explain the packages and attractions to you. If you stare at the ticket screen for a while and still can't decide what you want to do, rest assured that after you enter the park, you can still come back to the ticket booth and upgrade your tickets! If the lines are a lot longer than you expected, you can go back and upgrade to the Fast Pass at a later time as well. If they just can't scare you too much and you can't get enough of the park, you can purchase a season pass for $99.00 and get scared out of your skin on multiple nights throughout the year! There are also group discounts and ticket packages for Sundays, but not all of the attractions will be open. Be sure to visit their site to see all of their ticket and pricing options. If it helps you decide, it took our group around 70 minutes to navigate all 5 of the walk-through attractions and another 15 minutes to complete the Zombie Sniper Patrol ride (around 85 minutes total, *NOT including waiting in each of the lines). So, looking at the average of $1.00/minute of entertainment that we find at the haunts we visit, that's 1.47 minutes per dollar spent when purchasing VIP tickets to all haunts and Zombie Sniper Patrol! That means general admission has an even higher value and you get to enter the haunts as many times as you want! Also, just in case you don't bring enough cash, there are multiple ATMs outside and inside the park. Note: The Voodoo Lounge accepts CASH ONLY. When considering everything that Land of Illusion has to offer (i.e. live bands, the adrenaline-rushing Demon Drop, bull rides, gift shop, cozy bonfire, a bar, fun atmosphere, a chance to shoot at real things, and 5 haunts of scares), it was really difficult for us to come up with a number for this value category. The $35 for general admission can give many people "sticker shock" until realizing that's for 5 different haunts. However, keep in mind that any other upgrades or extras that you decide to participate in will still cost you extra money on top of that (except for the Stage of Rage), so it doesn't take long to rack up a hefty tab for the evening. At the end of the day, if you're looking for something to do and you're one of those that likes going to more than one haunt in a night, we suggest paying Land of Illusion a visit! Just don't come with an empty wallet for the best experience. You can go through their haunted houses as many times as you want, pay just a little more for other activities while you're there and have a fright-filled evening, all at the same time! "Enter if you dare!!"
---
Photos from Review Trip:
Click to Enlarge
Promo Images:
Click to Enlarge
Have you visited this attraction?
---
2016 Awards
Most Tormenting to Victims - Middletown Haunted Trail (Given by: Team Zombillies)
Most Suspenseful Scene - Middletown Haunted Trail, Myers Walkway (Given by: Team Zombillies)
Actor Shout Out Award - Klowns: Gutta (Given by: Team Zombillies)
Actor Shout Out Award - Shanty: Amos (Given by: Team Zombillies)
Actor Shout Out Award - Temple: Guys in Elevator (Given by: Team Zombillies)
Actor Shout Out Award - Trail: Dr. Beak (Given by: Team Zombillies)
Actor Shout Out Award - Trail: Lunch Lady (Given by: Team Zombillies)
---
2015 Awards
Most Entertaining Clown - "The Cage Maze Chainsaw Clown" in "Killer Klowns" (Given by: Team Zombillies)
Scariest Duo - "The Catacombs Couple" (Given by: Team Zombillies)
Memorable Scare - "The Shadow Spirit" in "Dr. Psycho's Haunted Estate" (Given by: Team Zombillies)
Most Twisted Haunt - "The Voodoo Bayou Shanty" (Given by: Team Zombillies)
Actor Shout Out Award - "Dr. Psycho" in "Dr. Psycho's Haunted Estate" (Given by: Team Zombillies)
Actor Shout Out Award - Andrew Rasnic, A.K.A. "Bubba" in "The Middletown Haunted Trail" (Given by: Team Zombillies)
Actor Shout Out Award - Arthur Gehring, A.K.A. "Snagz, the Clown" in "Killer Klowns" (Given by: Team Zombillies)
Actor Shout Out Award - Mike Carmichael, A.K.A. "Arlen Dubois the Butcher" (Given by: Team Zombillies)
Actor Shout Out Award - Tonya R. Murray, A.K.A. "The Widowmaker" in "The Middletown Haunted Trail" (Given by: Team Zombillies)
Actor Shout Out Award (Given by: Team Zombillies)
---
2014 Awards
Best Pyrotechnical Scare (Given by: Team Zombillies)
Most Entertaining Clown (Given by: Team Zombillies)
Memorable Moment (Given by: Team Zombillies)
Actor Shout Out Award - Dr. Psycho's Haunted Estate: Redneck with Shotgun (Given by: Team Zombillies)
Actor Shout Out Award - Middletown Haunted Trail: Flesh Eater (Given by: Team Zombillies)
Actor Shout Out Award - The Shanty: Voodoo Guy (Given by: Team Zombillies)
---