Find Reviews for a Haunt near You! Find Reviews for a Haunt near You!
Find Reviews for a Haunt near You!
Niles Scream Park
855 Mayflower Road, Niles, MI 49120View All Details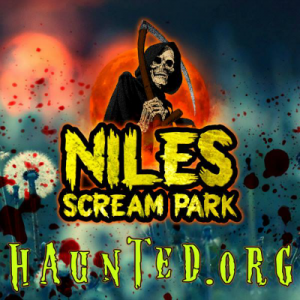 Features:
Free Parking, Restrooms On-Site, Food/Concessions, Gift Shop/Souvenirs, Optional Games/Midway, You will NOT be touched, Indoor/Outdoor Waiting Line, Indoor/Outdoor Attraction
Team Zombillies reviewed this attraction on September 18, 2015.
Final Score:

8.91
Summary:
Niles Scream Park offers 5 haunted attractions at one (44-acre) location for one low price in a family-friendly and Halloween fun style atmosphere! Over the last 19 years, Niles has donated over $1.47 MILLION dollars to various charities, but don't let that fool you. Many of the scares in these twisting paths and harrowing hallways are FAR from friendly and charitable, unless giving scares is considered "charity" these days! House of Horror: 3D is a vision-blurring collection of your worst nightmares that have stalked you from under your bed for years. Only in THIS house, "…mommy and daddy won't hear your cries for help!" Ashes to Ashes is themed on a religious boarding school where the teachers didn't treat their students very nicely. That is, until those young girls decided to retaliate in a fiery mutiny! Field of Screams is an outdoor trail with no specific theme, yet a good variety of classic, tried-and-true characters and scenes that'll be sure to give everyone in your group their fright fix. Dark TERRORtory Haunted Hayride: Night Terrors is themed around a young girl who experiences (you guessed it) night terrors and the experiments conducted on her in an attempt to relieve her of her distress. Only your experience on the Hayride can show you the darkness that dwells in this poor girl's mind! (*Note: the hayride was closed due to rain on the night of our visit, so we didn't get to witness it for ourselves. This theme is how it was described to us from "Death Himself!") Niles' flagship attraction, Niles Haunted House, has been dubbed "Kingdom's End" this year in honor of horror legend Stephen King and his many contributions to the industry. Inside, you'll find scenes from films including "The Shining," "Carrie," "The Green Mile," "Cujo," and more! Before you leave, don't forget to catch one of the "Zendor Presents: The Ploy" performances; you just might get a chance to win a crispy $100 bill! Also, you can find out what it feels like to get buried alive in Niles' new "The Last Ride" coffin simulator! If you find yourself in the south-western region of Michigan this haunt season, then be sure to visit Niles Scream Park, "the place everyone's been screaming about!"
Niles Haunted House: 9.12
House of Horror: 3D: 8.61
Ashes to Ashes: 9.13
Field of Screams: 8.77
---
Cast:

7.93
Niles brings in around 75-100 volunteer actors to petrify their patrons every weekend. Many of these volunteers have a variety of skill levels, so many different acting methods were noticed during our tour of the Scream Park. It seemed that the most often-used technique, however, was what most avid haunt enthusiasts refer to as the "pop scare." As with most of the other highly-popular attractions we've visited, actors are trained to use this method so they can quickly deliver a scare to as many people in the group as possible while still being able to quickly "reset" and get ready for the next group. Unfortunately, this doesn't give the actors very much time to interact with the individual groups very much. The same can be said for many (but not all) of the characters that we encountered during our tour of Niles. Despite this, most of the actors we witnessed seemed to be very much "at home" in their respective scenes and really helped solidify their themes in the minimal time we were exposed to them. In some sections of the Field of Screams trail, the groups had a chance to get "lost" and spread out in the maze areas and, as a result, the actors seemed to have much more time to spend with us.
Niles Haunted House: 8.14
House of Horror: 3D: 7.41
Ashes to Ashes: 8.11
Field of Screams: 8.04
---
Costuming:

8.69
As with the variety of haunts that are available at Niles, a variety of characters can be found there as well! Articles with fluorescent colors and varying designs were chosen to accent the flamboyant creatures found within the scenes of House of Horrors while darker, more-sinister uniforms were chosen to differentiate the teachers from the students in Ashes to Ashes. Field of Screams featured a little bit of everything, from original clown outfits and masks to a rather intimidating Michael Myers, rambunctious rednecks and camouflaged ghillie suits. The Niles Haunted House was filled with a plethora of characters from Stephen King films, such as "Carrie," along with assorted prisoners, clowns, a mummy, a doctor and the "King" himself! Just as much diversity was also noticed in the actors' makeup, ranging from minimal and basic to highly-detailed and thought-out designs. A few top-shelf masks can be found prowling the midway area and the Field of Screams attraction, while "porcelain" masks (as described on Niles' website) rightfully adorned a few of the students in Ashes to Ashes to help solidify their theme.
Niles Haunted House: 8.92
House of Horror: 3D: 8.45
Ashes to Ashes: 8.96
Field of Screams: 8.42
---
Customer Service:

9.8
Our GPS led us to a flashing arrow sign by the highway that also pointed us in the direction of the parking lot. Attendants were plentiful in Niles' large, grassy and FREE parking area even though it poured all night during our visit. In that light, we still didn't have any problems parking or navigating their grassy lot on foot. The park itself was also very easy to navigate, as there were signs above the entrance to each attraction. We didn't even get muddy in the downpour since the whole park has a layer of astro turf on it! Before you are permitted to enter the park, security personal will wand you in an attempt to keep the park as safe as possible. Since this is a "scream park," the midway offers many different things for patrons to enjoy between haunts. There are games, a large screen displaying horror movies, a gift stand, food & drink stands, restrooms and other types of entertainment throughout the season including a magic show! They even had a Jones Soda booth where you could purchase fogging sodas! We suggest trying out the game where you get to shoot items at unsuspecting customers as they are actually walking through the haunt! Be sure to find their roaming photographer who will gladly take your picture and give you a card to use to retrieve your picture online for free!
---
Atmosphere:

9.23
Soon after pulling into Niles, we could see fog escaping from within the attraction near a large and spooky façade that is the entrance to Niles Scream Park! Haunt-appropriate music and multiple roaming characters solidified the fact that we were, indeed, at a haunted house! The queue area to the Niles Haunted House is fantastic! The trail to the house wraps around a cemetery, complete with a hearse. On top of that, the outside of the building has a very eerie look to it and they may even make you jump a few times before you make it inside! There was Halloween music playing as we made our way to the entrance which helped prepare us to go inside along with the dark passageways, a talking skeleton and clues to what the haunt's theme was. The façade for the entrance to Ashes to Ashes fit well with the theme, and Field of Screams also had a creepy entrance that helped prepare us in taking on those attractions. In the midway, the atmosphere is mostly very fun and friendly, but we don't recommend that you let your guard down in this seemingly-safe area!
---
Special Effects:

8.81
Niles Scream Park has been in the business for many years and it shows through their special effects! Many of them are made at the park and there are so many different things to see here that you will need to make at least a few trips to try and catch it all. House of Horror was full of mind-bending, 3D artwork that literally jumped off the walls at us! We had seen artwork like that before, but the big orange spiders were particularly a surprise! Ashes to Ashes was very well-detailed and looked like it was still smoldering after being set on fire! Niles Haunted House also had some very well-detailed areas and is a special effect all in itself. There are multiple routes through this house, moving floors, bridges and rooms. A variety of other effects that we came across include an elevator, a vortex tunnel, sparks, an electrical surprise, possessed appliances, realistic cemeteries, a shaking chandelier, fog, very effective strobe lights, multiple waterfalls, a bloody surprise, convulsing tables, and tons more! The sound effects that we heard were very realistic, intense and alarming in some areas. The children sounds used in Ashes to Ashes alone gave us the chills! Some of the realistic sounds that we heard include toilets, screams, rats, pulsating and volts of electricity. Although sound effects seemed apparent throughout the majority of the attractions, it was mostly quiet in House of Horror during our visit with the exception of the sounds coming from the props themselves. The lighting used at Niles is very strategic and gives quite the final touch to some of their amazing scenes, especially in Niles Haunted House.
Niles Haunted House: 9.4
House of Horror: 3D: 7.98
Ashes to Ashes: 9.36
Field of Screams: 8.49
---
Theme:

9.24
Niles redesigns all of their attractions each year and they use different themes for each haunt! This year in the Niles Haunted House, you can experience the spooky tales and horror movies from Stephen King. Yes, you read that right! You will witness segments from "Cujo," "The Shining," "Creepshow," "Joy Land, "The Green Mile," "Carrie" and more! Ashes to Ashes is a by-product of what happens when a girl's boarding school takes a wrong turn! The Nuns may not have treated the students very nicely so they decided to retaliate and burn the place down! House of Horror 3D consists of the things you fear that are lurking in your closet, in your attic, or under your bed at night! The Dark TERRORtory Hayride takes a ride through a little girl's worst nightmares, only you will experience them while you are awake! Last but not least is Field of Screams. This haunt didn't seem to follow a particular storyline and was full of many twists and turns that lead us straight into vicious beings who weren't in favor of us finding our way out of their deathly habitats. Each haunt seemed to follow their respective scenes pretty well, but we will say that if we hadn't of been aware of what the themes were prior to visiting, it may have taken us a bit of time to figure out exactly what the themes were in House of Horror and Niles Haunted House. Ashes to Ashes had one of the most original themes we have come across to date, and the other haunts had unique themes as well. We can't wait to see how each attraction is themed next season!
Niles Haunted House: 9.26
House of Horror: 3D: 8.95
Ashes to Ashes: 9.5
Field of Screams: N/A
---
Fright Effect:

8.51
The attractions at Niles used quite a few "pop" scares (quick scare & reset) during our visit, but they were effective ones. These quick scares were very unpredictable and came from so many places that we didn't expect and even some we hadn't seen before. We also came across a few other types of scares such as menacing stares, intentional confusion, intimidating growls and our sense of direction was ripped away from us on multiple occasions which left us wondering if it was possible to escape! One of the stronger areas in this category is their use of distractions and follow-up startles, especially in Ashes to Ashes. It was almost like a domino effect in multiple areas of that attraction; they would nail us with something from one side, then immediately after from the other side, and sometimes another from a completely different way! They definitely deserved kudos for that! Their scare techniques were also directed towards everyone in our group, although there were only two of us. Another thing we feel is very worthy of mention is their sound effects. Not only were some of them very eerie and intense, but some of them also provided startles all on their own! Now THAT is something we don't see very often! Two of the houses have trails after the end of them where they slowly bring the scares down before they free you back into reality, although one has a more intense finale than the other. Just when you think your trip is over, they just might prove you wrong!
Niles Haunted House: 9.02
House of Horror: 3D: 7.9
Ashes to Ashes: 8.87
Field of Screams: 8.25
---
Value:

9.19
General admission, or the "Frightful Nightful" package, which grants you access to all 5 haunts plus "Zendor Presents: 'The Ploy'" is priced at $30.00 per person. Tickets may also be purchased individually for each attraction, however the combo ticket offers the best savings (a $46.00 value). In case you aren't familiar with the Niles Haunted House, there are multiple routes through the house. To ensure that you experience the majority of it, we would suggest that you consider the $5.00 re-entry and go through the house twice so you can see each of the rooms. Other available ticket packages, "Black Out" event information and other pricing options can be found on their website. The park accepts cash, Visa, and MasterCard only. During the night of our visit it was pouring rain, so the hayride had to be closed unfortunately. Despite that, we still came up with a combined total of 63 minutes in the other 4 haunts! Park management informed us that the hayride was about another 25 minutes, so that's a total of 88 minutes spent GOING THROUGH the haunted attractions! As mentioned above, we believe the Frightful Nightful package is the way to go! A few of the haunts are pretty short in length, which really impacts their value when you consider their individual prices. If you're looking for a night full of frightful entertainment in a fun, Halloween atmosphere, Niles is the place to go! But be warned, "The park is not responsible for dry cleaning bills when you wet your pants!"
---
Photos from Review Trip:
Click to Enlarge
Promo Images:
Click to Enlarge
Have you visited this attraction?
---
2015 Awards
Most Original Haunt - "Ashes to Ashes" (Given by: Team Zombillies)
Actor Shout Out Award - Emmaleigh Smith, A.K.A. "Nancy" (Given by: Team Zombillies)
Actor Shout Out Award - The Psychotic Hatter Clown (Given by: Team Zombillies)
---
2014 Awards
Most Challenging Maze (Given by: Team Zombillies)
Best Usage of Fog (Given by: Team Zombillies)
Actor Shout Out Award - Field of Screams: Lady with Chucky Doll (Given by: Team Zombillies)
Actor Shout Out Award - Field of Screams: Stalker (Given by: Team Zombillies)
---