Find Reviews for a Haunt near You! Find Reviews for a Haunt near You!
Find Reviews for a Haunt near You!
The 7th Street Haunt
2900 S 7th Street, Louisville, KY 40216View All Details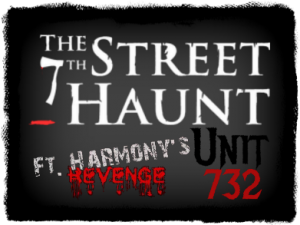 Features:
Free Parking, Restrooms On-Site, Handicap Accessible, Food/Concessions, Gift Shop/Souvenirs, Optional Games/Midway, Special Events, You will NOT be touched, Original Characters, Covered Outdoor Waiting Line, Indoor/Outdoor Waiting Line, All-Indoor Attraction
Team Zombillies reviewed this attraction on September 19, 2015.
Final Score:

9
Summary:
The 7th Street Haunt has DOUBLED in size to 25,000 square feet for the 2015 haunt season! This will be their 4th season and they now offer two haunted attractions under one roof: "Ft. Harmony's Revenge" and "The Experiment." To go along with the new space, 7th Street has also added many new surprises with their recent additions, including all-new scenes and characters that help add realism to their uniquely-original themes. Experience for yourself the madness that has taken its toll on the residents of "Ft. Harmony" and the horrific trials and tribulations taking place in "The Experiment" this Halloween season at one of Kentucky's largest haunted attractions!
---
Cast:

9.3
Around 70 actors and actresses reside in the "sleepy town" of Ft. Harmony and the dilapidated walls of St. Mary's Hospital (The Experiment). That number seemed to fill both haunts very well, although a couple of small "dead spots" were noticed in each attraction. Most of them delivered very believable performances and fulfilled their roles quite well. It seemed that most of 7th Street's veteran actors remained in Ft. Harmony's Revenge, but rightly so considering they've developed some iconic characters that 7th Street fans have grown to love over the years. That's not to discount the decrepit (and sometimes dismembered) patients and staff that have succumbed to their doctor's twisted imagination! The crazed Patient Luke Dean was debatably the most believable character that we witnessed during our visit due to his insane cackling and jittery flailing as he stalked us through the hospital with an added touch of sinister intent. Some memorable performances from Ft. Harmony include those delivered by Molly Forrest and her "hollow-eyed" gaze, the butcher who wanted to turn us into bacon, a couple of VERY irate little girls that showed their teacher who the boss really was, the prisoner and the schizophrenic cave dweller. The spider was also very believable and made some creepy sounds that made our skin crawl! The notorious Underwear Gary returns with a long-sought-after victim of his, as well as the voodoo lady and her eye-opening chants. One lady in a funeral scene literally cried her eyes out before we met an uninviting host of a house party and "Nemesis" met us in The Gates of Hell with a fallen angel before our final walk towards "the light." In The Experiment, we noticed an actor eating his own leg, a crazy wheel-chair-bound patient, and several other tormented hospital workers and victims that were clearly having a bad day. Both attractions exit via a shared passageway that… well… we'll put it this way; if you've never been the victim of a female chainsaw attacker, then be sure to check out 7th Street Haunt this season. Betty Sawz will be waiting for you!
---
Costuming:

9.27
The costumes at 7th Street Haunt seemed to have received an upgrade this season! Their wardrobe consisted of many items that appeared to of been purchased and customized to better fit their characters and the scenes they were used in. We noticed a pretty big improvement in makeup this season as well, which consisted of airbrush work, some very realistic wounds and realistic touches to a spider! Quite a few colored contact lenses added an authentic touch to many of the characters and one even had razor-sharp teeth as their "built-in" weapon! Some masks were noticed in both attractions but they were good choices and seemed to compliment the characters wearing them. Several of the characters, including Molly Forrest and the lady who literally "cried her eyes out," directly related their dialogue to a portion of their costumes which added a very unique touch! Other believable costumes that we came across include the voodoo lady, those in the circus area, the life-sized doll, the headless man, the spider, and the Lady of the House who had her whole front torso ripped off!
---
Customer Service:

9.85
Several signs and a grim reaper can be seen from the highway near 7th Street Haunt's entrance and their large sign on the roof of their building and additional skulls let you know you have arrived at the correct place. Plenty of free parking is available in Expo 5's parking lot and a flagger conveniently helped us to quickly find a parking spot. The ticket booth is a small building off by itself in front of the haunt which is also where you can find the portable restrooms and concession stand that offers hot food and cold beverages. Professional pictures are taken by No Coast Images before your group enters the attraction and the exit of the haunt will bring you back to the queue area where a pretty large assortment of Halloween gifts can be purchased as well. The Last Ride Coffin simulator and a tarot card reader can also be found in this area. Navigating the attraction was pretty easy and the photographers will help guide you in the direction of each haunt. Friendly staff members can be found inside the ticket booth, at the entrance to each attraction, at the gift shop and when you walk into the building that will happily assist you with any help that you may need.
---
Atmosphere:

8.42
As we headed towards the ticket booth, all we could really hear at 7th Street Haunt was Nana Hannah's voice echoing through the parking lot and her invisible chainsaw growls! Once we got closer to the building, some interesting sounds were escaping from within the building that only left us wondering what in the world was going on in there! The queue area was decorated quite well, complete with life-size horror movie villain replicas lining the wall in front of The Experiment. As soon as we saw the Rat Boy outside chasing victims with his REAL pet, the yellow-illuminated façade and the haunt's hearse, we knew for sure that we were at a haunted house! Seeing the queue actors and hearing the chainsaw growls, screams and yells echoing throughout the waiting areas really helped in getting us ready to get our scare on!
---
Special Effects:

8.75
First we would like to say that, if for some reason you are only visiting one attraction and you like to see eye-candy and animatronics, you will find much more of that in The Experiment. If you like more old-school style effects and things that have been built in-house, you will find much more of that in FT. Harmony. We of course wanted to experience them all since we like to pay attention to how effective they are rather than gawk at the size of their price tags. There are quite a few effects to be seen here and you will likely notice plenty of things in both attractions that you haven't seen before. The Experiment showcased some very exquisite detail and authentic décor, such as hospital-appropriate lights, life-sized dolls, dirtied bed pans, a realistic hospital façade, puddles of blood, broken glass and much more! Other effects that we noticed in this attraction were a LOT of cobwebs, a never-ending shaft, a patient head surprise, body vaults, a gigantic circular saw, a zombie attacking a hospital worker and much more! Working components of some of the props (like air tanks and wires) weren't hidden very well, which took away from their realism. However, the ones where those parts were hidden better and more-strategically placed were quite effective and even impressive! FT. Harmony showcases many creative effects and also some great detail in areas which added to the realism of the town. This is one of those haunts where you can look at something and think "wow, that's neat" to later find out that a common item might have been used to make it!
---
Theme:

9.35
The Experiment is as the name implies and revolves around Dr. Jenkins who owns a doll factory. This sadistic doctor has gone completely mad, killed his daughter and started experimenting with making humans into living dolls! The Experiment attraction at 7th Street is the hospital/warehouse where all of these brutal experiments have taken place and you will become very familiar with them just by passing through. That is of course, if you can without becoming an experiment yourself! This hospital was complete with a cafeteria, morgue, nursery, body vaults and more! If you were able to visit 7th Street Haunt in the past, you may be familiar with their town of FT. Harmony. If not, let us assure you that this is one disturbing little city… uh… we mean it's quite the nice little community (sorry, Mayor)! Complete with a butcher shop, animal control, a bug man, cemetery, church and more, this small but deadly town has returned as Ft. Harmony's Revenge! This year, Etta McCall has opened the Gates of Hell and unleashed its fury into FT. Harmony, filling it with even more deranged, evil, demented and unexplainable beings who reside in the town! The Mayor will allow you to visit, and warn you of some things before you enter. But even we will tell you not to touch or trust anything and always keep an eye over your shoulder as you never know who (or what) may come creeping up behind you! Upon entering The Experiment, we ran into Dr. Jenkins' dead and lost ghost of a daughter who explained the rules and just a tad bit of the haunt's theme, which left us trying to figure out the rest of the theme on our own. However, we must say that it was pretty apparent for the most part in hindsight. Several of the characters throughout the haunt reiterated the theme by telling us, "You'll make a pretty doll," making other references to dolls and telling us to "Look at what he did to me," which helped in bringing this theme to life. Before we entered Ft. Harmony, we were greeted by the Mayor who basically explained the theme of the town to us so we knew what we were getting ourselves into. Well kind of anyway, it's hard to prepare yourself for experiencing the lunatics who dwell there! During our visit, we thought that both attractions followed each of their creative and unique themes very well.
---
Fright Effect:

8.16
We experienced a variety of fright techniques at 7th Street Haunt from hidden doors, creepy music, and acts of violence to irate characters, threatening dialogue, a dual chainsaw chase out of each haunt, and some of the residents in FT. Harmony even made us feel quite uncomfortable at times! A few very effective distractions caught our group off-guard, as well as a few surprises from unsuspected locations (you might want to watch your heads)! Some of the victims we came across in The Experiment directed their attention mostly to the front of our group while entertainment was spread throughout more of our group members in FT. Harmony. Due to the placement of some of the props in The Experiment and the exposure of their working components, the scares were a bit more predictable. However, they still succeeded in catching our review team off-guard on multiple occasions! Both attractions share a portion of the same exit, and we feel sorry for you if you are afraid of chainsaws since those who were slinging them around knew how to do so quite well! We did visit both of these attractions on their second night open and we believe their scaring abilities will only grow stronger as the season progress. When they do… look out!
---
Value:

8.88
On-site, general admission to Fort Harmony or The Experiment is $18.00 per person, per attraction. If you purchase your tickets online, they will only be $15.00 per haunt! Combo tickets that will grant you access to both attractions are $25.00 each. This year, they also offer an R.I.P pass which includes admission to each haunt, free merchandise, a free casket ride and faster entrance to both haunts for $35.00! You can also receive a $5.00 discount when purchasing tickets at the haunt if you show them a work, school or Military I.D.. If you like their Facebook page from their website, you can download a $5.00 coupon as well! 7th Street now also accepts credit cards. It took our group 14 minutes to find our way out of The Experiment and another 21 minutes to escape the crazed town of Ft. Harmony, which totals to around 35 minutes for both attractions. However, your time will vary depending on how fast you run from these frightful fiends! If you purchase a non-discounted combo ticket, it brings this value to approximately 1.4 minutes of entertainment per dollar spent which is above the average value. Of course, this value goes even higher if you are able to take advantage of any of their coupons or discounts! We recommend going with the combo ticket, mainly because you get a higher value when visiting the haunts together instead of individually (makes them $12.50 each instead of $18.00!), but also because each of the haunts have something different to offer! A "Last Ride" coffin simulation ride can be found near the entrance of Ft. Harmony where you can experience what it feels like to be buried alive for $5.00. 7th Street will be hosting special and free events throughout the year, so be sure to visit their site for more information on those and group rates. If you are in the Louisville area for the 2015 haunting season and like old school effects as well as eye-candy, be sure to pay 7th Street Haunt a visit… but beware of what lurks in these corridors and "enter at your own risk!"
---
Photos from Review Trip:
Click to Enlarge
Promo Images:
Click to Enlarge
Have you visited this attraction?
---
2016 Awards
Most Unnerving Sound Effects - Ft. Harmony (Given by: Team Zombillies)
Most Unique Costume - The Demon of Knowledge (Given by: Team Zombillies)
Actor Shout Out Award - "Azrael" A.K.A Justin Sinkler (Given by: Team Zombillies)
Actor Shout Out Award - "Lilith" A.K.A Tasha Dunca (Given by: Team Zombillies)
Actor Shout Out Award - "Molly the Mayor" A.K.A Stacey Drake (Given by: Team Zombillies)
Actor Shout Out Award - "Night Watchman" A.K.A Michael "NoFro" Dickerson (Given by: Team Zombillies)
Actor Shout Out Award - "Quarantined Quinn" A.K.A Emily Moss (Given by: Team Zombillies)
---
2015 Awards
Most Creative Old-School Effects - "Ft. Harmony's Revenge" (Given by: Team Zombillies)
Most Unique Costume - "The Spider" (Given by: Team Zombillies)
Actor Shout Out Award - Gary Reeser, A.K.A. "The Dirty Old Man" (Given by: Team Zombillies)
Actor Shout Out Award - Justin Sinkler, A.K.A. "Azrael" (Given by: Team Zombillies)
Actor Shout Out Award - Matt Clayton, A.K.A. "Thunder Feels" (Given by: Team Zombillies)
Actor Shout Out Award - Rick Hall, A.K.A. "Nemesis" (Given by: Team Zombillies)
Actor Shout Out Award - Tabitha Gray, A.K.A. "Betty Sawz" (Given by: Team Zombillies)
---
2014 Awards
Most Creative Old-School Effects (Given by: Team Zombillies)
Memorable Moment (Given by: Team Zombillies)
Actor Shout Out Award - Grandma Helen (Given by: Team Zombillies)
Actor Shout Out Award - Ricky Mann (Given by: Team Zombillies)
Actor Shout Out Award - Torture Queen (Given by: Team Zombillies)
---