Find Reviews for a Haunt near You! Find Reviews for a Haunt near You!
Find Reviews for a Haunt near You!
The Haunted Hotel KY
3000 South 4th Street, Louisville, KY 40208View All Details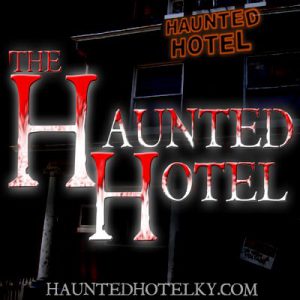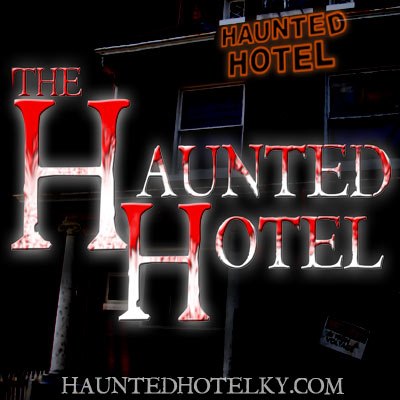 Features:
Free Parking, Restrooms On-Site, Gift Shop/Souvenirs, Special Events, "Hi-Tech" Attraction, You may be touched, Original Characters, Uncovered Outdoor Waiting Line, Indoor/Outdoor Attraction
Team Zombillies reviewed this attraction on September 19, 2015.
Final Score:

9.56
Summary:
This attraction is back with a vengeance now that the property's "owner" (a.k.a. "Thomas Gribbins") has "come out of exile" and regained control of his home… known to most as Louisville's one and only Haunted Hotel. Mr. Gribbins invites you to come for a stay at his prized establishment, but beware; your visit to THIS haunted hotel may be your last! If you're looking for an all-out, "extreme" haunt and you don't mind being touched, grabbed, bumped, bent or bitten, then be sure Louisville's Haunted Hotel is on your list of must-see haunts for the 2015 Halloween season. Just remember before you go… "You're checking in, and you're NOT checking out!"
---
Cast:

9.64
Around 40 intense cast members call The Haunted Hotel home… in more ways than one. These evil occupants are very brutal and interacted with our group both verbally and physically. By "interacted," we mean they threatened us with everything from cutting us up to feed their "plants" to shredding us with chainsaws, then they pulled and pushed us around until we practically curled up in the fetal position in defeat! If you're not prepared to deal with this, as this crew is one of the most violent and tormenting in the Louisville area, then your best bet is to try a different haunt or run home to Mommy. You just might anyway if you can endure The Hotel's notorious chainsaw attackers! Each of the hotel's cast members reinforced their "haunted hotel" theme; one by asking which room we'd be staying in, another by letting us know that, "NO ONE leaves without paying" [their tab], and a security guard that let us know we were, "safe in this hotel…," although we weren't very convinced about that particular statement. All of them seemed to stay very much in character and many of them worked directly with their props and scenery to make their roles even more believable! We encountered very few areas that didn't have any characters in them and, if we did, it seemed there was always one lying in wait around the next corner.
---
Costuming:

9.65
Many of The Haunted Hotel's costumes are just as intense as their actors. The wardrobe ranges from simple, yet authentic for those like Mr. Gribbins to sadistically sinister, demonically deranged and downright skimpy! Whether or not the outfits match their respective scenes is debatable in a select few cases. However, solid choices were made for most of the characters throughout The Hotel, such as with the gas-masked girl ("Daphne") in her similarly-toxic room and "Brutus" the butcher and his blood-battered abode! Makeup is mostly bloody and grungy, much like many of the scenes, which helped the characters match their scenes even more. One particularly memorable makeup application was noticed on "Joe Morbid" before we descended his staircase. The attention to detail (along with his unnerving dialogue) made for quite an encounter! Several masks that were made by some of the crew at The Hotel (Known as "Sinister FX") are used in several locations throughout the haunt and effectively helped many of the characters deliver some great scares to our review group!
---
Customer Service:

9.44
Parking is normally available in one of several nearby lots or on the street around The Haunted Hotel's location. Portable restrooms by the queue area and concessions near the ticket booth await Hotel patrons in search of relief or refreshments after their journey. Be sure to purchase your ticket(s) BEFORE you enter the line in front of the building; the ticket booth is located around the corner, on the side of The Hotel. Friendly staff members can be found there, as well as at the front of the queue line if you have any questions or concerns. Music and sounds from within the attraction and the occasional roaming actor help keep the anticipation levels high for those waiting in line. You'll have to scale a few sets of stairs during your "stay," so wear appropriate footwear for that (and running)! Lighting was adequate and no scares were given on any of the stairs during our visit, so you shouldn't have any safety issues there. BE ADVISED: The Haunted Hotel's actors may (and probably will) touch you during your walk-through. If you think you or anyone in your group may not be willing to cope with that aspect, then The Haunted Hotel may be a rather unpleasant experience for you. The Haunted Hotel is "an extreme attraction and not suited for kids under the age of 13." If things get TOO out of hand, Louisville Metro Police officers are normally on-location keeping the side street next to The Hotel blocked off. We wonder if that could that be for petrified customers that are running out of the exit…??
---
Atmosphere:

9.85
We parked down the road from The Hotel and, from inside our car, we could hear rapid gun shots, screams and other spine-tingling sounds that were luring passersby and haunted house goers towards the ticket booth so they could see what all that noise was about! The decrepit crevices of this old hotel were encircled by a red illumination of eeriness that just gave us the creeps as we looked at it and let us know that, without a doubt, we were at a haunted house. The Haunted Hotel is one of those haunts that takes place in a legit building, so that by itself makes for an ominous and authentic façade. We found out really quickly that one good way to prepare you to enter this place is to watch a few groups come out of the exit. Watching people escaping from The Hotel will usually give you a little taste of what to expect inside!
---
Special Effects:

9.29
A variety of effects were encountered during our exploration of The Hotel this year, including a few that tried to eat us! The Hotel did some rearranging this season, which resulted in an addition to the overall effectiveness of some of their older items. We also noticed several areas that were complimented by some very authentic detail and grunge work, especially on the second floor near the steps that led back downstairs. Although we are sure that takes a lot of time, it would be great to see more of that in some of the lesser-detailed areas. Sound effects were apparent in virtually every scene through the inside portion of the Hotel, but seemed to dissipate once we entered the outside portion. However, the screams of patrons and chainsaws filled the air instead and left only a few areas where no sound effects were used at all. Some of the most memorable effects that we experienced during our tour include man-eating plants, several aqueous surprises, a thunderous machine gun, a close call with a large vehicle, a frigid freezer, dangling limbs, sliding surfaces and disgusting deuce deposits just to name a few!
---
Theme:

9.64
The Haunted Hotel is just that, a haunted hotel! This season, the owner of the hotel (a.k.a. "Thomas Gribbins") greeted us in the first room where he explained that the hotel had gone downhill while he was away, so he has returned to take control because, "If you want something done right; you have to do it yourself!" He didn't say what all he wanted his hotel staff to do, exactly, but we DO know that he has "ways" of making sure you do not attempt to escape! During our stay, we experienced many areas that you would expect to see in an old, dilapidated hotel including an elevator, bathroom, kitchen, freezer, bar and even an unfinished guest room where all of the furniture, including the bed, was covered with drop-cloths. There were a few things that seemed a bit out of place but, for the most part, the hotel theme was executed very well throughout the attraction.
---
Fright Effect:

9.39
We don't even know where to begin on this one! The Hotel always delivers one of the most heightened and intimidating shows that our review group experiences each season and this year was no different! We will go ahead and warn you that THIS IS A TOUCH HAUNT where they will more than likely assault your personal space bubble (as mentioned above), chew it up, spit it out and feed it to their man-eating plants. This haunt used a mixture of scare techniques which included disturbing dialogue, "sparky" encounters, fierce acting, sudden commotions, acts of violence, relentless characters, and chainsaw invasions that made even our review group more than a little uncomfortable! As we were standing in the ticket line near the end of the attraction, just about every group that we witnessed was literally running and screaming out of the exit and we don't blame them! When sparks are flying over your head due to aggressive chainsaw use, the fight-or-flight instinct has a tendency to kick in for many patrons, and we sure wouldn't suggest resisting these brutes! Their elevator entrapment still remains one of the most frightening and memorable scenes we have encountered! The crew did a pretty good job of focusing all of their frustration on everyone in our group and we noticed a few distractions that made it easier for them to catch us off-guard!
---
Value:

9.57
Prices for the Haunted Hotel are the same as last year. General admission to check into the Hotel is $20.00 per person and if you would like to be taken to your room faster, you may skip the line by a purchasing VIP Fast Pass for $29.00. The cost of checking out ($you,rso.ul), also remains the same as last year! It took our group roughly 20 minutes to flee the hotel, since they wouldn't LET us check out, putting this value right at our "average" mark for minutes of entertainment per dollar spent. Once we combine said entertainment that The Hotel's staff provided to our group and the intensity level of our stay, we must say that the Haunted Hotel offers a very competitive value! Be sure to visit their website for special event information and pricing. We also noticed a coupon on their site that's good for Thursday and Fridays. If you are looking for one of the scariest haunts in the Louisville area, and if being chewed up and spit out by a relentless crew sounds like an awesome time, you should consider checking in at The Haunted Hotel this haunting season. Just remember, "…you're NOT checking out!"
---
Photos from Review Trip:
Click to Enlarge
Promo Images:
Click to Enlarge
Guest ReviewsGuest Average: 10 out of 10
Melissa Miles – 10/10We've been coming for several years and bring our marching band kids that date to come every year!! …show more This is my favorite by far!!!
---
2016 Awards
- Elevator (Given by: Team Zombillies)
Best Chainsaw Maniacs (Given by: Team Zombillies)
Best Original Characters (Given by: Team Zombillies)
Hardest Haunt to Escape Alive (Given by: Team Zombillies)
Most Intense Characters (Given by: Team Zombillies)
Scariest Haunt in Kentucky (Given by: Team Zombillies)
Highest Rated Fright Effect (Given by: Team Zombillies)
Actor Shout Out Award - "Cricket" A.K.A Kristen Warf (Given by: Team Zombillies)
Actor Shout Out Award - "Edna" A.K.A Bobby Castellano (Given by: Team Zombillies)
Actor Shout Out Award - "Thomas Gribbons" A.K.A Matt Perry (Given by: Team Zombillies)
---
2015 Awards
Scariest Actor - "Brutus" (Given by: Team Zombillies)
Grossest Scene - "The Bathroom" (Given by: Team Zombillies)
Best Single Scare Delivered to Entire Group - "The Elevator" (Given by: Team Zombillies)
Best Chainsaw Maniacs (Given by: Team Zombillies)
Hardest Haunt to Escape Alive (Given by: Team Zombillies)
Best Use of Sound (Given by: Team Zombillies)
Most Intense Characters (Given by: Team Zombillies)
Scariest Haunt in Kentucky (Given by: Team Zombillies)
Actor Shout Out Award - Joey Morbid, A.K.A. "Joe Morbid" (Given by: Team Zombillies)
Actor Shout Out Award - Matt Perry, A.K.A. "Thomas Gribbons" (Given by: Team Zombillies)
---
2014 Awards
Best Chainsaw Maniacs (Given by: Team Zombillies)
Best Single Scare Delivered to Entire Group (Given by: Team Zombillies)
Most Intense Characters (Given by: Team Zombillies)
Memorable Moment (Given by: Team Zombillies)
Actor Shout Out Award - Daphne the Plumber (Given by: Team Zombillies)
Actor Shout Out Award - DK (Given by: Team Zombillies)
Actor Shout Out Award - Dr. Vig (Given by: Team Zombillies)
---