Find Reviews for a Haunt near You! Find Reviews for a Haunt near You!
Find Reviews for a Haunt near You!
Hysterium Haunted Asylum
4410 Arden Drive, Fort Wayne, IN 46804View All Details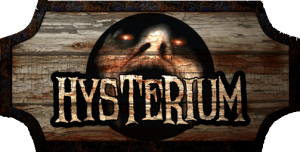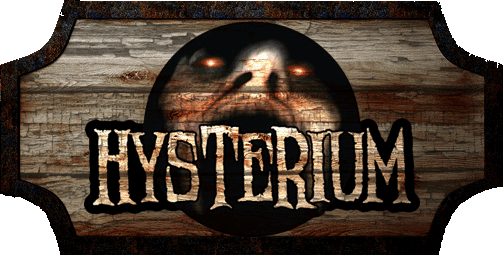 Features:
Free Parking, Restrooms On-Site, Food/Concessions, Gift Shop/Souvenirs, Special Events, You will NOT be touched, Original Characters, Indoor/Outdoor Waiting Line, Indoor/Outdoor Attraction
Team Zombillies reviewed this attraction on September 25, 2015.
Final Score:

8.54
Summary:
Hysterium is back for the 2015 haunt season and continues to provide scares and startles to the Fort Wayne, Indiana area and they even throw in a few laughs here and there! Take your seat in the lobby and await your inevitable, horrific treatment while mingling with a few of the local resident patients; it won't be long before you realize this is no ordinary asylum. No sir! The patients here have overrun the place and, except for the lobby area, it appears that utter chaos has taken a firm hold on this "medical" facility. Patients are running rampant and have brought their delusions into reality in this 25+ minute excursion into the darkest corners of the most warped minds around. Will you survive the doctors' and patients' wrath? Find out for yourself in Hysterium Haunted Hospital… just remember to "Eat ALL of your applesauce!"
---
Cast:

8.65
Around 40 patients and staff work in this twisted mental treatment (or lack thereof) facility on a typical night and each of them take great pride in bringing you scares, startles and even a few laughs! This number seemed to fill the different hallways and passages of the asylum fairly well with only a few "dead spots" where nothing happened for a short period of time. The actors at Hysterium are among one of the most verbally interactive bunches that we get to visit and our experience with began in the lobby area, where the Doctor, an orderly, and "Oscar" (a resident patient) kept us entertained and wondering what we were getting ourselves into! The orderly turned out to be the Head Nurse, as she promptly informed us to "eat all of [our] applesauce" and "…not touch the patients" unless we wanted our fingers bitten off! While each of these witty characters were memorable in their own ways, among the most believable were the cannibalistic bunny, the one-and-only "Blowout Bobby" and his poo-slathered self (and room), the patient serving punishment for his third day in a row in the freezer and the straight-jacketed lunatic. Another round of kudos goes to the chainsaw assailant in the [unmentioned] area who improvised a scare even though his not-so-trusty weapon wouldn't start. Most of the characters had good dialogue that related to their scenes and helped distinguish themselves from one another, but there were still several that could use some coaching to help stay deeper in character and develop scarier roles.
---
Costuming:

8.29
Most of the costumes in Hysterium relate to their haunted insane asylum theme fairly well with a few exceptions that add more "crazy" and diversity to the attraction. With mostly doctors, orderlies and various patients in their appropriate, grungy and bloody hospital attire, there was little doubt as to most of these characters' identities. Makeup quality seemed to vary from scene to scene, as some of them had considerably more-detailed applications than others. Some of the "stranger" characters were "LeRoy," the bunny, the bride and some of the clowns… or maybe that was just the meds kicking in? Anyway, our trip through Hysterium yielded a mixed bag of outfits and quality levels, although most of them made sense with their respective scenes.
---
Customer Service:

9.5
Our trusty GPS and a lit arrow sign proclaiming "HYSTERIUM" confirmed we were getting close to our destination. After turning at that sign, one final left turn brought us to their entrance which was marked with two skeletal steeds and their rampant riders. Free parking was available along the roadside in front of their building. Spots can fill up quickly, but the road seemed long enough to handle quite a few vehicles and traffic levels were practically non-existent except for customers that were coming and going. Portable restrooms were on-site and seemed to be a popular stop for the large group that arrived shortly after us (not to mention ourselves). The ticket booth was clearly marked with friendly staff members, a concession stand was strategically placed on the way to the entrance and two police officers made sure no one brought any contraband into the haunt. From a safety standpoint, our journey through the attraction was smooth and steady with only a few minor steps to climb for some of the scenes and adequate emergency exits are in place for those that just can't handle all of the craziness!
---
Atmosphere:

7.92
Two "bare boned" horses and riders guard the entrance to Hysterium and immediately give the "feel" of a haunted house. The white, warehouse-looking building doesn't do much to add to that feel, but the occasional roaming actors let you know that a crazy hospital awaits all of those who are brave enough to enter! The new Tool-Shed Escape Challenge helps bring out the realism a little bit since it represents the hospital mechanic's main tool storage area. If you decide to try the challenge yourself, it definitely does give the "frantic" and "crazy" feelings a jump-start.
---
Special Effects:

8.45
Many of the effects and décor that you will find at Hysterium have been created in-house, so you will see things here that you likely haven't seen before. Some of the effects we came across include a realistic sewer, poppers, a long claustrophobic passageway, a uniquely-checkered room, a "de-clowning" room, a giant monster and one of the most effective vortex tunnels we have walked through! Sound effects, when heard, were very realistic and brought the scenes to life. Some of them were downright scary too! A few of their most impressive scenes included the sewer (which showcased great detail) as well as the moving room that was also accompanied by startling sound effects and lighting. Watch out when you get to "Blowout Bobby's" room! Let's just say that you'll know it when you get there; be prepared to hold your nose.
---
Theme:

8.75
Hysterium is a haunted asylum that hopes to only show you nightmares as you try to escape the psychopaths within! Not only will you come across quite a few mentally disturbed patients here, but you may unexpectedly come across some of your greatest fears as well! Your treatment will begin in the lobby, where you will get a good idea of the craziness that's to come throughout the rest of the attraction. When they are ready for you, your group will enter a maniacal elevator that will take you down to the sewers that you must pass through to enter the sanitarium. During your trip in the elevator, be sure to listen very carefully to the rules, especially if you would like to keep all of your body parts! After passing through the sewer, things started to get wacky and only continued to get wackier the further we progressed. We made our way through a kitchen decorated with poop, a freezer, a spider infestation, a freak show, a cafeteria, tons of misleading doors and multiple rooms that had us cross-eyed trying to find our way out of them! For the most part, the theme was carried very well throughout the entire facility. It was quite evident this building was housing the insane, and some of the patients concreted the theme by using dialogue relating to the doctor.
---
Fright Effect:

7.83
A mixture of scare techniques were encountered during our visit to Hysterium which included very loud noises, puzzlement, a chainsaw assault, disturbing acts and they even tried to split our group up when it only consisted of two people in the first place! At one point in time, we opened a door to a long black hallway with such a horrendous sound filling our ears that we didn't want to find out what it was coming from! They were sure to distribute their attention to everyone in our group, and continued to do so even when a larger group ran into us. Loud blasts and sudden noises served to be very unpredictable, however some of the actor-provided scares were more predictable due to their locations. Hysterium's finale didn't consist of anything scary but they did succeed in having their customers walking out dizzy and confused!
---
Value:

8.95
General admission to admit yourself into Hysterium Haunted Asylum will cost you $12.00 per person and all of the sanity that you may have when you go in! If you want to be admitted faster, Fast Pass tickets may be purchased for $20.00. It took our group roughly 26 minutes to escape the crazed loonies, putting this value at 2.17 minutes of entertainment per dollar spent, which is more than double the average value that we come across most often! New for 2015 is the TOOL SHED challenge. To beat the challenge, you must find all of the clues in less than 3 minutes! It costs an additional $5.00 per person, but everyone who tries will receive a $5.00 coupon for CrazyPinz or Bandidos Mexican Restaurant. If you actually beat the challenge, you will gain immediate access to the Hysterium lobby and, when you get out of the haunt, your group will receive a free pizza from the concession stand! Keep in mind tickets to the challenge are sold on a limited basis per night, so don't hesitate to get your tickets NOW! Hysterium is ran by the same wicked minds behind the Huntington Haunted Hotel: 13th Floor, so combo tickets for both attractions can be purchased for $20.00 or Fast Pass admission for $35.00. Hysterium is an entertaining haunt packed with a very competitive value that shouldn't be missed, so be sure to pay them a visit during the 2015 haunting season. Just don't touch the patients, they have teeth and will bite your fingers off!
---
Photos from Review Trip:
Click to Enlarge
Promo Images:
Click to Enlarge