Find Reviews for a Haunt near You! Find Reviews for a Haunt near You!
Find Reviews for a Haunt near You!
The Dent Schoolhouse
5963 Harrison Ave, Cincinnati, OH 45248View All Details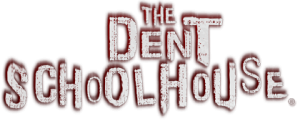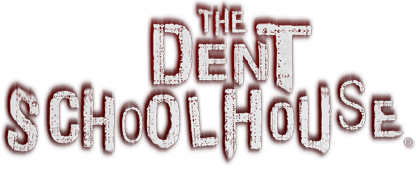 Features:
Free Parking, Restrooms On-Site, Food/Concessions, Gift Shop/Souvenirs, "Hi-Tech" Attraction, Original Characters, Uncovered Outdoor Waiting Line, Indoor/Outdoor Attraction
Team Mysterious Misery reviewed this attraction on September 26, 2015.
Final Score:

9.5
Summary:
The Dent Schoolhouse is an award winner across the board! It has numerous awards and has been featured in many articles, TV shows, and documentaries. You would be blind not to see why year after year The Dent Schoolhouse is awarded. 2015 will be no exception, in fact Dent went even bigger this year. Owners Bud and Chuck and their crew have made the largest and most changes in 10 years to the Dent Schoolhouse. Expansions in costuming gave us the Ghost Pumpkin (he is amazing). It also gave us new sound layouts for the haunt. The expansions also gave us Fall Fest queue line with 150 carved jack-o-lantern faces (no two are the same) with a computerized light show, and more stage shows. Dent also added at least five additional scenes. As always you will witness Charlie in the basement and see first-hand his brutal antics. Their other attraction, the Queen City Slaughter Yard is a slaughterhouse that may make a mix up and actually turn you into dinner. It is a run like hell maze through darkness! I am sure you will make tasty bacon. Think you can make it out alive with your diploma or will your education cost your life? The Dent Schoolhouse is a must see haunted attraction for 2015 and remember to be quiet; the librarian hates mouthy, little brats who always want to take selfies!
---
Cast:

9.5
The Dent Schoolhouse and Queen City Slaughter Yard need over 110 employees to run and keep this haunt operating in a fearful fashion. Every actor stayed in character the whole time, even as groups were exiting the scene which kept the fear running in people. The actor's knew their areas and theming which helped add a heightened, realistic attribute to each classroom. The actors were using theme –related dialogue like "Hit the shower" and "The principal would like to see you" which made the haunt stay in theme, which is always a bonus. If you didn't know which class was what (which I highly doubt), you would definitely know after the dialogue and acting by each cast member as they were very aware of their characters' roles. Many of the actors are very interactive with the customers, asking questions and just being a part of your group. If the cast doesn't scare the crap out of you, they will still entertain you in one form or another. The Dent Schoolhouse comes with a large set of actors, but none of them are out of place and they all do an amazing job! Sending a shout out to my favorite scarecrow at the fall fest line. He was the perfect guy for the job and I was very entertained at his abilities during the time we were standing in line. I can't rave enough about Geist-Kürbis, who is an amazing actor and just may dethrone the Janitor as the new face of Dent.
---
Costuming:

9.7
Dent Schoolhouse does so well in the costuming department that you actually notice it and take time to look at it. Since Dent went through their largest change in 10 years, this year they made sure they didn't leave this section out. The costuming and makeup departments have been working year-round to create most of the costumes and prosthetics used in the show. Most characters have some form of full- or half-face prosthetic unless they are wearing a custom sock mask (which are all made in-house at Dent) that move and look just like makeup! High quality and silicone masks were used that helped bring the characters to life! Among the characters here a few that "jumped" out as us were "Charlie" (Dent's iconic janitor, who you may see more than once), the Librarian and the Ghost Pumpkin, which all had amazing costumes. However, I cannot leave this section without talking a bit more about my favorite, Ghost Pumpkin. The Ghost Pumpkin costume came with a price, but is a very iconic-looking character who has an amazing story. We were truly impressed with the look of this character and so was everyone else! As we stood in line so many people asked for pictures and selfies with him because he is a must see!
---
Customer Service:

9
Plenty of free parking is available this year down the street at the cinema. Depending on which way you come from, you may pass the creepy, old schoolhouse and see the silhouette in the sky as you pass by. When you park at the cinema be careful walking to the haunt. There are no sidewalks so you have to walk in the road which can be dangerous if you wear all black or it's really late. Once you get to the main road there is a side walk where you will run into two sheriffs who will get you across the street safely. This is where you are really given the sign that you are at Dent. There are two ticket lines, one for internet sales (if you are smart you will go this route) and one for regular sales. You will have the opportunity to buy souvenirs, light-up trinkets, food and even your photo from your photo op at the beginning of the haunt. There are many characters who come out and greet you in line who love to take selfies and have you Instagram them. Dent also has an app where you can Instagram them a picture of your friend and their name, and the cast will be on the lookout for them to make their night extra special! Dent's team is always around if you have any questions. If for some reason they don't know the answer, they have headsets on and will gladly ask someone else for you. They are up to code and have proper emergency plans in place. You may even see the owners wandering around outside answering questions, taking pictures and much more.
---
Atmosphere:

9.5
The atmosphere at Dent is one-of-a-kind. It gives you the creeps when you walk up to it and look up at the old, two-story schoolhouse looming in the fall air. With the buses and the librarian lurking around you quickly get the feel of the theme and that this is what's best for the children's education. When combined with the haunt's backstory, the giant bus, headlights, and queue line make for an uneasy, haunting feeling rather quickly. When you get to the entrance of the Queen City Slaughter Yard you will see a giant pig head near the queue area. You will hear the screams of people, pigs and chainsaws plus the smells of the latter, which will help prepare you to enter. So if you are scared of chainsaws, you will immediately cringe and try to talk your group out of continuing into the haunt!
---
Special Effects:

9.5
The Dent Schoolhouse has made it largest changes in 10 years and they sure did a number on the special effects side! They have a new computerized pumpkin light show that goes along with their new 150 hand-carved pumpkins. No two pumpkins are the same and see if you can pick out the "famous" pumpkins. The sound engineers remastered and launched new sound-scapes for every single room in the attraction. The sound effects fill each of the scenes and help add realism to the feeling you get when you are in that room. The sounds do a good job at keeping you on your toes! The Dent Schoolhouse does an amazing job with the details in each and every classroom, making them distinct from one another. The details here are some of the best that we have seen. They don't stop with the normal cobwebs and dust, they enhance the experience with details, lighting, projections and much more. They have lighting techniques, including strobes, projections, and flickering lights that enhance each scene and help this haunt to be one of the best. The Queen City Slaughter Yard isn't as fancy as the Schoolhouse. However, it is made for you to run like hell screaming not be on a Sunday stroll. It does have good props strategically placed in areas to throw you off. The sounds of screams and chainsaws are also plenty in Queen City Slaughterhouse. Both of the attractions at Dent exhibit some of the best techniques in the business in special effects which make this an amazing attraction.
---
Theme:

9.8
The Dent Schoolhouse is one of those attractions that has a theme that they follow throughout the whole attraction. For years they have stayed true to this theme and make it better each time. The bonus to Dent is that it is based on what seems to be a true story. You can find all the details at the Dent Schoolhouse website or on their app. Charlie, the Janitor, is the icon and mad man behind Dent Schoolhouse and you are sure to run into him while you are there. Dent does an amazing job at carrying out the school effect through the whole attraction. Even this year when they wanted to add on more, they kept with the theme as the Dent Schoolhouse's Fall Festival, which you have to see! Also don't forget to say Hello to the Librarian as she is dying to meet you. The Queen City Slaughter Yard theme is based on a real slaughter house. You will find parts of pigs everywhere and hear oinks from all directions. These butchers are not normal they like to use chainsaws and sometimes the lighting affects their ability to see. You have been warned, you may become slaughtered like the pigs!
Here's an excerpt from Dent's Facebook page that gives you the basic overview of their theme:
The Dent Schoolhouse takes place in a schoolhouse that was built back in 1896 and contains a gruesome legend… The Janitor of the school, Charlie McFree is said to have killed a large number of the student body over a period of 10-20 years. Hiding their bodies within the basement, the smell became too much and alerted the town of Dent… discovery of the hellish scene has made a permanent residence in the basement. The building is said to be haunted by both the lost children… and The Janitor!
---
Fright Effect:

9.5
The moment you step onto the grounds it is game on and who doesn't like playing children's games? As you stand in the queue area, they are after you, or just want to take a selfie and startle you in the process. Remember everything that seems fake may not be. Then you get to enjoy the Fall Festival. Now, who doesn't like a festival with a light show of 150 hand carved pumpkins and twist on the modern classics like face painting, and balloon pop, etc? Keep in mind that the Ghost Pumpkin is the master of ceremonies and he has a story he needs you to hear. After you enter the school, it may make you rethink that your school was bad. Each classroom lead to another that attacked your senses leaving you disoriented and wanting out. The attacks come from many levels and utilize all your senses. The frights can be anything including demanding language, loud noises, jump scares, startles, chainsaw run-ins and my favorite is when they scare the victims so bad that they fall onto the floor in the fetal position! Don't forget to take your date to the prom while you are there. Distraction is a key word here at Dent because right when you are thinking or looking at something else they are there in your face and you have nowhere to go! When you think there is not a door there is a door, but you are completely overwhelmed with everything else that you don't have time to think. Dent does an amazing job at delivering the scares to each person in your group. You never know what you may become a witness to when Charlie is around. The one bad thing is it is self-guided, so you may go in as one group but some people are so scared they either race through it or don't move, which can cause everyone to catch up with one another.
---
Value:

9.5
Regular Admission includes The Dent Schoolhouse and Queen City Slaughter House. So you get both great attractions for one price. We recommend paying for your tickets online as the regular ticket line can be kind of long. However if you want to pay when you get there remember they are CASH ONLY. If you happened to drive by 5 banks and didn't stop, they didn't forget about you and have an ATM on property.
Regular Admission $20.00
Fast Pass Admission $30.00
Front of the Line Pass $40.00
Dent will be offering other events this haunt season such as "Lights Out" and "Lights On" events. You can go to the Dent Schoolhouse website or app to get all the details on those but the pricing is:
Lights On Tour – CHILD (October 25th) $5.00
Lights On Tour – ADULT (October 25th) $10.00
Lights Out (Nov. 6th and 7th) $15.00
Light Out – FAST PASS (Nov. 6th and 7th) $25.00
They offer group rates as well, you just need to contact them.
Considering The Dent Schoolhouse has won many awards and continues to deliver a stellar haunt we think $20 is a very fair price. Not to mention this year Dent went through its largest change in 10 years and they have added many new things. You definitely want to add Dent Schoolhouse to your must visit haunted attractions list for 2015!
---
Promo Images:
Click to Enlarge