Find Reviews for a Haunt near You! Find Reviews for a Haunt near You!
Find Reviews for a Haunt near You!
Scareview
109 High Street, Saint Albans, WV 25177View All Details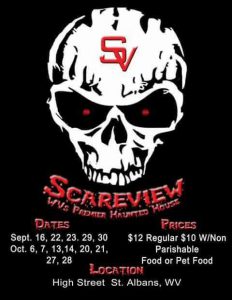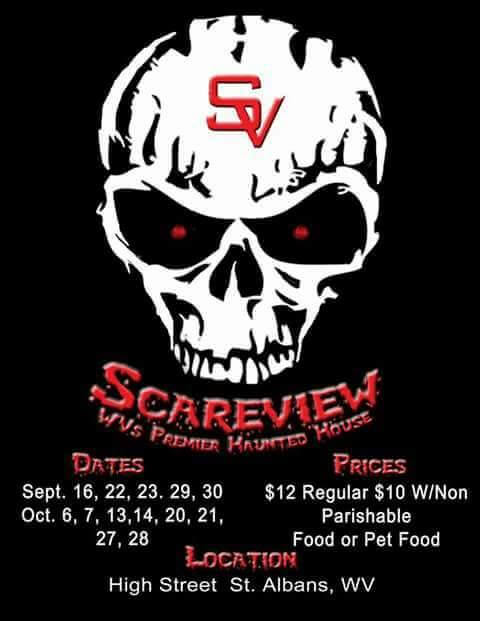 Features:
Free Parking, Restrooms On-Site, Food/Concessions, Gift Shop/Souvenirs, Special Events, You will NOT be touched, Original Characters, Covered Outdoor Waiting Line, All-Indoor Attraction
Team Zombillies reviewed this attraction on September 26, 2015.
Final Score:

8.84
Summary:
Scareview Grave Schoul is a 25,000 square foot haunted attraction that takes place in an old, authentic (and creepy) schoolhouse. 2015 marks their 7th season in operation and quite an operation it is! With anywhere from 100 to 150 volunteers bringing this "old-school," charity haunt to life each night, customers are sure to get more than a few scares! Owned and operated by the local volunteer fire department, all proceeds go towards their training and equipment and food donations for various food banks are humbly accepted in exchange for discounted tickets. For a good haunt at a great price for an even better cause, look no further than Scareview!
---
Cast:

8.82
As mentioned, around 100-150 volunteers of all shapes and sizes bring Scareview's old schoolhouse back to life on a "normal" night during the Halloween haunt season, so you can imagine the variety of characters that you'll find here! Several "area/room heads" are responsible for training their respective crews in their various scenes on safety policies, emergency drills and, of course, scare techniques. Most of the cast members are 3- to 4-year veterans and that experience reared its horrifying head during our review group's walk-through. Most of these characters were very energetic and clearly passionate about each of their roles, which is a rare feature and welcome treat in the haunt industry! Most of them stayed in character until well after we'd cleared their area and a handful of them had great dialogue that actually sparked some verbal interaction with our group. We noticed several areas where the actors worked directly with their scenes and various props, which really seemed to help them fulfill believable roles. "Dead spots" were practically a non-issue, as many of the rooms in Scareview had seemingly upwards of 10 actors in them! Some of the most believable characters that we came across include Freddy Krueger, The Creeper, the doctors, their patients, Frankenstein, and the zombies.
---
Costuming:

9.38
Some of the costumes at Scareview are purchased as-is, but most of them are actually put together at home by the actors! In their wardrobe room, there are normally 4 to 6 artists applying makeup and prosthetics to the cast members and a local shop ("D.R.K.") even stepped in this year to help them up the ante. The haunt managers reported that D.R.K. is helping them turn out some amazing looks and our review team concurs! Many of these characters looked awesome in their scenes and ranged from entrail-wrangling zombies, blood-soaked butchers and corpse-ingesting inmates to teddy bear-tearing elves and conniving clowns; we just never knew what was waiting for us around the next corner! Surprisingly, the quality level stayed fairly consistent throughout our tour of Scareview, which also helped create a more believable overall experience. After adding it all up and considering how they were all in matching scenes, it's no wonder why this haunt excelled in this category.
---
Customer Service:

9.63
Once we started getting close to Scareview, we noticed the big, brick building up on the hill and our jaws hit the floorboard! The managers informed us that they've experienced some unexplainable, possibly paranormal happenings inside the building and it definitely gives off a "spirited" vibe by its looks alone. Once we reached the entrance, a grim reaper sign confirmed we were at the right place. Free parking is organized by members of the fire department in their reflective turn-out gear and is unique in that it's set up in what appears to be the "Schoul's" original circle drive! You won't find a nicer group of people than the folks at Scareview, who can be found in the ticket booth, the snack tent and at the front of the queue line (which is covered in case of rain). The occasional roaming actor helped keep the line entertained before going inside and another round of characters were waiting inside the main entrance to give the rules and space out the groups. You'll have to climb and descend a couple of flights of stairs and we did notice one scare that was attempted while we were doing just that, so be sure to watch your step!
---
Atmosphere:

7.42
As if the aged, red, brick building wasn't creepy enough, the grim reaper "Scareview" sign at the road, the clown painted on the side of the ticket booth and the gruesome, roaming actors scouring the property definitely let us know we were at a haunted house! Even though the "school" theme doesn't get carried into the inside of the haunt, the building itself is just plain cool to look at for most haunted house and Halloween enthusiasts. We couldn't hear much in the way of sounds or music from the queue area, but once we entered the staging area inside the front door, the graveyard décor, dark lighting, loud music and customers' screams coming from inside the haunt set the mood pretty quickly for us!
---
Special Effects:

8.74
About 60% of the effects used at Scareview have been made in-house, so you are sure to come across plenty of unique and creative items! Some of the things they used were also as authentic as you can get, including a room full of bones that were walking and living around four years ago! A variety of sounds, including head banging music and REAL sounds from REALLY scary "items," were heard throughout our adventure which helped heighten the overall feel of the attraction. Some of the effects that our group came across include a convulsing hangman, authentic medical equipment, spongy floors, a giant, fogging skull, a steaming clothes iron, strobe lights, a real car and even some "snow." A few of them even successfully delivered scares to our group, like the air cannons, chainsaws and a (…possible…) surprise in the claustrophobic passageway! Quite a few of the scenes were detailed well with lots of "filler" props that helped add authenticity to those areas as well. Strategic lighting, when combined with other effects (like fog, strobes, etc.), assisted in allowing said detail to stand out more obviously or, conversely, hide certain areas to better allow the actors to remain out of sight.
---
Theme:

N/A
N/A – Scareview doesn't stick to one theme and, instead, they try to include something that may scare everyone, so you just never know what you may come across inside!
---
Fright Effect:

8.51
Quite a variety of scare techniques were utilized during our visit of Scareview, some of which include ear-piercing screams, intimidating appearances, torturous acts, demanding dialogue and some of the most ravenous confrontations that we've seen to date! Some very clever hiding spots successfully caught our group off guard as well as a few distractions. Due to the voracious appetites and die-hard dedication of these intense volunteers, several of the scenes seemed so realistically-chaotic that we had to stop and remind ourselves, "It's just a haunted house," at times. Several types of scares were dispersed fairly well across all members of our group and, also due to the variety of volunteers, many of them were rather difficult for even our review group to predict! Now, imagine meeting the Sawyer family ("Texas Chainsaw Massacre"), a horde of zombies, some familiar faces from The North Pole and a traumatizing triage unit, flip it all upside down and add some corpses, guts and blood-curdling screams and you'll get the idea.
---
Value:

9.35
If you bring a non-perishable canned food item, you'll get discounted tickets to Scareview Grave Schoul at $8 each. Otherwise, general admission will cost you $10 and possibly your life if you aren't lucky enough to escape! Our review group clocked Scareview's length at right around 18 minutes, which gives the Schoul a well-above-average value at 2.25 minutes of entertainment per dollar spent with the canned food discount (1.8 min/$ without). Scareview puts on a few special events throughout the year, including a "Rock 105 Night" with their local radio station, a "Wendy's Night" where they'll actually zombify "Wendy" and let her run through with some of the groups, and sometimes a "Little League Night" where little leaguers can get tickets for $5 (instead of the normal $10 or $8). In summary, Scareview Grave Schoul gives haunt-goers some original scares in a variety of scenes that are unlike most that we've seen before at an unbeatable price! But in this case you may get, "…more than you bargained for!"
---
Photos from Review Trip:
Click to Enlarge
Promo Images:
Click to Enlarge
Guest ReviewsGuest Average: 10 out of 10
Chasity Estep – 10/10Great fun for families and kids. This is a great thing for our area.
---
2016 Awards
Most Realistic Child Performance - Chewie (Given by: Team Zombillies)
Actor Shout Out Award - The Pig (Given by: Team Zombillies)
---
2015 Awards
Best Use of Blood - "The Zombie Hoarde" (Given by: Team Zombillies)
Actor Shout Out Award - "Freddy Kreuger" (Given by: Team Zombillies)
Actor Shout Out Award - "The Creeper" (Given by: Team Zombillies)
---