Find Reviews for a Haunt near You! Find Reviews for a Haunt near You!
Find Reviews for a Haunt near You!
Ghost Lake
12382 Center Street, Conneaut Lake, PA 16316View All Details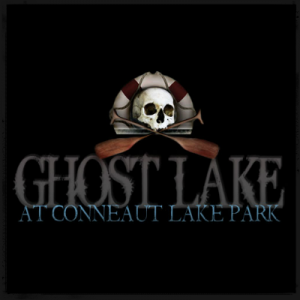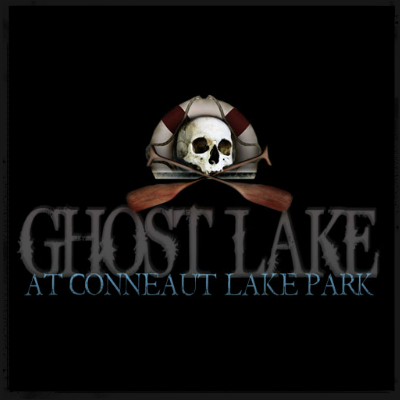 Features:
Paid Parking, Restrooms On-Site, Food/Concessions, Optional Games/Midway, "Old-School" (Low Tech), You may be touched, Uncovered Outdoor Waiting Line, Indoor/Outdoor Attraction
Team Scary Potter and the Hauntwarts Express reviewed this attraction on September 27, 2015.
Final Score:

8.02
Summary:
Conneaut Lake, Pennsylvania, home to the beloved Conneaut Lake Amusement Park has a problem. Every September, the owners of the park put away the bumper cars, shut down the tilt-a-whirl, and head home, another successful season completed. However, as soon as they leave the premises, something evil and unsettling invades, awashes it with horror and misery, and twists every inch of the park into a horribly disfigured facsimile of its former self. You see, friends, every September and October, Conneaut Lake Park transforms into Ghost Lake, a haunted attraction consisting of THIRTEEN "levels of fear." Front Gates of Hell, Clown Town, Rots Funeral Home, House of Evil, Haunted Hotel Conneaut, Zombie Nightmare, Last House on the Left, 3D Carnival of Fear, Purple Haze, Demon House, Cabin in the Woods, Devil's Den, and the Blue Streak Ghoster Coaster are this years haunted havens. Gigantic and foreboding, Ghost Lake's evil facade dares you to enter its wicked wonders this Halloween haunting season.
---
Cast:

7.46
Ghost Lake's website boasts "over 160" actors dispersed amongst their attractions, and I'd say that's likely accurate based on our experience. With such a massive amount of characters, you get a wide range of performances. The group of jokers and the perennial favorite wicked bunny who haunt the entrance area, The Front Gates of Hell, offered the best character interaction of the night. Also, the back-to-back House of Evil and Haunted Hotel Conneaut contained some adept acting – you even get a live performance of a little creepy organ music by an eerie fellow presumably descended from a certain Ludwig von Boothoven, and some a capella action from a trio of young girls. Oh, sure, their somber visages may knot up the gut muscles a bit, but it's all for the sake of art, right? "Spider Girl", as we affectionately named her, serves up percussive accompaniment should your meter falter. Starting to lose your head with delight? Don't worry: there's a fellow with a spare available for rental. I'd tell you where to look for him, but, I think he'll just find you instead. There were also a few good performances in Demon House (the apes were enjoyable), and one clown in Clown Town offered some appreciable comic relief, happily trotting out a jig with me under that sections brightly-colored lights.
Unfortunately, the individual performances of the other attractions falter somewhat. The near-constant bland "Get out'"s of The Last on the Left (present, but more sporadic in the other attractions) were outpaced by most of the zombies in "Zombie Nightmare" (one stand-out : the second green-faced zombie of the two we encountered consecutively portrayed a credible brain-gulper), whose undead shamblings were, sadly, very ineffective and unconvincing. Purple Haze was the biggest performance black hole, though. With very little variation, we encountered wave after wave of face-screams. There are many, many ways to effectively startle or scare someone; standing in their face and screaming as loudly as you can is not one of them. Orthopedic surgeons aside, no one is impressed by this unfortunately oft-employed tactic.
---
Costuming:

5.89
If you consider jesters a branch of the clown family tree, then those circus folk win out here. Ghost Lake is definitely best at outfitting the creatures from the big top. Whether at the Front Gates, Clown Town, or the 3D Carnival, their clowns are the best equipped. There are a few stand-outs in the other attractions as well (a pair of rowdy apes spring to mind), but overall, most of the rest fall into the mediocre range. It's true that zombies often don't need more than some shredded clothes and a little blood to properly convey their condition, but many of Zombie Nightmare's namesakes weren't quite believable. One scarer wore no make-up or any sort, while many of them were in their standard street clothes as well, with only a little random, single-shaded face paint. This is largely what contributed to Zombie Nightmare being the weakest of the attractions. We also saw backpacks and water bottles sitting out amidst the haunted paths (Purple Haze was especially guilty of this). Obviously these were not meant to be parts of the sets they were in and forced a quick-pull out of the illusion of the scenes.
---
Customer Service:

7.85
The first thing that we noticed upon arriving was that Ghost Lake has decided to charge $3 for parking this year. This is new and not mentioned anywhere on their website, as far as we could tell. It seemed liked a strange decision considering that they have their own onsite, large parking lot. The staff were very helpful and friendly. You cover a lot of ground walking from attraction to attraction, and Ghost Lake has improved the ease of knowing where to go next this year (we saw a few additional "pointers" this year, and a couple extra lights). This was appreciated. It can still be a little daunting to decipher your destination, though if you attended on a less-crowded evening. We saw ample restrooms along the paths, and there are a LOT of options for refreshments at many different vendors – everything from pizza to funnel cakes to slushies and hot chocolate. In The Funeral Home, we encountered several jump-scares on or very near stairs, which can be a safety hazard, but it was smooth, safe scaring the rest of the time. Customers with ANY sort of breathing condition will probably want to skip Purple Haze – the amount of smoke in that haunt is pretty intense.
---
Atmosphere:

9.63
Ghost Lake has a very unique environment, to say the least. It takes place in an amusement park, yes, but also around the amusement park. Ghost Lake is the only amusement park that we have visited whose first attraction occurs BEFORE you get in line to buy your ticket. From the moment that you park your car, you and your group are fair game. The entrance to the park is well-lit and impossible to miss, well, unless you find yourself running back up the highway to avoid the horrible gate keepers. There is a vortex tunnel at the entrance of the park, the passage of which really makes you feel like you're entering an altered reality. Thereafter, you traverse both the park grounds and the neighborhoods outside the park. Several of the earlier attractions occur in houses in otherwise normal-seeming neighborhoods. Your path takes you out to the hotel and even on a stroll beside the lake. The trip from haunt to haunt is really an attraction itself, as you take in a very unique montage of sights, including former, abandoned sections of the old park itself, and the beautiful, if creepy (it is allegedly TRULY haunted) Hotel Conneaut. Take your time roaming between attractions and enjoy this spectacular, eerie ambiance. You won't find its like anywhere else.
---
Special Effects:

7.26
Ghost Lake functions as a mostly old-school attraction. They use very few animatronics or high-tech set design, choosing to generally focus on simple scene structures and a GENEROUS helping of chainsaws. While many of the early haunts offer adequate, unspectacular effects, as you progress through the experience, employed effects become more unique and ambitious. We found that Last House on the Left was greatly enhanced by interesting actor-prop usage and its throbbing, omnipresent soundtrack. Unfortunately, near the halfway point of the attraction, that soundtrack began skipping, getting worse and we continued. This nullified its initial impact somewhat. The 3D Fun House has a great surprising opening blacklight room, and features an impressive spider-infused graveyard (I'm still digging webs out of my hair), enhanced by the 3-d effect. Purple Haze definitely embraces its namesake, filling its twisted corridors (and your lungs) with an ample supply of fog. Our group were mesmerized by the lazer gloves worn by several actors; they were really impressive. Similar to Last House, Haze was made more effective by its overwhelming musical accompaniment, but either by design or accident, it stopped midway through our visit, and our experience suffered for it. Cabin in the Woods had a really fun "vinyl maze" – layer upon layer of plastic tarp that we needed to push our way through. All of this said, Demon House easily wins the best effect nod for Ghost Lake. Prepare to experience the plight of a rubber duckie in the bathtub of a very enthusiastic child. It is a singular effect that we have only experienced at Ghost Lake and was the highlight of our time there.
---
Theme:

7.74
With 13 attractions, we were guaranteed a diverse selection of themes and settings. Most of these featured corresponding attractions that stayed true to their intended focus (Purple Haze couldn't possibly have been any… purple hazier, for instance). However, we found it somewhat peculiar in Zombie Nightmare that a Zombie would be carrying around, and chasing customers with a chainsaw. There were also some other characters and creatures that didn't really seem to fit the "Zombie Nightmare" moniker, though it was hard to tell exactly what they were even intended to be. Demon House was a little shakey on its adherence to theme as well, broad as it seemed to be. The apes were good characters but didn't really seem to make much sense in that setting. The rest of the attractions were good to great at maintaining their thematic authenticity. Cabin in the Woods used the "maze" mentioned in the FX section to simulate, we believe, a tangled, panicked venture through dark trees – a unique simulation that we enjoyed. The former kiddie area, with its bedazzling lighting and playful music was a perfect environment for Clown Town, with all of the local populace clowned-up and ready to scare. Overall, Ghost Lake does an admirable job of introducing a few uncommonly-themed attractions and keeping proper tone throughout the rest as well.
---
Fright Effect:

8.47
At one point or another during our trip through Ghost Lake, we experienced a scare-attempt from every possible direction, which is quite a feat (Last House featured a commendable attack from above, while Demon House features the most unique and effective scare*, one that catches you off-guard from below). The actor-based scares throughout are largely and hit-and-miss. Clown Town and Funeral Home featured a few good startles, with the former also offering oodles of chainsaws. Something that becomes clear very quickly is that Ghost Lake frequently employs ankle-grabs; the placement of this is often very unexpected, as is the vibrating feature of the gloves that these actors wear. Depending on the type of customer-victim, these can be quite startling or simply annoying. Either way, understand that you will definitely be touched. Ghost Lake did a good job with blower/air cannon scares – both Hotel and Demon House employing them successfully (the latter nearly taking off my head, I think). Devil's Den is a great throwback, and it works better in its original, dark ride state, than previous iterations that had customers walking through it instead. The crowning glory, however, comes at the end of the line – the Ghoster Ghoster (aka The Blue Streak). Nothing stimulates that nervous twitch like the initial draw up that first hill. You know what's really scary? A rickety, old, wooden rollercoaster. You know what's even scarier? That coaster in the dark. The Ghoster Coaster is a unique treat, one that requires no masked ghouls or hydraulic demons leaping at you from darkened corridors. It needs no deception or misdirection. You know what it is, and you can see it coming. But it's scary; very scary, and it's a great time. Do not cheat yourself and skip over this 13th Level of Fear – you must experience the Ghoster Coaster for yourself.
---
Value:

9.82
From parking lot to coaster, Ghost Lake feels like a continuous single event – you're never really out of the experience, even when passing between haunts. It's not scary, exactly, but you feel much more a part of your surroundings than at a normal haunted attraction. In this way, you really could convince yourself that you're inside of a horror film – one that has a big x-marks-the-spot on the location of the killers. Perhaps that makes it scarier, knowing what's in front of you, encumbered with the dread of certainty that you're heading right for it.
Ghost Lake is $25 on Fridays and Saturdays and $20 on Sundays, with coupons available at local Country Fair Stores. I'm not exaggerating when I say that we spent HOURS there – 3 at a minimum, between the attractions, the travel time through the park, and pauses to satiate the appetites we'd worked up (funnel cake, I love you). Ghost Lake definitely exists as an experience that is much greater than the sum of its parts. You get A LOT of entertainment for your ticket price, and though each attraction varies in fear and fun factors, combined together, they make for one of the most worthwhile haunted experiences you can choose this season. Is Ghost Lake worth the ticket price? Absolutely. And if for some reason you don't feel that Ghost Lake has quite fulfilled that claim as you're winding down for the night, making your way toward the last level of fear, just wait. The Ghoster Coaster converts all naysayers. Highly Recommended for 2015.
---
Promo Images:
Click to Enlarge
Have you visited this attraction?